If Hillary Clinton Were President Website
Step Into a World Where Hillary Clinton Is President and Trump Is Learning How to Read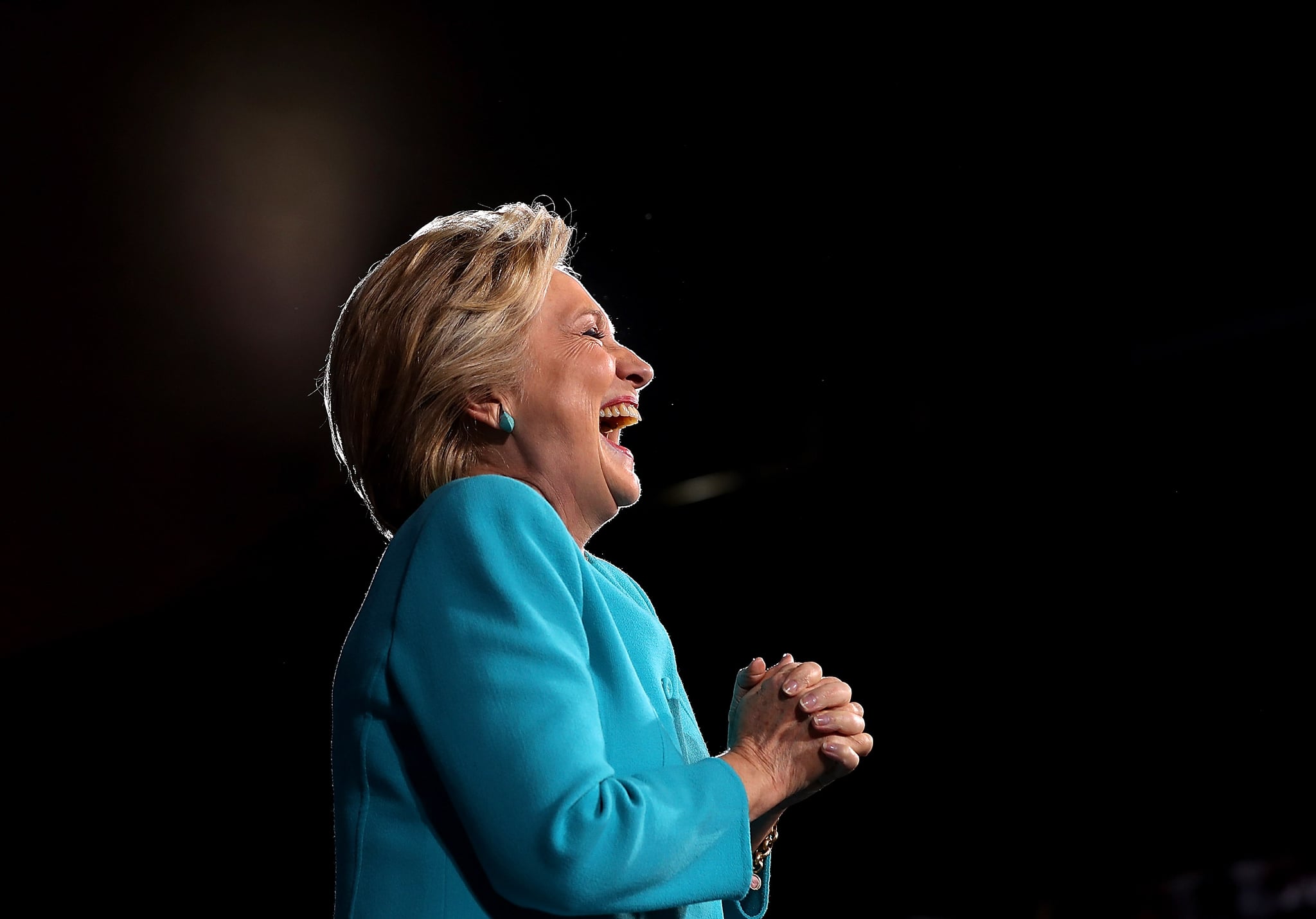 While watching President Donald Trump's first address to Congress on Feb. 28, *Blake thought: "Where is the real president, Hillary Rodham Clinton?" In an alternate universe, Clinton had addressed the joint session and it had gone well — too well.
Blake covered the news on her satirical website called HillaryBeatTrump.com. Its tagline reads "Hillary Rodham Clinton: America's 45th President. Follow us on Facebook and Twitter to stay up to date with the headlines from her first term."
Sigh.
On HillaryBeatTrump.com, we see headlines like "New York Times Slams Clinton For Giving 'Yet Another Excellent Press Conference," "Clinton 'Can't Wait' For White House Correspondent's Dinner, Kate McKinnon to Host" and "'Creepy' Billionaire Betsy DeVos Turned Away From DC Public School: 'Literally No Reason She Should be Here.'"
Bill Clinton? He's settling into his role as first gentleman by fussing over White House curtains.
As for Trump? He's been overheard singing Jackson 5's "ABC" as a "learning device." And Bill Clinton? Well, he's settling into his role as first gentleman by fussing over White House curtains.
Blake, a 30-year-old professional writer who lives in Boston, launched the website in mid-January. It has become her full-time job, and four other people in their 20s write for the site part time, including a former Hillary Clinton campaign staffer who reached out to Blake after coming across the website.
"After the election, I was unprepared to concede the fundamental fact that Hillary Clinton should be our president by virtue of that fact that she won 3 million more votes than Donald Trump and by virtue of her excellence as a woman and public servant," Blake told POPSUGAR in a phone interview. "A nontrivial part of the project is having her back."
She blames the late-in-the-election intervention by FBI Director James Comey as well as the reported interference by Russia as the the reasons Trump won. When it comes to his presidency so far, she can describe it in two words: illegitimate and horrifying.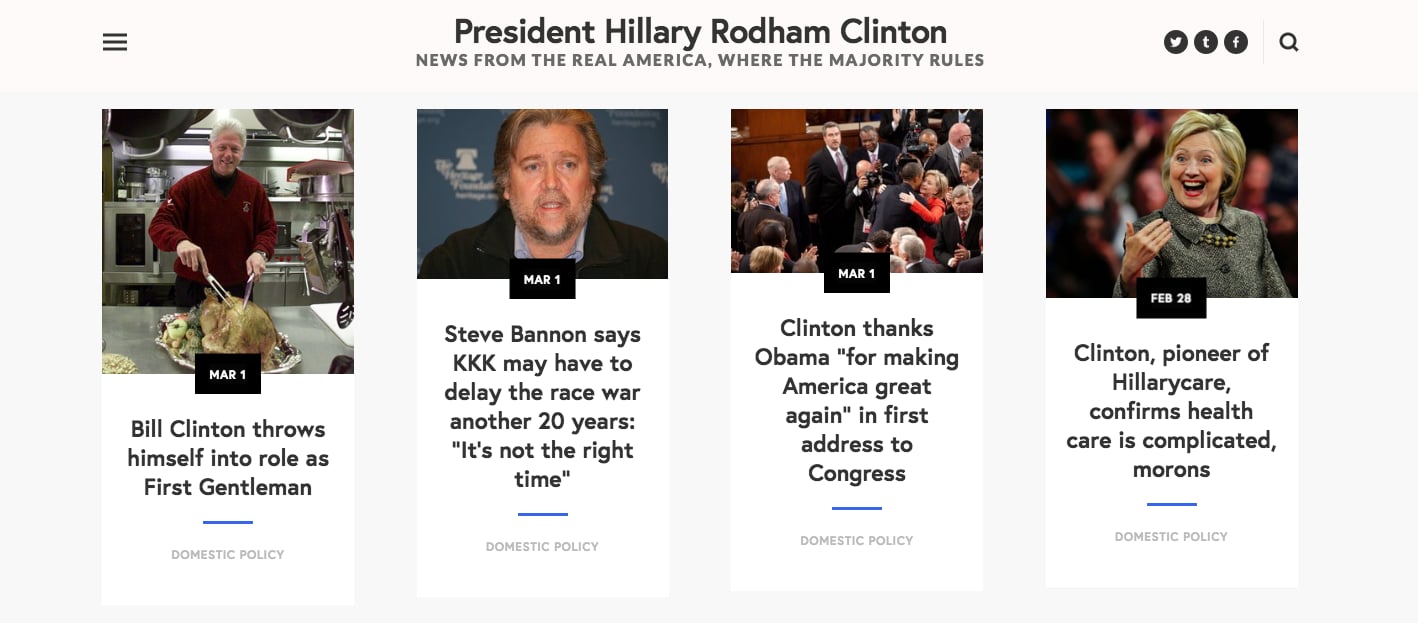 The website isn't just about bashing Trump or praising Clinton, either. It dreams up other realities like Ted Cruz framing OJ Simpson and an undocumented immigrant beating Ann Coulter at Jeopardy!. Blake says that's because her site is meant to be an all-encompassing "pugnacious, biting" commentary on the state of American democracy today.
She's working on incorporating advertising to earn money, but for now, she's trying to keep up with the volume of visitors. In the last two weeks, there have been almost 600,000 visits to the site. "I've gotten some really touching emails from people saying it's the only thing that's made them truly laugh since the election," Blake said.
Would she ever characterize her work as fake news? Oh God, no. "It's clearly situated within the genre of satire," she said. "But that fact that seems to escape right-wing people" who have been sending her emails, telling her to take down her "fake news" and calling her a "liberal snowflake" who needs to acknowledge that Trump is president.
"It undermines the legitimization of Trump's presidency but is an optimistic vision of what American nearly was."
Still, she sees it as a safe space for liberals who remain in denial about Trump's presidency. "I think in some way my premise is powerful because it both undermines the legitimization of Trump's so-called presidency but is an optimistic vision of what American nearly was," she said. "And we know what the future looks like and it's glorious. Hillary Clinton's raising more minimum wage and she's got the most diverse cabinet in history — it's something I think the left can rally around and it's not depressing." That future, after all, is still possible, and millions of people voted for it.
What's next for the site? "I would love to expand coverage and hire more writers so our audience receives the most accurate journalism of Hillary Clinton's first term," Blake said. She's even started a White House petition for official press credentials. The reason? To combat the "fake news" about Clinton's first term.
"On major social media sites like Reddit, Facebook, and Twitter, thousands of Trump voters are living out their lives under the misimpression that Donald Trump is president!"
*Blake isn't her real name. She asked that we use a pseudonym so as not to attract a "tidal wave of right-wing attention" against her.