How Women Can Have Their Voices Heard in Meetings With Men
Obama's Female Staffers Used This Genius Strategy to Make Their Voices Heard Over Men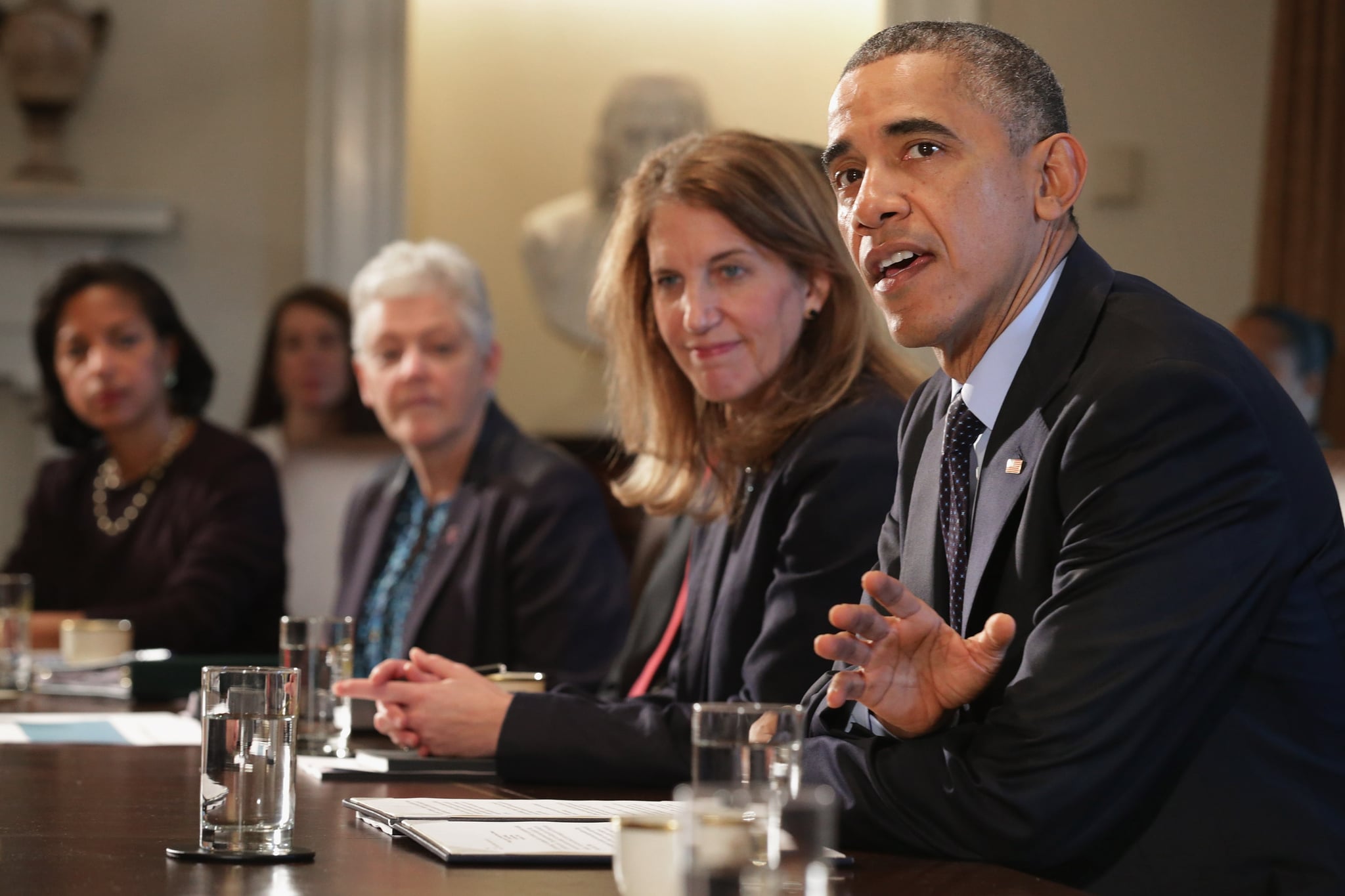 From left to right, President Obama meets with National Security Advisor Susan Rice, Environmental Protection Agency Administrator Gina McCarthy, and Health and Human Services Secretary Sylvia Mathews Burwell at the White House in November 2014.
Many working women know what it's like to be interrupted by men during meetings and, perhaps even worse, for men to take credit for their ideas. A new Washington Post article by Juliet Eilperin explains how some women in Obama's administration employed a strategy called amplification to stop this from happening. At the beginning of Obama's presidency, two-thirds of his top aides were men, reports Eilperin. Female staffers had to fight to make it into important meetings and even once they were there, they often felt ignored.
"When a woman made a key point, other women would repeat it, giving credit to its author."
"So female staffers adopted a meeting strategy they called 'amplification,'" writes Eilperin. "When a woman made a key point, other women would repeat it, giving credit to its author. This forced the men in the room to recognize the contribution — and denied them the chance to claim the idea as their own." It became a regular occurrence. "We just started doing it, and made a purpose of doing it. It was an everyday thing," a former Obama aide told Eilperin. The tactic worked; Obama began calling on women more often and during his second term, women were equal with men in the president's inner circle.
The way these women came together is undoubtedly inspiring, but it's also disheartening that it had to happen in the first place. Of course, this is representative of the much larger issue of the lack of women women in politics and leadership positions. As Eilperin points out, "The West Wing is also home to the ultimate glass ceiling: Men have had a lock on the Oval Office for more than 200 years. That could change if Democrat Hillary Clinton prevails in November."
If she becomes the first female president, Clinton could help put other women in powerful positions. Eilperin reports that women have previously outnumbered men among Clinton's senior staff, and that for the first time in history, she could hire a female as chief of staff because did so as first lady, as a New York senator, and as secretary of state.
Image Source: Getty / Chip Somodevilla