Jane Fonda Praising Colin Kaepernick Quote at ACLU Gala 2017
Jane Fonda's Message for Colin Kaepernick: "Keep Kneeling Until You Can Stand Up"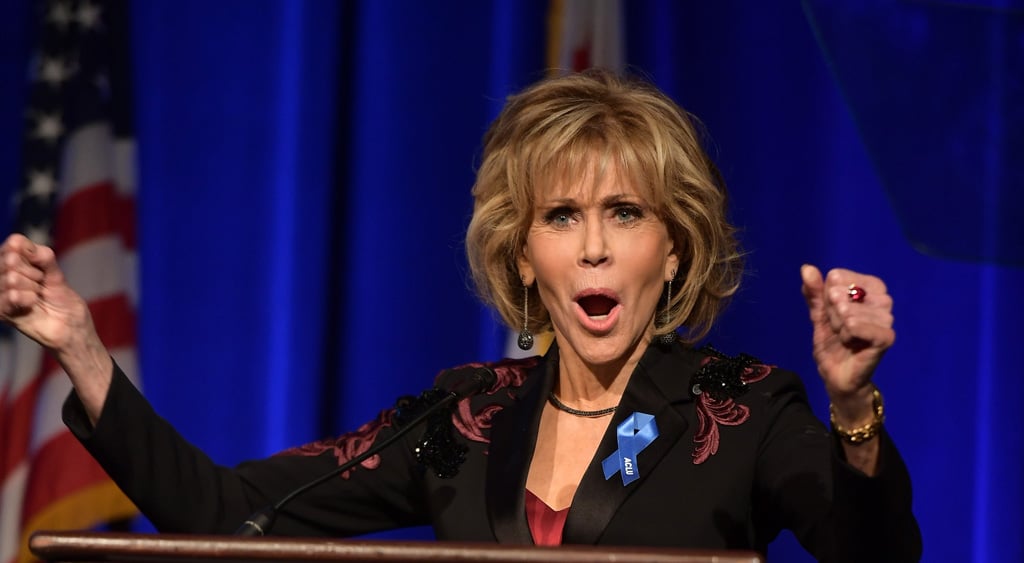 Whenever she gets a chance, Jane Fonda loves to drop some wisdom on people — and we are so here for it.
The latest example of Fonda speaking her mind took place in response to Colin Kaepernick's speech at the ACLU of Southern California's annual Bill of Rights Awards gala on Dec. 4. The former NFL star was in attendance because he was being honored with the Eason Monroe Courageous Courage Award for taking a stance on systematic oppression against people of color through his #TakeaKnee movement and spoke to the crowd about the ongoing battle he started all those years ago.
"We must confront systematic oppression as a doctor would a disease. You identify it, you call it out, you treat, and you defeat it. We all have an obligation no matter the risk and regardless of reward to stand up for fell men and women who are being oppressed with the understanding that human rights cannot be compromised. In the words of Frederick Douglas, 'If there is no struggle, there is no progress,'" he told the crowd as he received a standing ovation.
After Colin left the stage, Jane was honored with the Ramon Ripston Liberty, Justice & Equality Award, and she took the moment to praise Colin, and we can't get over it. "Colin, you are woke! Keep kneeling until you can stand up," she said, according to The Hollywood Reporter. And we couldn't agree more!