Leaders Who Support Paris Climate Agreement
20 Leaders Who Think Trump's Decision to Pull Out of the Paris Agreement Is Bullsh*t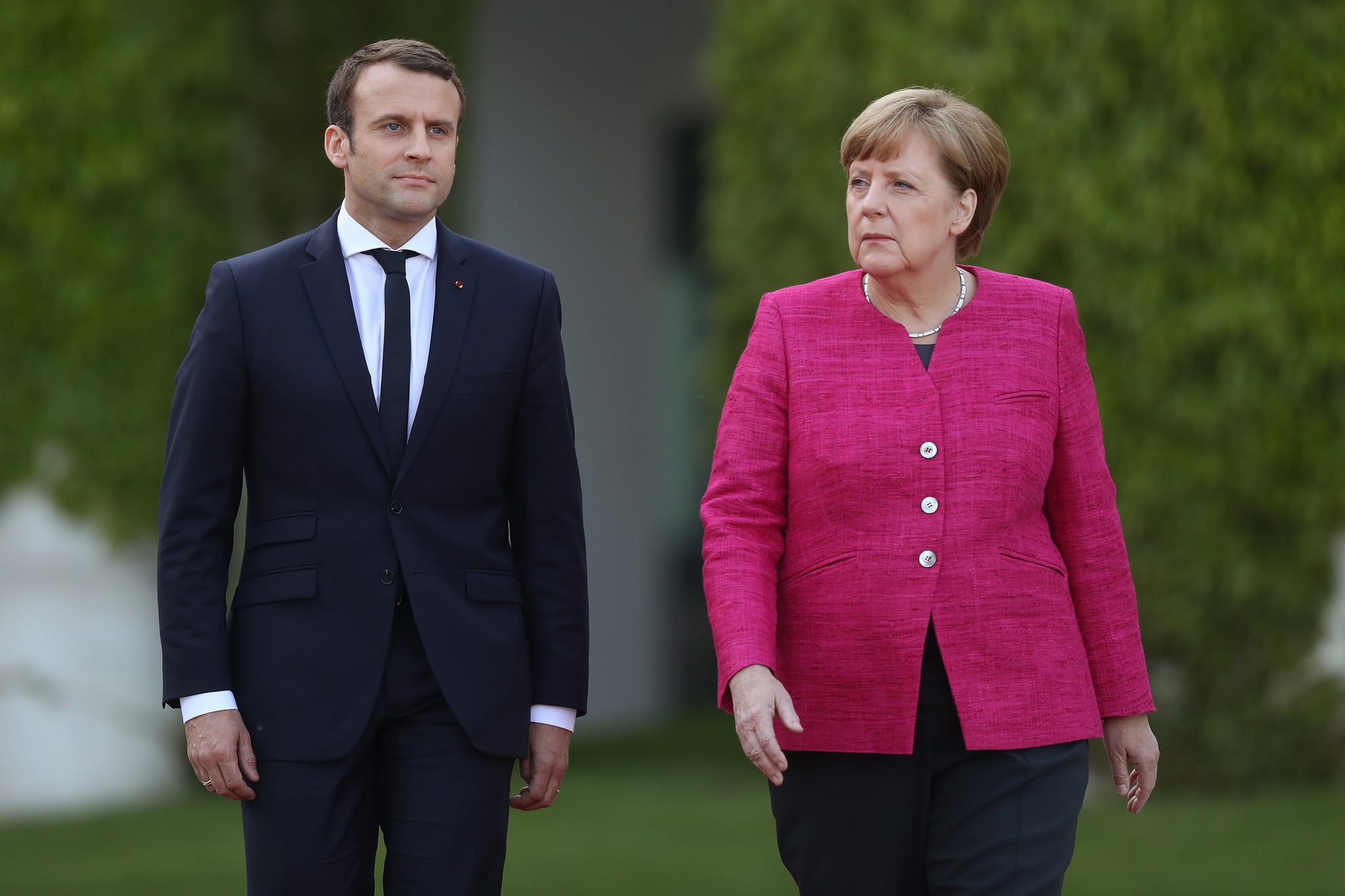 President Donald Trump is hell-bent on prioritizing short-term gains and bottom lines over the Earth's very existence. But his supposed reasoning for ditching the treaty is a stretch; market indicators show a technological shift toward renewable energy, and the private sector has already concluded that investing in fossil fuels is no longer profitable (as former President Barack Obama reiterated in his statement on Trump's decision).
It's worth noting that Nicaragua, the only other country besides Syria and now the US not to ratify the agreement, chose not to because it deemed the treaty not ambitious enough. China and India are already reaching their goals and have realized just how much cash is in renewable energy. Even the pope is disappointed. So disappointed, in fact, the Vatican insulted Trump, which is an odd thing for the Catholic Church to do.
Besides the few people who flanked the president as he announced his intention to exploit the planet's resources until we all drown, most people agree that Trump's withdrawal is bad. Here is a smattering of world leaders, celebrities, and activists who agree that Trump's resolution is cretinous and will unquestionably harm our children. In the words of French President Emmanuel Macron, "Make the planet great again."
1. French President Emmanuel Macron
Statement on the US' withdrawal from the Paris climate agreements. #parisagreementhttps://t.co/T4XOjWZW0Q

— Emmanuel Macron (@EmmanuelMacron) June 1, 2017
2. New York City Mayor Bill de Blasio
Abandoning the Paris accords will be horribly destructive to the Earth and horribly destructive for New York City.

— Mayor Bill de Blasio (@NYCMayor) June 1, 2017
3. Goldman Sachs CEO Lloyd Blankfein
Blankfein had never tweeted before this.
Today's decision is a setback for the environment and for the U.S.'s leadership position in the world. #ParisAgreement

— Lloyd Blankfein (@lloydblankfein) June 1, 2017
4. California Governor Jerry Brown
I want to do everything we can to keep America on track, keep the world on track, and lead in all the ways CA has. #ActOnClimate https://t.co/1WzcyLOrEc

— Jerry Brown (@JerryBrownGov) May 23, 2017
5. New York Governor Andrew Cuomo
New York is committed to meeting the standards set forth in the Paris Accord regardless of Washington's irresponsible actions. #ActOnClimate

— Andrew Cuomo (@NYGovCuomo) June 1, 2017
6. Washington Governor Jay Inslee
Leaving the Paris agreement is a shameful course of action that will jeopardize the health and prosperity of our children and grandchildren.

— Governor Jay Inslee (@GovInslee) June 1, 2017
7. Oregon Governor Kate Brown
Oregon has led the fight against climate change. I'm glad states and cities are stepping up regardless of decision by White House to retreat https://t.co/90fSHcQlH1

— Governor Kate Brown (@OregonGovBrown) June 1, 2017
8. Tesla CEO Elon Musk
Am departing presidential councils. Climate change is real. Leaving Paris is not good for America or the world.

— Elon Musk (@elonmusk) June 1, 2017
9. Disney CEO Robert Iger
As a matter of principle, I've resigned from the President's Council over the #ParisAgreement withdrawal.

— Robert Iger (@RobertIger) June 1, 2017
10. Actor and climate activist Leonardo DiCaprio
Today, our planet suffered. It's more important than ever to take action. #ParisAgreement https://t.co/FSVYRDcGUH

— Leonardo DiCaprio (@LeoDiCaprio) June 1, 2017
11. Senator Bernie Sanders
Trump's decision to withdraw the US from the Paris climate agreement is an abdication of American leadership and an international disgrace.

— Bernie Sanders (@SenSanders) June 1, 2017
12. Pittsburgh Mayor Bill Peduto
As the Mayor of Pittsburgh, I can assure you that we will follow the guidelines of the Paris Agreement for our people, our economy & future. https://t.co/3znXGTcd8C

— bill peduto (@billpeduto) June 1, 2017
13. Former Vice President Joe Biden
Climate change is an existential threat to our future—staying in #ParisAgreement is the best way to protect our children & global leadership

— Joe Biden (@JoeBiden) May 31, 2017
14. Facebook CEO Mark Zuckerberg
15. CEO of General Electric Jeff Immelt
Disappointed with today's decision on the Paris Agreement. Climate change is real. Industry must now lead and not depend on government.

— Jeff Immelt (@JeffImmelt) June 1, 2017
16. Senator Kamala Harris
Leaving the Paris Agreement will have catastrophic repercussions for our planet's future and threatens our global leadership on this issue. https://t.co/6l0vuwnyhz

— Kamala Harris (@KamalaHarris) June 1, 2017
17. Canadian Prime Minister Justin Trudeau
We are deeply disappointed that the United States federal government has decided to withdraw from the Paris Agreement.

— Justin Trudeau (@JustinTrudeau) June 1, 2017
18. Former Secretary of State Hillary Clinton
A historic mistake. The world is moving forward together on climate change. Paris withdrawal leaves American workers & families behind.

— Hillary Clinton (@HillaryClinton) June 1, 2017
19. Google CEO Sundar Pichai
Disappointed with today's decision. Google will keep working hard for a cleaner, more prosperous future for all.

— Sundar Pichai (@sundarpichai) June 1, 2017
20. Twitter CEO Jack Dorsey
This is an incredibly shortsighted move backwards by the federal government. We're all on this planet together and we need to work together. https://t.co/tLEdtG0n1o

— jack (@jack) June 1, 2017