Sen. Kamala Harris Black History Month Essay 2018
An Open Letter to Women Making Black History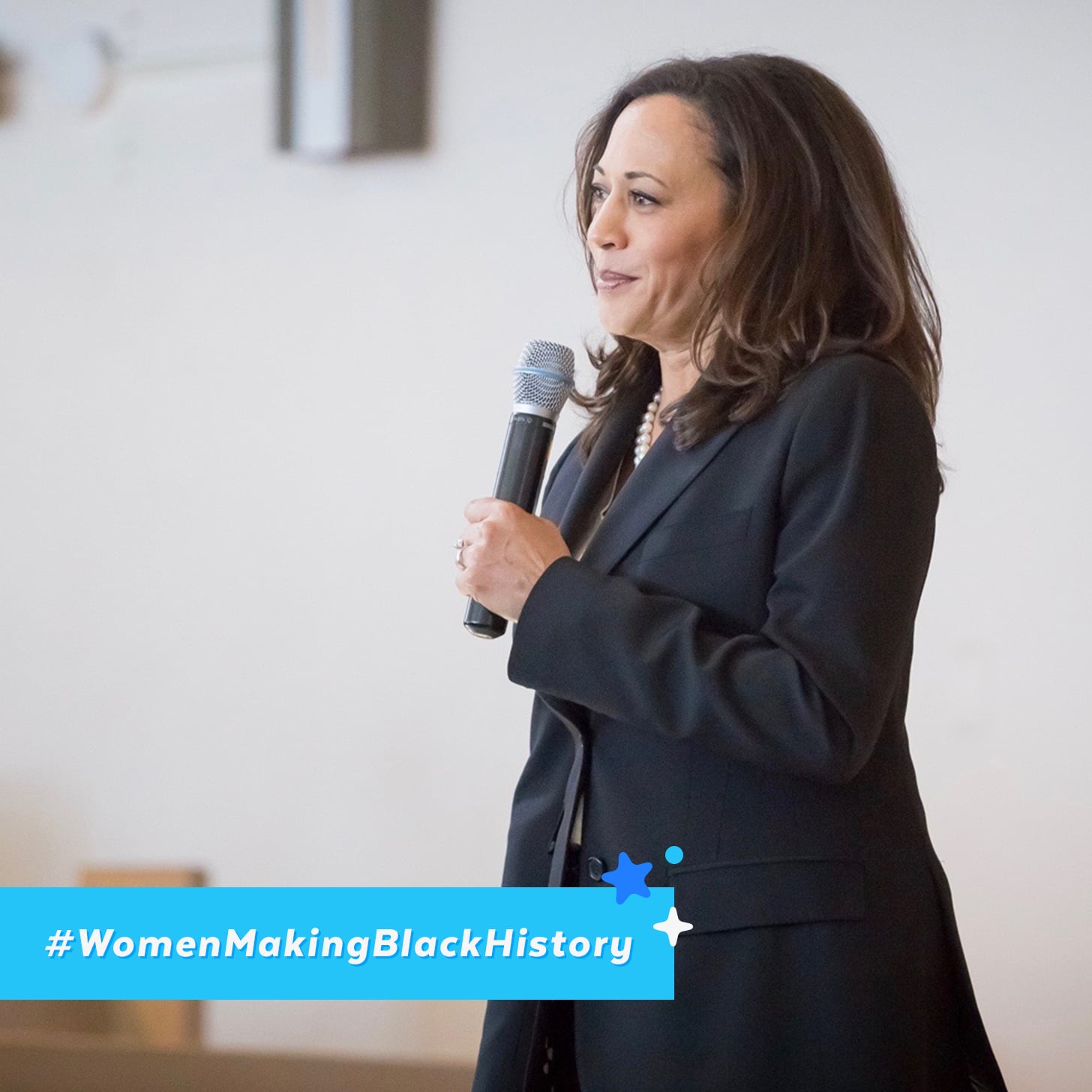 Growing up, one of the songs that defined my childhood was Aretha Franklin belting out how lucky I was to be "young, gifted, and black."
As a daughter of the civil rights movement — with Aretha echoing in my ears — I was inspired to become a lawyer, like my heroes: Thurgood Marshall, Charles Hamilton Houston, and Constance Baker Motley.
After years of prosecuting everything from low-level offenses to homicides, I decided to run to be the San Francisco district attorney. There was a two-term incumbent who was nicknamed "KO" because he'd been a boxer known for knocking out his opponents. Meanwhile, I was at six percent in the polls (which is six in 100).
As you can imagine, I heard a whole lot of skeptics. People told me, "It's not your time." They would tell me, "You know, nobody like you has done this before."
But I also remembered those empowering words: "You are young, gifted, and black . . . and that's a fact."
So I ignored the doubters. And long story short, I was elected the first woman district attorney in San Francisco and the first woman of color to be a DA in the state of California.
After two terms, I ran to become the attorney general of California, believing that the innovation we were able to accomplish in San Francisco could be implemented statewide.
Again I heard the doubts. Again I didn't listen. And again we won.
In 2015, I decided to run for the United States Senate. And today I have the profound honor of serving as only the second black woman in the history of the United States Senate and the first woman of South-Asian descent to be a United States senator.
"Each of these extraordinary women are members of what I have named the Role Model Club. . . . And the great thing about the Role Model Club is that it's always accepting new members."
My story — of defying the skeptics to break new ground — is the story of so many women in this POPSUGAR project.
It's Jesmyn Ward transforming the trauma of Hurricane Katrina into her masterful and haunting novels of the American South.
It's Ros Gold-Onwude overcoming lingering knee injuries to become a decorated point guard and then a pioneering sports broadcaster.
It's Patrisse Cullors and Tamika Mallory channeling their indignation into activism and galvanizing the Black Lives Matter movement and the Women's March.
It's Christina Ham, bringing to the stage the life of Nina Simone — the artist who first wrote that song Aretha covered.
Each of these extraordinary women is a member of what I have named the Role Model Club. They're leaders who we look up to and strive to emulate.
And the great thing about the Role Model Club is that it's always accepting new members. You can be in it at any stage of life. You don't have to be famous to be a role model; you can be a role model in the context of your family, your neighborhood, or your school.
So identify issues you're passionate about, whether that's fighting the impact of climate change or reforming education.
Seek out your own role models — a teacher, a coach, a family friend — who will encourage you.
Then, take a deep breath and take the plunge.
If you want to run for office — run. Get involved in student government, like I did as a freshman at Howard University. Or run for a local office, like Jennifer Carroll Foy, one of the newest members of Virginia's House of Delegates.
If you want to direct the next Oscar-nominated film like Dee Rees — direct it. Go to film school. Get on a set. Learn the ropes.
If you want to lead a company — lead. Take a leadership role within an organization and develop the skills to move up. Become the next Karen Okonkwo or Angela Davis.
And whenever someone tells you your dreams aren't achievable, whenever you feel alone or under pressure, whenever you find yourself in a room where there aren't a lot of people who look like you — be it a classroom, or a boardroom, or a courtroom — remember that you have an entire community in that room with you, all of us encouraging you and cheering you on.
Like the incredible women featured here, there is nothing you cannot do. And that's a fact.
Image Source: Photos courtesy Kamala Harris