Is Travis Kalanick Fired From Uber?
Uber Founder Travis Kalanick Has Resigned as CEO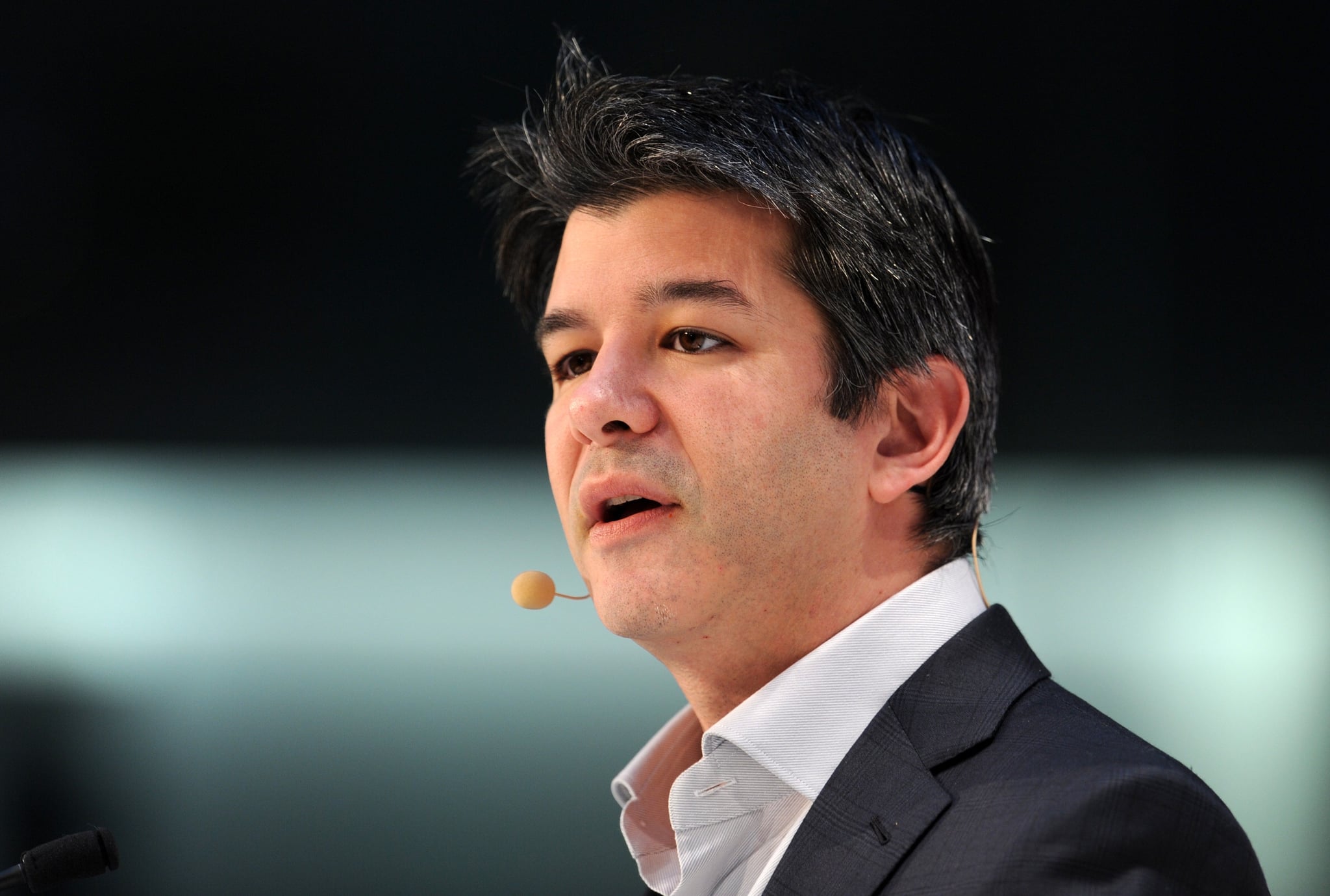 Update on June 21:
On Tuesday, June 20, Travis Kalanick stepped down as chief executive officer of Uber, which he co-founded in 2009. While last week it was reported that the former CEO was taking a leave of absence from the company, it's now confirmed that due to investor demands, Kalanick has left the company. Investors expressed the need for a "change in leadership" and that started with Kalanick's immediate resignation. The New York Times reports he will remain on Uber's board of directors.
"I love Uber more than anything in the world and at this difficult moment in my personal life I have accepted the investors request to step aside so that Uber can go back to building rather than be distracted with another fight," the former CEO said in a statement.
Update on June 13:
Uber CEO Travis Kalanick is taking a leave of absence from the company to deal with the death of his mother. The email to staff was sent out on June 13. He has no official return date. According to Bloomberg, Kalanick will also have some of his duties taken from him and the company will "appoint an independent chair to limit his influence."
The recommendations from Covington & Burling, the law firm that Uber hired to investigate Uber's workplace culture, were also released on June 13. According to an Uber press release, the recommendations were "unanimously approved by the board. Implementing these recommendations will improve our culture, promote fairness and accountability, and establish processes and systems to ensure the mistakes of the past will not be repeated. While change does not happen overnight, we're committed to rebuilding trust with our employees, riders and drivers."
Update on June 12:
Uber's senior vice president for business, Emil Michael, is leaving Uber. An email was sent to the company's employees on June 12 confirming his departure. According to The New York Times, Uber's board met on June 11 to discuss the findings of an investigation into the company's culture led by former US Attorney General Eric Holder. One recommendation included Michael leaving. Reuters is also reporting that Uber's CEO, Travis Kalanick, is expected to take a leave of absence as well.

Original story:
If some companies had the week Uber just had, it might be time for executives to reassess their strategy and company leadership. For Uber, however, it was simply another week in what's shaping up to be a year of company missteps that have raised questions as to whether the company's CEO, Travis Kalanick, is fit to keep leading. Though the company fired more than 20 people after investigating claims of sexual harassment, it still had a series of PR nightmares that prove nothing has been fixed when it comes to its broader cultural issues. In one week, Uber faced a flurry of negative news including firing a top executive who reportedly obtained the medical records of a customer who was raped in an Uber ride, reportedly using an algorithm to pay new employees less, and the CEO using a lactation room to meditate and also sending employees a letter in 2013 instructing them "not [to] have sex with another employee."
An Uber executive was fired after he carried around the medical records of a rape victim for a year.
In 2014, a woman was raped by the driver in an Uber ride in New Delhi, India. The driver was later arrested and is serving a life sentence in prison. However, Uber's president of business in Asia, Eric Alexander, reportedly didn't believe the rape occurred and obtained the medical records of the rape victim, reports Recode. Alexander shared the records with Kalanick and Senior Vice President Emil Michael, and the three started to wonder if a competitor intentionally planted the story. Alexander then carried around the report for a year. Recode asked Uber on June 7 whether Alexander was still with the company following the June 6 firings; he was then fired once more reporters started asking the same question.
Uber used an algorithm to figure out pay for new hires and ultimately reinforced gender pay gaps.
To save money, Uber started to use a new algorithm in 2015 to come up with "lower compensation offers for many new recruits," reports The Information. The algorithm ended up doing two things: it kept up gender pay gaps and people were paid differently for the same role. The company is now fixing the algorithm.
Uber's CEO used a lactation room to meditate.
Arianna Huffington, an Uber board member, spoke at the iCONIC Conference on June 7 in New York City and tried to soften Kalanick's image. She failed when she instead told a story about how Kalanick went into a lactation room to meditate, since Uber doesn't have meditation rooms.
"Literally, it was an amazing moment last week when we were in the office and he said, 'I really need to go meditate in order to be in a place to make good decisions right now,'" Huffington said. "And literally [he] went into a lactation room that happened to be open, because they don't have meditation rooms yet. This is part of the change coming." While Huffington applauds the move and believes meditation helps Kalanick make decisions, lactation rooms should probably be kept to the women who need them.
In 2013, Kalanick wrote an obnoxious email explaining to employees how to act at a company offsite in Miami.
According to Recode, Kalanick sent out an email in 2013 to the company's 400 employees (at the time) that detailed how to act, including not having sex with another employee. The letter, which Record reports some thought Kalanick should have never sent, states "you better read this or I'll kick your ass." It goes on to ask employees not to end up in jail, "not [to] throw large kegs off of tall buildings," "do not have sex with another employee," and other dos and don'ts.
Each of these new reports was revealed in one week, and it's unbelievable that Kalanick is still CEO.