Who Is Alicia Machado?
The Truth About the Woman Trump Called "Miss Piggy"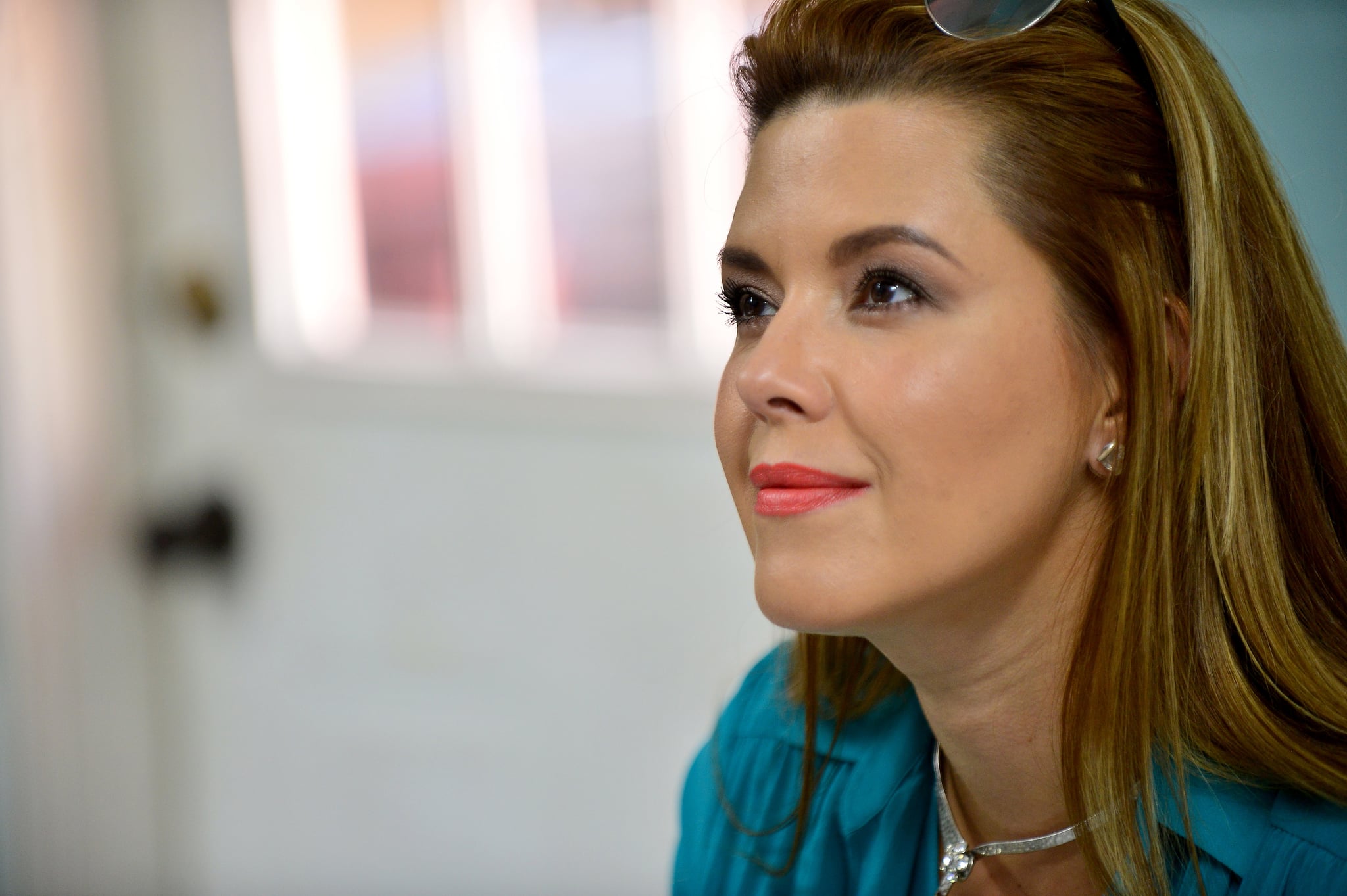 Alicia Machado was sitting at home with her mom and young daughter watching Monday night's presidential debate when she heard Hillary Clinton mention her story. Surprised, the former Miss Universe started crying. Little did she know how big her story would become and how it would rattle Donald Trump.
Hillary Clinton talked about the Venezuela-born Machado when she called out Trump's offensive attitude about women. As the story goes, Machado won the Miss Universe title in 1996 and gained about 40 pounds in the following months. Trump, who owned the Miss Universe Organization, publicly shamed her and made her work out at the gym on national television. He called her "Miss Piggy" and "Miss Housekeeping." As a result of the taunting, Machado says she suffered from anorexia and bulimia. The 39-year-old actress recently came back into the spotlight when she became a US citizen in August and started actively campaigning for Clinton.
Here's how the debate moment went down:
Trump & Clinton talk Alicia Machado: "He called this woman "Miss Piggy." Then he called her "Miss Housekeeping," because she was Latina." pic.twitter.com/Va4zidefG5

— New York Times Video (@nytvideo) September 27, 2016
Clinton: [Trump] has said women don't deserve equal pay unless they do as good a job as men and one of the worst things he said was about a woman in a beauty contest — he loves beauty contests, supporting them and hanging around them. And he called this woman Miss Piggy, then he called her Miss Housekeeping because she was Latina. Donald, she has a name.

Trump: Where did you find this?

Clinton:
Her name is Alicia Machado and she has become a US citizen and you can bet she's going to vote this November.
Machado had no idea Clinton would bring up her story during the debate. "Last night, when I heard my president whom I admire and respect, I started to cry," said Machado about Clinton in Spanish during a press call on Tuesday organized by the Clinton campaign.
Clinton's team wasted no time releasing a video about Machado's experience with Trump:
Trump, always one to have the last word, shot back on Tuesday morning. "She was the winner, and, you know, she gained a massive amount of weight, and it was a real problem," Trump said about Machado during an appearance on Fox and Friends. "We had a real problem. Not only that, her attitude, and we had a real problem with her."
Machado dismissed Trump's comments during the press call, mentioning how Trump seemed to not remember her when Clinton brought up her story during the debate. "He doesn't even remember me or the things he said to me," she said. "But I do remember it and always will. He treated me like trash."
The actress said many women can relate to her. "It's unfortunate that I'm a person who makes Mr. Trump uncomfortable," she said."Our appearance doesn't define us as productive people or intelligent people. We're more than how we look physically."
"Our appearance doesn't define us. We're more than how we look physically."
Trump's treatment of Machado in the '90s is troubling, no doubt. It represents, once again, a man who has no qualms about disrespecting women. But for a presidential candidate to continue to tear down a woman because of her weight is even more disturbing. Is this the man we want as our country's leader?
We've seen such behavior from Trump before; indeed, one of the many things we've learned about him is that when he gets offended, he fires back with the relentless vengeance of bully. Let's not forget Khizr Khan, the Muslim father of a soldier who died in Iraq, who criticized Trump in a damning speech at the Democratic National Convention. Trump retaliated by targeting Khan's wife and consequently lost the support of many veterans and GOP leaders. He is doing the same with Machado, and this time, he's risking whatever is left of the Latino and female voters who could vote for him. Since Clinton told Machado's story Monday night, dozens of media outlets have made her name known, and the internet took a collective gasp in disbelief at his comments.
"We can't afford such a machista, misogynist like this man," Machado said. "Latinos and women can't just stay quiet . . . maybe my story can change some minds." Maybe it already has.