Who is Deb Haaland
Meet Deb Haaland, Who Could Become Our First Native American Congresswoman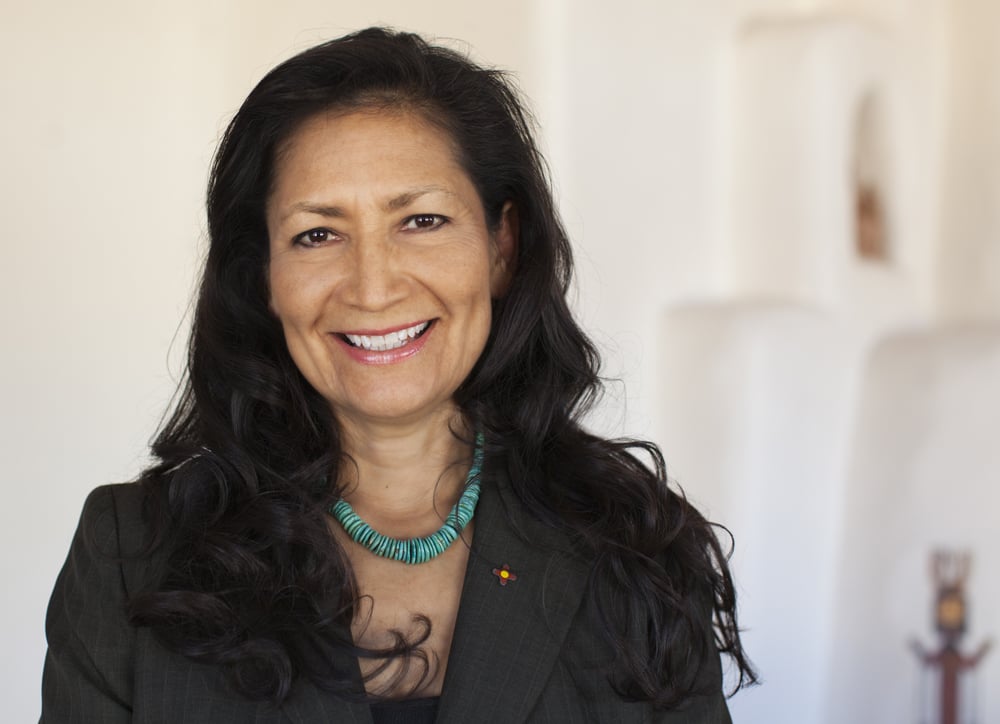 Update: On June 5, Haaland won the Democratic nomination in New Mexico's 1st district, moving her one step closer to a historic role in Congress.
Original story: Deb Haaland stands to make history. If the New Mexico Democrat's campaign is successful, the single mom could become the only Native American woman to ever serve in the United States Congress.
A citizen of the Laguna Pueblo nation, Haaland grew up the daughter of military parents. She went on to put herself through college and law school at the University of Mexico, often scraping by on food stamps and student loans to get by. In 2008, she worked the phones as a full-time volunteer for Barack Obama's 2008 campaign. Four years later, she was back on team Obama for his reelection campaign — this time as the Native American vote director. That experience encouraged Haaland, now 57, to step into the political foreground and run for Lieutenant Governor in 2014.
"I had traveled across the state many times working in Indian communities to get out the votes [for Obama]," Haaland told POPSUGAR. "And I just felt like I had a vast network of people across the state." While she didn't win the seat, Haaland wasn't deterred. Like so many women across the country — including a historic number of Native American women — she was inspired to throw her hat into the ring and run in the 2018 election. While the New Mexico field of candidates is crowded, Haaland has good reason to be hopeful about her chances at a June 5 primary win; earlier this month at the state Democratic convention, she won 35 percent of the vote, more than any of the other five candidates in the running.
We spoke with Haaland, who counts economic equality, reproductive rights, and combating climate change among her key issues. Shortly after her convention victory, she reflected on her trailblazing run, the connection she sees between the Native American and American immigrant communities, and why she thinks it's time to elect more politicians who know what it's like to struggle.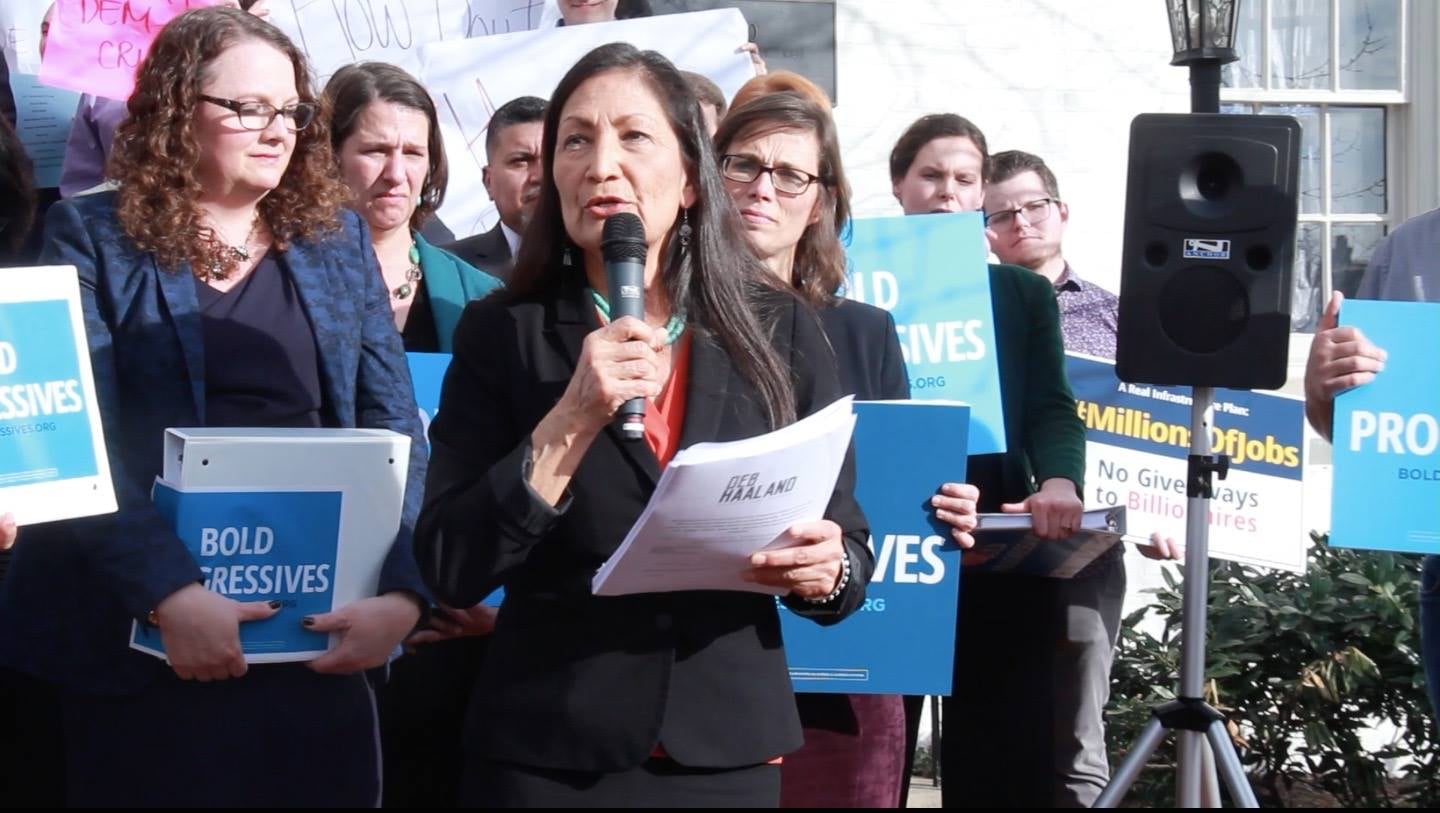 POPSUGAR: You could be the first Native American woman — or one of the first two — to serve in Congress if you win this race. What does that mean to you?
Deb Haaland: Well, we all know how important diversity is, right? I think that diversity is the most important thing right now for elected offices, because we need everyone at the table. We need everybody's input on how to solve the issues that are plaguing our society. It's been evident to me that having a first Native woman would help to move the conversation forward in maybe a different way than it has. Not only that, but look: all women of color are underrepresented. So I would be proud to represent Native women in Congress.
"I feel very strongly that this administration's immigration policy is racist."
PS: In this post-Standing Rock era, what are some issues that matter to the Native American community that you think are routinely ignored at all levels of government?
DH: Well, I think since Standing Rock — I mean, it might just be me — but it looks like some folks are paying closer attention to some of these issues. They were set to sell land leases in the Chaco Canyon area. That's my ancestral homeland. It's a treasure to all New Mexicans and all Americans. And Secretary [of the Interior] Zinke eventually decided to withdraw those lands from public auction because he said it needed more environmental review, so that's a good thing. We brought attention to that. People were protesting. I mean, it's a lot of land. It's a lot of water issues.
We saw that a number of Native Americans, including the president of the Navajo Nation, were dead set against the administration shrinking Bears Ears in Utah. And in this era where climate change is really becoming a massive threat to so many communities, I think it will help us to pay attention to the issues that Native folks have known [about] for years. I mean, this is their homeland.
PS: You've spoken about how the commonalities between Native American and immigrant communities have impacted your stance and views on immigration, as well.
DH: I wholeheartedly support our Dreamers. I feel very strongly that this administration's immigration policy is racist. I mean, when you think about it, it's, 'Send the Dreamers back. Ban Muslims from our country. Let's build a wall.' All of these things are not based in humanitarian efforts, at all.
My grandmother and my great-grandparents, they were all separated from their families in the United States' effort to assimilate Indians into mainstream society, when they sent these kids off to boarding school at a very young age. My grandmother was sent to boarding school when she was eight years old and separated from her family until she was 13. I don't think it's ever okay to take that stance in separating families, and I will do everything I can to make sure that families stay together. That's the most important thing. We need to base our decisions in humanity.
PS: You've been very critical of Trump and the Trump administration. What angers you most about his presidency?
DH: Oh my gosh. Besides everything [laughter]? I mean, what I think of immediately when I think of President Trump is that he has not lived a life like I have. He has not lived a life like 99 percent of the people in district one of New Mexico. He's never had to struggle. He's never had to worry about putting food on the table. He's never had to worry about making sure that he paid the rent for the month, or that his kids had shoes to wear to school. He's never had the struggles that everyday Americans have had. He doesn't think about the things that we go through, and that's not the kind of leader that I feel will make decisions based on my best interests. He's going to base his decisions on the world that he knows, which is billionaires, millionaires, Wall Street folks, and people who don't necessarily need the help of the government other than to give them tax breaks.
So, when I think about leaders in our country, I want leaders who have had to struggle; who know what it's like. And that is certainly not Trump, or Paul Ryan, or any of the Republicans that I see making decisions to keep our dreamers out, or not raise the minimum wage, or do anything for workers that we know need to be done to give them an opportunity to have a happy life.
PS: You worked on Obama's 2012 campaign, so I'm just curious: what was the biggest lesson you learned from that job?
DH: It was the hardest job I ever had. It was 18 hours a day — but I was up for it, because I truly believed in my candidate and making sure that he won reelection. It was worth every second I spent. I think it really reaffirmed my work ethic. And that's an important part of running a campaign. That's an important part of serving the people, the district, and the people in the state that you love. So I guess, in a way, it helped me to really reaffirm that that I could do anything I put my mind to. Working on that campaign really helped me to realize my abilities.
PS: If there is someone out there who's mulling running for office, but maybe isn't sure where to start, or might feel intimidated, what would you say to her?
DH: The first thing I would say is make contact with your Emerge America chapter. It's a women's political leadership training program for Democratic women that trains women, gives you the tools, helps you build a network of folks who will help you when you decide to run. And the second thing I always suggest — and I always, always suggest this — is get involved in campaigns. Start volunteering if you haven't yet. Go all out. Do as much work as you can, because you learn the ropes. You build your network. When you're ready to run, there will be people who believe in you, because you've shown that you can work hard and you have the folks to back you up.
Image Source: Photos courtesy Deb Haaland