Who Is Jennifer Carroll Foy?
How Jennifer Carroll Foy Won Hearts, Minds, and a Historic Seat in the Virginia House of Delegates
In early 2017, Jennifer Carroll Foy launched a campaign to join the Virginia House of Delegates. It was a pivotal time in our nation's history — most of us were still curled up in a ball, wondering how
Barack Obama could just walk out of our lives like that
— and would turn out to be a pretty pivotal time in Foy's life, too. Three weeks after throwing her hat in the ring, Foy discovered that she and her husband, Jeffrey, were expecting twins.
"Everything is going pretty well," Foy told me over the phone, nearly a year later. "I just got the two boys to lie down, so I'll be whispering a little bit." The two boys Foy is referring to are her sons Xander and Alex, who were
born prematurely in July at only 23 weeks
. She told me that not only did her pregnancy solidify her decision to "run harder," but it also gave her a sense of urgency to "help change the face of politics, to help change the world" as much as she could.
And she's already started: in November, Foy, a 36-year-old public defender and Virginia Military Institute graduate, succeeded Republican Mark Dudenhefer, a white man, and took the Second District seat. She was one of the
first-time Democratic women candidates
to run for delegate in Virginia in 2017. And she won. In my opinion, "everything is going pretty well" is an understatement.
2016 left a bad taste in Foy's mouth, as it did for many of us.
"I just saw a lot of regressive politics coming out of Richmond and the General Assembly, and I think with Trump's election it was just a culmination of everything," she said. "It signaled to me that we have to have good people stand up and push back." After Inauguration Day, though — the day Foy believes "Trump should have resigned" — she noticed a "new surge of energy" in Virginia, a progressive wave spurned by the Women's March as well as "Trump antics regarding the Muslim ban and his administration trying to roll back affirmative action." "A lot of these things propelled the community to say, 'We can no longer be quiet. We can't continue down this road because it's dangerous,'" Foy explained.
That progressive wave brought Foy to the front doors of residents in the Second District, an area in which 57 percent of residents identify as white, 26 percent as African-American, 18 percent as Latino, seven percent as Asian, and 10 percent as "other,"
according to the 2016 census
. "I think having those conversations at the doors . . . people really talked about the partisan gridlock. How in Richmond, in DC, these things weren't getting done. People felt like their interests weren't being looked at or taken care of. At the end of the day, they care about their children going to good schools, living close to where they work, not being in traffic for hours a day. I mean, these are just quality-of-life issues that people cared about, and they felt their voices weren't being heard."
Women of color who are motivated to become activists typically do so because we've experienced a series of galvanizing events in our lives.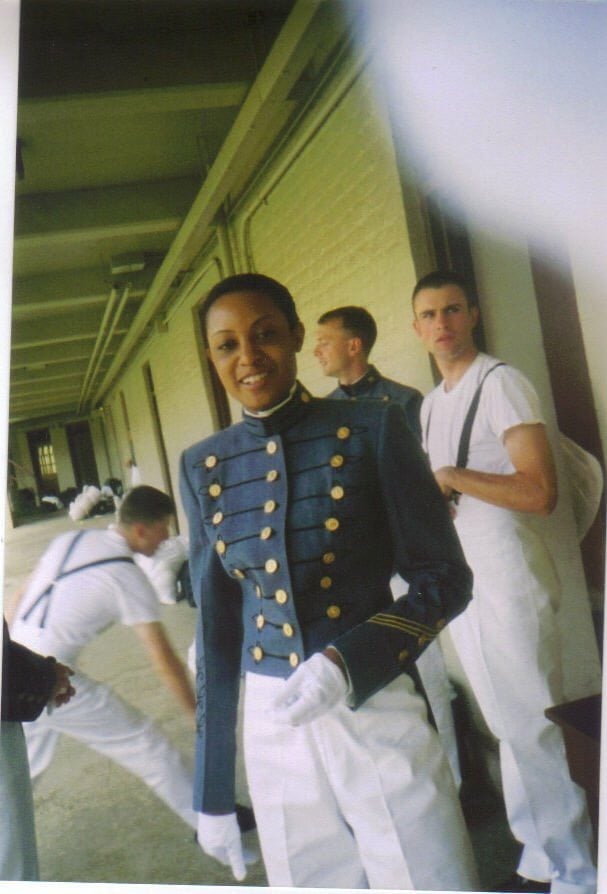 Being disrespected or dismissed at the outset because of your gender, race, or both, can make
and
break you. Foy has had her fair share of these moments, especially as one of the first African-American women to be admitted to and graduate from Virginia Military Institute, a historically all-male college in Lexington. "I felt the impact of being a minority, and I was able to learn how to navigate politics and be in a room of people who may not want me there," she explained. "And I think that experience lent itself well to what I'm doing right now."
After receiving a Bachelor's degree from VMI in 2003, a master's degree from Virginia State University in 2005, and a JD from the Thomas Jefferson School of Law in 2010, Foy became a public defender. In 2013, she began
the Foundation For Foster and Orphan Children
, a nonprofit with the mission of helping to "build a better future for foster and orphan children in Virginia and beyond."
"I fight for so many people in minority populations, whether it's people who suffer from substance abuse and mental illness, those who are chronically indigent, [or] a lot of undocumented immigrants," she told me. "I see the battle that they have to fight on a daily basis, and I understand how a lot of our laws, that are archaic in nature, have a collateral effect on their lives and contribute to a perpetual cycle of poverty." This firsthand experience has been a motivator for Foy. By joining the legislature, she
found a proactive way to help move her state of Virginia forward
into more progressive policies, the things she believes "are really going to matter to people's everyday lives."
As a public defender and foster parent, criminal justice reform is another subject close to Foy's heart. "Every day I fight that battle in order to make sure that there is fairness, justice, equality, and transparency in our criminal justice system," she said. "I see a lot of the pitfalls and the cloud of consequences that people suffer on a daily basis, and I really want to fix that, because Virginia is number one for the school-to-prison pipeline in the country."
Motherhood has inspired Foy to add other important policies to her agenda. When sons Alex and Xander were born, they weighed only 1.5 pounds each. Foy spent days campaigning and nights with her newborn babies in the Neonatal Intensive Care Unit at Inova Fairfax Hospital. "Like almost every mother out there, after giving birth, you're out of commission. And we have that difficult decision to make: 'am I going to be there for my child and my family or am I going to work to pay my mortgage this month?'" she noted. "No woman in the richest country in the world should have to make that decision."
In addition to paid maternity leave, bringing her boys into the world has encouraged Foy to fight even harder for issues concerning the environment and education. She wants her kids to have access to drinking water that is untainted by lead and arsenic — a real threat in her community. She wants qualified instructors in every classroom — in Virginia, there's a critical schoolteacher shortage. Playgrounds free of poison, clean water, and quality education are things that Foy wants not only for her own children, but also for all children in Virginia, regardless of their background or financial situations.
"One of the benefits of being an African-American woman is that I can see things through so many different lenses, and people relate to me because I'm from the community," she said. "They say, 'This is a person who fought and worked for everything she's ever received, just like me.' I can identify what it means to not have insurance and how important Medicaid expansion is, and what it means to people to have access to quality education. That helps make me relatable, and I think that's why people voted for me: because they said, 'This person is just like me. She'll go down there and fight for what's important for all of us.'"
Despite her relatability and magnetism, Foy was never going to win everyone over.
Talking to as many people as she possibly could included talking to those who were likely to immediately reject her because of the color of her skin. An October 2017 profile on The Nation describes Foy "stroll[ing] confidently toward a skinny young white man wearing a Confederate-flag 'Don't tread on me' t-shirt" while campaigning in Stafford County, VA, not even 100 miles from where a white supremacist murdered counterprotestor Heather Heyer with his car two months earlier in Charlottesville. The same piece tells of two "beefy, red-faced white men in trucker caps" who gave "cold stares" and refused to even meet Foy, reportedly joking, "Do I look black?"

Even though I was eager to know if Foy felt pressured to change people's minds about any preconceived notions or misjudgments about her, I already knew the answer. Constantly feeling the need to defend your accomplishments, fight against stereotypes, and teach those around you about systemic racism is just part of being a black woman — no matter what field you're in.

When I asked her if it was a hurdle during the campaign, Foy took a deep breath. "I knew that seeing me as a candidate was not an everyday occurrence," she said, adding that she knew she needed a message that could relate to anyone. She wanted people in the community to know that she was there to represent all of them and work to improve their everyday lives — regardless of their gender, race, religion, or sexual orientation. Her goal during those initial meetings was to bring civility back to political conversations, and politics in general. The last thing she was going to do was be deterred by an archaic attitude or painful symbol of the past.

"I tried not to focus on the Confederate flag waving at someone's house," she continued. "I would still go up there and knock on that person's door because I hoped to be their representative. I can't say that I want to represent the people and not knock on that door and ask them, 'What's important to you? Let me tell you about [myself] and what's important to me and how I want to fight down to Richmond to bring change.' Going to Virginia Military Institute and being in that environment where you're forced to have quality conversations, it taught me that you can't base people upon their political affiliations or their backgrounds. You have to meet people where they are because we oftentimes have more in common than not."
In November 2017, we saw a substantial amount of women — of all races, sexual orientations, and gender identities — running and getting elected to office; in Foy's own state of Virginia, Danica Roem became the first openly transgender person to be elected to the legislature. Roem ran as a Democrat against Republican incumbent Bob Marshall, who had held the position for more than 20 years and was widely known for introducing anti-LGBTQ+ legislation in the state. Foy and I talked about how inspiring and motivating their wins were; how it showed us a little glimmer of hope and gave us a sense that things really were changing for the better. But people don't typically donate to female candidates as often as male ones, which is yet another example of the systemic barriers facing those who want to run for office. And as a black woman, Foy is obviously no stranger to sexism. Did she feel like she had to campaign twice as hard as a man in her position might have?
"Absolutely," she told me. "I went through group training with Emerge Virginia, and that's one of the first conversations they had with us. They said, 'Prepare yourself, because as a woman, you have different challenges than a man. People care what you wear, what color your outfit is, what height your shoes are, the way that you style your hair. Unfortunately, that's what matters, and these are the conversations that people wanted to have about you when you're not in the room." She recalled people talking about "Michelle Obama's arms and not her law degree" and "Hillary Clinton not smiling as much as she should, instead of the substance of what was coming out of her mouth and the agenda that she was trying to push forward."
"This is not just the exception; this is the rule. This is not a phenomenon. We're going to make this the new normal."
Foy understands that women's campaigns are contributed to less frequently than men's campaigns, and she chalks it up to the fact that "we're trying to change a social construct." As women, and especially women of color, we're still fighting hard to find those seats at the table. She is hopeful, yet realistic. "This is not just the exception; this is the rule. This is not a phenomenon. We're going to make this the new normal," she said. "To get people accustomed to donating to women, we have to have more women out there running and becoming the faces of your state legislatures and Congress." Foy worked relentlessly in her fundraising efforts, getting in front of as many people as possible and making direct asks. Like most women in high-powered positions, she had to sell herself and her qualifications and her agenda better than the person next to her. She was well aware that those campaign dollars weren't going to just come pouring in as easily to her, but her message was so clear that people couldn't help but galvanize. Because of her tireless work and self-assurance, she was able to raise enough to push her campaign across the finish line.

I am drawn to Foy's confidence and tenacity: this is a woman who doesn't seem at all like the type to back down from a fight or let herself be taken out by a bump in the road. Foy knows her strengths, and she also knows how far they can take her. "I am motivated by a challenge," she said with a laugh. "When someone tells me what can't happen and what I can't do, I dig in my heels even harder because I know that I can do it and that it needs to be done."
When I wondered if Foy, a woman who has dedicated her adult life to public service, has any broader ambitions in politics (like a run for national office, maybe?), she played it cool. "Right now, I'm just excited about being the delegate. I'm just looking to learn as much as I can, hone my skills every day, and be the best representative for the Second District in Virginia."

I just had one last question for Foy before I let her get back to her growing babies. I wanted to know what she would say to a young woman of color who is on the fence about becoming more involved in politics or even potentially thinking about running for office herself. Her answer was remarkable in its simplicity: direct, heartfelt, and full of the grit that Foy herself displayed on the campaign trail. "I would tell her, 'Do it,'" she said matter-of-factly. "Don't think about it; just get in there. Have a good conversation with the people closest to you because you'll be bringing them along for the ride, and it will impact their lives as well as yours. You will need that support."

"In order to change the face of politics and make sure that our interests are protected, we [need to] work hard for women and working families and children and better our communities and society. We can't wait for someone else to do it," she went on. "We can't sit on the sidelines. And we have to get in the game and make it happen. So I would say, 'Grab a friend and become a candidate.'"
What Jennifer Carroll Foy knows better than anyone: that action is key, courage is contagious, and change can't happen alone.