George Floyd's Family Reacts to Derek Chauvin Guilty Verdict
"We Need Change in This Broken System": George Floyd's Family Speaks on Derek Chauvin Verdict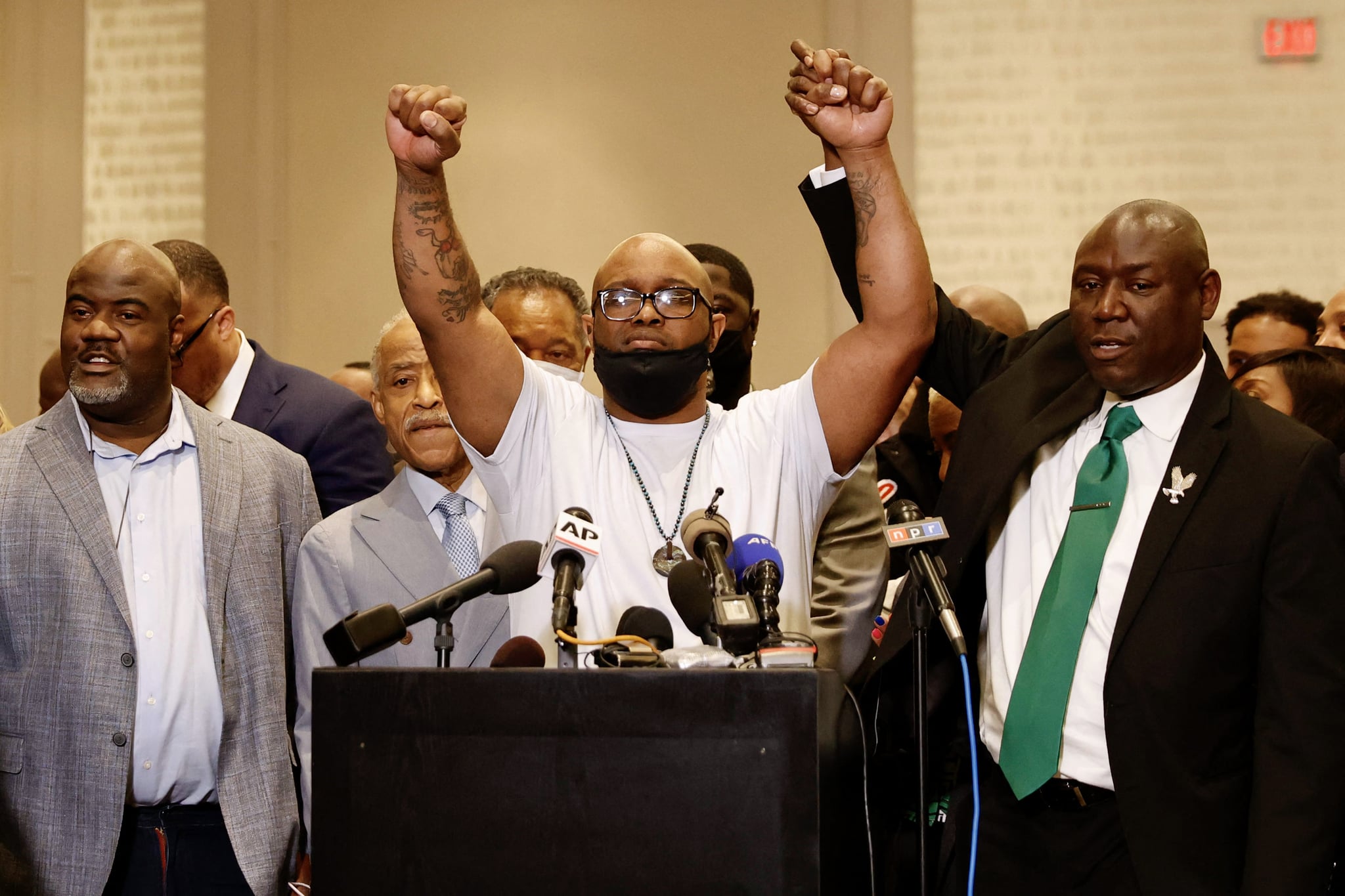 Following an emotionally draining three-week trial, a Minnesota jury found former Minneapolis police officer Derek Chauvin guilty of all charges in the murder of George Floyd. On April 20, immediately following the verdict, over a dozen of Floyd's family members gathered in Minneapolis, MN, for a press conference moderated by attorney Ben Crump to share their reactions to the pivotal decision. Among those in attendance were George's brothers Philonise Floyd, Terrence Floyd, and Rodney Floyd, his nephew Brandon Williams, his daughter Gianna Floyd and her mother Roxie Washington, and several other family members.
"History is here. This is monumental," Terrence Floyd said after thanking those around the world who have supported the family with their love and prayers. "My family is a family that will not back down from prayer, and I believe because of prayer, we got the verdict we wanted . . . Every day of my life I will salute [George]. He showed me how to be strong, how to be respectful, how to speak my mind. I'm gonna miss him but now I know he's in history. What a day to be a Floyd."
"Today is a pivotal moment for America. It's something this country has needed for a long time now and hopefully today is the start of that."
While this may have been the outcome George's family was hoping for, it is only a brief moment of relief and respite from the ongoing fight for all those who have and continue to have their lives taken from them as a result of police brutality. "People forgot about [Emmett Till] but he was the first George Floyd," said Philonise Floyd. "Today, you have the cameras all around the world to see and show what happened to my brother. It was a motion picture, the world seeing his life being extinguished and I could do nothing but watch, especially in that courtroom over and over and over again as my brother was murdered." He went on to say that Derek Chauvin's conviction should not be seen as justice, but as progress, and should motivate people to continue pushing for police reform in cases like that of Daunte Wright, a 20-year-old Black man who was shot by a police officer on April 11. "We have to always understand that we have to march," he said. "We will have to do this for life. We have to protest because it seems like this is a never-ending cycle . . . Justice for George means freedom for all."
Brandon Williams took the opportunity to highlight the importance of police reform in the US. "It's a very emotional day for me. I don't really have the words. I'm overwhelmed with joy," he said. "All of the evidence, all the witnesses, everything proved exactly what we saw in that video. Yet we still question the decision of the journey. Oftentimes, the system still fails us as Black women and men in America. With everything pointing to a guilty verdict, [usually] we somehow still don't get the guilty verdict. In some cases we don't even get charges. So today is a pivotal moment for America. It's something this country has needed for a long time now and hopefully today is the start of that."
Chauvin's conviction was a step in the right direction, but Floyd's family stressed that it does not erase the overwhelming threat of police brutality for the Black community. "We need change in this broken system," Brandon added. "It was built to oppress us. It was built against us. Oftentimes, we see people who are supposed to protect and serve, they do the total opposite . . . We need each and every officer to be held accountable, and until then, it's still scary to be Black in America encountering police. So when I say today is a pivotal moment, it's a chance for America to take a turn in the right direction."
In Floyd's honor, Democrats in the United States Congress and members of the Congressional Black Caucus submitted the George Floyd Justice in Policing Act, a bill currently under review by the US Senate that aims to combat police misconduct, excessive force, and racial bias in policing. Reflecting on his legacy and the legacy of the Justice for George Floyd movement, his cousin Tara Brown said: "It's been a journey for sure and this victory for George Floyd is a victory for many. We know we'll never get George back, and that's the sad part, but we are fighting and we're gonna continue to fight . . . We can't bring him back, but we can save lives." Watch the full press conference video here.
GEORGE FLOYD'S FAMILY SPEAKS AFTER GUILTY VERDICTS: Member of George Floyd's family speak to the press after former police officer Derek Chauvin was found guilty on all charges in the death of Floyd https://t.co/zFqLLl14Vx

— NowThis (@nowthisnews) April 20, 2021