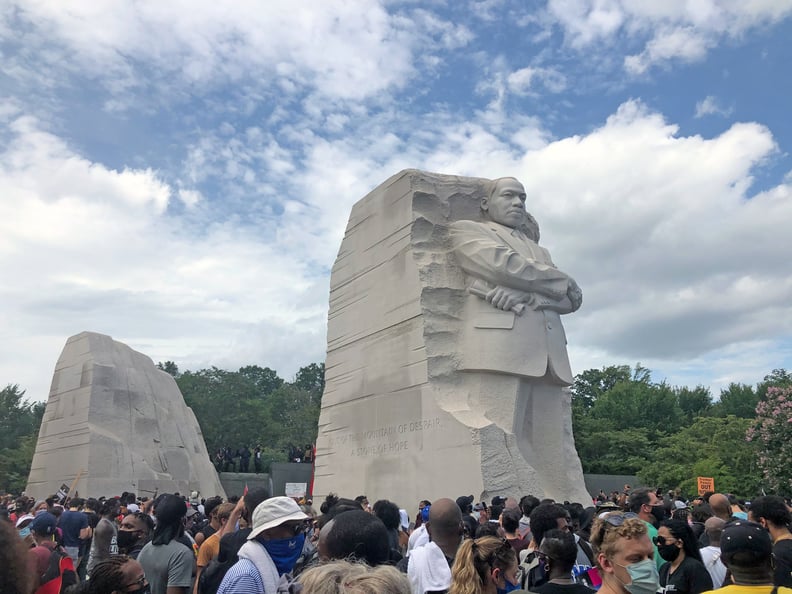 POPSUGAR Photography | Karenna Meredith
POPSUGAR Photography | Karenna Meredith
Thousands gathered in Washington DC on Aug. 28 to commemorate the original 1963 March on Washington, exactly 57 years later. Spread across the National Mall, attendees turned toward the Lincoln Memorial to remember Dr. Martin Luther King Jr.'s dream of racial equality — and to plead for the necessary work to achieve it. Speeches ran throughout the afternoon, from the families of victims of police brutality and iconic movement leaders like Rev. Al Sharpton and Martin Luther King III.
Shouts of "Say her name, Breonna Taylor" and "No justice, no peace, no racist police" echoed from the marble steps of the Lincoln Memorial to the heights of the Washington Monument. Taylor's mother faced the expansive crowd, along with the siblings of George Floyd, Trayvon Martin's mother, Ahmaud Arbery's mother, and the father and sister of Jacob Blake, among others affected by police brutality and racial injustice. Emotions ran high as speakers remembered their lost loved ones. "We're going to have court right now. Guilty. Guilty. Guilty. Racism against all of us. Guilty. Guilty. Guilty," Blake's father, also named Jacob Blake, said. "And we're not taking it anymore."
"We're going to stand up, every Black person in the United States is going to stand up," he continued. "We're tired. I'm tired of looking at cameras and seeing these young Black and brown people suffer." His statement was met with cheers from the crowd, as he mourned for a now-paralyzed son, shot seven times in the back by police in Kenosha, WI.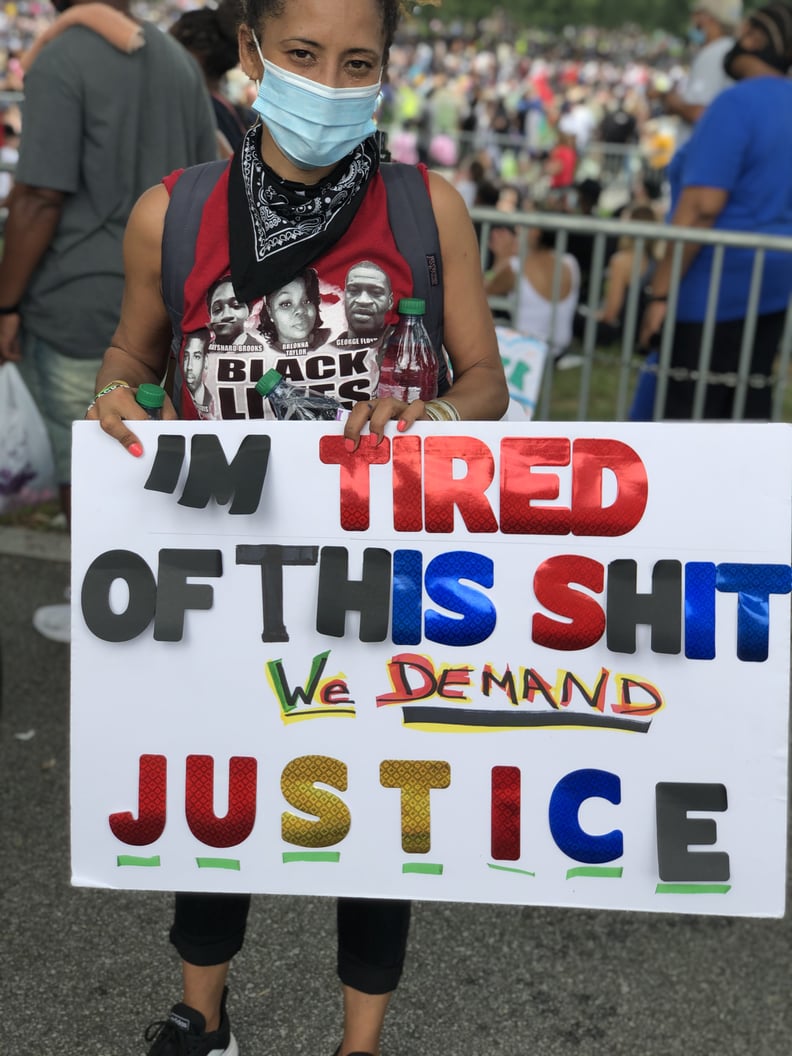 This "enough is enough" attitude was a common thread among the speech-makers and marchers. People frustrated with the slow results of an exhaustive fight channeled their disappointment into homemade signs. References to the late Rep. John Lewis were plentiful over paper and the podium as the drive to get into "good trouble" grew. Even 12-year-old Yolanda Renee King, Dr. King's only granddaughter, told young people to prepare for the fight of their lives.
"I want to ask the young people here to join me in pledging that we have only just begun to fight — and that we will be the generation that moves from me to we," she said. "We are going to be the generation that dismantles systemic racism once and for all, now and forever. We are going to be the generation that calls a halt to police brutality and gun violence once and for all, now and forever."
Yolanda's thoughts were echoed by her father, Martin Luther King III. He stood in the same spot where his father recited the "I Have a Dream" speech 57 years earlier and made a plea of his own: vote. "If you're looking for a savior, get up and find a mirror. We must be [our own] hero," he reminded the crowd.
Rev. Sharpton also invoked Dr. King's spirit as he assured listeners the late reverend's famous dream is far from dormant. "We come today Black and white and all races and religions and sexual orientations to say this dream is still alive," he said. "You might have killed the dreamer, but you can't kill the dream, because truth crushed to earth shall rise again. Get your knee off our neck. Enough is enough."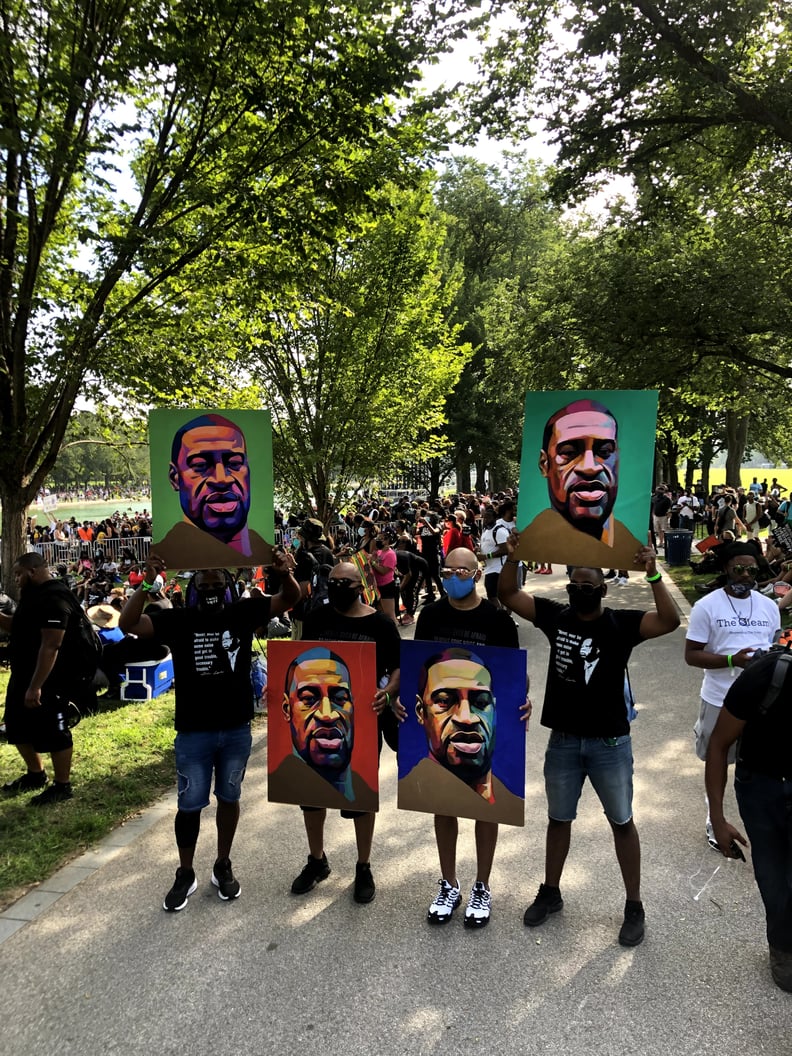 Rev. Sharpton organized Friday's event, dubbed the Commitment March: Get Your Knee Off Our Necks protest — a nod to George Floyd, who died when police officer Derek Chauvin knelt on his neck for over eight minutes. Ongoing violence against the Black community is what inspired Rev. Sharpton to bring the march back to DC in the first place, and the determined energy spread throughout the crowd as attendees began the walk from the Lincoln Memorial to the statue of Dr. King.
The Lincoln Memorial is symbolic, not only for Dr. King's speech, but for the promises made by President Abraham Lincoln to the Black community that never came to fruition. "He promised us full citizenship if we fought to save the Union," Rev. Sharpton said. "We never got the full citizenship. We never got the reparations. We've come to Lincoln because you promised, Mr. Lincoln, and the promise has been broken."
But what is a march without continued action? The event's participants weren't just sitting in the signature DC heat and humidity for a casual stroll. There was repeated emphasis on pressuring the US Senate to pass the George Floyd Justice in Policing Act and the John Lewis Voting Rights Advancement Act, and voting legislators into office who will make equal justice a priority. In other words, the fight must continue long after feet stop hitting the pavement.
"Black lives matter," Sharpton said, "and we won't stop until it matters to everybody."