The Hypocrisy of Police Action Against Women Mourning Sarah Everard
On March 13, crowds gathered across the UK to mourn the death of Sarah Everard. The 33-year-old South London resident was killed earlier this month while walking home, and a Metropolitan police officer has been accused of her murder. Throughout the day, individuals who felt connected to Everard's tragedy congregated at Clapham Common, including Kate Middleton, the Duchess of Cambridge. But as evening approached, tensions grew between demonstrators and police presence, leading to forceful actions and aggressive arrests.
Everard's death served as a reminder of the lack of safety women experience across the globe. The gathering at Clapham Common meant to memorialize one of the last places she was seen but the main "Reclaim These Streets" event in London was cancelled after police cited COVID-19 precautions. Mourners assembled that night anyway. According to CNN reports, it took less than an hour for Met police officers (mostly men) to close in on the crowd. Their corralling techniques made social-distancing impossible, as they used force against the peaceful vigil. Photos taken at the event show women dropped to the ground as police made arrests.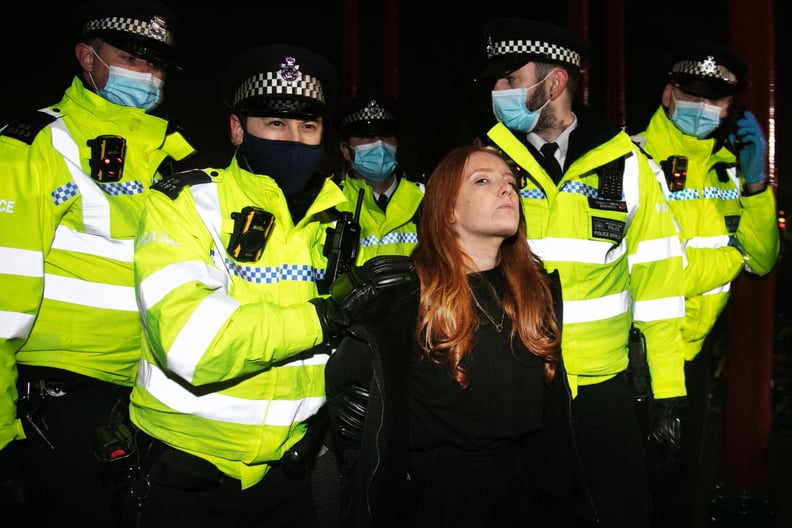 The hypocritical police action against women wasn't lost on the world watching, as a police officer from the very same group stands accused of Everard's death. Women see themselves in Everard, when they fear for their safety or experience lifelong harassment. Women visited the vigil to express solidarity. For that same safety to be threatened once again, at the hands of police, is haunting.
On Sunday morning, the police released a statement and said, "We were placed in this position because of the overriding need to protect people's safety." However, outraged activists continue to call for the resignation of Cressida Dick, Commissioner of the Metropolitan Police Service. London's mayor Sadiq Khan tweeted, "The scenes from Clapham Common are unacceptable. The police have a responsibility to enforce Covid laws but from images I've seen it's clear the response was at times neither appropriate nor proportionate." Undeterred, many mourners continue to assemble in London throughout the weekend.
As society reflects on Everard's murder, the police action at her vigil, and the ensuing political response it's essential to remember those who are too often excluded from this narrative: BIWOC. Across the seas, on the very same day, the world mourned the loss of Breonna Taylor, another woman killed at the hands of police. When activists sought justice for her during rallies last summer, they faced another level of police aggression. Last year, Met police officers allegedly posed for selfies with the dead bodies of Black women. As the Black community expresses outrage towards this institution on Twitter, it's clear, the demands for change must be inclusive.