I've been a domestic worker for 25 years, and there are three unforgettable moments that stand out for me in my career in the care industry.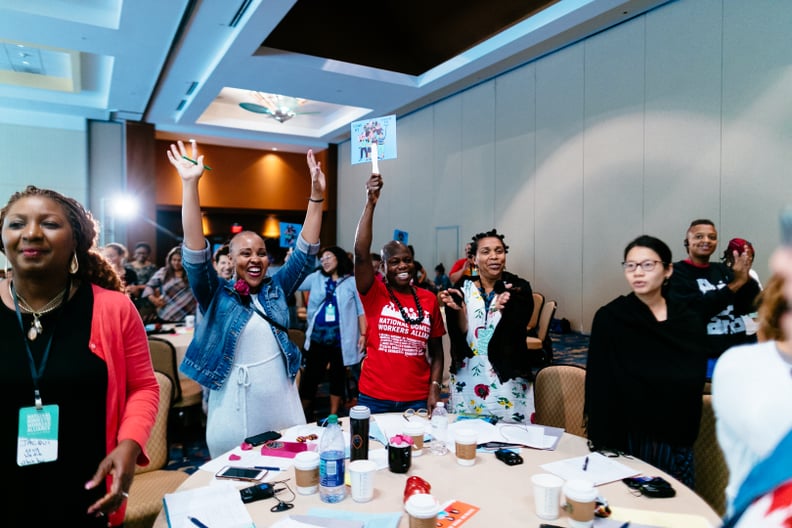 The author, second from left, joins leaders and staff at the biannual National Domestic Workers Alliance Congress in October 2018.
The first took place in 1993, at a park in Midtown, NY. I was caring for a 3-year-old girl when I taught her to write her name for the first time, in chalk on the pavement in that park. She looked up at me, her nanny who had coached her through each letter, with eyes full of wonder and pride as she realized what she had just done. It was also the moment I realized just how much pride I had in my work.
Over the years, I came to see my profession for what it truly is: a labor of love.
I come from a long line of domestic workers. My mother was a domestic worker, and she did it all: she was a nanny, she cleaned homes, and she provided elder care. Her mother before her was also a domestic worker, mostly cleaning homes, and I am guessing her mother before her, too. I remember from a very young age watching my grandmother rise before the sun to go to someone else's home and take care of them and seeing her return after dark, weary as she came home to her own family to take care of.
Over the 25 years I've worked as a nanny in Manhattan, Brooklyn, Westchester, and Long Island, I have experienced many moments of pride as a domestic worker. As nannies, we have the opportunity to be a child's first teachers, whether we're helping them write their first letters, catch their first ladybug, or learn how to resolve conflict on the playground. I wanted to give the children I cared for the tools to be able to socialize and to adopt a spirit of learning for the rest of their lives. Nannying was a job, but it was also a joy spending each day looking at life through the eyes of children, while nurturing and loving them unconditionally. Over the years, I came to see my profession for what it truly is: a labor of love.
But domestic work hasn't always been a walk in the park.
The second unforgettable moment took place in 2000 and was marked by three words that I'll never forget: "But you're undocumented."
I had spent a week taking care of two sick children in Brooklyn. They had the flu, and I wiped their noses and checked their fevers while their parents went to work. While it was obvious that I would also get sick, my employer was very angry when I did and called to say I couldn't come Thursday and Friday. I wasn't even able to move out of bed, let alone take care of someone else.
On Monday, when I showed up for work — as we domestic workers always do — I apologized for my absence the previous week. My employer made it clear he was still upset that I had the audacity to take time off. "Next time I will ask God to make me sick on a Saturday and Sunday, so I won't inconvenience the family," I said, pointing out that it had been out of my hands.
"But you're undocumented," was the reply I received. The response implied domestic workers don't have the right to stay home when they are sick, let alone get paid for those days — something I had not even asked for. In his eyes, I was expected to work, taking care of his children, and my own health wasn't important, let alone even a factor. His reference to my documentation status was simply an expression of power, something that many domestic workers across the country experience every day. As an employer of an undocumented domestic worker, he believed he held all the power in our relationship and I held none.
My experience is not unique. There are over 2.5 million domestic workers who show up, day after day, taking care of families across the US. Feeding and caring for your elderly loved ones. Cleaning and taking care of your homes. Even teaching your children to write their first letters. People like me. People who show up.
But change — generations-overdue change — is happening right now.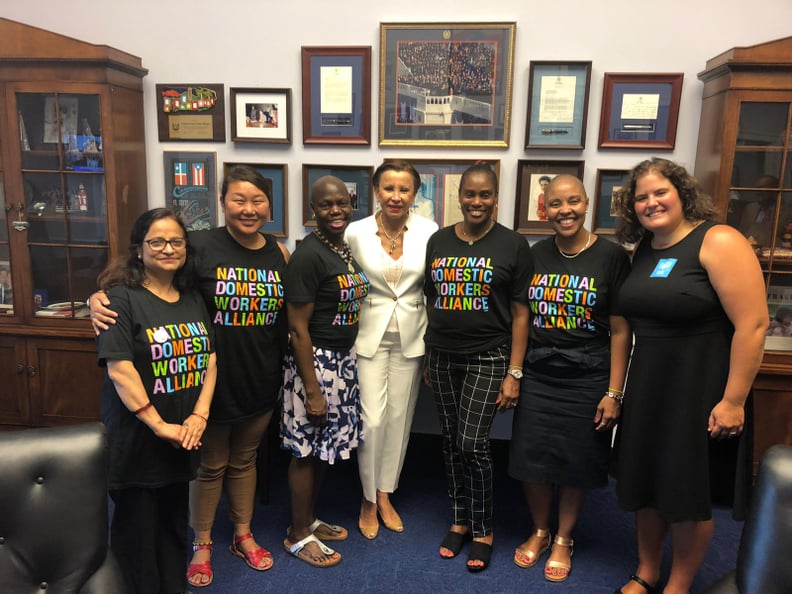 The author joins a group of domestic worker leaders meeting with Congresswoman Nydia Velázquez in July.
On July 15, I joined 100 other domestic workers in Washington DC to support the introduction of a Federal Bill of Rights for domestic workers, known as the National Domestic Workers Bill of Rights. This legislation gives domestic workers — nannies, housecleaners, and homecare workers — common workplace rights and protections, like paid sick days and meal and rest breaks. It extends anti-workplace discrimination protections to domestic workers, establishes a wage and standards board, standardizes written work agreements, and will invest in a study on how to guarantee health care and retirement benefits for domestic workers. Domestic workers need these protections and guaranteed rights.
This legislation was introduced by Senator Kamala Harris and Congresswoman Pramila Jayapal, who worked closely with the National Domestic Workers Alliance (NDWA), who have been working to organize domestic workers for 12 years. I had never heard of efforts to organize domestic workers until I met Ai-jen Poo, who is now the executive director of NDWA, in a New York City park on the Upper West Side of Manhattan in 2002. As she talked to me about the issues of long hours, low pay, and not being paid overtime, I realized that I was not alone in experiencing these conditions. These were the conditions of millions of domestic workers around the country, like me, my mother, and my grandmother.
I immediately began getting involved in organizations in my area that were organizing and supporting domestic workers. When NDWA was formed in 2007, I was a founding member, and eventually I became the codirector of the New York chapter of We Dream in Black, an organization supporting black domestic workers in New York. In 2010, we saw the enactment of a New York Domestic Workers Bill of Rights, so when NDWA began talking about a national Bill of Rights, I knew I wanted to be there to bear witness.
The third unforgettable moment for me, as a domestic worker, came many years ago, but I've been thinking about it a lot recently.
On a Sunday evening, not long after I had become involved in organizing, I was talking to my mom about my experiences as a domestic worker. Suddenly, as we exchanged stories, it came to me that I was experiencing conditions my mother and grandmother experienced in the domestic worker industry. I felt the weight of generations of women who had been domestic workers before me. Women who had worked under the very same conditions that I had, without change. I could feel my grandmother at my back, pushing me forward, to do this work for them, and for the generations to come.
I'm looking forward to a fourth unforgettable moment in my career: the day the National Domestic Workers Bill of Rights is passed by Congress and enacted into law, ensuring that every nanny, housecleaner, and homecare worker in the United States can have a voice in the workplace to negotiate fair and safe working conditions and work in safety and with dignity. I'm fighting for this for the generations of domestic workers before me, the domestic workers of today, and the generations to come, because we all need to be cared for with dignity and respect.
Allison Julien is codirector of the New York Chapter of We Dream in Black and a founding member of the National Domestic Workers Alliance. She was a key leader in the six-year campaign for the NY Domestic Workers Bill of Rights, which passed in 2010, and the inaugural recipient of the Dorothy Bolden Fellowship in 2016. Allison has worked as a domestic worker in New York for 25 years.