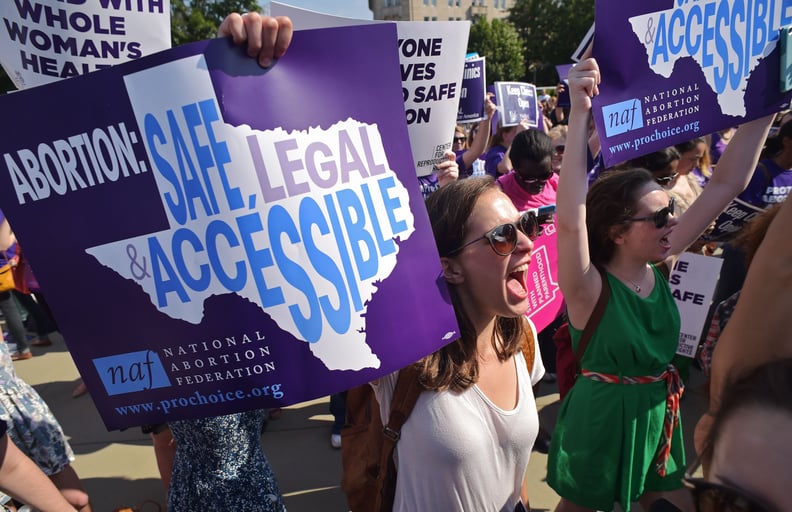 MANDEL NGAN/AFP via Getty
MANDEL NGAN/AFP via Getty
Update: In a late-night ruling on Sept. 1, the Supreme Court refused to block the Texas abortion law by a vote of 5-4.
Original post: On Wednesday, Aug. 31, pro-choice advocates waited into the night to see whether the Supreme Court would step in to block a Texas law, S.B.8, from effectively overturning Roe v. Wade before the midnight deadline. Pregnant people in the state scrambled to obtain abortions that evening as protesters outside Whole Woman's Health in Fort Worth trained floodlights on the clinic and called the cops. Midnight came and went. The Supreme Court stayed silent. The law went into effect.
The moment spelled perhaps the most devastating blow in a years-long battle that has seen states erode abortion access in the United States — one effectively negating the promise of Roe v. Wade. And while the justices may still rule on the law and the legal battle from abortion rights advocates is expected to be ongoing, the fact that a law like this was passed is thanks to a steady and unrelenting attack against abortion in states across the country. And it is already impacting the ability of pregnant people in Texas to make decisions about their own lives.
This law is yet another misogynistic, racist, and classist attempt to control and disempower the reproductive autonomy of women, trans people, young folks, people of color, and people from low-income communities, all under a cloak of faux concern.
In a press release, Jeffrey Hons, the president and CEO of Planned Parenthood South Texas, put the dehumanizing effect of the law in stark terms: "People are not incubators and do not exist simply to fulfill someone else's ideological agenda. Their dreams and aspirations have value; people deserve the ability to make this most personal and private decision," he said. "No one should be allowed to control the decisions of another — to do so violates personhood. If Governor Abbott thought he could take control of people's lives without a fight, think again. When it comes to our patients, we do not give up."
Why This Law Is So Alarming
Part of what's especially draconian and dangerous about Texas's new law is that it empowers everyday citizens to become anti-abortion vigilantes. It allows any member of the public to sue any person — a friend, doctor, or even taxi driver — who helps someone get an abortion after six weeks of pregnancy. (Notably, most people do not even know they are pregnant at six weeks.) These vigilantes can also earn what is effectively a bounty of $10,000 for each successful case they bring forward. As MSNBC's Julia Ainsley pointed out on air this morning, that means an Uber driver who transports someone to their abortion appointment could face harsher penalties than someone who drives a person to commit a terrorist act. This law clearly puts people who seek the procedure in danger — not just legally, but potentially physically, as anti-choice citizens are empowered to take matters into their own hands. And as history has shown us, making abortion illegal does not stop abortion. It simply forces people to obtain it in more dangerous ways.
This law is yet another misogynistic, racist, and classist attempt to control and disempower the reproductive autonomy of women, trans people, young folks, people of color, and those from low-income communities, all under a cloak of faux concern. The Guttmacher Institue, for example, finds that this law will force pregnant Texans to drive an average of 248 miles — each way — to obtain a safe and legal abortion — not just an inconvenience, but an impossibility for many workers, parents, those without financial resources, and young people.
What's Next
Abortion and civil rights advocacy groups, including Planned Parenthood and the ACLU, are not backing down and have pledged to continue to fight this law in court. Similarly, many abortion providers in the state of Texas have vowed to continue providing abortions for people who are less than six weeks pregnant, despite the intimidation and protests the law has inspired. In a statement, Amy Hagstrom Miller, president and CEO of Whole Woman's Health, said: "We have been here before, and we'll continue serving our patients however we legally can and fighting for their right to safe, compassionate abortion care." Still, considering that Planned Parenthood Advocates of Texas states that 85-90 percent of abortions performed in Texas took place after the six-week mark, most people seeking the procedure will now be barred from obtaining it.
What You Can Do About It
Make an ongoing commitment, if you can, to support abortion funds in the state of Texas, which help provide money for travel and medical care for those seeking abortions. You can also sign up for The Lilith Fund's newsletter to stay informed and updated on actions, volunteer opportunities, and fundraising to support access to abortion in the state.
And if you're eligible to vote, don't miss any opportunity to cast a ballot for lawmakers who will protect abortion rights, whether it's for local, state, or federally elected officials. If the now conservative majority Supreme Court's inaction here proves anything, it's that elections have consequences.