As POPSUGAR editors, we independently select and write about stuff we love and think you'll like too. If you buy a product we have recommended, we may receive affiliate commission, which in turn supports our work.
Don't get me wrong: I absolutely adore my five rescue kitties. However, I have lost hundreds of hours of sleep due to them constantly screaming in my face at 3 a.m. for more food. Sick of waking up tired every day because one of my four-legged children insisted on being a diva in the wee hours of the morning, I knew something had to change for the sake of my mental health.
While I wasn't exactly sure what the solution was, my darling mother-in-law did the heavy lifting for me when she gifted me a WOpet Patrol 15-Meal Automatic WiFi Pet Feeder for Christmas. Sleek in design and clearly created for calculating animals who have a history of breaking into their dry-food containers — the storage section comes with a break-in-proof latch! — the WOpet was an instant hit in my household.
Fortunately for people who aren't tech-savvy (ahem, me!), the device is pretty easy to use. Simply fill up the container with dry food and use the LED panel to program your pets' meals, which you can schedule up to four times per day. And not only can you control exactly how much food your kitties get — owners can dispense anywhere from two teaspoons to 4.5 cups at a time — but humans can even record a message for their fur babies when they're away.
Another incredibly useful feature of this high-tech pet feeder is the free app that's included with purchase. If your pets aren't on a strict schedule, you can simply open the app on your phone to feed your cat or dog at any time. Scroll ahead to get a look at this life-changing gadget that will make a great gift for any pet-lover who values their sleep!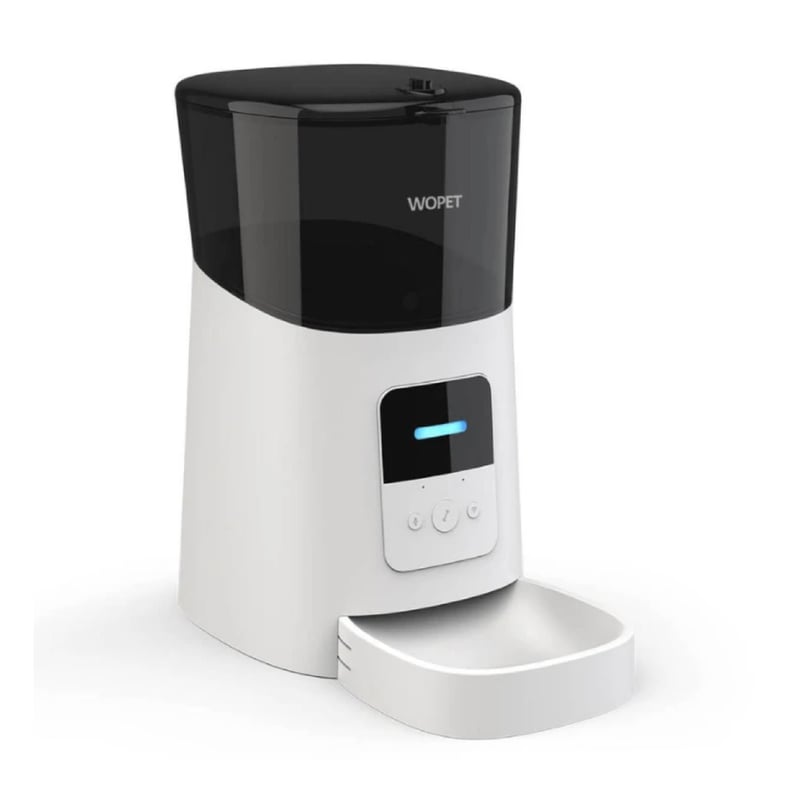 WOpet Patrol 15-Meal Automatic WiFi Pet Feeder