Cruise Tips From a Carnival Cruise Director
10 Game-Changing Cruise Tips From Carnival Vista's Cruise Director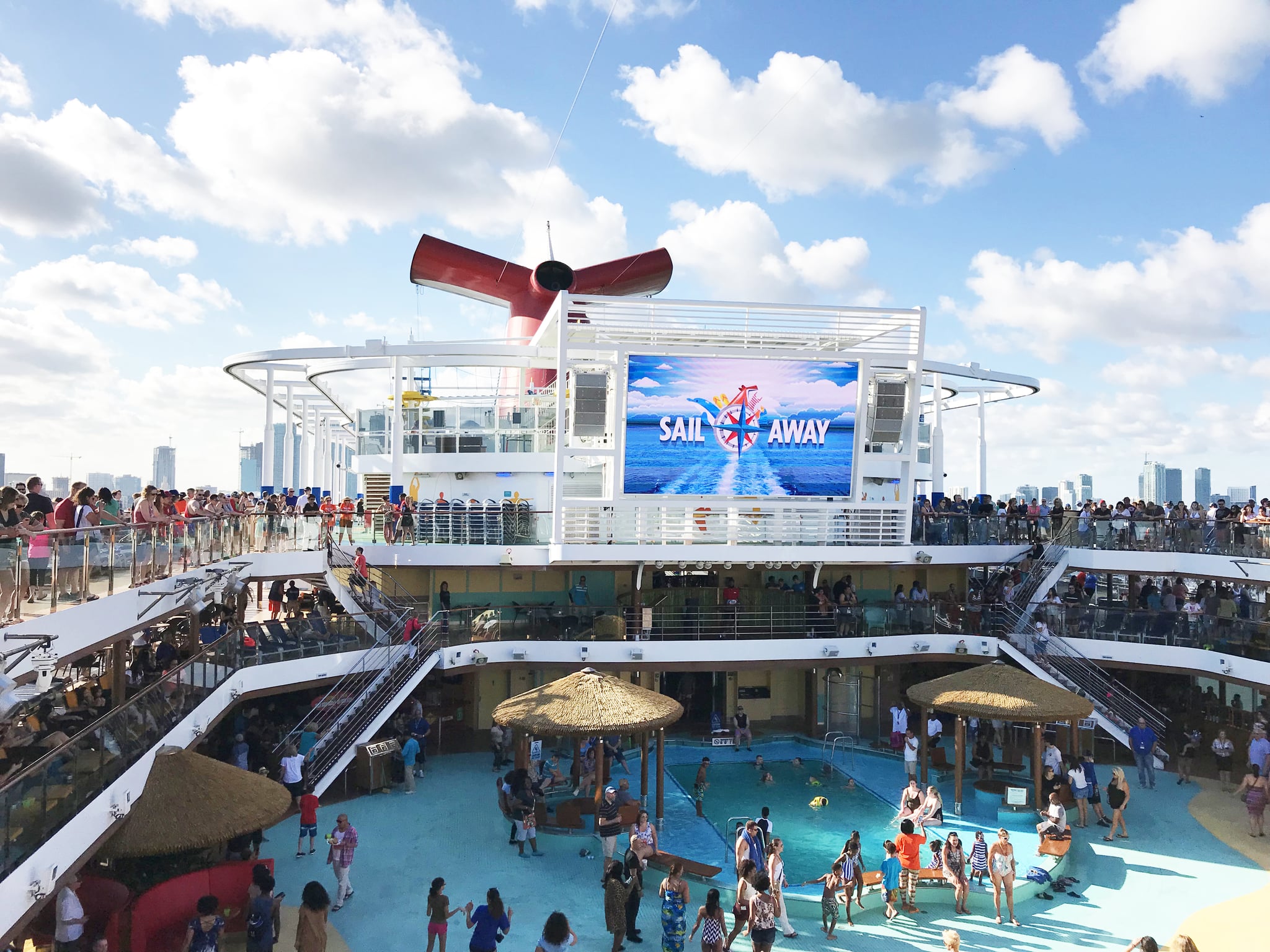 Whether it's your first cruise or your 10th cruise, there's always something that will make your sailing even better. And considering how every cruise line and ship varies, chances are that you'll never have the exact same experience as before. I spoke with Matt Mitcham, Carnival Vista's cruise director since the ship launched in 2016, about what to know before setting sail. Take note of his 10 tips below that will change your vacation.
1. The most exciting time of year to cruise is during the holidays.
"Christmas is insane — we have a huge tree in the atrium, we have Santa come on board, we do big Christmas themes," Matt told POPSUGAR. He also shared that Halloween is "epic," with nearly 4,000 guests dressed up in costume. Children can trick or treat on board or leave their candy buckets hanging outside their door. And, of course, you can probably guess that New Year's Eve gets pretty wild, too.
2. If you want to avoid kids, travel during nonpeak times.
"This is the busiest cruise we've had all year so far," he said. "We've got 1,300 children this week, and last week there were 200. Stay away from Spring break cruises." My sail dates were from Feb. 16 to Feb. 24, a week I thought would be free of minors. To enjoy a mostly adults-only cruise, Matt suggests cruising in January to early February — immediately following the holidays when families are less likely to splurge. Similarly, take advantage of quiet periods in between Spring and Summer break and Thanksgiving and Christmas.
3. The best position on the cruise to avoid seasickness is in the bottom, center of the ship.
Although it's rare to experience seasickness on board, book your stateroom in the middle of the ship on decks one and two if you're sensitive to motion. Matt also strongly recommends staying away from Dramamine. "The tablets are great if there's an emergency, but they're going to make you feel sick," Matt told us. "Green apples and ginger ale — that's your key to getting rid of seasickness."
4. Break out of your comfort zone and attend themed nights.
A reoccurring tip I heard all week: "You'll never see these people again." Even if attending an '80s night isn't typically your thing, don't be afraid to completely let loose. The best part is that you're not into it, you can check out the rest of the ship's offerings instead! White Night on Carnival cruises is a fan favorite, requiring all guests to show up in all-white gear and party into the morning.
5. First-time cruisers will be most surprised at how easy the entire experience is.
"It's easy to jump into the routine of get up, eat, go lay out, have a drink, laugh, smile, spend time with family — everything's done for you, and that's the beauty of it," Matt said. "You don't have to go out and look for fun because fun is on your doorstep." Literally! A schedule of the ship's daily events that run from early morning to midnight is provided in your stateroom mailbox or on your bed with turndown service. The most difficult part is fitting all the fun into your schedule.
6. Do your research to make sure you're not missing out on awesome amenities.
Particularly on Carnival Vista, Matt says, most cruisers don't even know that the Havana Pool is open to every guest past 7 o'clock. During the day, the private area is reserved for guests of the Havana Cabana staterooms, but at night, it's available to all. When my boyfriend and I went to check it out, it was completely empty. If I didn't catch this small detail on the back of our Fun Times pamphlet, we probably wouldn't have known, either.
7. The biggest mistake cruisers make is eating too much.
With the endless buffet, 24-hour pizza and ice cream, and three-course dinners each night, it's hard to keep yourself from overindulging. To avoid going into a food coma and turning in early, pace yourself and take naps. "[Naps] are key to cruises," Matt said.
8. Learn from the diverse crew members on board.
According to Matt, this is the one thing more passengers should take advantage of. "There aren't many places where you can go on vacation and interact with 60 nationalities of crew members," he said. "Find out about their culture; sit at a bar and talk to a crew member from South Africa or Romania, and really get cultured — that's the best thing."
9. Always pack these for a cruise and leave those at home.
"A good book, sunglasses, flip-flops, and aloe vera — don't forget your aloe vera, because people burn real fast out in Jamaica," Matt said. "Just bring yourself — that's all you need. Don't expect anything. Just come in open-minded and you'll have the best time." As for what not to pack? "Don't bring a beach towel, a hair dryer — don't bring your husband and go on a girls' trip — more than one bottle of wine, because they'll confiscate it."
10. Don't assume that cruises are only for older travelers.
"When I started 10 years ago, cruise ships were for old people," Matt said. "We have this whole persona that you have to be 50 to sail, but it's for young people and for more mature people who want to have a good time. It's changed so much — your cruise director used to be suited and booted, and now he comes out with Vans and rolled-up pants. I would say come experience it, and if you don't like it, you've got plenty more years to book other vacations. But everyone should experience it once."
Travel and accommodations paid for in part by Carnival Cruise Line for the purpose of writing this story.
Image Source: POPSUGAR Photography / Nicole Yi