What Is Disneyland's Fantasmic Like?
Fantasmic! Is Back and Believe Us, Your Disneyland Visits Will Never Be the Same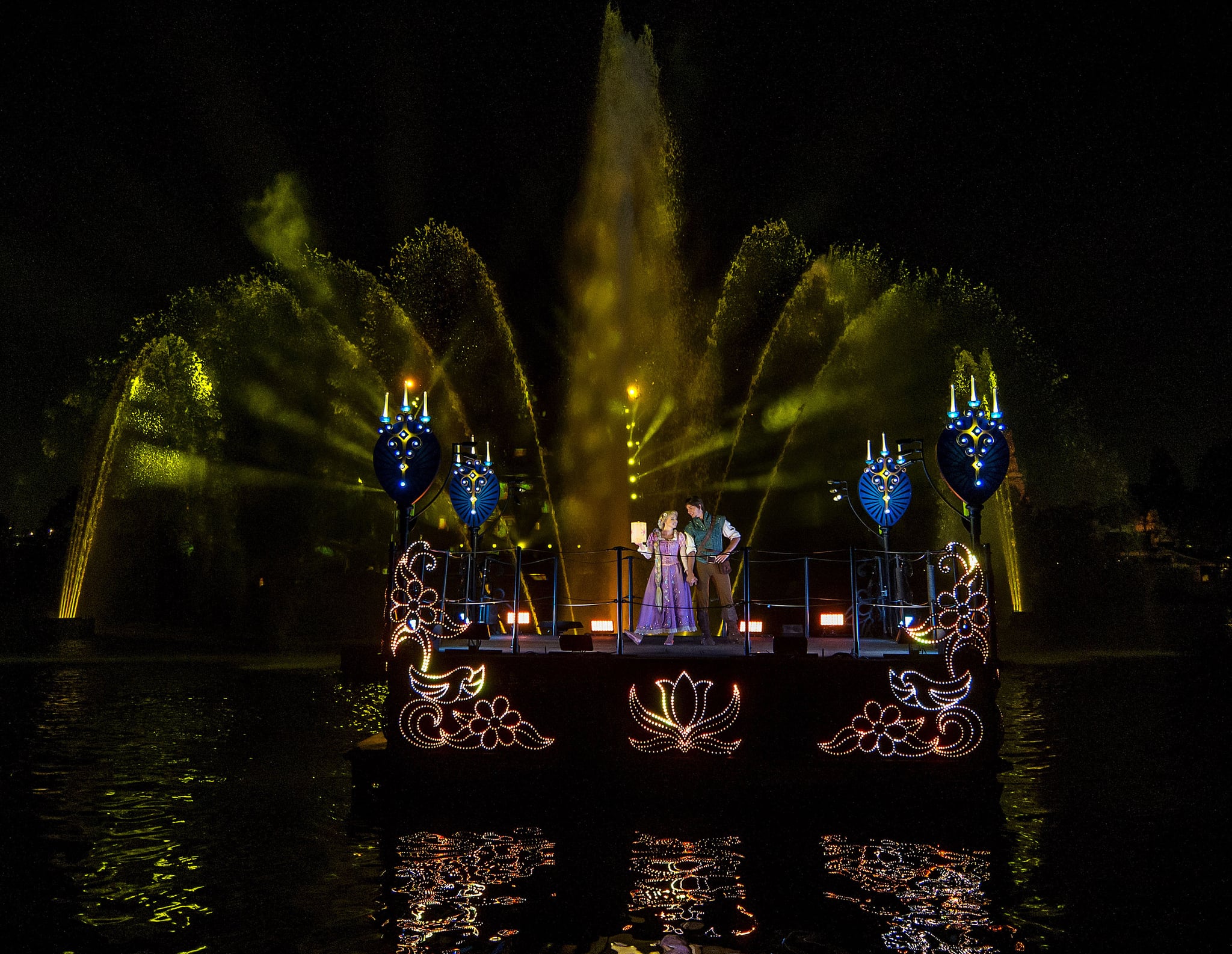 Hot take: we are all about new Fantasmic!
The much-loved nighttime show returned to Disneyland's Rivers of America on Monday night after taking an 18-month hiatus while the park prepped for its massive Star Wars: Galaxy's Edge land expansion. We know Disneyland die-hards were concerned about what changes to Fantasmic! would mean, but rest assured this ol' nighttime favorite has gotten so much better.
What We Love
Since your feeds are likely filled with photos of Mickey shooting those sparklers from his fingertips yet again — pure magic! — you may already know that much of the classic show remains. What you won't see in photos or on YouTube, though, is the scale of the new Fantasmic!. The updated lighting and projections are dazzling, and the projection mapping, which essentially turns the stage into its own crazy video screen, elevates and enhances the intensity of the imagination-centric battle. The entire performance has become more captivating, with the drama occurring not just on mist screens but on the physical stage and in the sky, too, making Maleficent's rise, the dragon's debut, and even Mickey's conducting that much more spectacular.
The new Fantasmic! welcomes Aladdin and The Lion King for the first time, as well as Tangled's Flynn Rider and Rapunzel taking the place of Snow White and her prince and Pirates of the Caribbean replacing Peter Pan. Aladdin and Jasmine's magic-carpet scene is actually more minimal than the internet will have you believe — the effect takes mere seconds — but when paired with Genie's superb portion, is executed within the story brilliantly. (The Pirates takeover of Sailing Ship Columbia brings with it some entertaining stunts, but the action-packed segment still falls flat.)
What We'll Miss
Sure, there will always be a few things we miss. If you're looking forward to Mickey waving his arms side to side at the show's beginning like a dad at a Billy Joel concert, know that some of the choreography and costuming (we see you, Day-Glo barge monkeys!) have been modernized. The show's campiness has been toned down overall, but considering the extravagant evening viewing debuted 25 years ago, it's a worthy sacrifice for its unbelievable additions.
The Verdict!
I know it's a wildly unpopular opinion, but until earlier this week, Fantasmic! was never one of my favorite Disney shows. (Please don't pelt me with rock-hard Mickey premium ice cream bars!) As a theme park journalist, my job requires me to be objective about Disney entertainment around the world, and I always found myself somewhat, er, bored during this offering in particular.
This time around? Not the case at all. Fantasmic! truly has everything you'd want from Disney's nighttime entertainment, and it took these new updates to help me realize it. A lifelong fireworks obsessor, I found myself so captivated by the crystal-clear water projections at the beginning, enhancements to the story in the middle, and cheerful candy-colored lighting at its end that I'm counting down the days until I can return to hear that soaring soundtrack again.
Disneyland didn't just slightly modernize Fantasmic!; they went all out with technological advancements, and its enhancements are worthy of letting the nostalgia pangs go. Here's hoping the improvements and changes to the new Disneyland Railroad and Rivers of America will be just as phenomenal when they return next week.