These TikTokers Nailed Their Halloween Attire! See Our Favorite Costumes of the Year, Right Here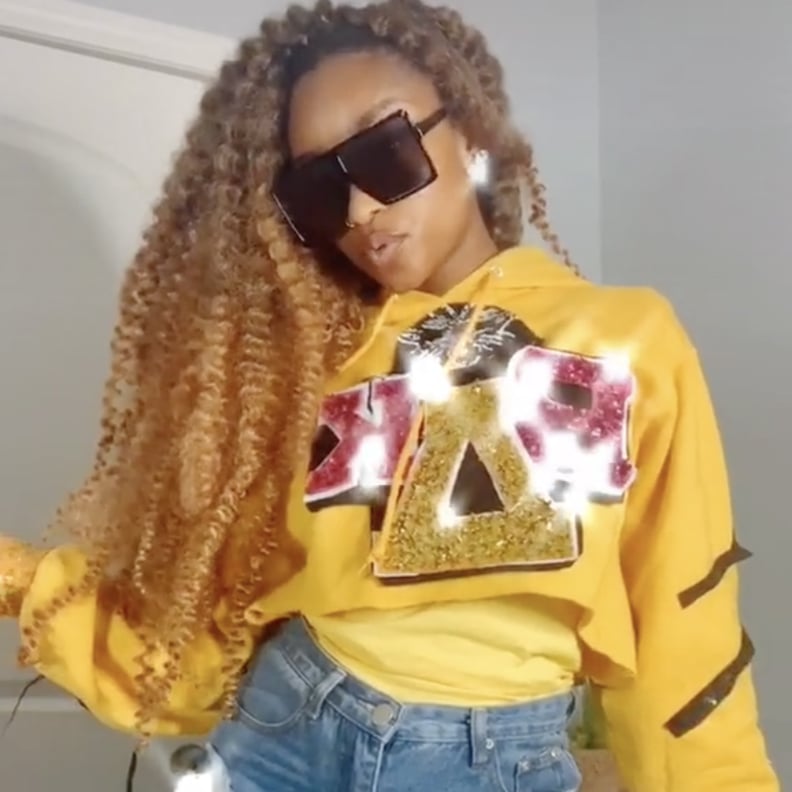 Throwing on a Halloween costume is one thing, but to pull it off in perfect fashion? That's a whole other feat worth recognizing. Thanks to TikTok, we've found a slew of Halloween costumes that have been brought to life — and they're so well done! From Schitt's Creek to Cardi B to Mean Girls and more, these TikToker's do a great job of looking the role and playing the part. Whether they're acting in perfect unison with a TV or movie scene or they've done a crazy cool makeup look, we've rounded up 41 of our favorite TikTok Halloween costumes of the year ahead.
Disco TikTok Costume
The groovy pink dress, the earrings, the Austin Powers song — we love it all.
Ashy From The Proud Family TikTok Costume
This TikTok is Ashy to a T.
Vector From Despicable Me TIkTok Costume
This TikToker has the exact same dance moves as Vector himself.
Velma and Shaggy From Scooby Doo TikTok Costume
The dog dressed as Scooby Doo is what really does it for us.
'70s Hippy TIkTok Costume
Bell-bottoms, long hair, and a flower headband is the perfect combination for a '70s look.
Good Burger TikTok Costume
This skit from the '90s show Kenan and Kel is priceless.
Regina George From Mean Girls TikTok Costume
Stop trying to make fetch happen, OK?
Clovers Cheerleader From Bring It On TikTok Costume
"I said brr, it's cold in here, there must be some Clovers in the atmosphere!"
Violet From The Incredibles TikTok Costume
This makeup artist used nothing but paint to create this incredible costume.
Sharpay and Ryan From High School Musical 2 TikTok Costume
Even though they're singing "Gotta Go My Own Way" by Gabriella and Troy, this Sharpay and Ryan costume is still so on point.
Cher From Clueless TikTok Costume
This is probably the coolest Cher that we've ever seen, don't you agree?
Princess Peach From Mario TikTok Costume
Because who doesn't love Princess Peach?
Ariel From The Little Mermaid TikTok Costume
From head to toe, this costume hits the nail in the head — or should I say fork?
Maleficent TikTok Costume
Everything about this costume screams Maleficent, especially the eyes.
Skeleton TikTok Costume
The makeup for this costume would take us years to do.
Moana TikTok Costume
Is this the real Moana or . . .?
Vampire TikTok Costume
The detail in this vampire makeup look is unreal, especially the bloody teeth.
Harley Quinn TikTok Halloween Costume
Who needs to buy a costume when your makeup skills are this good?
Beyoncé TikTok Costume
Remember that iconic time Beyoncé played at Coachella? Yeah, us too.
Jillian Holtzmann From Ghostbusters TikTok Costume
"Safety lenses are for dudes."
Sandy From Greece TikTok Costume
An oldie but a goodie! This TikToker's got the moves.
Mia Wallace From Pulp Fiction Costume
This costume may be simple, but it's perfection.
Fembot From Austin Powers TikTok Costume
The music is what really gives us that Austin Power's vibe.
Dorothy From The Wizard of Oz TikTok Costume
Somewhere over the rainbow exists this wonderful Dorothy costume.
ScareCcow From The Wizard of Oz
This scarecrow is far from scary — it's just cute!
Werewolf TikTok Costume
The makeup, the eyes, and the fangs are what give this costume its spooky look.
Catwoman TikTok Costume
It must be nice to live life with nine lives.
Cardi B TikTok Costume
This Cardi B impersonation deserves an award.
Winifred Sanderson From Hocus Pocus TikTok Costume
Becoming Winifred looks easy peasy in this transformation video.
Rue From Euphoria TikTok Costume
This TikToker plays Rue's character so well.
The Mask TikTok Costume
The makeup look for this costume is out this world.
Miley Cyrus TikTok Costume
Excuse me, Miley, is that you?
Ariana Grande TikTok Costume
The ponytail, long sweatshirt, and lollipop is so Ariana.
Anna Wintour TikTok Costume
You really have to have confidence to walk around as Vogue's editor-in-chief.
Soo Yung and Detective James From Rush Hour TikTok Costume
It doesn't get much better than this pairing!
Monster High Dolls TikTok Costume
They absolutely nailed each of these Monster High dolls looks.
Gwen From Total Drama Island TIkTok Costume
Blue lipstick, colored hair, and a big attitude is all it takes to pull this look off.
'70s Dancers TikTok Costume
These '70s dancers have not only the looks, but the moves, too.
Black Widow TikTok Costume
Although the film's not coming out until 2021, this costume gets us excited.
Horror Movie Characters TikTok Costume
This TikTok video gives these characters a less menacing look.