8 Portable Air Conditioners That'll Keep You Cool All Summer Long
As POPSUGAR editors, we independently select and write about stuff we love and think you'll like too. If you buy a product we have recommended, we may receive affiliate commission, which in turn supports our work.
Portable air conditioners are a great investment during the summer season. Whether you live in an apartment with no central AC or need to equip your home with extra cooling, this nifty home gadget will make your indoor space feel more comfortable and less stuffy. There are so many portable air conditioners and air coolers on the market, so we rounded up the best ones and broke down the specs ahead — that way you know exactly what you're getting.
We found a few options that come with a complete window kit for easy installation. With these, you can easily uninstall and reinstall the unit into different windows of your home. Some of these are equipped with dehumidifiers or humidifiers, so you can pick the best one for your climate. We even found a few smart options that you can control via an app or your favorite voice assistant. There are even a few portable air conditioners that are perfect for smaller spaces. Shop our top picks ahead.
— Additional reporting by Kyley Warren
01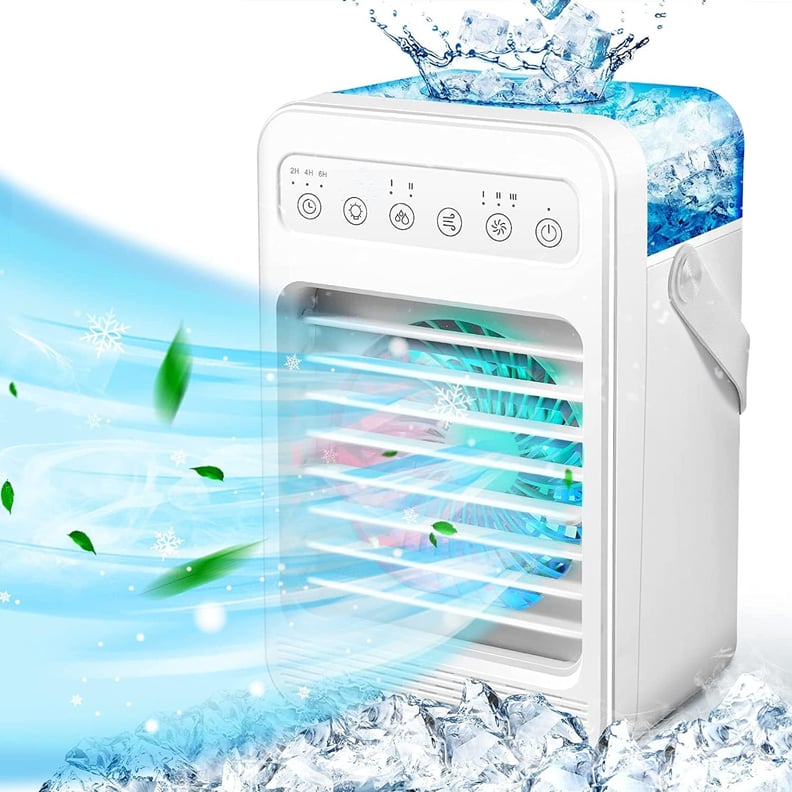 Best Affordable Portable Air Conditioner
6-IN-1 Evaporative Personal Air Cooler ($49)
Home cooling systems can be notoriously expensive, but this affordable portable air conditioner from Amazon proves that you can still shop out a quality model while under a budget. Despite its under-$50 price tag, the air cooling system boasts more than 1,000 five-star ratings, with reviewers raving about everything from the model's quiet system to its compact design and even its effective cooling capabilities. One shopper wrote: "I was blown away at how well this little thing works. Easy to use, small and easy to find a spot for, and not an eye sore."
02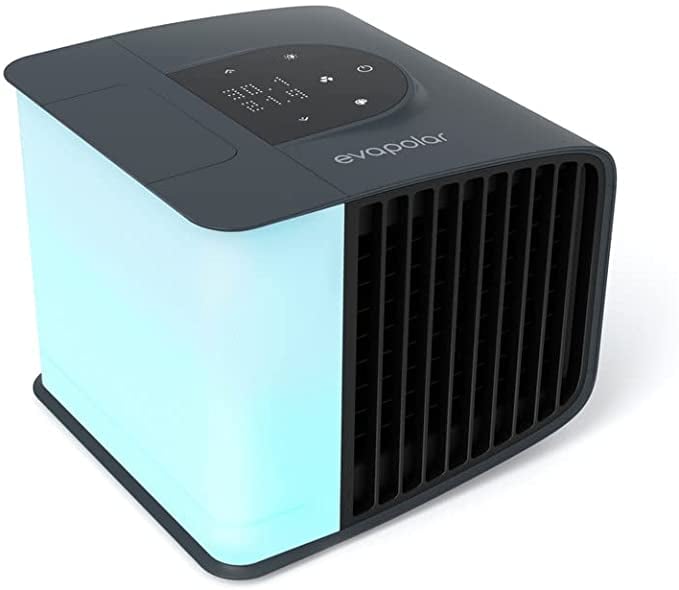 Best Portable Air Conditioner For Dry Spaces
Evapolar EvaSmart Personal Evaporative Portable Air Conditioner ($229)
Perfect for the summer, this evaporative portable air conditioner will keep your personal space cool. It's a humidifier, cooler, and air purifier in one device. It also has a calming nightlight and is compact enough to fit on a desk or bedside table. The tool is smart-home compatible as well and can be controlled via the accompanying app, so you'll be able to tweak the temperature of your home space regardless of where you are.
03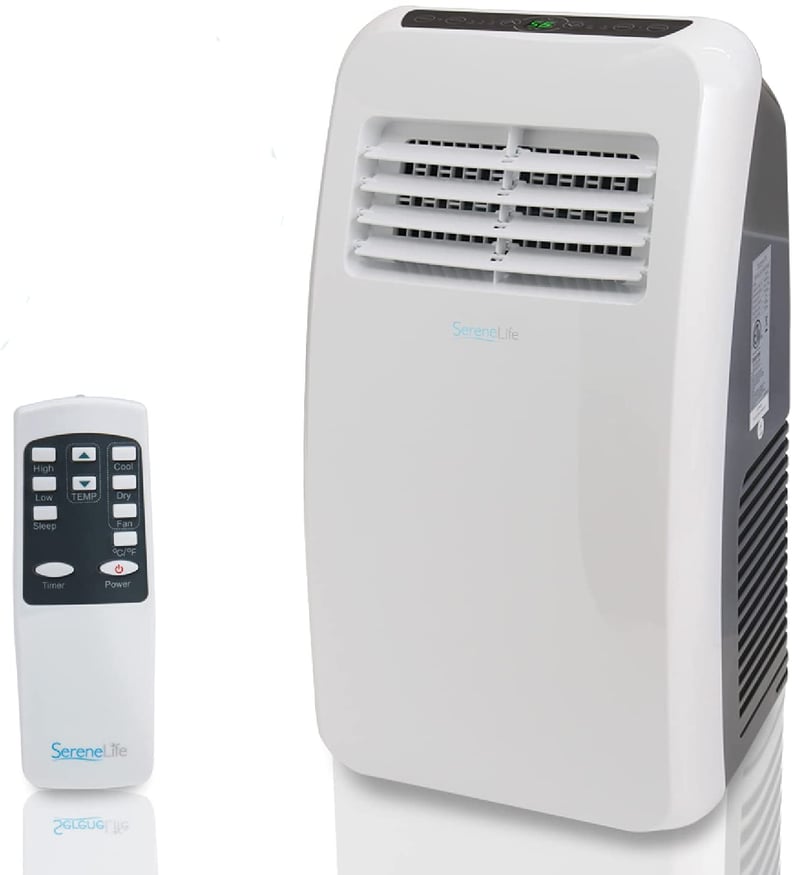 Best Portable Air Conditioner With a Built-In Dehumidifier
SereneLife SLPAC8 Portable Air Conditioner Compact Home AC Cooling Unit ($300, originally $320)
This portable AC cooling unit has a built-in dehumidifier, making it perfect for homes in high-humidity climates. It's lightweight and sleek, which is great for smaller spaces, and it even has rolling wheels so you can move it around your home with total ease. This unit can cool, dehumidify, and ventilate your space. According to reviewers, it's also on the quieter side, so it won't disrupt your day to day activities. Plus, it even has a sleep mode, making it a great economic buy.
04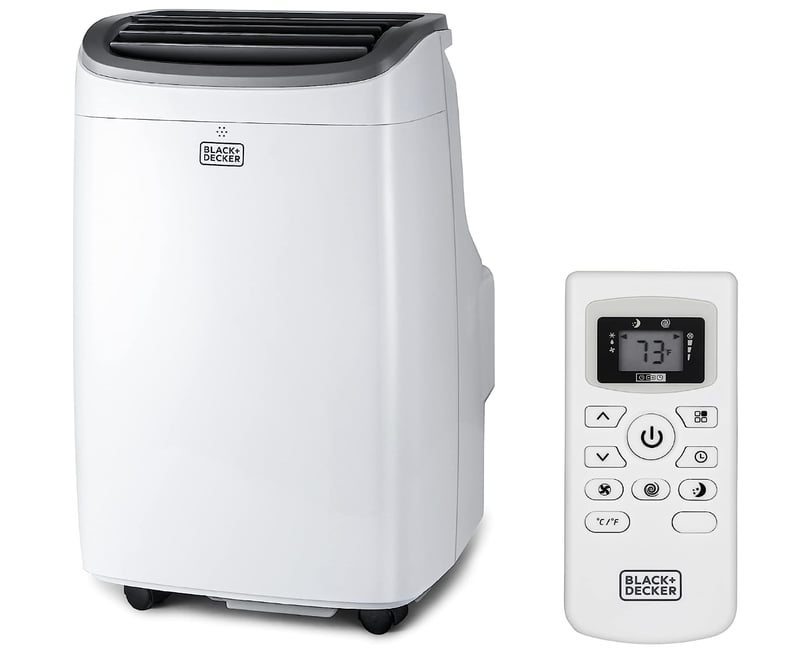 Best Portable Air Conditioner With a Remote Control
Black+Decker BPACT08WT Portable Air Conditioner ($320, originally $420)
If you're looking for a portable air conditioner to squeeze into your apartment or bedroom, this model from Black+Decker is perfect. It's ideal for small spaces, and will fit on a desk, bedside table, or side table. It's a compact model that also works as a dehumidifier and fan, so it's like getting three different home essentials rolled into one.
05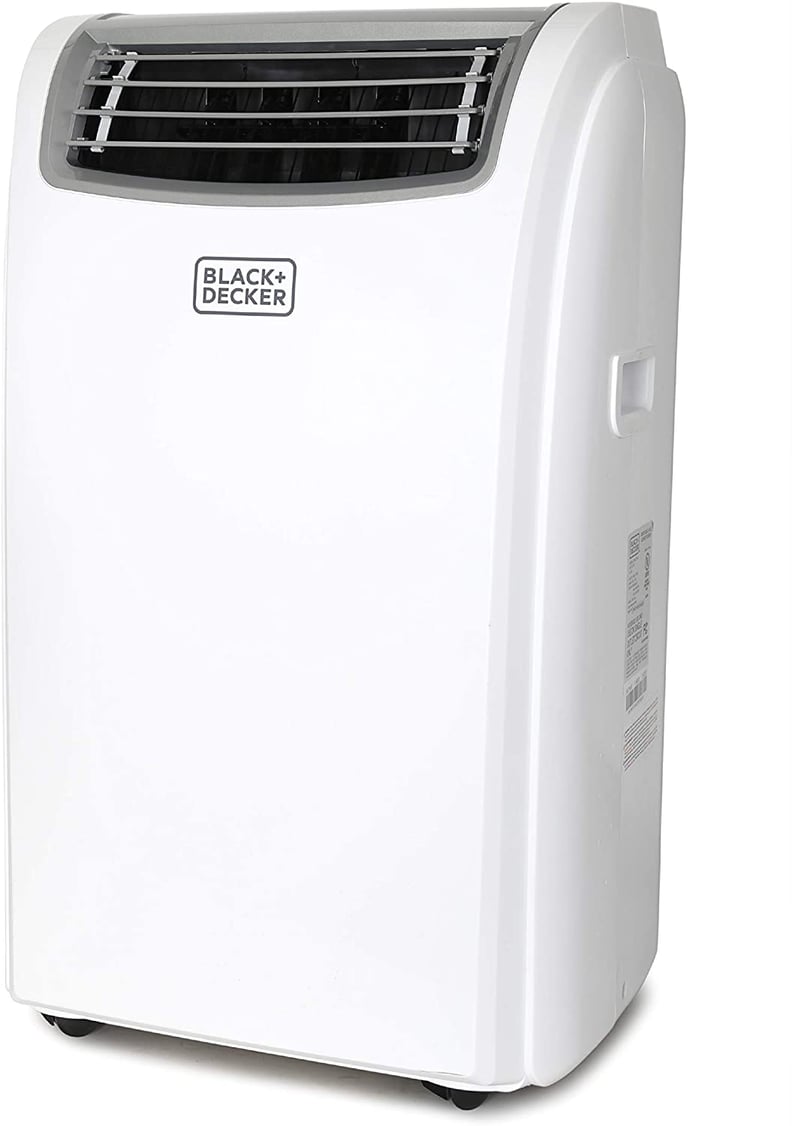 Best Portable Air Conditioner From Amazon
Black + Decker Portable Air Conditioner ($472, originally $570)
This model is a bestseller on Amazon — and for good reason. It's a compact portable air conditioner that has adjustable fan speeds and even an easy to use sleep mode for when you want a quiet breeze. It's great for small rooms like apartments, bedrooms, offices, and living rooms. Reviewers note that this model is easy to install and move from room to room, since it's equipped with wheels for easy transfer. You can attach the hose and window adapter to most windows and then power it on. Per the retailer, it's designed to cool your space while ventilating it as well as dehumidifying it.
06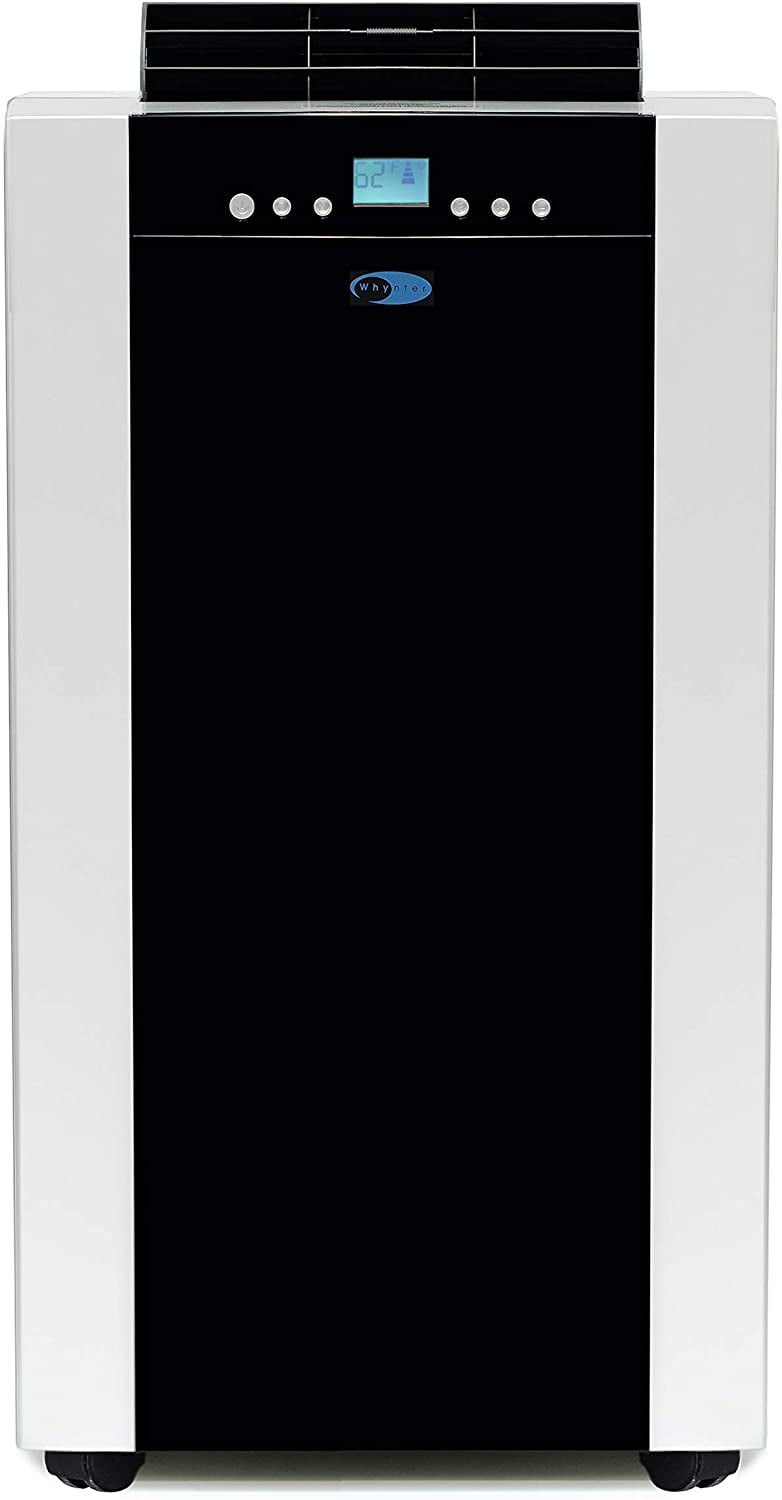 Best Dual-Hose Portable Air Conditioner
Whynter ARC-14S Dual Hose Portable Air Conditioner ($499, originally $600)
The Whynter Dual Hose Air Conditioner is a sleek and slender option that has a dual-hose exhaust. It's great for rooms or apartments that are 500 square feet or smaller. It can air condition, ventilate, and dehumidify your space. Plus, this has an activated carbon filter, so you get cleaner air in your home any time of the year — though reviewers note that it's a particularly useful essential come summertime.
07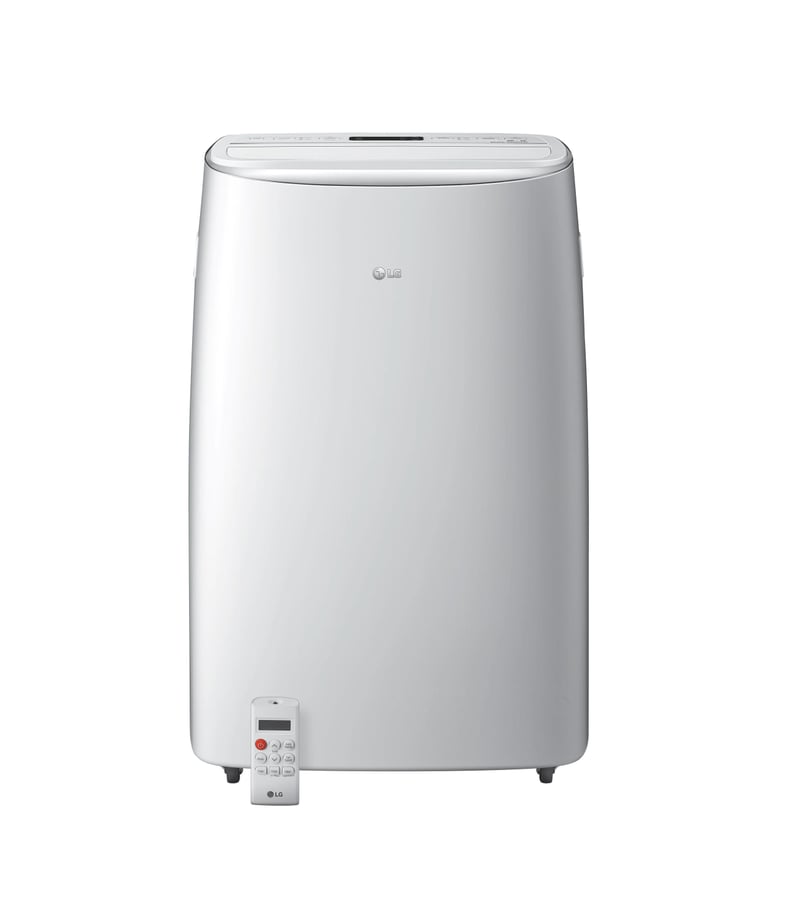 Best Ventless Portable Air Conditioner
LG 115-Volt Ventless Portable Air Conditioner ($700)
This is one of the best ventless portable air conditioners on the market and is great for rooms that are on the smaller side — like 450 square feet. Its ultraquiet design makes it the perfect buy for office spaces, as its low-key motor won't disrupt any meetings or phone calls. You can control all the settings via the accompanying app and your voice assistant. The portable AC system has three cooling and fan speeds, plus a timer for scheduling in advance.
08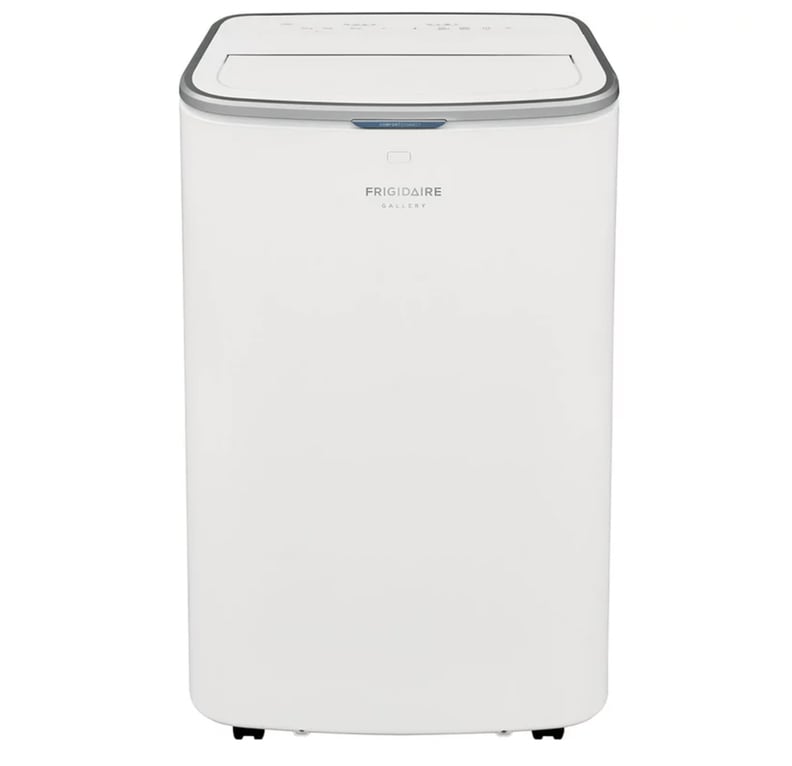 Best Smart Portable Air Conditioner
Frigidaire Cool Connect Smart Portable Air Conditioner ($1,059)
The portable air conditioner with Wi-Fi connectivity is a great ventless alternative for a powerful, portable AC. It's got multiple fan speeds and a programmable timer, and thanks to the Wi-Fi connectivity, you can control the AC from your smartphone. This is great for small spaces as it's compact, lightweight, and easy to carry between different rooms throughout your house.