5 Tips That Will Make Any Camping Trip a Success
Growing up, some of my fondest memories came from camping. Despite the fact my sisters and I were always assigned the task of collecting enough twigs to fuel the night's fire, we loved every second of this adventure, as we knew it was the gateway to gooey, delicious s'mores and endless scary stories. Ah, the good old days.
While many people assume you need to be a nature fanatic or have lots of outdoorsy gear in order to enjoy this kind of trip, that's simply not the case. Serving as a wonderful way to disconnect from the everyday stresses and reconnect with nature, I'd be the first to admit camping can work wonders on any weary soul. So whether you're preparing for the ultimate road trip or merely looking for any excuse to get out under the stars, you'll find all the essentials needed for an epic camping trip ahead. And don't worry — with these tips, even the most "nonoutdoorsy" person is guaranteed to become a happy camper!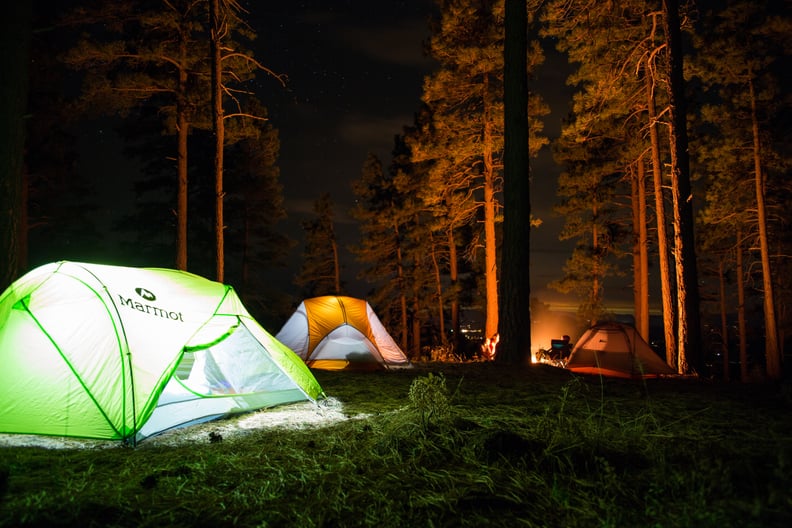 Step 1: Decide on a location
When planning your outdoor excursion, you'll quickly find out camping is a lot more than simply slinging your belongings on your back and heading into the woods. In order to have an unforgettable time — you know, the good kind — you'll need to do a bit of prep work before your trip. But, don't let that steer you away from spending time with Mother Nature. The more you plan upfront, the more you can truly relax once you arrive.
That said, the first decision is selecting where to go, then finding a campsite in that specific area. When making your selection, keep in mind what's important to you. For instance, if you're seeking amazing views and a secluded location, state/national parks will be your best bet. However, you will most likely need to make a reservation beforehand, as well as purchase a park permit for these primitive campsites.
While state/national parks are ideal for truly getting into the wild and are usually quite cheap, the seclusion does come at another type of cost. These sites tend to not have as many amenities — including bathhouses, running water, and electricity — so if you consider these type things essential, you might have a better time staying in a more established campground, such as a KOA, which are known to have more modern facilities. These campgrounds also usually rent out miniature cabins, in case you're not exactly ready to sleep on the ground.
At the end of the day, it doesn't matter which type of campsite you decide on, as long as you're the most comfortable!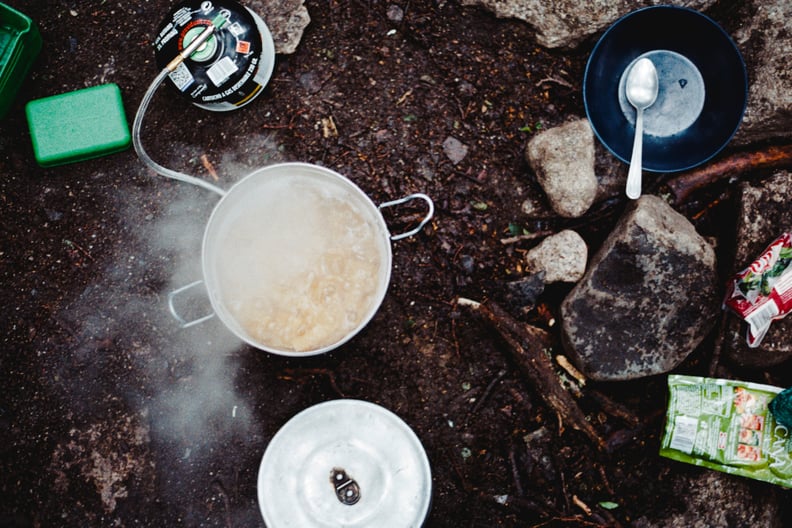 Step 2: Create your packing list
Once you've booked your spot, the next step is rounding up your supplies. Although you might "wing it" when packing for other trips, I highly encourage creating a list for camping so you don't forget anything crucial. Because, unlike other types of vacations, it's not as easy to just run to a nearby store if something slipped your mind when in the woods. Below is the packing list I always use, but feel free to alter it accordingly for your specific trip.
Tent
Sleeping bag
Pillow
Small day pack (for day hikes, etc.)
Comfortable clothing (including sleepwear)
Hiking boots
Socks and underwear
Jacket
Swimwear (depending on where you go)
Toothbrush and toothpaste (and any other essential toiletries)
Sunscreen
Sunglasses
Headlamp (I'd bring this or a flashlight on top of your phone flashlight)
Small first-aid kit
Toilet paper (you never know if your site will have some)
Matches, old newspapers, and firewood
Water bottle and lots of water
Outdoor plates and utensils
Proper food storage (bears can smell food from miles away)
Trash bags (take note of the leave-no-trace policy)
Cooking equipment (I'll touch on meal planning on the next slide)
Portable battery charger
Playing cards and any other activities
Map (yes, a paper version — I'd advise not solely relying on your phone)
Don't forget to also check the weather before you embark on your adventure, as the last thing you want is to wake up in a soaked tent. Trust me, on this one! And fear not if you don't own the right gear; there are lots of companies — such as REI — that allow you to rent whatever you might need.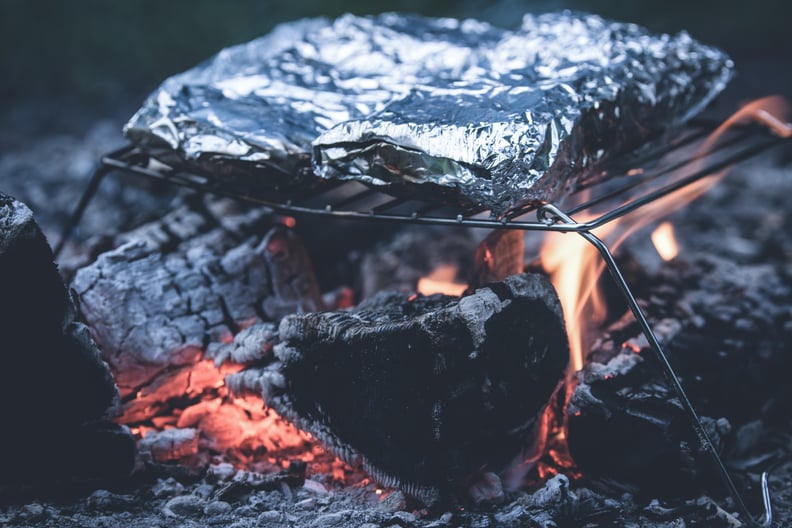 Step 3: Plan your meals
If you ask me, cooking outdoors is one of the most fun aspects of camping. And despite popular belief, you don't have to spend your trip eating beanie-weenies or anything else out of a can. These days, there are so many easy, flavorful recipes dedicated to cooking over a campfire. However, properly planning your meals and snacks will make the taste of your trip much sweeter.
Over the years, I've found that foil meals are key. And by this I mean meals containing ingredients that can be cooked in aluminum foil over a fire. Sizzling veggies, roasted potatoes, warm quinoa — the options are endless, really. Just make sure to opt for ingredients that don't require refrigeration if not consumed within a few hours.
Another tip is to preportion your food as much as possible beforehand. By bringing only the needed amount with you, you'll not only save on space, but you also won't waste as much.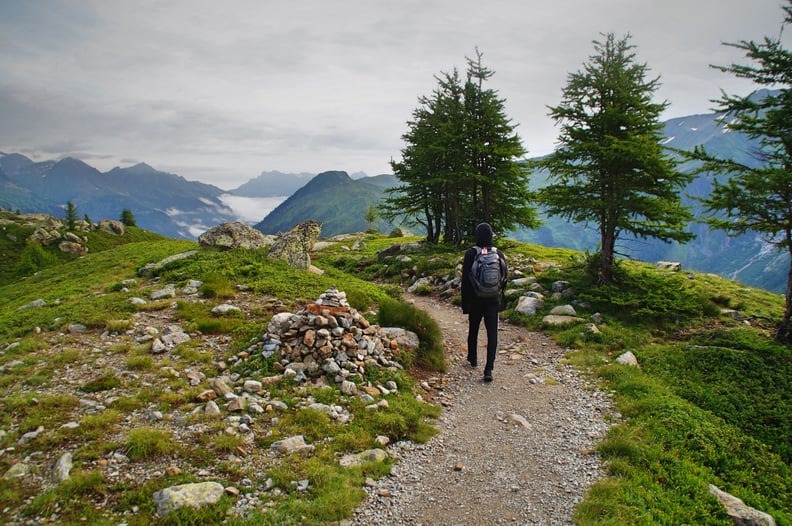 Step 4: Brainstorm activities
Since you'll be going off the grid — bye-bye cell service — it can be extremely helpful to brainstorm what you want to see and do before you head into the woods. While I am all for spontaneity, knowing exactly where trailheads start (and end!) or the best places to scope out wildlife has always saved me so much time and energy, not to mention unnecessary frustration. Plus, a flexible itinerary helps in the packing department, too.
Depending on where you go, I highly recommend utilizing the plethora of resources that can be found at visitor centers. I can't even begin to describe how helpful local residents and park rangers can be when it comes to finding the best hiking trails, scenic overlooks, etc. The best part? Their advice is free!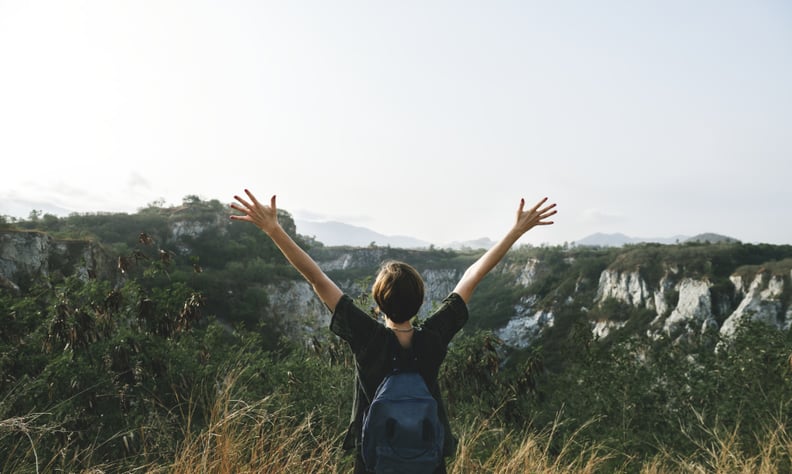 Step 5: Don't forget your outdoor mindset
For the most epic camping trip, it ultimately comes down to having the right attitude and outdoor mindset. Let's face it: as much as you prep and plan, there will be things that go wrong. But in these instances, remember the power of positivity. Rather than focusing on the negative, turn your thoughts to what all is going right. You'll be a much happier camper — with a ton more awesome memories — if you do so and will feel a lot more rejuvenated in the process.