Don't Wait Until the Clock Strikes Midnight to Book Your Stay at This Cinderella Motel Room
By (fictional) royal invitation, you are formally invited to treat yourself to an extravagant getaway fit for a princess in this elegant Cinderella-inspired motel room. The magical tower cottage is one of several themed bedrooms at The Roxbury Motel in Roxbury, NY. Like something conjured up by the Fairy Godmother herself, "Cinderella's Gown," aka Room 42, is adorned with glistening chandeliers, gold accents, hand-painted pumpkin vines along the walls, and cozy finishes that make the two-bedroom suite feel like a 17th-century fairy tale cottage.
Complete with two queen-sized bedrooms, the tower suite also features two private ensuites, one with a whimsical mural of Cinderella's village (downstairs) and another enclosed in a giant pumpkin carriage that magically morphed into a supercute bathroom (upstairs). The downstairs bedroom, which has its own fireplace, also includes an 18-foot ball gown (pieced together by blue jays, of course) that acts as a canopy over the bed. Other features of the cottage-themed tower include a refreshment area, a screened-in back porch with outdoor dining tables, a view of the surrounding mountains and meadows, and a common living area with a sleeper sofa.
The room, which can accommodate up to six guests, ranges in price from $450 to $620 per night and is already booked through the third week of October. To prevent the spread of COVID-19, the motel is taking increased safety precautions for the health and safety of guests and staff. Take a closer look at all of the mesmerizing amenities in store here.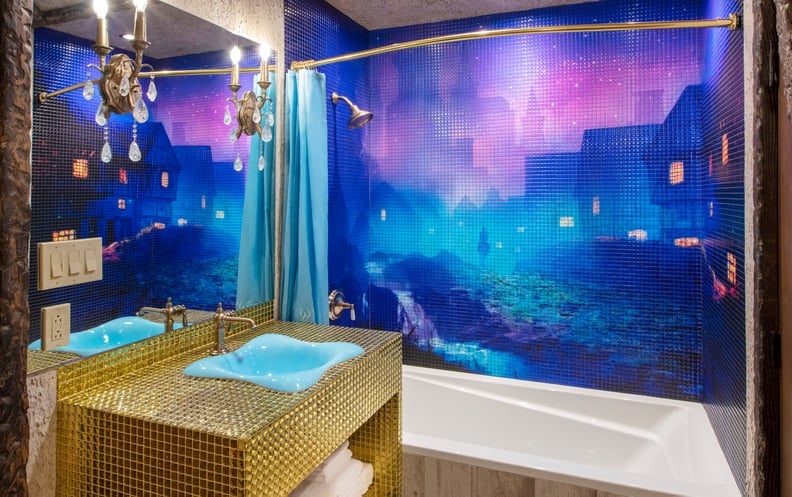 An Elegant Cinderella-Inspired Bathroom With a Mesmerizing Shower Mural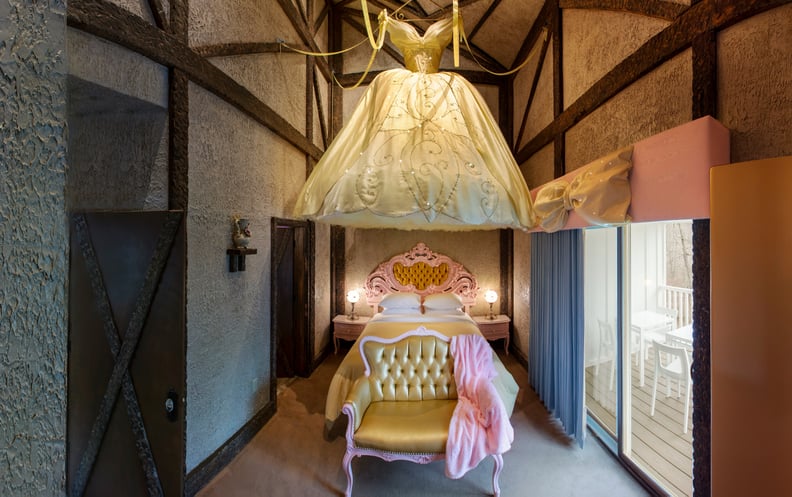 A Cozy Cottage Room With a Canopy Bed Made Out of Cinderella's Ball Gown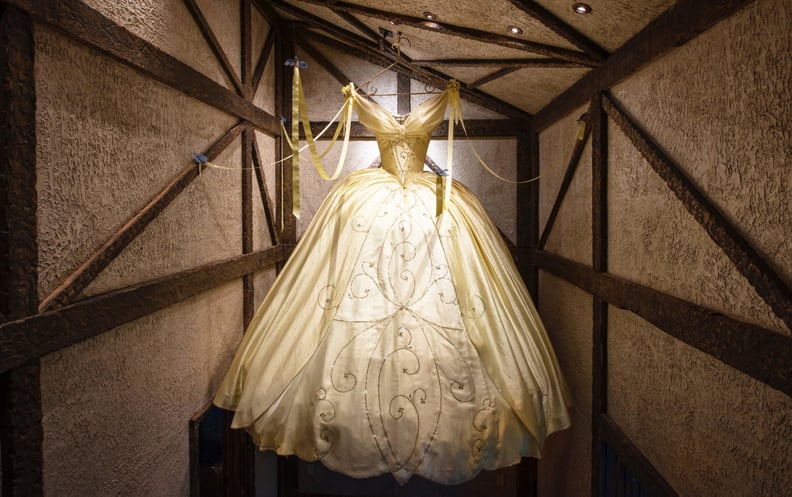 Cinderella's Stunning Ball Gown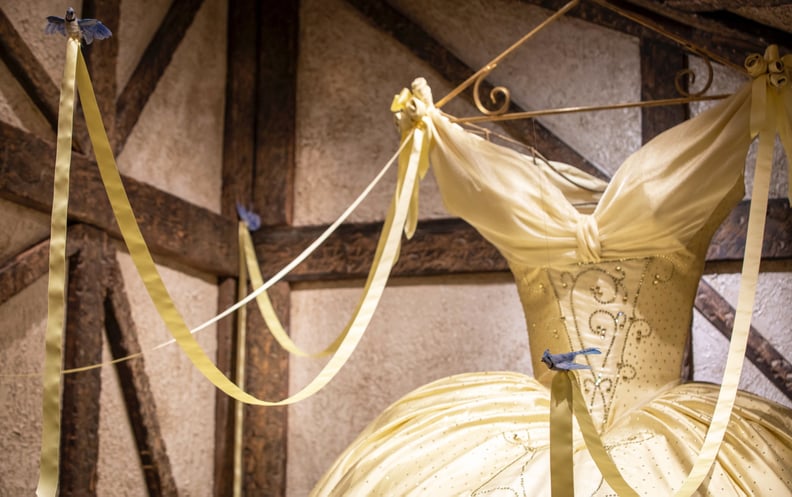 Of Course, the Blue Jays Are Doing Their Party to Put Together the Gorgeous Gown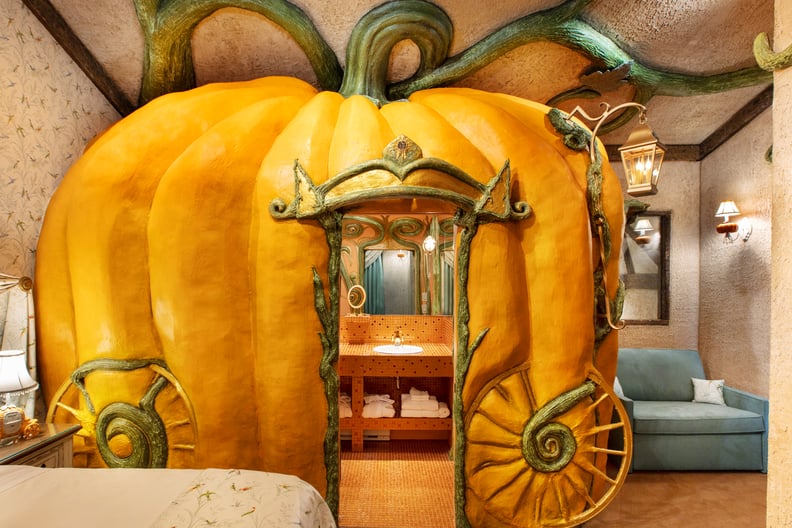 Nope! They Didn't Forget the Pumpkin Carriage — It's a Bathroom!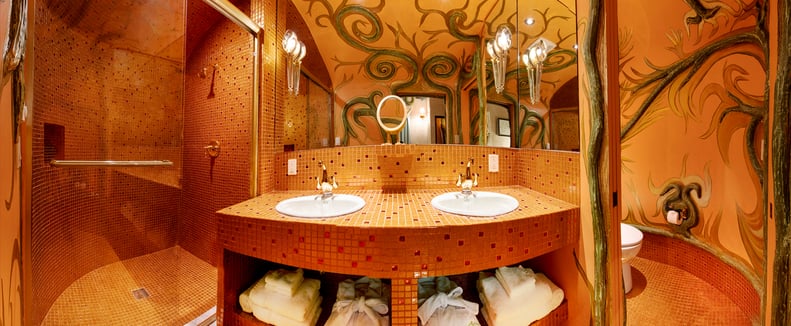 The Interior of the Bathroom Is Reminiscent of Being Inside a Magical Pumpkin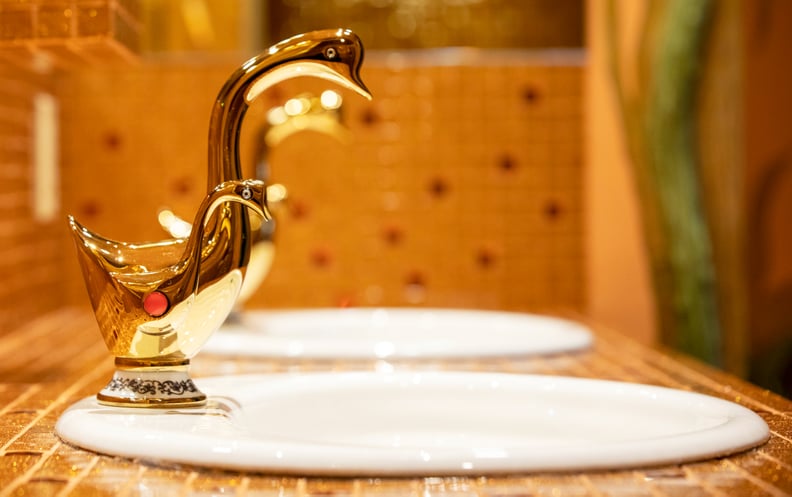 Down to the Smallest Details, Every Aspect of This Cinderella Motel Room Is Enchanting