Kick Off Your Ruby Slippers — This Wizard of Oz Hotel Room Has a Glittery Emerald Bedspread
Someone had better get Miss Dorothy Gale on the phone, because a Wizard of Oz-inspired motel room exists, and we might be dreaming. Inspired by the classic 1939 movie, the emerald-embellished motel room is one of many themed bedrooms at The Roxbury Motel in Roxbury, NY. From floor to ceiling, the space is decorated in glittering accents of green and gold, and it even comes complete with a hand-painted mural depicting the sparkling lights of the Emerald City.
"The Wizard of Emeralds," or Room 21, even features an actual yellow brick road that divides the room and runs up the length of the mural. The room also includes a ruby slipper wine bottle holder, a two-person soaking tub with dual showerheads, dual vanities, and a bathroom painted with massive poppies. Is anyone else suddenly feeling . . . very sleepy?
If you are looking to catch some Zs, the king-size bed comes with a sparkling emerald bedspread and a pillow that looks eerily like the Wicked Witch of the East's legs before they curled up under that house. For anyone thinking about reserving a night in the mesmerizing room, the motel is taking increased safety precautions for the health and safety of guests and staff amid the COVID-19 pandemic. Price ranges from $182 to $275 per night, and the room is already booked through to late September, so if you're looking to take a walk down the yellow brick road before the end of the year, book your stay soon. In the meantime, take a sneak peek at the magical motel room for yourself ahead.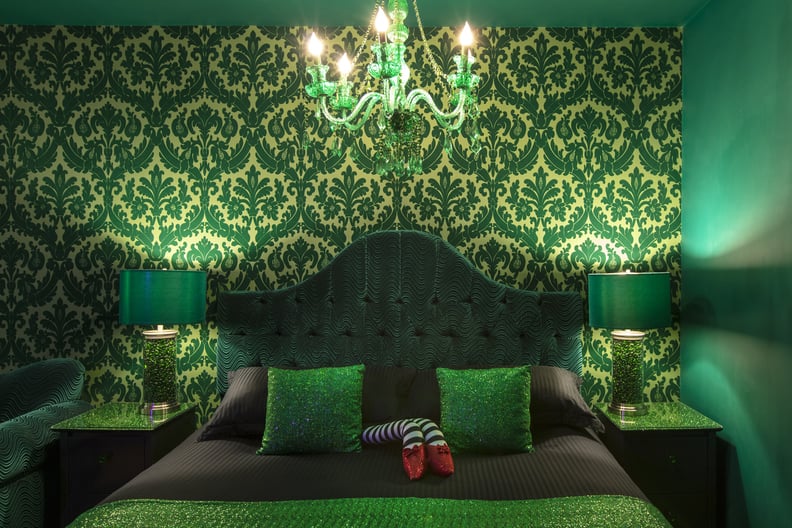 A Wizard of Oz-Themed Bedroom, Featuring a Pair of Ruby Slippers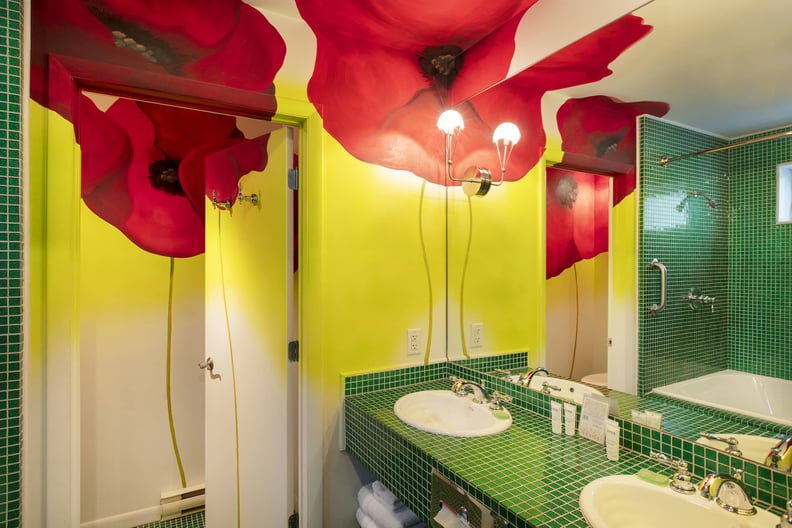 A Wizard of Oz-Themed Bathroom — Complete With Poppies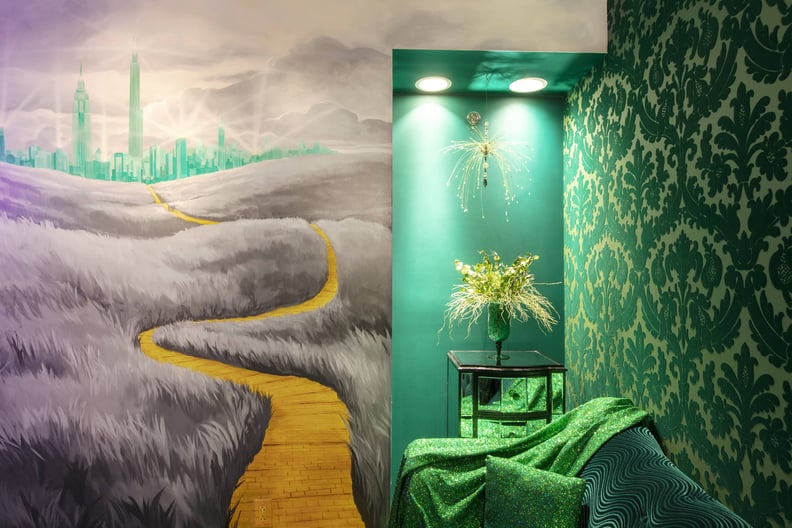 A Cozy Napping Corner Where You Can Admire the Yellow Brick Road Mural