13 Mountainside Airbnbs For Adventurous Travelers
If you're afraid of heights, you might want to check out our other Airbnb listings instead. This one's suited for adventurous travelers who literally like to live life on the edge. If high-perched getaways appeal to you, we've rounded up 13 of some of the most breathtaking rentals around the globe from Iceland to Nicaragua that promise an unforgettable stay. Check out these cliffside and mountainside Airbnbs ahead!
01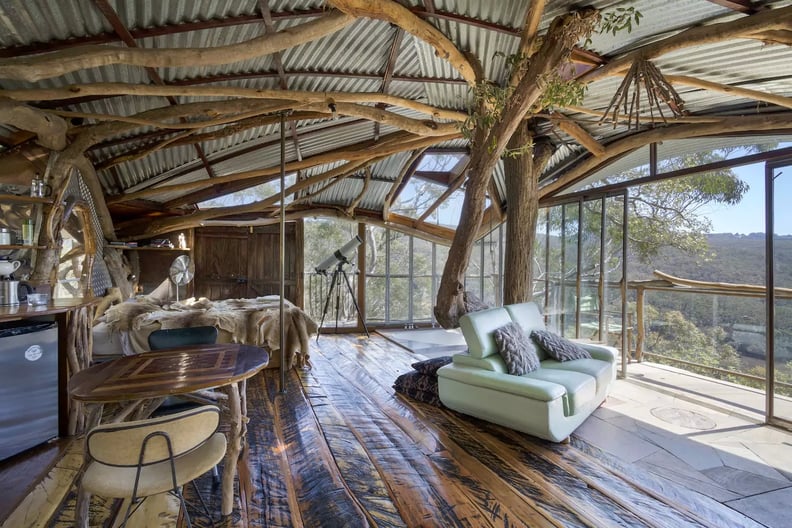 Bilpin, Australia
Price: $729 ($988 AUD)
This is definitely not your childhood treehouse. Sleep among birds high in the treetops with views of Bowen's Creek Gorge and Blue Mountains World Heritage rainforest. The uniquely designed Secret Treehouse also features a spa, kitchenette, queen bed, fireplace, and floor-to-ceiling windows. This listing is especially perfect for couples looking for a secluded getaway. And what's more secluded than 600 acres of wilderness?
02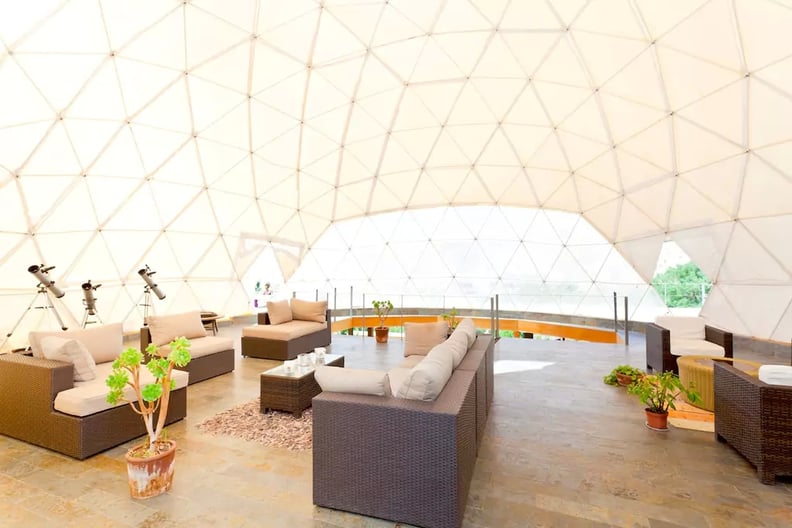 Coquimbo, Chile
Price: $218 ($296 AUD)
Elqui Domos is one of the seven "astrononmic" hotels (which features an observatory) worldwide. Sleep under the stars in Elqui Valley in two-story geodesic domes unlike any other accommodation you've ever stayed at. The first floor includes the living room while the second floor features the bedroom with a detachable roof for optimal stargazing. Other amenities include free tea and coffee, nighttime horse rides, and astronomy tours. Sounds magical!
03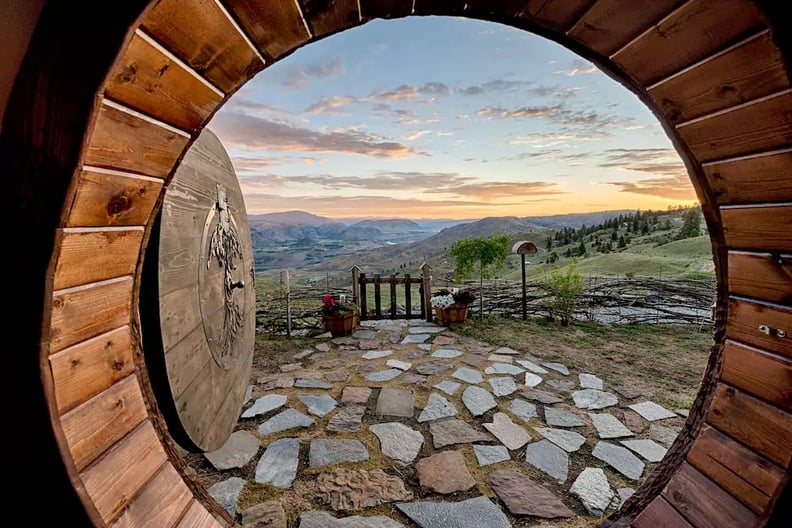 Orondo, Washington
Price: $200
If you've ever dreamed of staying in a hobbit hole, this mountainside home tucked into the earth is your chance. It's the definition of cozy, accommodating up to two guests at a time. One of the many highlights worth noting about this rental is its framed round doorway that opens up to amazing views and quiet. This one's definitely straight out of a storybook.
04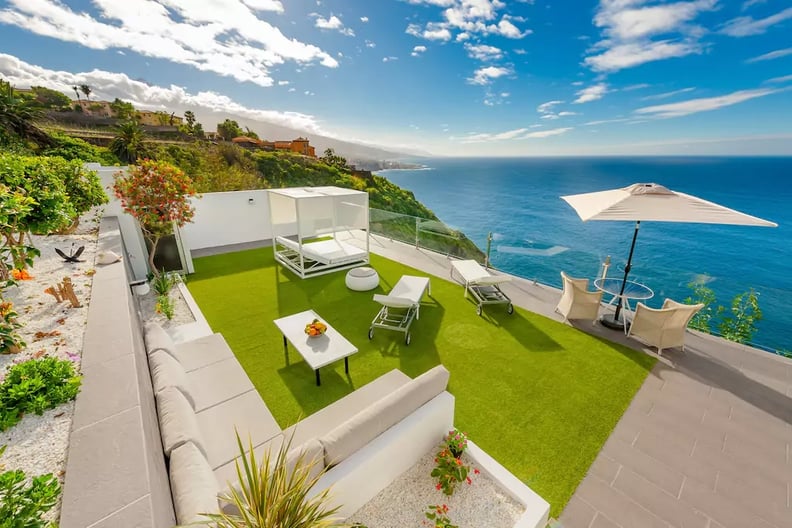 Canarias, Spain
Price: $368 ($497 CAD)
There's nothing not to love about this breathtaking modern villa with sweeping views of the Atlantic Ocean and Mount Teide. Take a dip in the heated swimming pool or lounge outdoors to take in sunsets and sunrises. If you need to escape the sun for a bit, the spacious kitchen and rooms both face the water and feature large glass windows to peer through.
05
Bilpin, Australia
Price: $811 ($1,099 AUD)
This clifftop cave would make even Fred Flintstone jealous. This one-of-a-kind rental is built into a natural rock, allowing visitors to live out their caveman and cavewoman dreams. The views are spectacular, as you'd imagine, overlooking a World Heritage National Park. Luckily, you'll be able to sleep on something more comfortable than bedrock.
06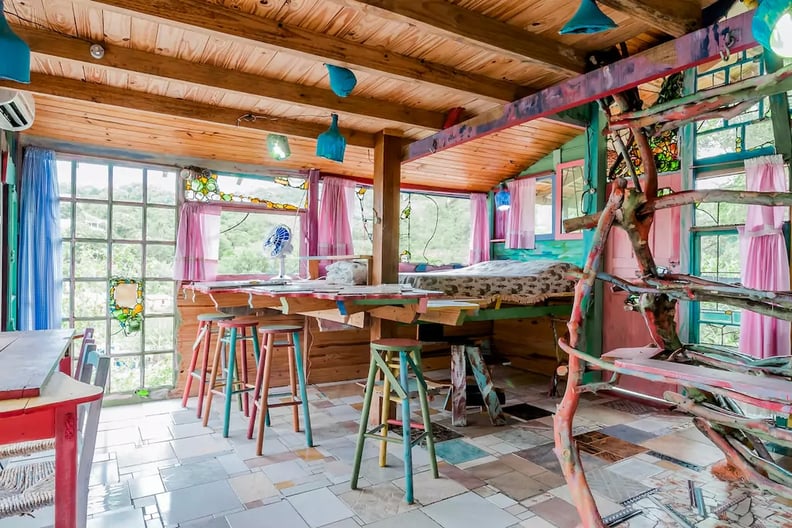 Santa Catarina, Brazil
Price: $86 ($116 AUD)
Guests of this ecological mountain retreat get to enjoy 360-degree views, thanks to its glass walls. Not only is the loft's location and architecture unique but its interior is also made up of reused materials, including bottles. Up to five guests are able to stay at a time to take up the two bedrooms, kitchen, and bathroom.
07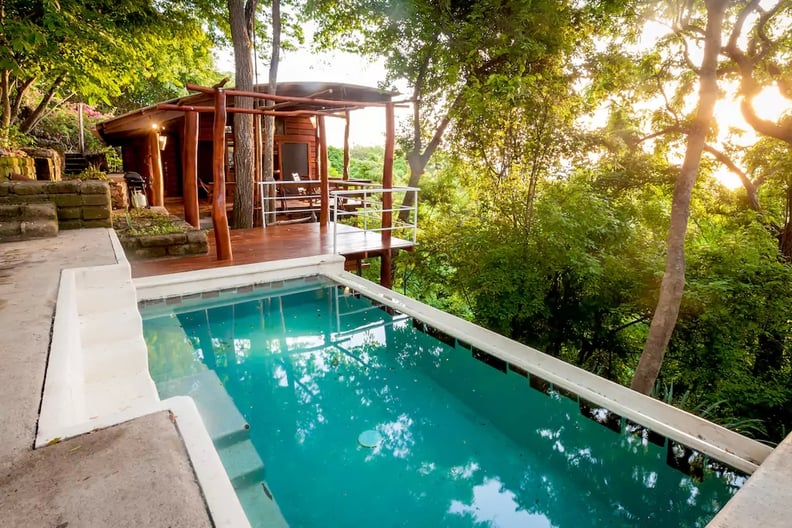 Rivas, Nicaragua
Price: $189 ($256 AUD)
Casa Arbol goes beyond your average treehouse. The two-story villa supported by massive eucalyptus trunks overlooks the Pacific Ocean and is located in one of Central America's largest private wildlife corridors. Enjoy modern living in a tropical open-air environment at the home, fully equipped with a new flat screen TV, audio system, a DVD library, and art collection. Not to mention a shared pool available for use.
08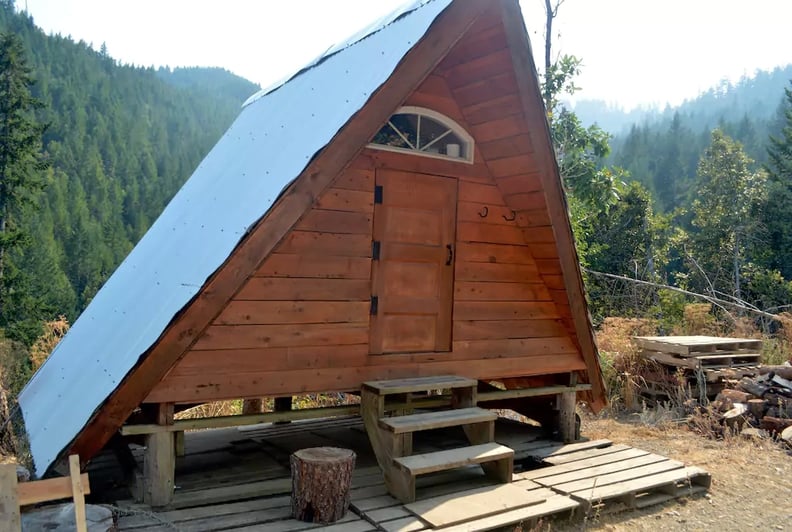 Gasquet, California
Price: $76 ($106 AUD)
This cozy and tiny cabin deep in the Six Rivers National Forest in Northern California is part of an off-the-grid ecovillage. Be warned that there is no electricity inside your rental (flashlights and lanterns available), the kitchen is shared and outdoors (coolers and camping stoves), and bathrooms are seat buckets. If you don't mind "roughing it," this nature-surrounded rental is ideal for those seeking solitude.
09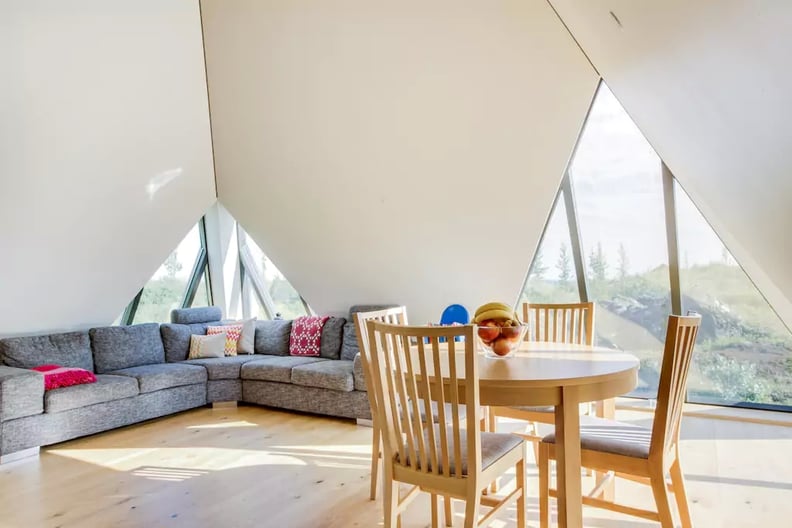 Laugarvatn, Iceland
Price: $227 (£176)
This beautiful Icelandic cottage set on an old lava field is surrounded by moss and trees, and plenty of sunlight. It's also green and sustainable, heated by geothermal water, and powered by geothermal energy. Guests are able to enjoy a hot tub, two bedrooms, a washer and dryer, and a full kitchen.
10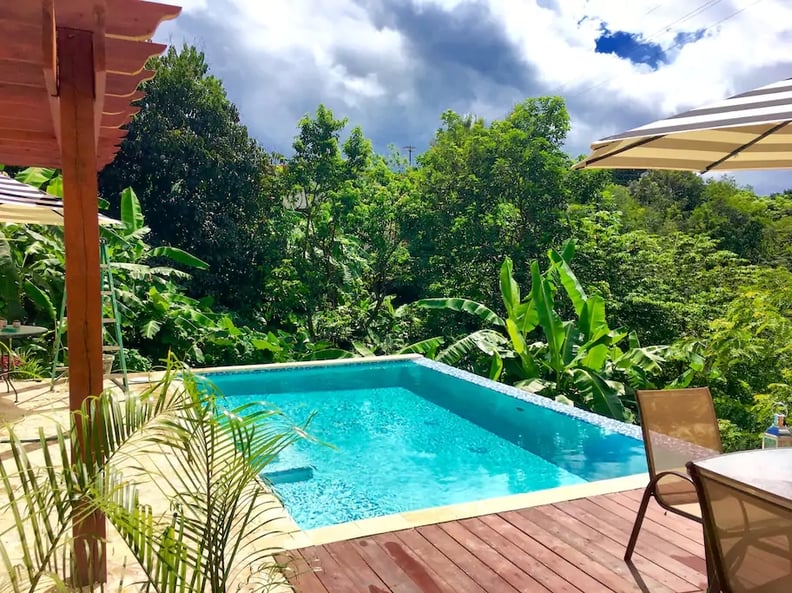 Rincón, Puerto Rico
Price: $74
This fully renovated suite in Rincón, Puerto Rico, features a bedroom, common living space, and its own pool. The apartment is fully equipped with a marble bathroom, internet, and a walk-in closet, and it's only three to five minutes away from Sandy Beach.
11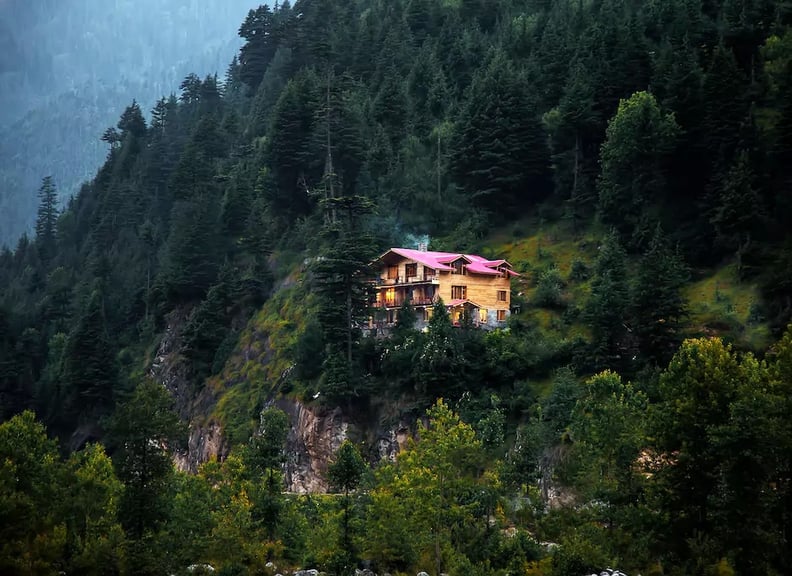 Himachal Pradesh, India
Price: $62 (₹4,000)
Every room of this secluded cottage offers panoramic views of the snow-capped peaks of Rohtang and Hampta Pass. It also overlooks the Jogni waterfalls, making this home as serene as can be. It accommodates up to two guests with a bedroom, cozy living room, and a fireplace. The affordable price also includes breakfast each morning; your choice of Indian, American, or continental.
12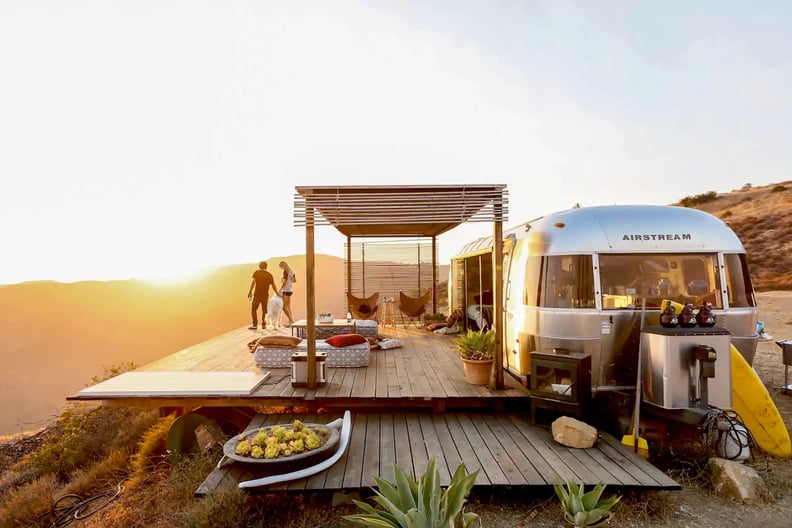 Malibu, California
Price: $500
The Malibu Dream Airstream couldn't be a more fitting name for this California getaway. It's close enough to Los Angeles but surrounded by enough nature and quiet to feel like you've escaped. The trailer's been redesigned into a large studio with a deck that oversees the Channel islands, Catalina, and County Line beach. You're definitely paying a hefty price for luxury.
13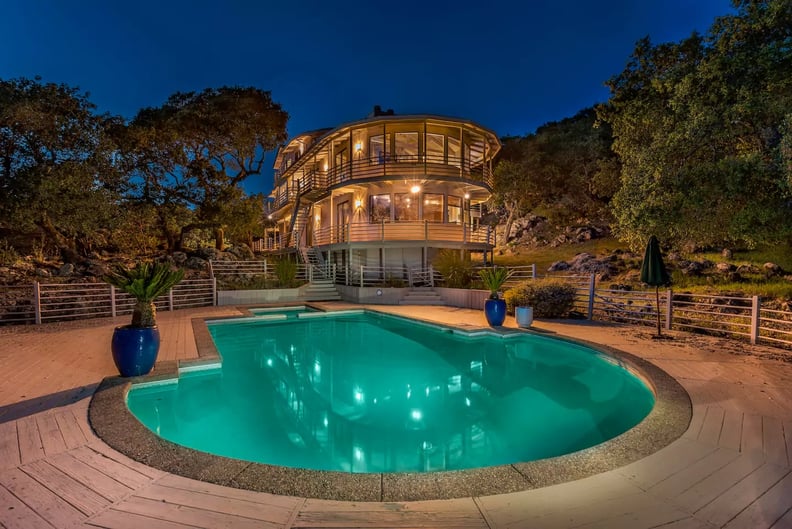 Sonoma, California
Price: $1,190
This 4,800-square-foot home is ideal for renting with a large group of friends or family. Ten guests can comfortably sleep at this tri-level estate situated on 12 rolling acres above Wine Country. It also features wrap-around decks, a custom-designed pool, glass walls, and light-filled rooms. Guests are able to enjoy indoor-outdoor private living while being just seven minutes away from shopping and dining.