This Artist Gave Disney Princesses New Dress Designs, and the Results Are Beyond Stunning
Ever wondered how your favorite movies would look if they were just a bit different? What would The Notebook be like with '70s Woodstock fashions, or Breakfast at Tiffany's set in a provincial European town instead of bustling New York City, or Titanic if Rose would've just scooted over a little for poor Jack Dawson (#stillnotoverit)? Reimagining the stories we know by heart can be a way to continue to grow our appreciation for these classic narratives and even fall love in with them all over again by adding a little bit of ourselves into the mix. Artist Marta Sánchez García from Instagram account @wecallitdisney has found the perfect way of reworking the Disney classics: dreaming up the same scenes we know and love from the films but with totally different dress designs on the princesses.
With reworkings of color, material, and shape, Sánchez García totally refreshes the movies we grew up on, and the results are enchanting. "I based the princesses' gown redesigns on dolls that Disney launched recently, specifically their Midnight Masquerade Collection," she told POPSUGAR. "The collection's gowns and designs are simply incredible, but when I realized they would only be seen on the dolls, I asked myself: 'How would the princesses look in these new designs in the actual movies?' So I went ahead and drew them with the gowns."
As she retooled scenes like Belle dancing in the palace and Tiana being head over heels in love with Naveen, Sánchez García incorporated these very different dress designs, which created modern, fun interpretations of the films. The classics are the classics for a reason, but creativity like this shows us even Disney princesses can use some outfit changes every once in a while. Scroll through for all of @wecallitdisney's re-creations — you've never seen the princesses like this!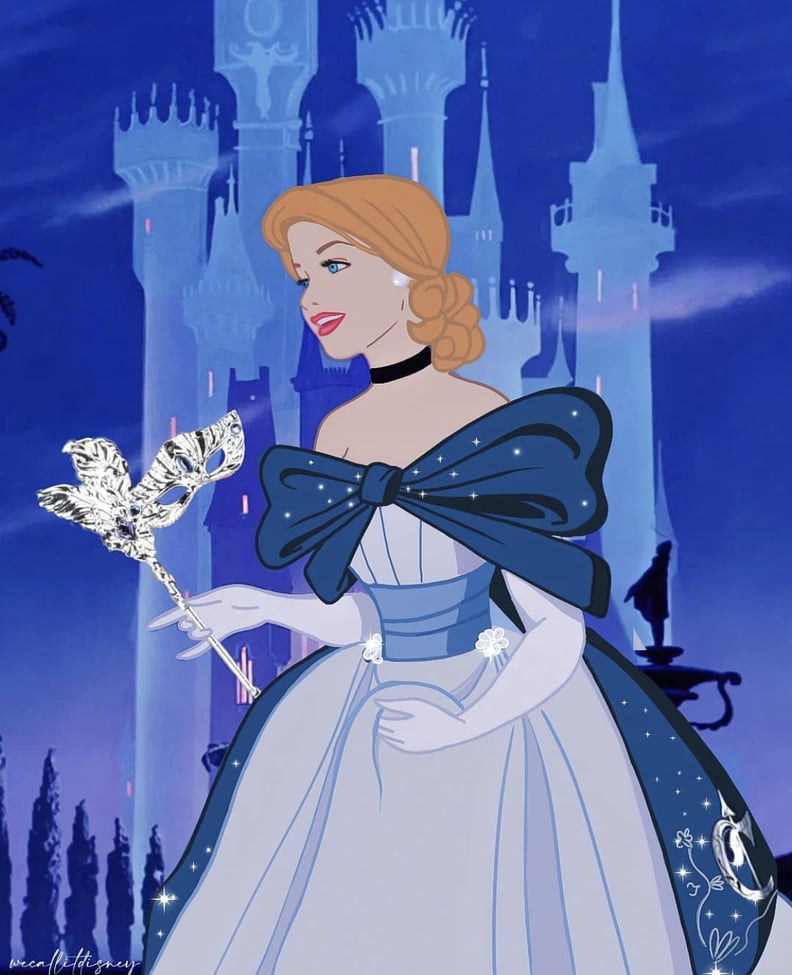 Cinderella
After @wecallitdisney saw Disney's Midnight Masquerade doll series, which was inspired by the magic of moonlit masquerade balls and our favorite Disney heroines, she was blown away by the craftsmanship of the gowns. In a bow-adorned glittering gown worthy of an Oscar's red carpet appearance, Cinderella pairs her dress with a metallic mask and new updo. Donning her signature shade of baby blue in front of her castle, Cinderella shows she's still the queen of glow-ups.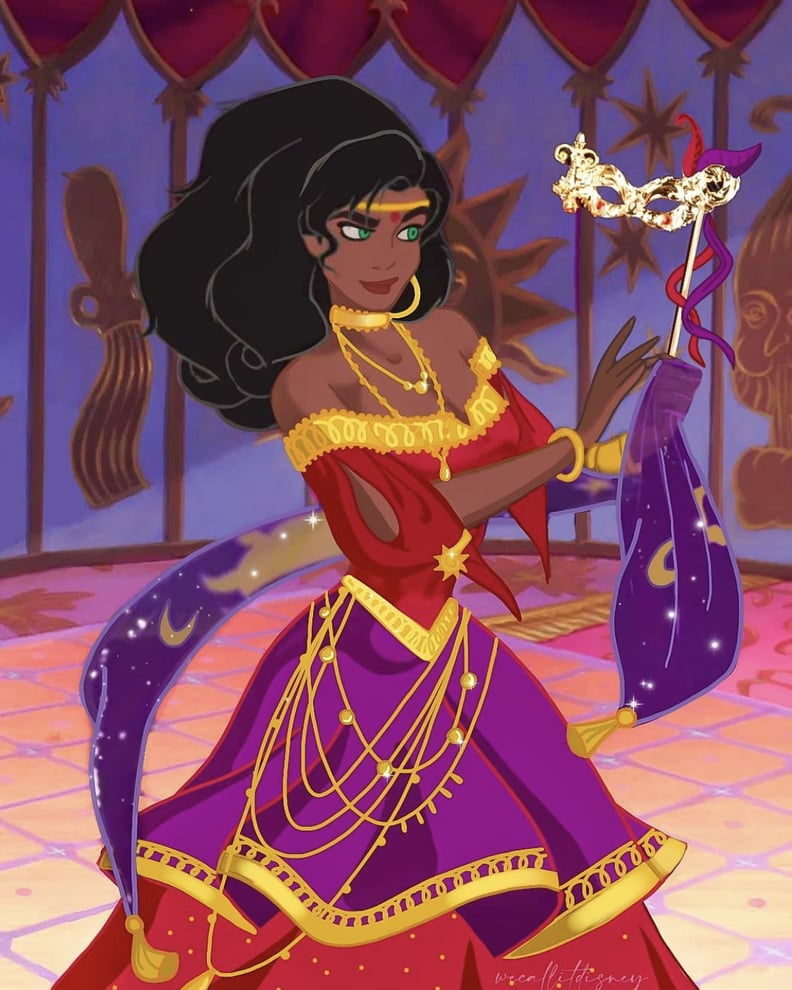 Esmeralda
Based on the Midnight Masquerade Collection's redesign of Esmeralda's red dress, this drawing showcases The Hunchback of Notre Dame's heroine in a jewel-toned frock embellished with free-spirited sun and moon details. With her signature dark hair, layered gold jewels, and a mask in tow, we should be asking Esmeralda if she's always this charming, or if we're just lucky.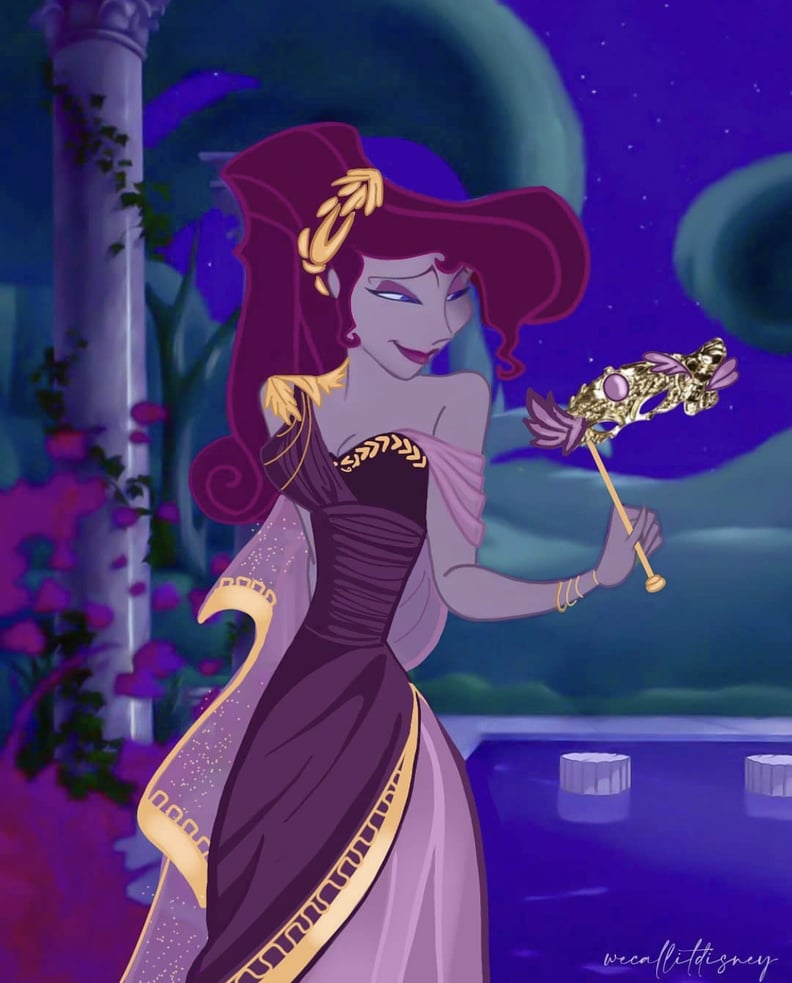 Megara
I won't say I'm in love, but actually, scratch that — this is gorgeous! Sánchez García's version of Hercules heroine Megara's Midnight Masquerade gown is adorned with gold piping, sheaths of purple, and a Grecian silhouette. As stated by @wecallitdisney herself, "Disney finally noticed how gorgeous and complex" characters like Megara are, which deserves a Zeus-size round of applause in itself.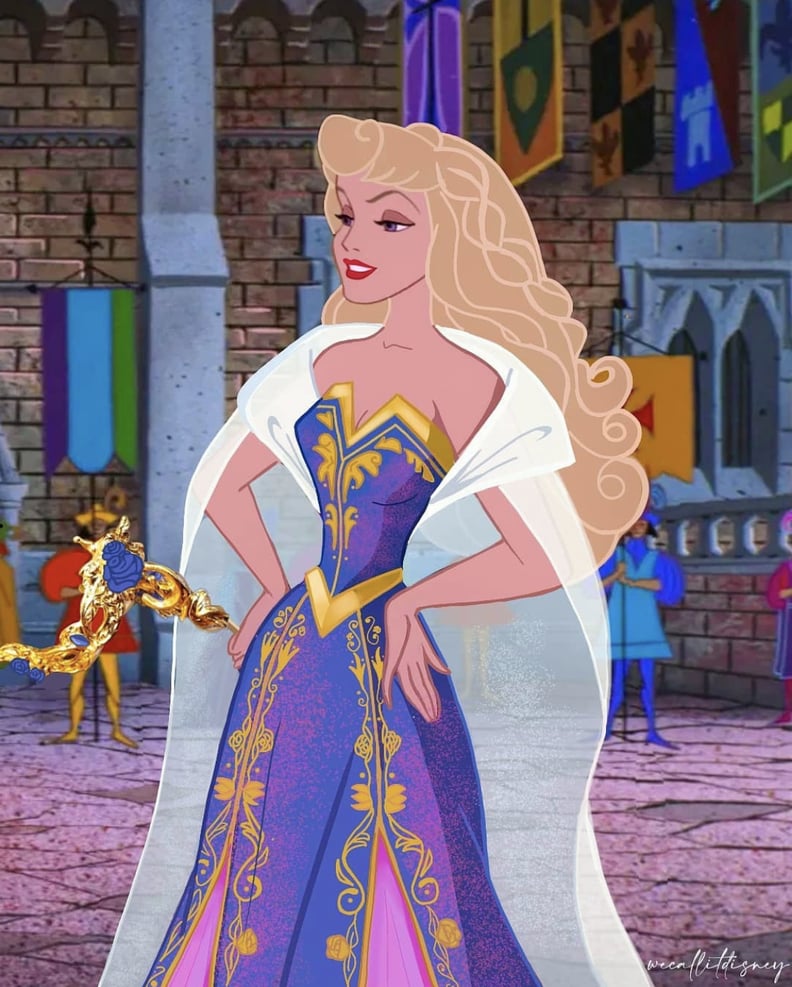 Aurora
Aurora from Sleeping Beauty also received a vibrant outfit redesign, going from her usual pastels to a va-va-voom deep blue corset A-line gown. With intricate gold embroidery, flashes of pink, and a sheer cape, this dress is elegance personified while still staying true to Aurora's color scheme and personality. Set in an actual scene from the original movie, this re-creation makes it easy to imagine how the princess of beauty sleep would look in a more elaborate gown, and it makes you wonder if that spinning wheel was finally put to good use (meanwhile, I'll just be trying to get one night's rest as high quality as Aurora's).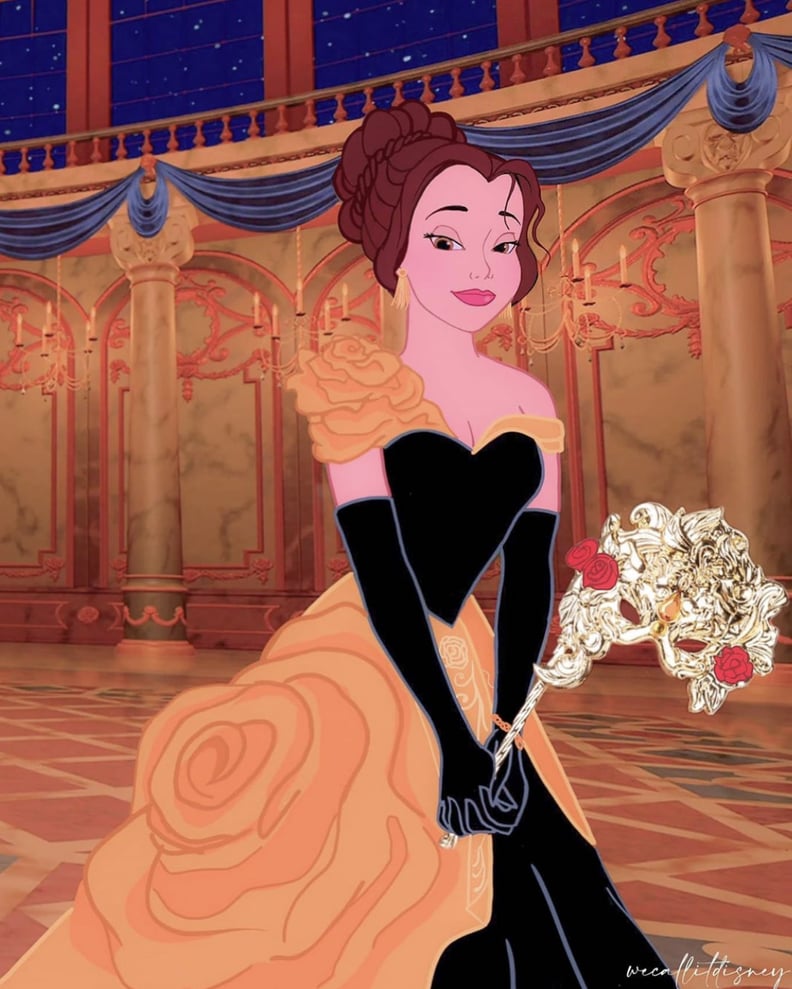 Belle
When asked about the process behind her alternative dress designs and the ensuing final product, Sánchez García said she sees the dresses as "much more elaborate and detailed gowns that stay true to the essence of the originals." Here, Beauty and the Beast's Belle is immediately recognizable, in her characteristic warm yellow hue and her relaxed updo, yet this new version is much more fashion forward with the contrasting black bustier, gloves, and inset. Still, this outfit maintains the narrative through its rose details in the skirt and mask, and it makes us wonder if these tales as old as time should all be getting a refresh, at least in small, fun ways like this.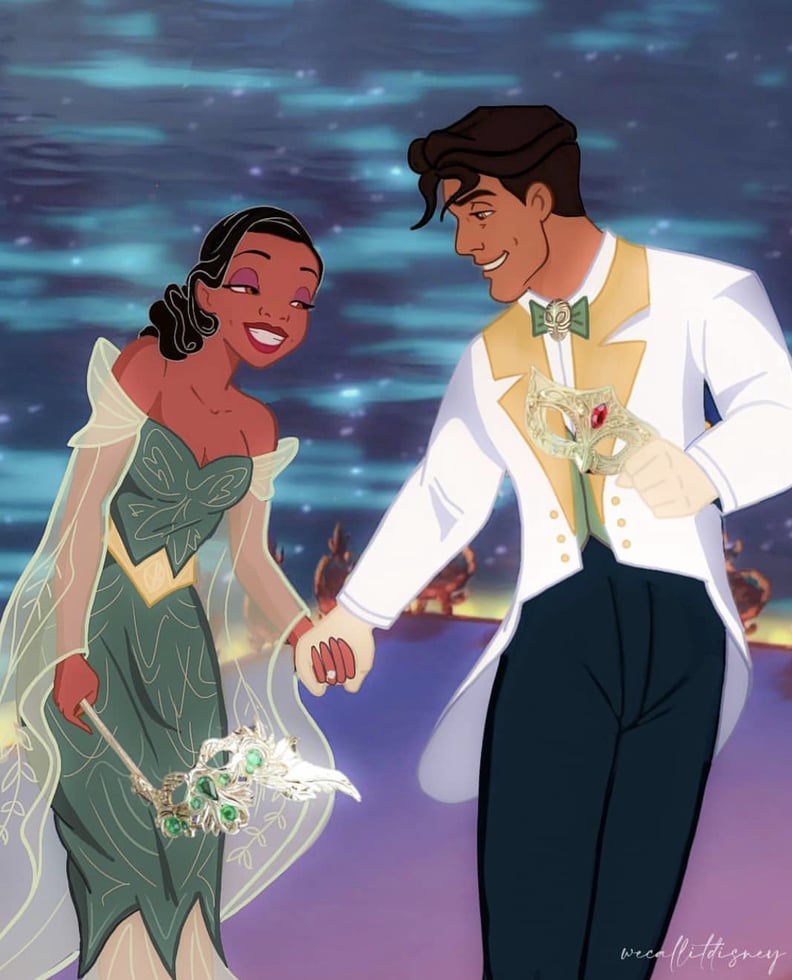 Tiana
In a slinky, green, off-the-shoulder gown complemented by sheer details, Disney Princess Tiana's dress got a total refresh by both the Midnight Masquerade designers and Sánchez García. She's pictured here with her dreamy love Naveen, and I'm just glad they didn't stay frogs, because we wouldn't have gotten a swoon-worthy moment like this.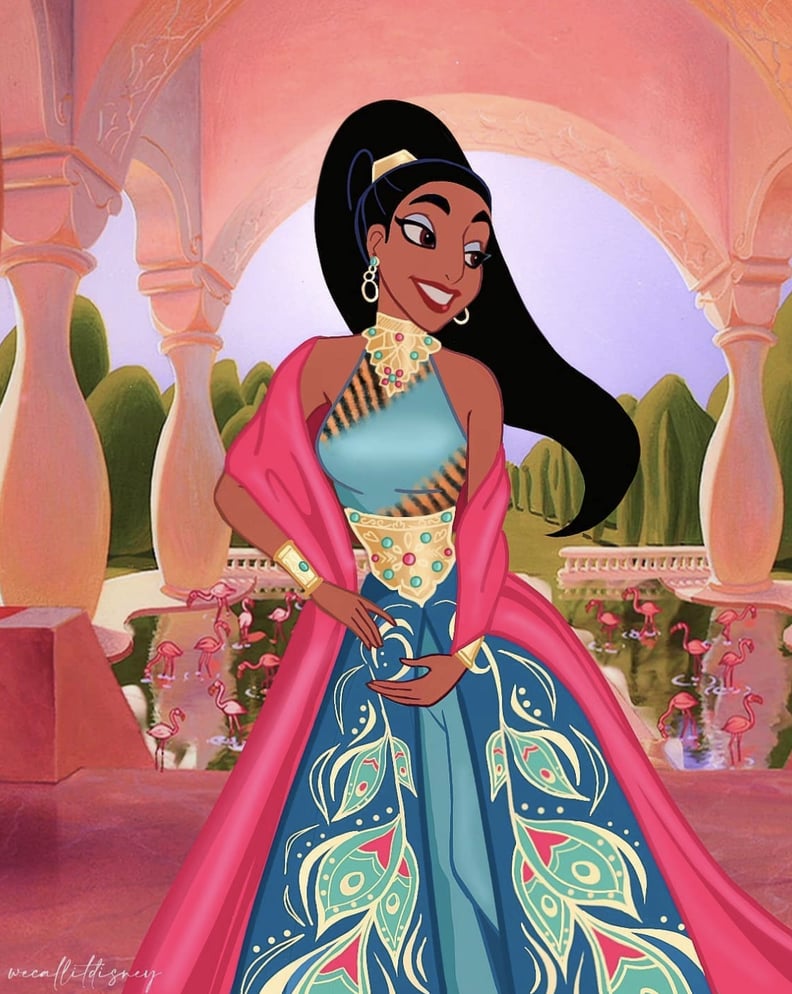 Jasmine
Princess Jasmine's dress is a whole new world: shining, shimmering, splendid, and makes us want a genie to get a superintricate dress like this of our own. Originally a part of Disney's new Premiere Doll Collection, whose theme is based on the princesses attending the premieres of their movies as if they were actresses, Princess Jasmine's gown is elaborate with jewel tones and offset with embroidery that recalls her Middle Eastern heritage. The artist reimagined this dress in the midst of Jasmine's pink balcony, and the hair tie even makes the look fit for an impromptu magic carpet ride.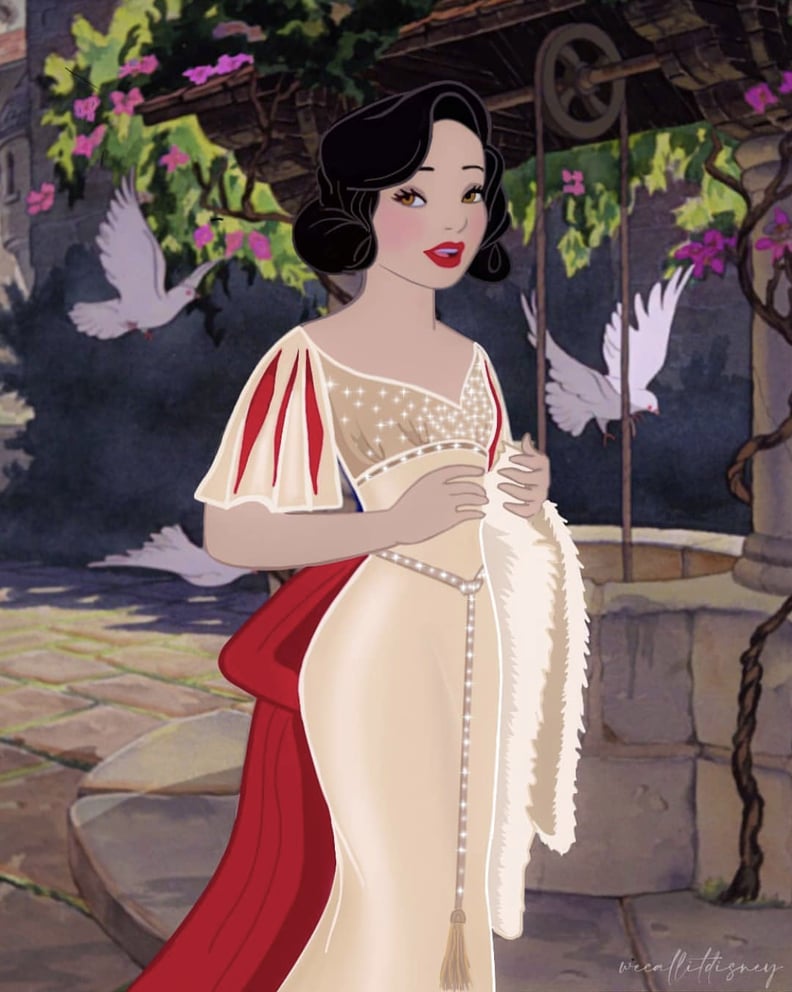 Snow White
Another re-creation from Disney's Premiere Collection, Snow White is reimagined as attending the premiere of the movie in the fashion of the late 1930s screen sirens. A Hollywood star in gold charmeuse with a red bow train in the back, a sequined bodice, and a fur stole, Snow White gets the diva treatment, which is a far cry from the cottage she shares with *seven* roommates. Now just to decide if I'd take a poison apple in exchange for that outfit . . .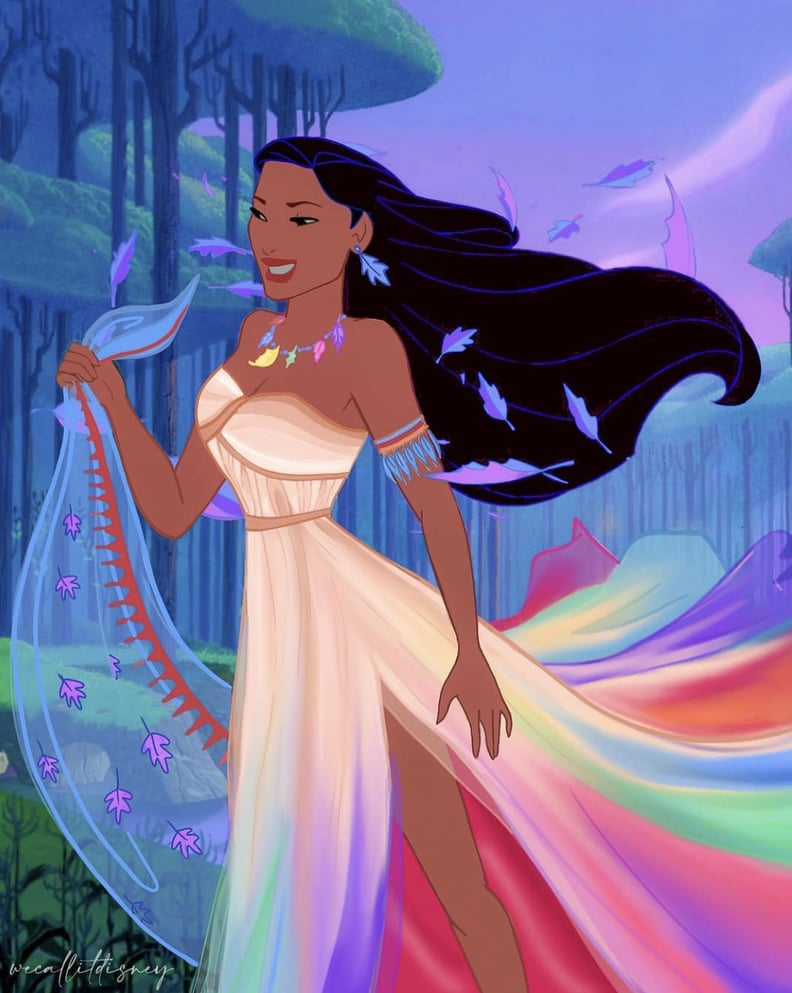 Pocahontas
And last but not least, to honor the 25th anniversary of Pocahontas, Sánchez García reimagined her dress to include a whole rainbow. "[Many people] forget Pocahontas has all the colors of nature in her — they forget about the colors of the wind!" she told POPSUGAR. In this reiteration of the more traditional, neutral dress we're used to seeing Pocahontas in, the multitude of shades represent the "colors of the wind" while still including beige as the main color "as a nod to the original one and to Native Americans." A multicolored leaf necklace is included to "match her spirit" and the dress, and as @wecallitdisney's first top-to-bottom design, it has us singing with all the voices of the mountains!