Planes, Trains, and Automobiles — 6 Unique Travel Experiences For Any Hello Kitty-Lover
Where Hello Kitty goes, fans follow. Not only can you purchase Hello Kitty-themed merchandise just about anywhere from Walmart to specialty gift stores, but now you can actually travel Hello Kitty style. All across the world, you can find destinations that celebrate the lovable bow-wearing icon. If you're obsessed with all things Hello Kitty, add this items to your travel bucket list ASAP!
01 EVA Air Hello Kitty Flight
Hop on board one of the decked out Hello Kitty airplanes from EVA Air. Everything from the boarding pass to the exterior of the plane to the food for the in-flight meals are covered in Hello Kitty. The outside of the planes are painted with Sanrio characters, including all of Hello Kitty and her friends, the meals on the plane are Hello Kitty-shaped, and even the pillows and chairs have our cute little kitty friend's mark on them. There are multiple routes arriving and departing from over 70 airports around the world, but most of the routes do have a layover or stop in Taipei's Taoyuan Airport. Be sure to check and see if you can be a passenger on this Kitty-crazed plane for your next trip.
02 Hello Kitty Train
All aboard, hop on the cutest train in the world! After flying to Taiwan on your Hello Kitty EVA Air flight, you can take the Hello Kitty high-speed train from Taipei to Taitung. You can spot your favorite cartoon on the walls, seats, serving carts, and even on the meal boxes. Sometimes a life-size Hello Kitty mascot appears to spread her cheer to all her friends aboard. If you're going to travel, why not do it Hello Kitty style?
03 Hello Kitty Rental Car
Driving a hot pink Hello Kitty car is a dream for any pink-loving Hello Kitty fans. Maybe you can't transform your car into Hello Kitty on wheels, but you can rent your very own hot pink Hello Kitty Mitsubishi Mirage at SKY Rent-A-Car on the Japanese island of Okinawa. Sadly, these cutesy rentals are only currently available at this one location, but after seeing how beautiful and blue the waters are in Okinawa, you might be booking your tickets in a hot pink flash.
04 Hello Kitty Theme Park
Hello Kitty even has her own theme park! The entire theme park Sanrio Puroland in Tokyo, Japan, features all of Sanrio's animated characters, including Hello Kitty and her friends. You can enjoy attractions including boat rides, parades, a tour of Hello Kitty's house, and even get a photo with Hello Kitty herself during one of her daily meet-and-greets. Stock up on all your Hello Kitty merchandise while you're here because their store is full of adorable souvenirs that are hard to pass up.
05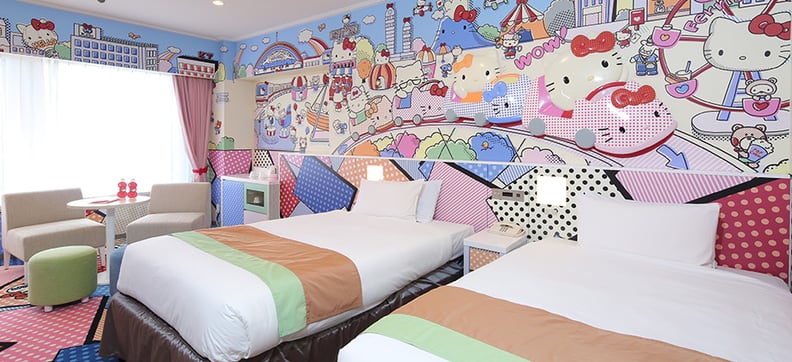 Hello Kitty Hotel Room
It feels like Hello Kitty has covered everything in travel except for an entire themed hotel. Luckily, there is actually a hotel with rooms featuring Hello Kitty galore. The Keio Plaza Hotel in Tokyo features two different rooms with wall-to-wall Hello Kitty decor. You can even order room service for breakfast and eat your meal with Hello Kitty stamped on your omelet or a Hello Kitty-shaped sandwich. The best part of staying in one of these themed rooms would be all the freebies you can take home with you. The Hello Kitty stationary, doll, and toiletries are all complimentary with your stay.
06 Hello Kitty Cafe
Sip on a delicious coffee with Hello Kitty latte art while enjoying the pinkest cafe on the planet. Located in the trendy college neighborhood Hongdae in Seoul, South Korea, the Hello Kitty Cafe is the spot to hang out and take fun photos.
Snack on Hello Kitty desserts while siting in one of the cafe's hot pink booths adorned with Hello Kitty's infamous bow. The menu includes all kinds of different coffee drinks including a delicious green tea latte. All the drinks featured on the menu have their own latte art as well. This might be the cutest cup of coffee you can get in the world. Can't make it to South Korea? No worries, Hello Kitty cafe recently opened up in a popular Southern California mall for your flirty little feline friend fix.