Squishmallows Neck Pillows Exist, and Hello, Cuteness, My Old Friend
As POPSUGAR editors, we independently select and write about stuff we love and think you'll like too. If you buy a product we have recommended, we may receive affiliate commission, which in turn supports our work.
If you've already added the best Squishmallows of 2021 to your squish squad, we have a few more you might want to add . . . in the form of neck pillows. That's right, Squishmallows neck pillows are a thing, and people are spotting them at stores and sharing pics on their socials. The pillows, which aren't currently available on the Squishmallows website, come in an array of cuddly, hard-to-resist styles, from Luther the Shark to Brock the Bulldog, Melani the Fox to Esmerelda the Unicorn. Rest your head on one of these soft plushes the next time you watch TV or go on a road trip, or better yet, pick one up for someone who deserves a cuddly friend.
It appears most of them are sold in Canada (shoutout to Shoppers Drug Mart, where you can also find matching backpacks!), so they might not be available in US stores . . . yet. In the meantime, have a look at a few plush travel pillows Squishmallows fans are finding ahead, and check out Amazon and eBay if you want to snag a few online.
Squishmallow Neck Pillows and Backpacks
Duke the Dragon, Nebula the Unicorn, Miranda the Owl, Liv the Teal Leopard, Luther the Shark, Melani the Fox, and Brock the Bulldog Astronaut.
Miranda the Owl and Gordon the Shark Squishmallow Neck Pillows
Brenda the Butterfly Squishmallow Neck Pillow
Squishmallow Neck Pillows and Backpacks
Brock the Bulldog Astronaut, Melani the Fox, and Luther the Shark
Melani the Fox Squishmallow Neck Pillow and Backpack
Squishmallow Neck Pillows and Backpacks
Carmen the Cat, Reginald the Dog, Gordon the Shark, and Duke the Dragon
Zoe the Unicorn Squishmallow Neck Pillow
Tatiana the Unicorn Squishmallow Neck Pillow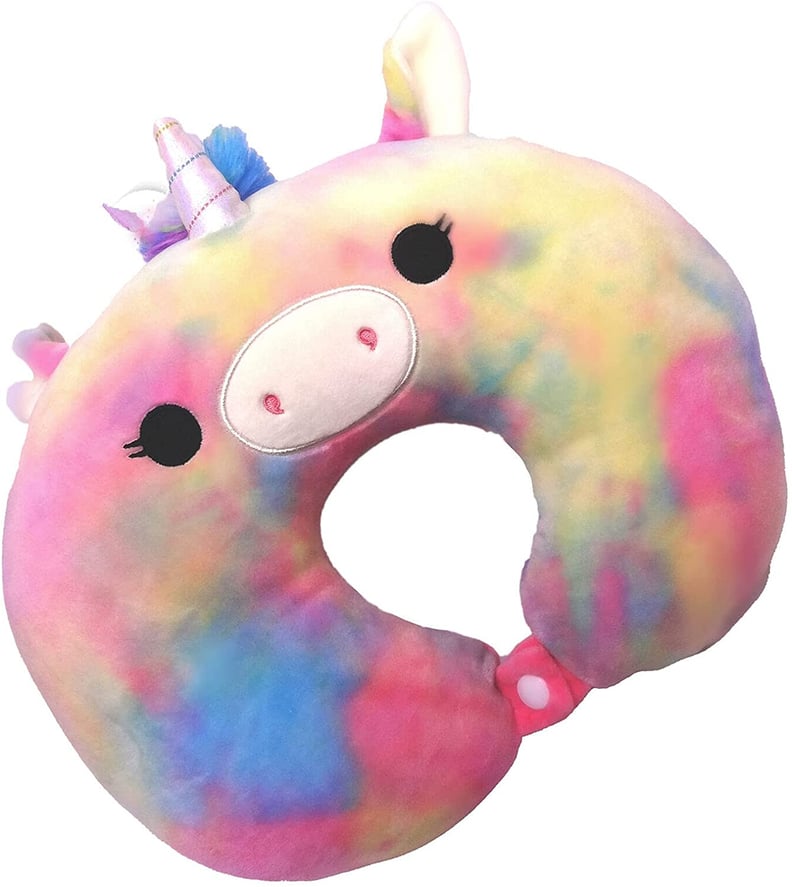 Esmerelda the Unicorn Squishmallow Neck Pillow