This Is Your Perfect Weekend in Newport, RI, Planned!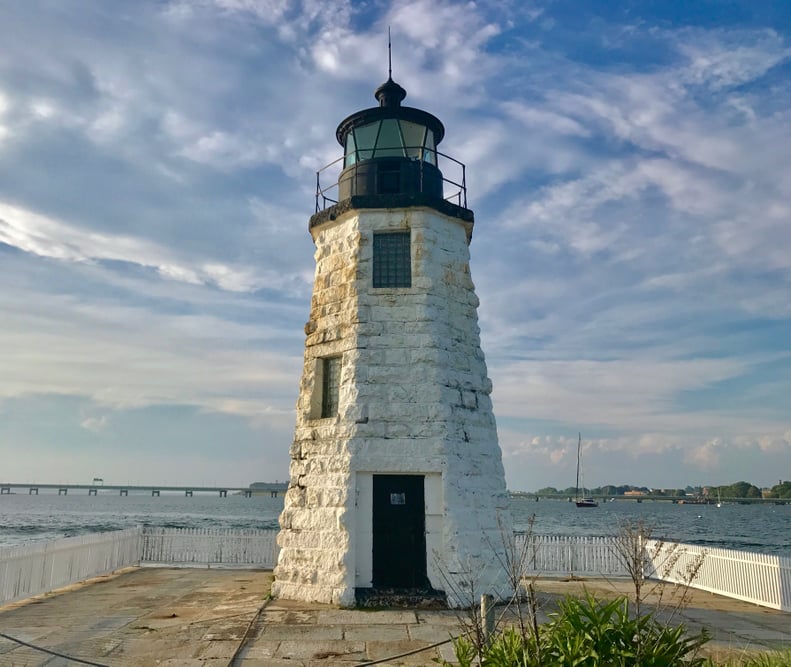 POPSUGAR Photography | Lauren Levinson
POPSUGAR Photography | Lauren Levinson
I don't think I've been to a town where people "Summer harder" than Newport, RI. Everything about the historical New England town feels Americana — from the abundance of lobster rolls to the iconic mansions lived in by some of the most famous families of our country (and now Taylor Swift!).
This year, I finally visited the charming town and learned what all the hype is about. Before I travel, I do a ton of research — asking everyone I know (on Facebook!) where to go, eat, and stay. After combing through the recommendations, I settled on a mix of old and new: a modern hotel peppered with mainstay restaurants.
Ahead, I am sharing every activity and dining spot I loved in order to help you plan your next trip! Hope you're not allergic to seafood . . .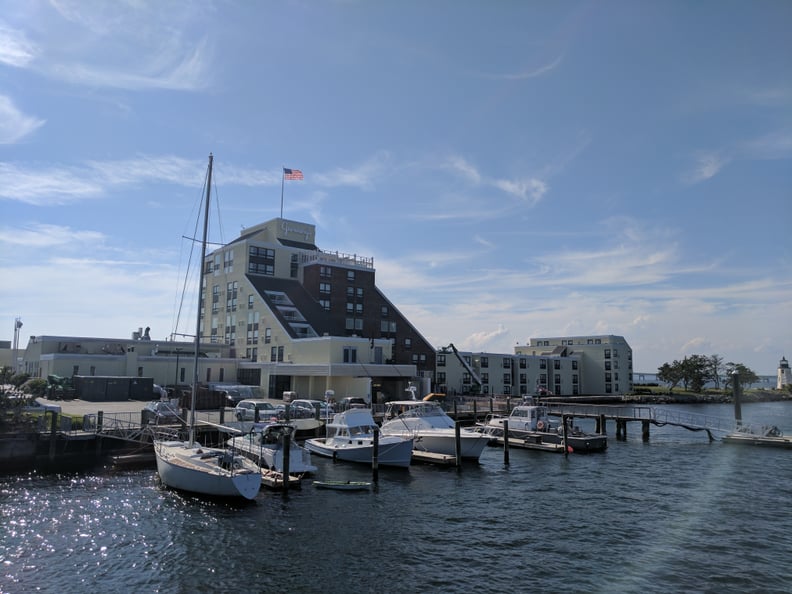 Goat Island
Welcome to Newport, RI! This is actually Goat Island, which is part of the city of Newport but feels a little removed. It's only a 15-minute walk from downtown so it's a wonderful place to stay — or get married!
By the way, there are actually goats on the island! Gurney's Newport — which you'll learn more about soon — has two cuties (Cornelius and William) that live in a replica of Marble House, one of the town's most famous historic mansions. The goat were named after William Vanderbilt, who owned Marble House, and Cornelius Vanderbilt, who built the Breakers. I visited them, and they're pretty damn adorable.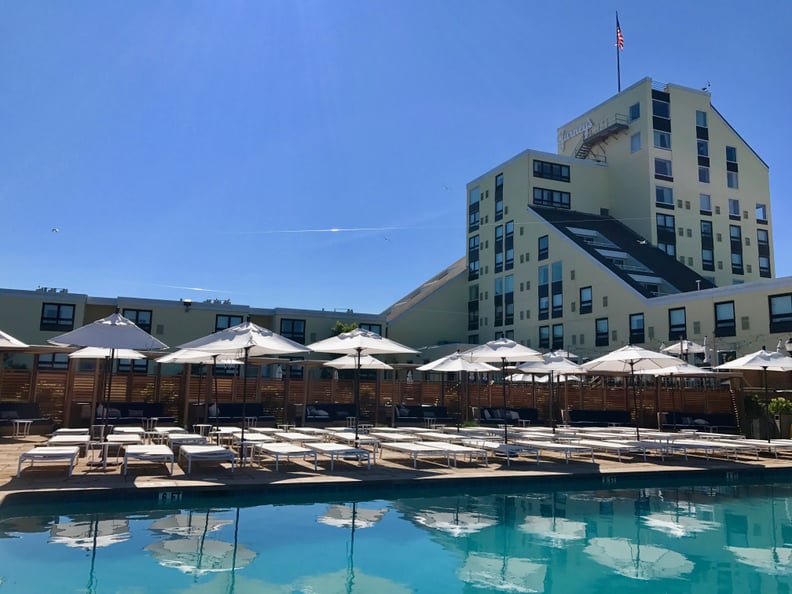 Where to Stay
We stayed at Gurney's Newport Resort, which just opened in Spring 2017. Gurney's has a Montauk location in the Hamptons that's known as one of the top luxury hotels out East, so I had to see the newest space.
Gurney's is known for having amazing pools, including this one, which is both great for families and millennial singles looking for an upscale daytime party spot (think: live DJs, outdoor party scene). There's an outdoor restaurant called The Pineapple Club, and you can also get food and drinks delivered to your lounge chair.
Rates start at $299 per night and $499 for Summer weekend nights. You get a lot of bang for your buck including three restaurants, indoor and outdoor bars, a gym, a spa, and more.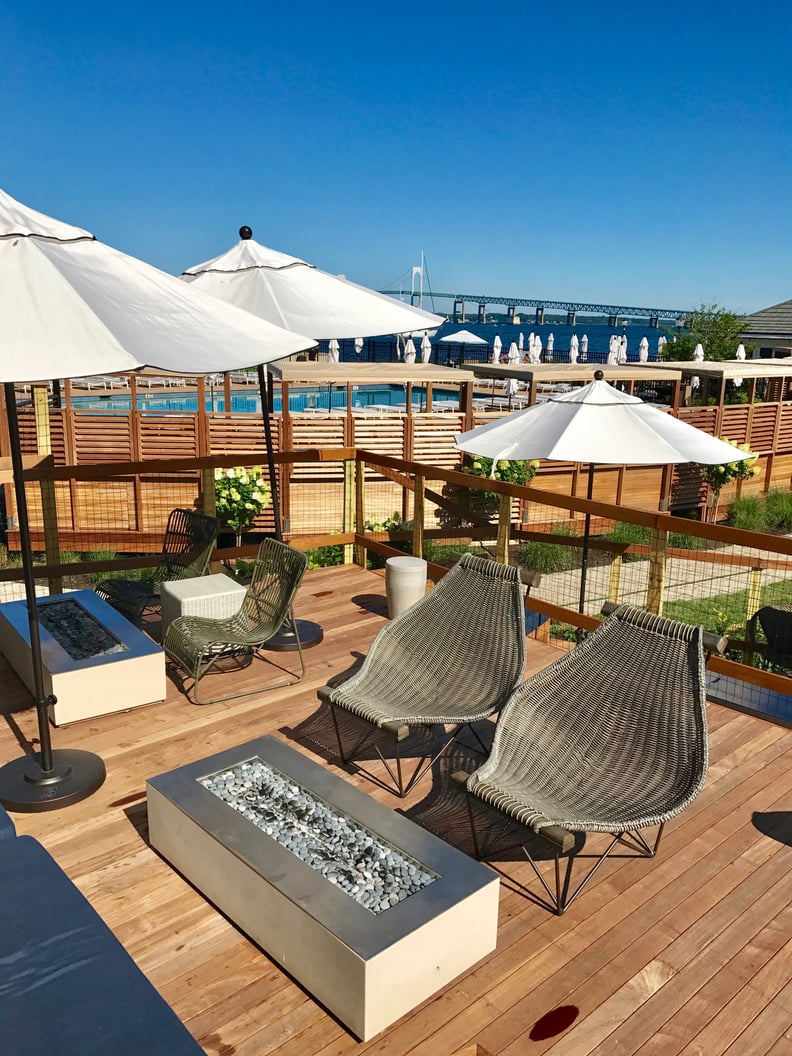 Here's a shot of Gurney's outdoor lounge, the Regent Cocktail Club, where you can eat, drink, and enjoy the stunning water views!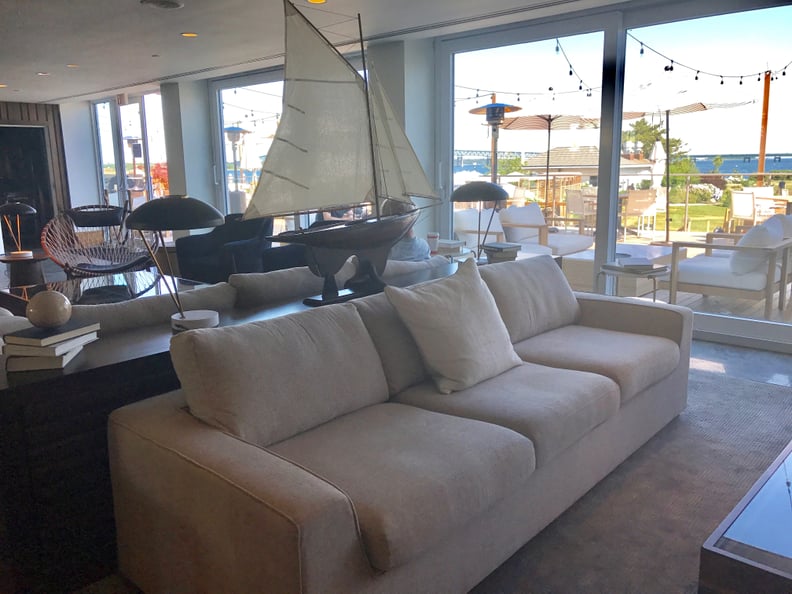 If you're not a fan of sun or if it's raining, there are cool indoor spaces. The interiors were designed by Peter Max Bowden of Petermax. The vibe is sophisticated and nautical with a color palette inspired by Goat Island itself. While it's clean and muted shade-wise (and begging to be Instagrammed!), there are creative knickknacks and marine-chic details throughout.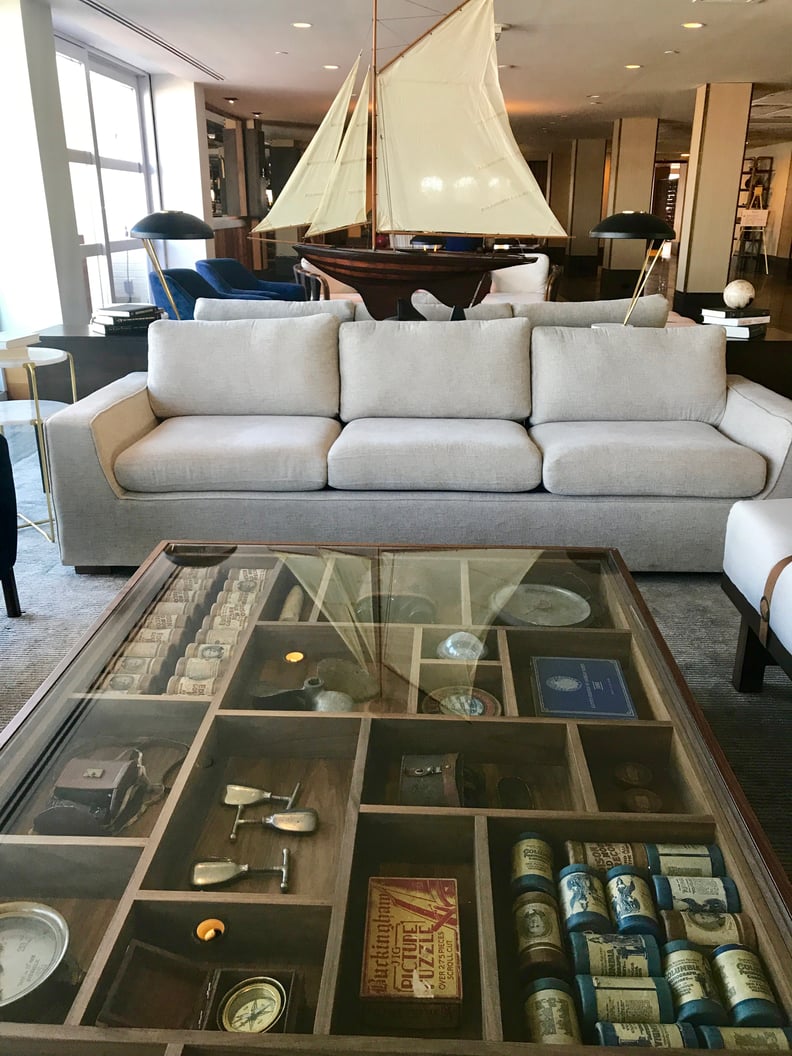 But seriously, the decor is nautical heaven!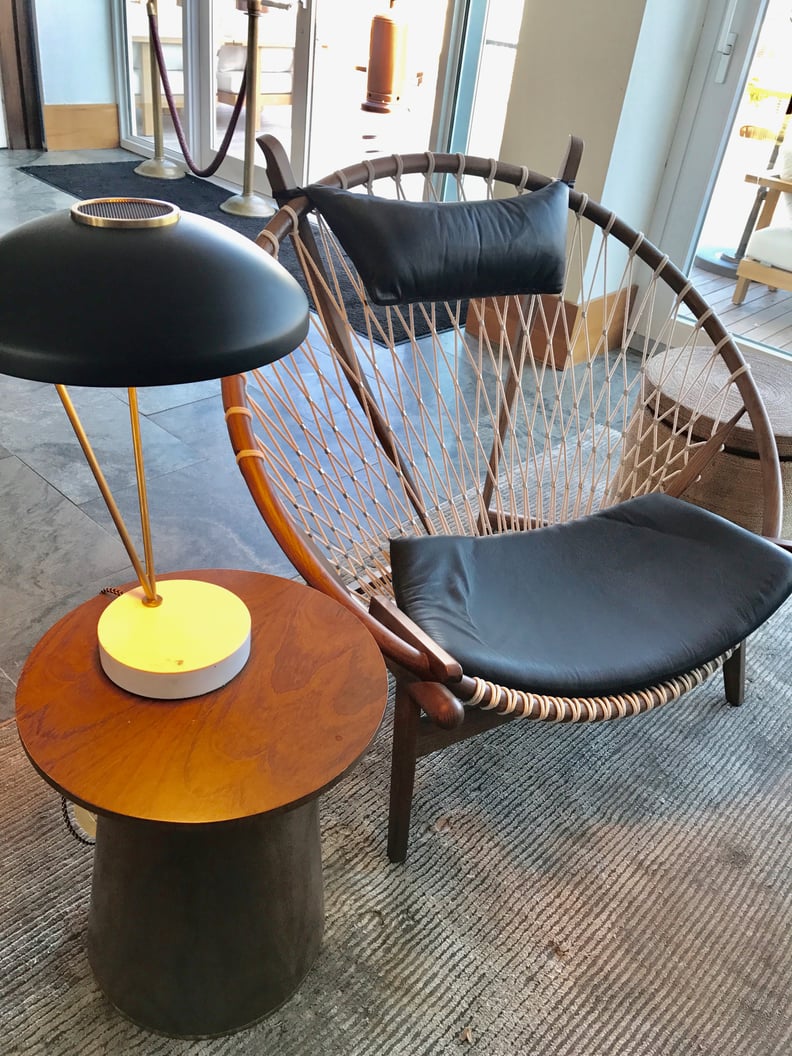 Here's a cool-looking chair to read your book and enjoy a hot drink coffee from Corso, the coffee shop located inside of the hotel (and your best bet for an under-$10 breakfast).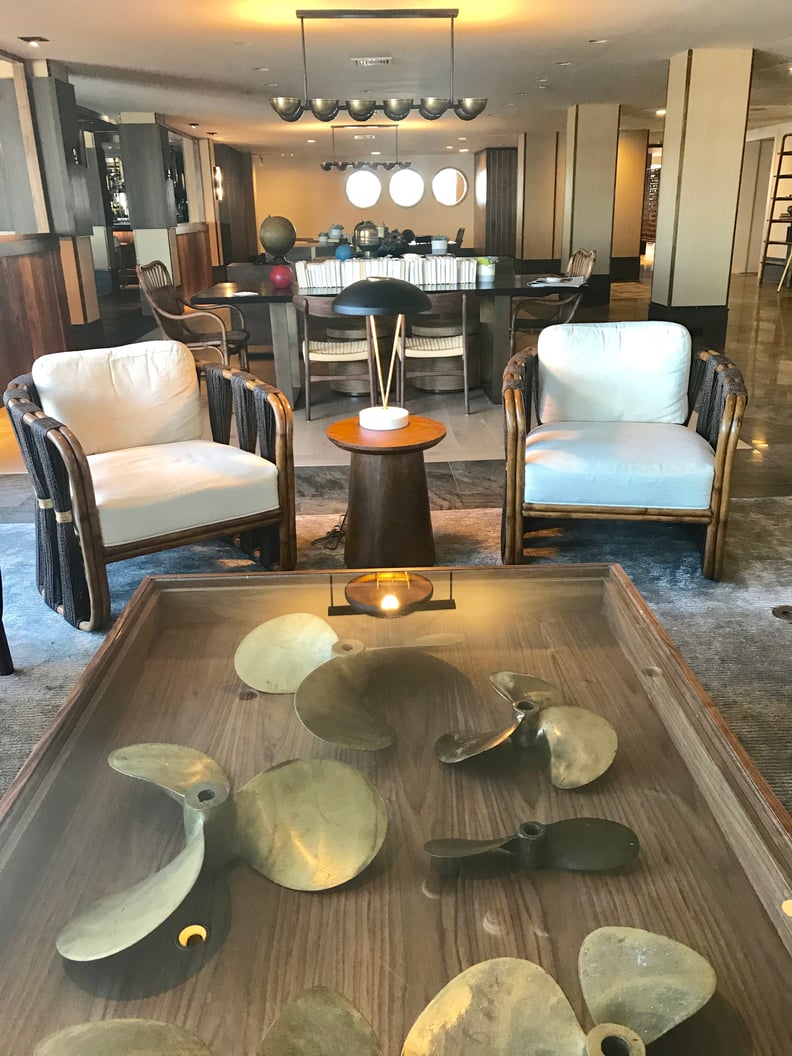 See another shot of the boating-inspired decor.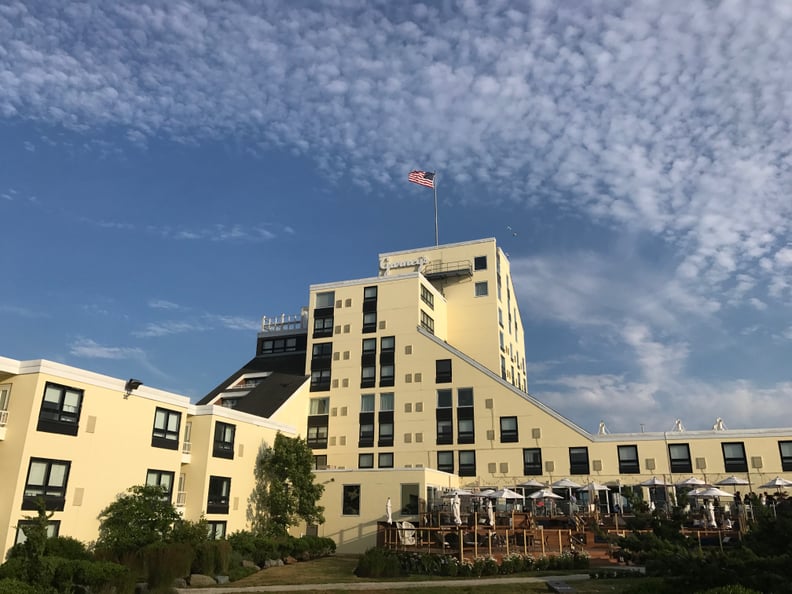 Other perks of staying at Gurney's are that it has a gym and offers weekend classes from local boutique studios, including barre and HIIT. You can also use the Goat Island location as an excuse to walk to town and get those extra steps in. And if it's raining, you're feeling lazy, or you would like to have a drink beforehand, then take advantage of the Porsche house cars or water shuttles. The staff will drive you into town via these luxury vehicles.
If you are really fancy, you can also jet between Gurney's Montauk and Gurney's Newport on a glass-bottom helicopter flight via Bird's Eye View Helicopter Tours for $200 a seat. Not cheap, but worth it for special occasions — like popping the question!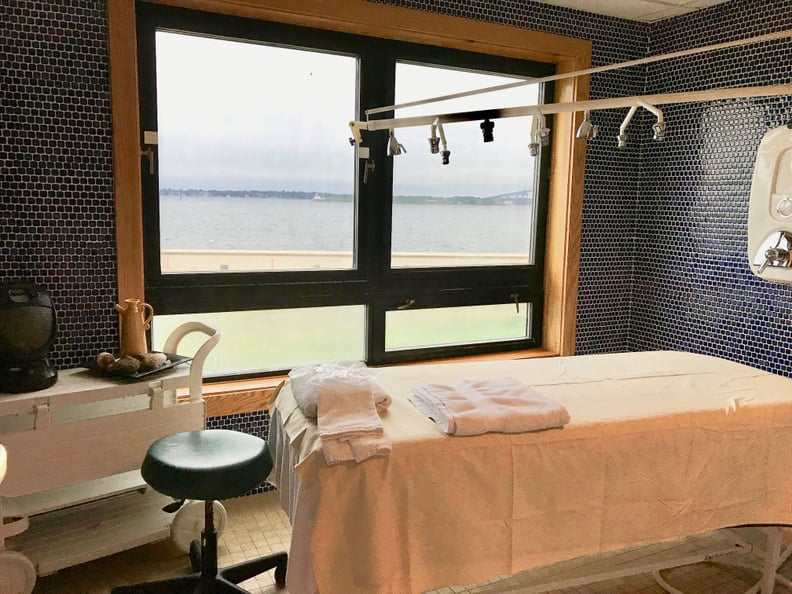 Where to Spa
Spend some relaxing solo time at the spa. I got a Detoxifying Herbal Wrap (25 minute/$75 or 50 minute/$130) in this room, which also has stunning water views. (FYI: while you can see out, they can't see in.) During this treatment, I broke a little sweat snuggled under herb-infused wraps. I combined it with a mini facial to get my skin head-to-toe ready for a weekend of eating and drinking.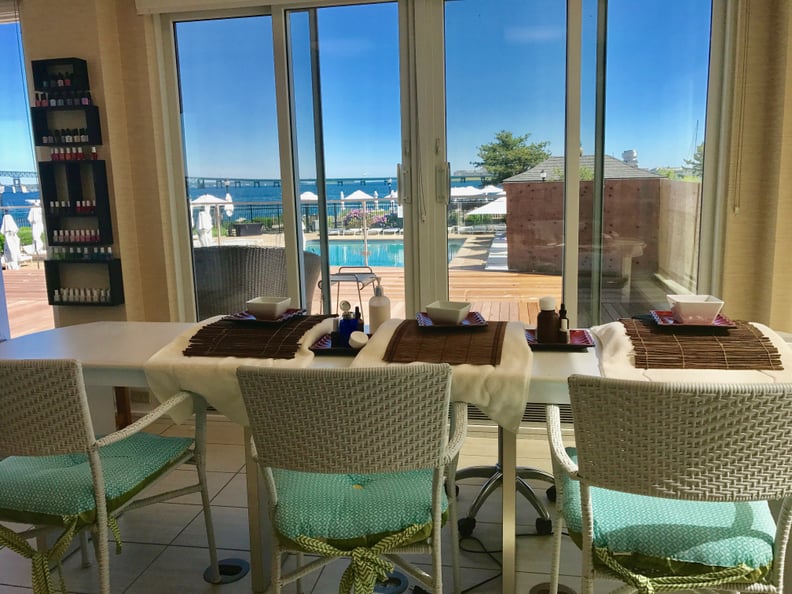 If you're in town for a wedding, get a manicure while enjoying one of the best views in the house at the spa.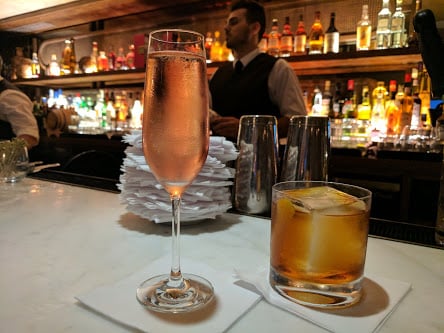 Where to Fine Dine
The first night we were tired from our drive, so we appreciated dining locally at the hotel's sexy restaurant Scarpetta. The luxe Italian hot spot has outposts in NYC, Miami, Las Vegas, Philadelphia, Montauk, and now Newport. I recommend going early to grab a creative cocktail or glass of wine at the bar. Because it's fine dining, it's also a fun place to people-watch!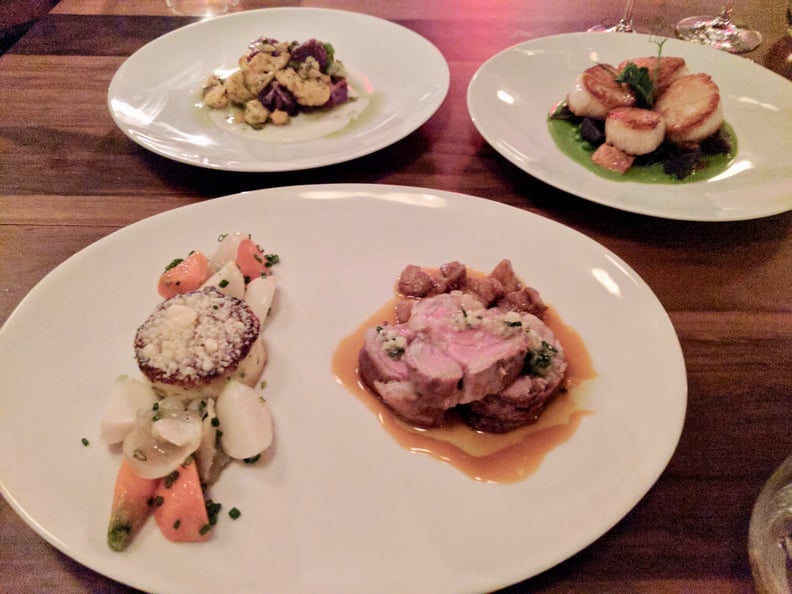 Scarpetta is known for its modern Italian seafood dishes, quality meats, and homemade pasta. Fact: we ate our spaghetti so fast we didn't even get a chance to photograph it!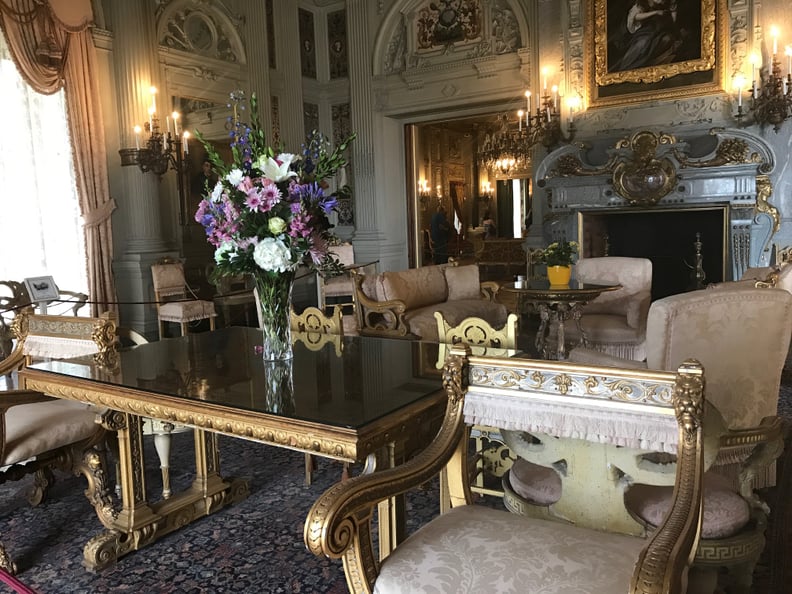 Tourism Sites That Are Awesome
The next morning, work off all of that pasta by heading to The Breakers mansion and Cliff Walk. Let's start with the former: The Breakers is the stunning, opulent mansion formerly owned by the Vanderbilt family. Touring it is actually really fun whether you're a home decor or history nerd! My pro tip is to get there right when it opens to avoid the lines and crowds.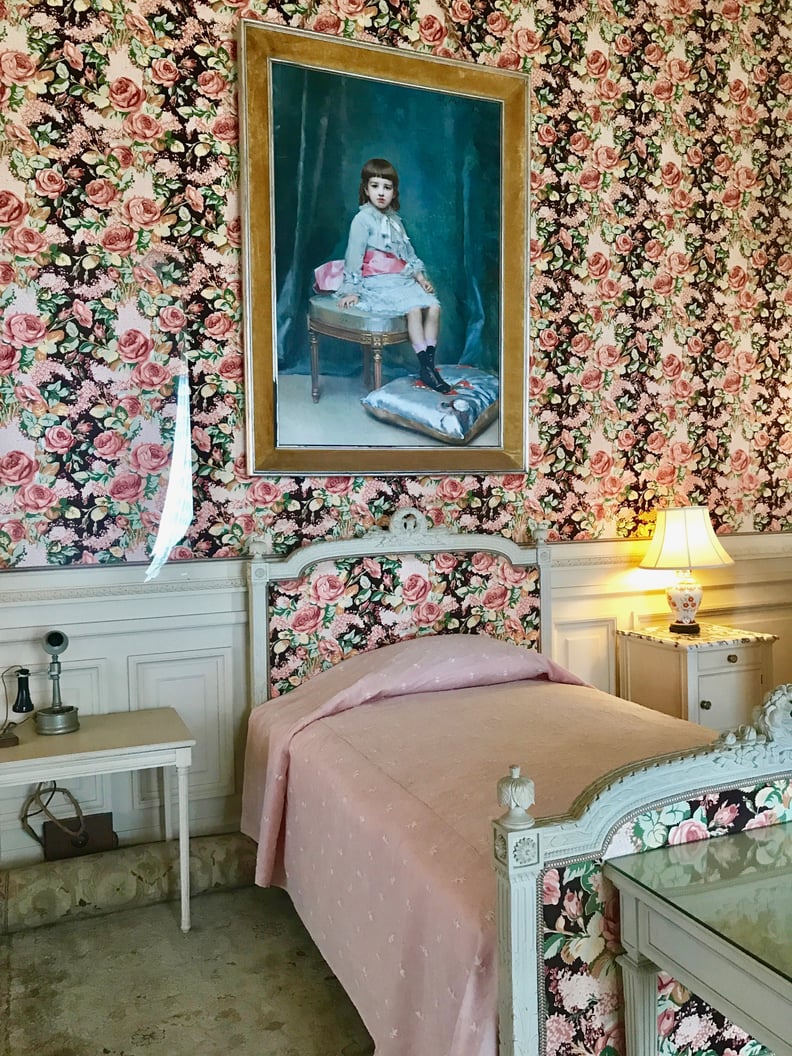 One of the Vanderbilt daughters lived in this floral bedroom — before millennial pink was even a thing.
Where to Walk
Once you're done with the mansion tour, head toward the water to do the Cliff Walk. This is a three-and-a-half-mile walkway on the water, where you can smell that salty air and see more historic mansions from the outside.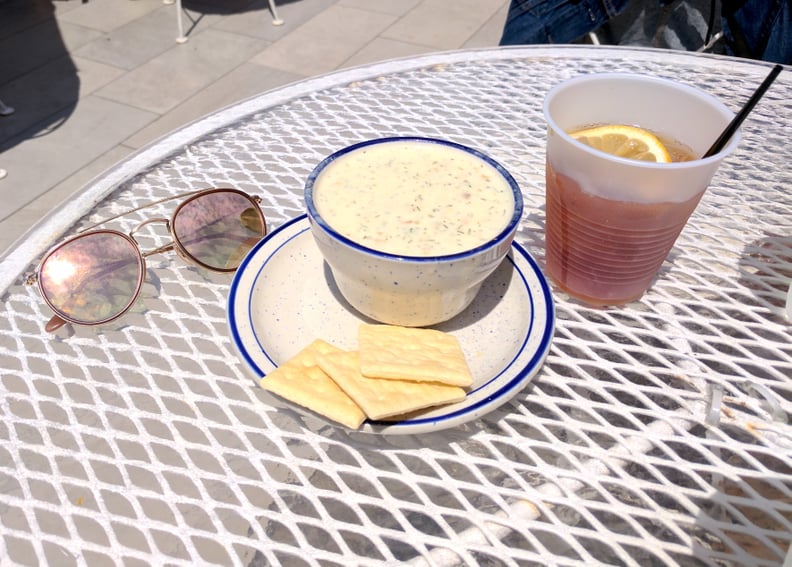 Where to Grab a Casual Bite
Every Newport veteran told us to go to Black Pearl, a popular bar and restaurant in town (and on the water!) for the classic New England clam chowder. Even in 80-degree heat, it was perfection!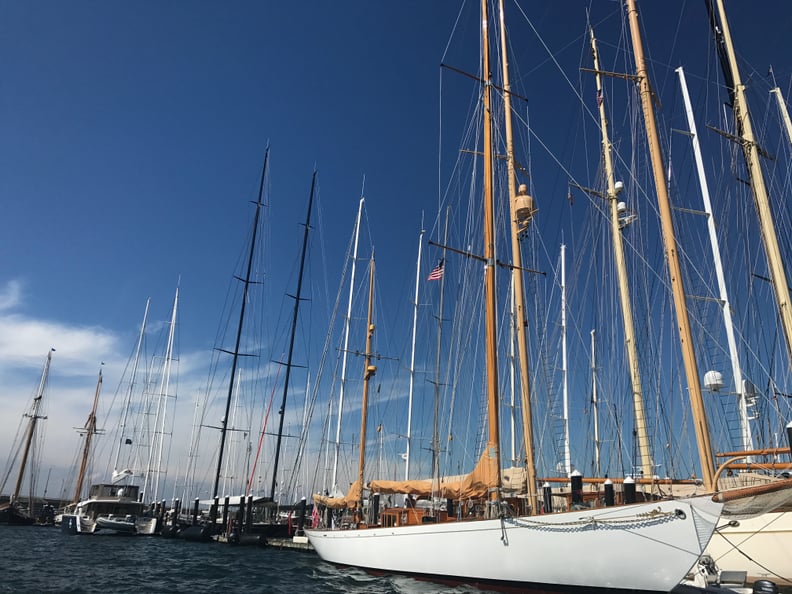 How to See the Town Best
After lunch and walking around, we took a guided group boat tour via Gansett Cruises. It cost $26 a person for a three-hour trip at sea, and it was recommended to us by the concierge at Gurney's. The fee includes open bar, including local drinks like Del's Lemonade.
While these were not the boats we went on, they were some of the cool ones we saw on our journey. It was also another chance to ogle the mansions and learn about Newport's culture.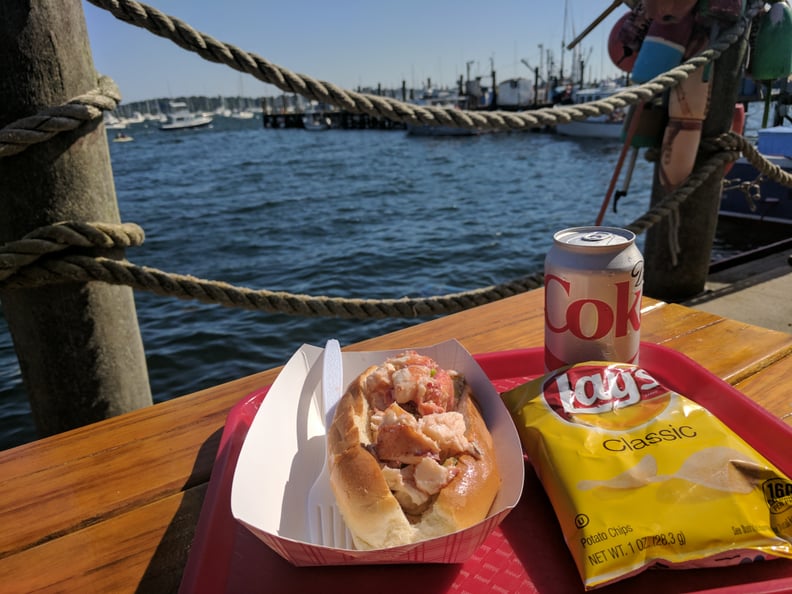 Where to Grab a Fresh Lobster Roll
After lunch, we stopped by the Lobster Shack — a no-frills, truck-style foodie destination that is pretty self-explanatory. Local fishermen drop off daily catches here, instead of bringing them to the restaurants. So when you buy that roll, the money goes back to the fishermen (a full steamed lobster dinner is just $21!). The food was delicious, and charming picnic tables and scenic views complete the laid-back vibe.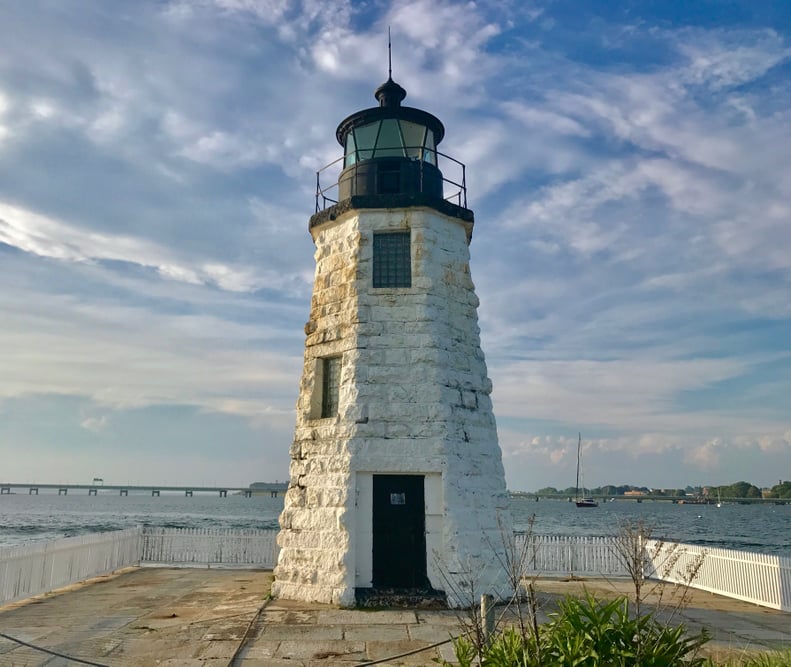 Where to See the Epic Sunsets
One of the best places in town to watch Newport's gorgeous pink-sky sunsets is at Gurney's. The hotel also has a lighthouse on property, which is a perfect photo backdrop.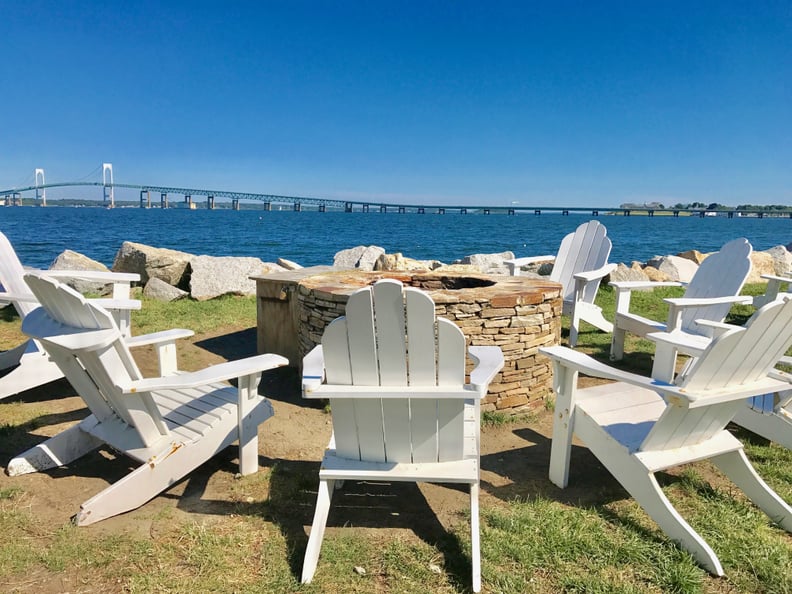 There are fire pits encased by adirondack chairs, and at night, you can expect bonfires.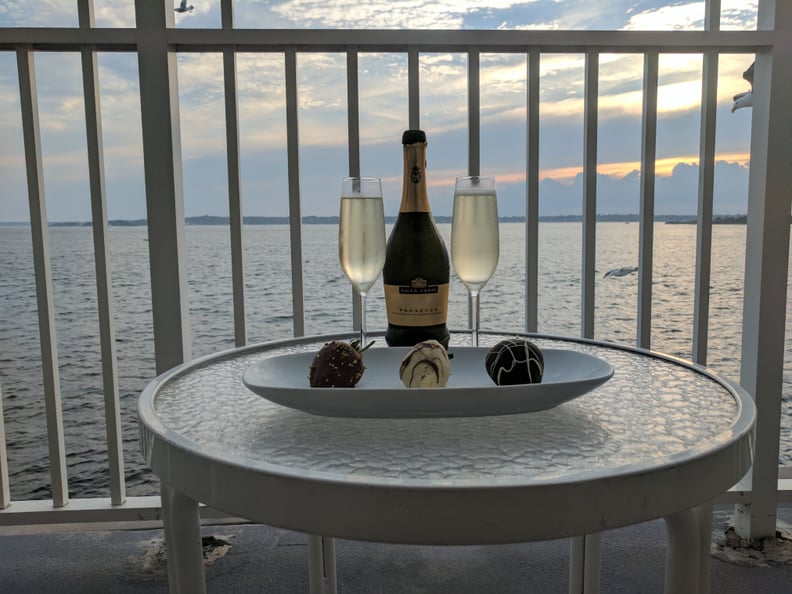 We chose to watch the sun go down from our private balcony with a bottle of Prosecco and chocolate-covered strawberries sent to us by the hotel.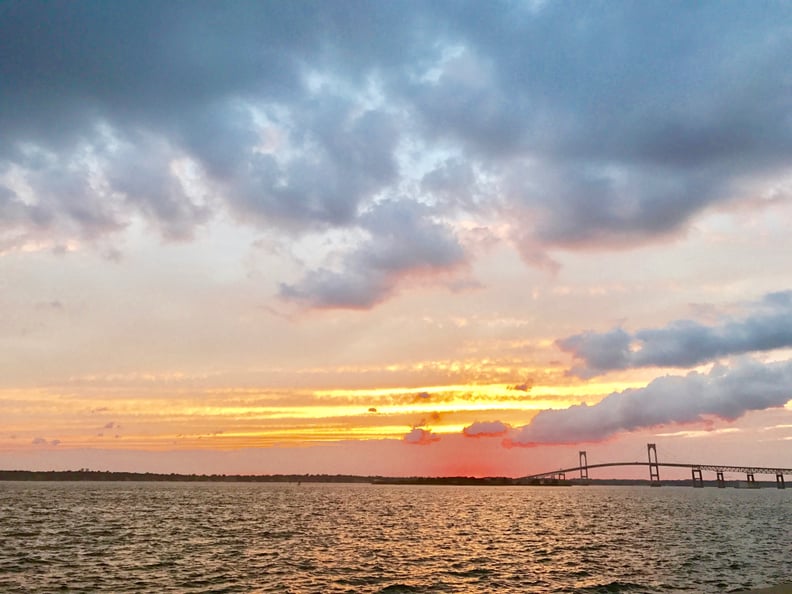 And here's that sunset! This was a cloudy day, too. As a sunset-chaser, I am itching to go back and see what it looks like on a clear evening.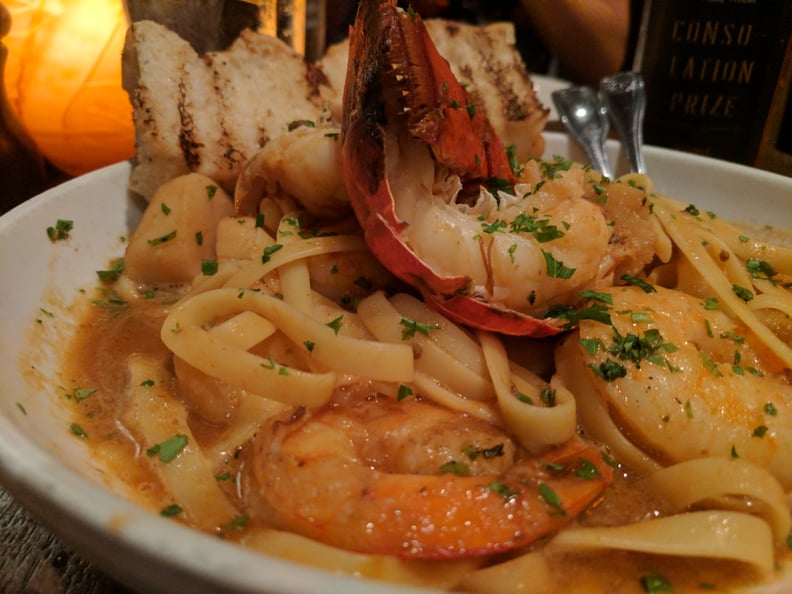 Where to Have Dinner
For dinner, we ventured into town to check out The Mooring Seafood Kitchen and Bar, which was highly recommended by locals. The roomy space is perfect for big parties, but we were seated at a nice nook with a water view that felt romantic. I was stealing bites off my husband's plate of this tasty seafood pasta.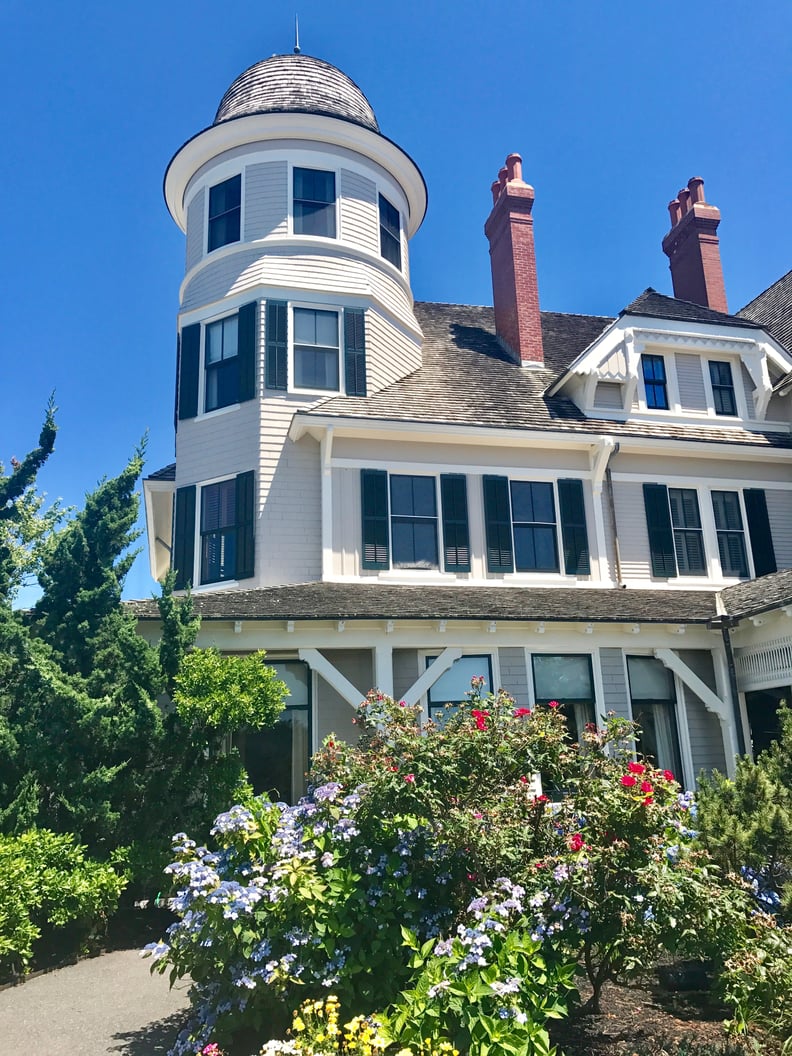 The Chicest Brunch Spot in Town
For our last day, we ventured to the end of the island to the historic Castle Hill Inn.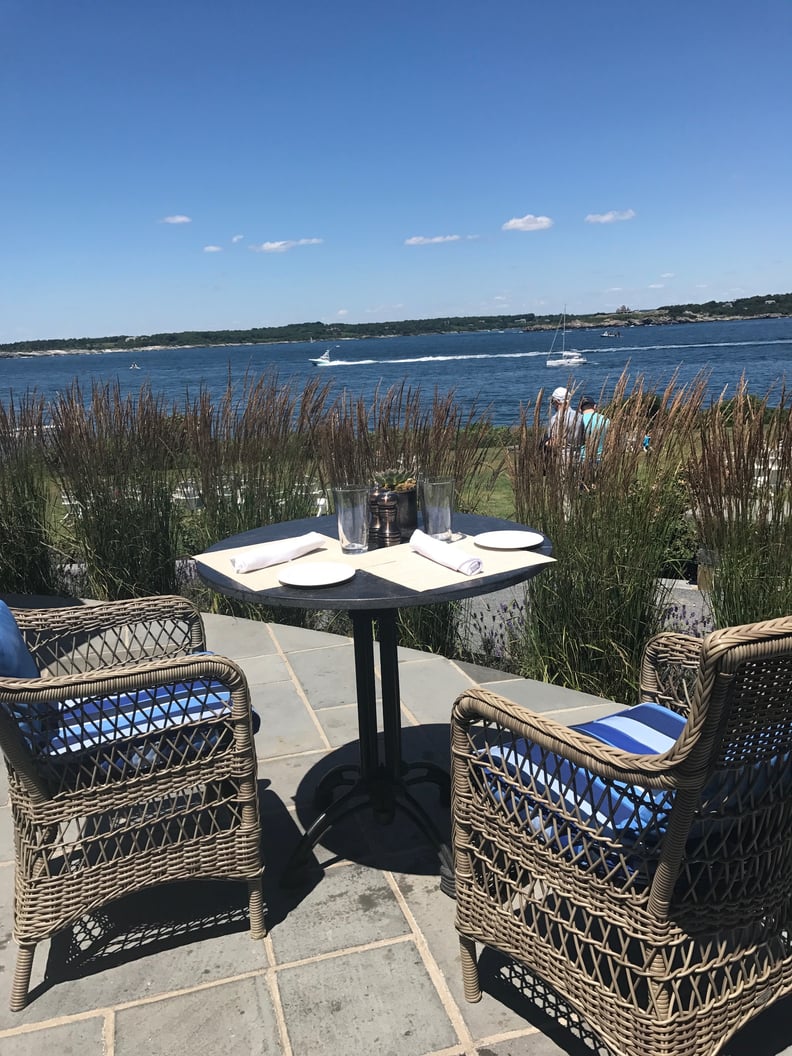 Here's a view of where you can brunch! On a clear day like this, you can't beat the gorgeous scenery.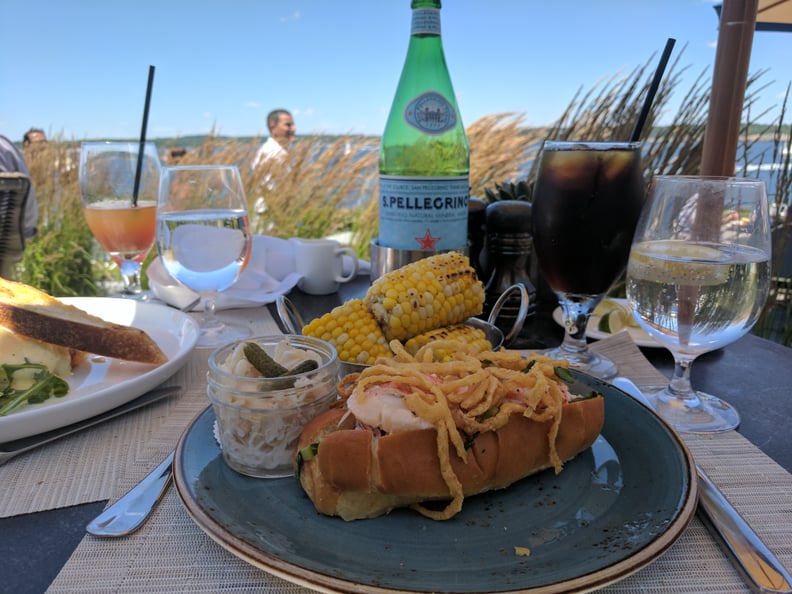 At Castle Hill Inn, we closed out our perfect Summer weekend with a three-course brunch and a stunning view. Some highlights included seafood salad, poached eggs and lobster hash, and this absolutely flawless lobster roll with fried onion on top.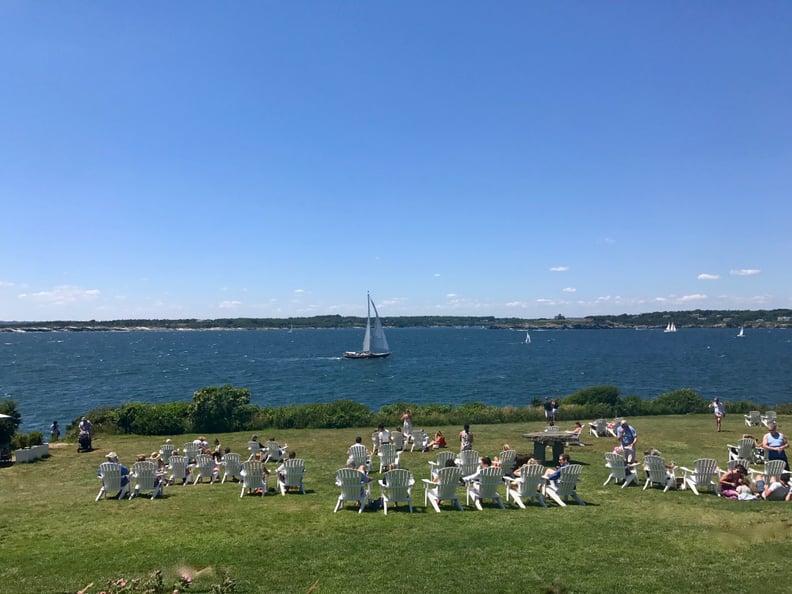 Book your reservation in advance — but if you can't get in, people flock to this lawn at Castle Hill Inn. It's a top spot in town to grab a cocktail and watch the sun go down.