3D-Printed Oreo Cookie Pictures
3D-Printed Oreos: The Future Tastes Like Customized Cream Filling
The 3D food revolution might be starting with a cookie. A cookie sandwich, to be specific. An Oreo cookie sandwich, to be precise. At SXSW, where lines are a way of life, the title of longest line may go to Oreo's Trending Vending Machine, where people waited in line for up to three hours (we waited one hour) to customize an Oreo based on the day's trending hashtags. Say what?!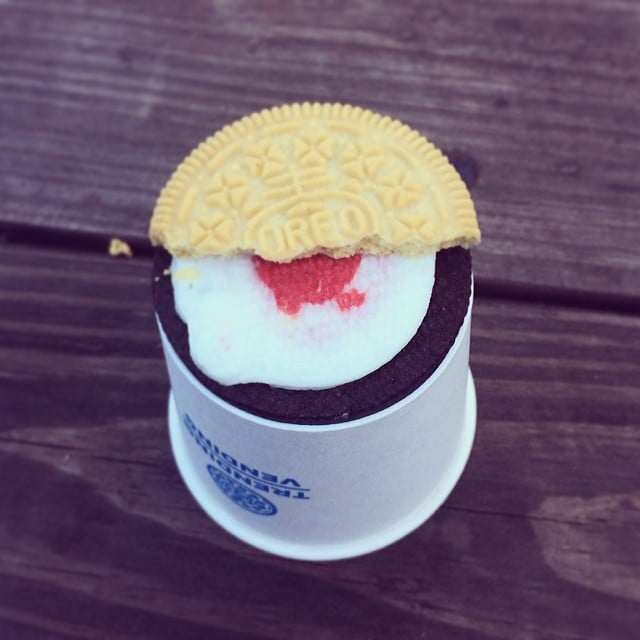 Source: Instagram user popsugartech
Oreo set up shop at the festival with two touchscreen vending machines that display an assortment of trending hashtags related to the event like #selfie or, of course, #sxsw. The selected hashtag corresponds to Oreo cream fillings (flavors included gingerbread, birthday cake, lemon, and peppermint, among others) and cookie tastes (chocolate or vanilla), which would then be "printed" in four different patterns on to already baked cookie sides.
So it's not 3D printing as we currently know it, in its plastic-y, toylike form. Oreo partnered with Maya Design, a tech research lab to create the all-new technology behind the Trending Vending Machine. At work printing the cream flavors are 16 different food-safe 3D-printer nozzles, which can create around 10,000 different filling combinations. Algorithms decide which flavors correlate to the trending hashtags selected from the vending machine's translucent touchscreen glass front. The machines are the first 3D printers to print layers down instead of up and can print/deliver a new cookie in about a minute and a half.
Maybe it's not 3D exactly as we imagine it with the actual cookie being instantly printed, but it is using technology to create a customized edible on demand. With the popularity of the vending machine, Oreo plans to continue putting the machines in the wild, fine-tuning the prototypes to get lines well under the hour mark.