Android TV News 2014
Google Wants to Own Your Living Room (Again)
We proudly present this article written by Adrianna Lee from our partners at ReadWrite.
There's no doubt that Google wants to own all of the screens in our lives, from the little ones on our wrists (and thermostats), to the larger ones in our pockets and car dashboards. But of all the screens it's now pursuing, the biggest one of them all is the most intriguing — the all-new Android TV.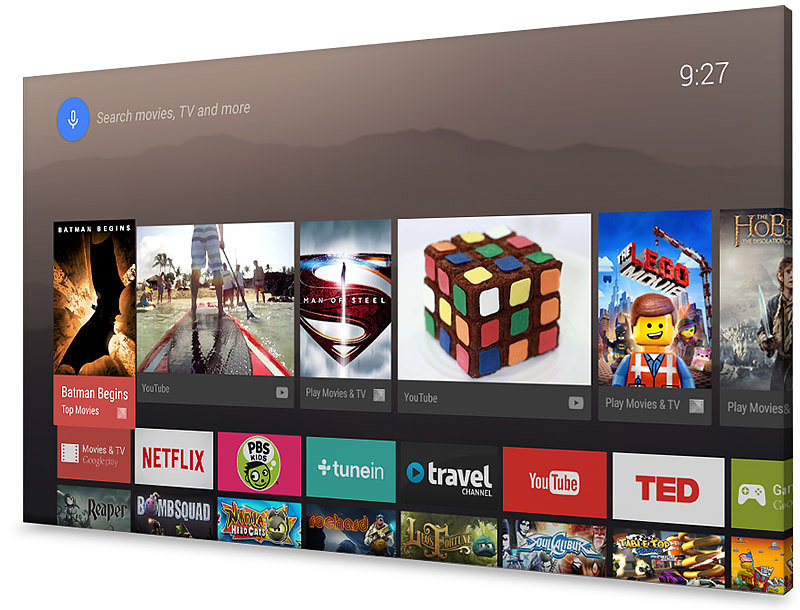 Source: Google
In a way, Android TV is a comeback story. Google's path to the living room has been anything but even — it's been punctuated with failures like Google TV and weird missteps like the announced-then-canceled Nexus Q. The $35 Chromecast streaming stick, launched last year, has been a rare TV success for the tech company.
Even so, Google appears to be in no hurry to dive into another hardware product. This time, it's all about software and search — two things Google knows a thing or two about.
Search, Cast, and Voice
When it comes to smart televisions, something is broken — and that something is search. People sitting in their living rooms must use arrow keys on a remote to peck out movie titles, actor names, or other search terms one letter at a time. And the results that come up aren't always what we want or need. Google thinks it might be able to do something about that.
Similarly, Chromecast put the phone at the center of the TV-watching experience, acclimating people to using their mobile devices as remotes to program the Internet, in the form of streaming services like Netflix, YouTube, and HBO, to their televisions. The device prompted the competition — including Roku and TiVo — to keep pace with similar "casting" features.
So it's not a big surprise that the Google Cast SDK, which allows Chromecast to work with different apps, is also a key part of the new Android TV software. This means set-top boxes and smart televisions powered by Android TV will also be able to cast shows, movies, and music to the TV. (They'll also benefit from the updates headed to Chromecast, such as customizable backdrops and Android mirroring).
Android smartphones will also be able to do something else: voice command and search.
The idea is to make sure you have easier access to the things you want to watch. You could talk into your phone to find a specific movie title or actor. You can even ask, "Who played Katniss in The Hunger Games?", as one Google exec did during its keynote presentation at the company's I/O developer conference earlier this week.
The searches can also pull up several contextual results, including actor bios, YouTube clips, and other information. If you're not excited about talking to your phone, you don't have to. Android TV also works with a gaming controller, a hardware remote control, and Android Wear smartwatches, so you can (theoretically, at least) command your TV from your wrist.
Voice functionality looks like a killer feature, but like Amazon's attempt at delivering voice search, it could be a letdown if enough developers don't support it. Fire TV drew criticism for highly touting voice features that, at launch, only yielded titles from Amazon's own media library. That will change later on this year, as several streaming services plan to support it. But by then, the momentum may be gone.
Android TV, on the other hand, is not a hardware product — it's software intended for other companies' TVs and set-tops, including Sony, Philips, Razer, and Asus. And there could be plenty of time to put finishing touches on apps and features by the time those products ship.
Learning From Experience
For now, Android TV looks promising, and that's primarily because Google is reaching out to software developers early.
That stands in stark contrast to the company's previous efforts. Google TV, the company's first attempt at a connected television experience, flopped in part because developers ignored its platform. Nexus Q fared even worse, thanks to its $299 price tag and limited feature set; Google pulled the plug before it even launched commercially.
Then last year, Google found itself with an unexpected hit on its hands — the Chromecast, a TV product people wanted. The gadget has routinely led Amazon's bestselling electronics list and is currently beating out Amazon's own Fire TV.
Those failures and the success of Chromecast have all clearly informed Google's Android TV strategy. Instead of its former piecemeal approach with Google TV and the Nexus Q, the company has harnessed smartphones, tablets, and even watches as controllers and second screens that can complement a smart TV.
It's folding in features that are familar to Android users, like swipeable information cards and Google Now-like voice search. And, Google engineers tell me, the company has made it extremely easy for app developers to turn their Android mobile applications into Android TV-worthy games, streaming services, and more.
One Googler even told me that a developer, using the Android TV software development kit, took perhaps a week to turn his Android mobile app into an Android TV app.
Apps that are on tap include Netflix, Hulu, and Pandora, as well as Google's own YouTube, Hangouts, and Play Movies. They'll be available this fall when Android TV and its related app store are scheduled to launch.
Related Links
A Quick Survey of Tech Giants Reaffirms Just How White and Male They Are
Give Your iPhone Camera DSLR-Like Superpowers
10 iPhone Tweaks to Make Your Life Easier
YouTube May Be Winning the World and Losing Its Soul
A Thief Snatched My iPhone — and I Learned a Lot About Smartphone Crime