Flappy Bird Review
People Who Prove Flappy Bird Will Ruin and Enrich Your Life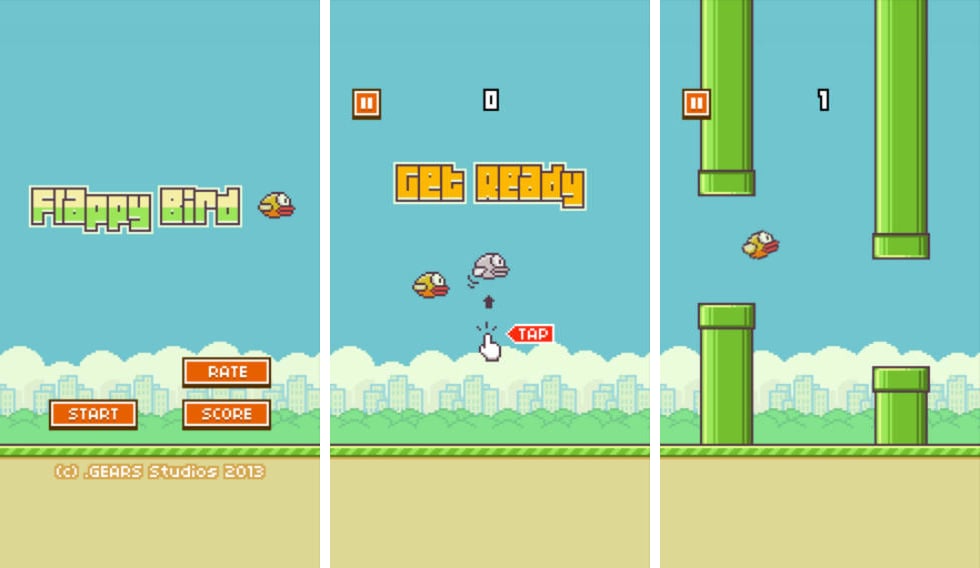 In case you have't heard, Flappy Bird is a dangerous thing. The game — which came out last year — has suddenly shot up in popularity. It's fun and simple (like grade-school simple), because all you have to do is tap the screen to keep a bird from falling in between Super Mario-esque green pipes. But that tap, tap, tapping can easily become addictive, leading to nightmares, loss of appetite, and mood swings. There are just too many feelings to count, but you can get a sense of 'em from these brave tweeters. Stay strong, gamers. Stay strong.
"We Lied," They Said
Get #flappybird they said, it'll be fun they said . pic.twitter.com/vaL8VBf2kM

— NICK DELAHAY (@Nick_del1) February 2, 2014
Epic iTunes Review, Coming Right Up
"Whoever made this game is an evil mastermind on a plot to control every human being in the entire world once this game is on your device all hope is lost you will never have your life back even if you're like me who holds back your anger knowing it is but a game even this will not save you." — Deth bird
One Thing Leads to Another . . .
flappy bird flappy bir flappy bi flappy b flappy flapp flap fla fl f fr fru frus frust frustr frustra frustrat frustratio frustration

— Flappy Bird Problems (@FlappyBrdPrblmz) January 30, 2014
One Direction Member Liam Payne Didn't Even Tweet This About Flappy Bird, but Twitter Thought He Might as Well Have
"I downloaded flappy bird" pic.twitter.com/pAvAkjASVk

— ☾harrys kfc☽ (@hurrehstiles) February 3, 2014
It's a Group Effort
Do not download Flappy Bird Retweet to save a life

— Life As Bros (@LifeAsBros) February 3, 2014
Pro Tip: Never Let Your Insides Show
perfect representation of me playing flappy bird pic.twitter.com/LBROPDvQG2

— ayyy m8 (@NxrryGucci) January 31, 2014
Disturbing Review No. 2
"The joy you feel after finally beating your record is indescribable and the boiling anger you feel inside of you instantly diffuses only to fill you with false hope that you may be able to do it again and possibly even do it better. This is what will convince you to keep playing. But the agonizing cycle inevitably resumes again with the dreaded smack of a sound effect punch, once again refueling the hatred for the bird right back into every fiber of your being." — Someone Random123
Pain . . . So Much Pain
when you're about to beat your high score on flappy bird and then you fall pic.twitter.com/4oEox9n352

— slim shady (@zainasallam) February 3, 2014
It Brings Out The Hunger Games in All of Us
when you die on flappy bird pic.twitter.com/Oe79VEbt4F

— Brick Tamland (@Ch4BrickTamland) February 3, 2014
Rated D
The things people are saying on the review page of flappy bird. HAHAHAHA. "Rated D for demonic" "This bird is pure evil"

— Kelvin Tham (@tham_10) February 3, 2014
Go Away Now
WHERE DID FLAPPY BIRD EVEN COME FROM LIKE ONE DAY EVERYTHING IS NORMAL & THEN THE NEXT DAY PPL ARE CRYING & GETTING DIVORCED BC OF THIS GAME

— shan❄ (@alrightshan) February 3, 2014
So Many Questions
a flappy bird review. pic.twitter.com/1oFKbb44QN

— Tolu (@ToluwalaseA) February 3, 2014
Here Come Anger-Management Classes
If flappy bird was a person.. pic.twitter.com/YOh2gyQ7PB

— Lewison (@Lewis0n) February 3, 2014
It's Simple
How to play flappy bird: 1. tap 2. lose 200 times in a row 3. yell 4. throw phone across room 5. cry

— Karl Ramos (@ohmyprettykarl) February 3, 2014
Do Not Be Ashamed
RT if you have ever been personally victimized by flappy bird pic.twitter.com/RcSsLtXjak

— Alexiaa ✌️ (@Pocxhontxs) February 3, 2014
Deep
flappy bird is deep... pic.twitter.com/FuYG3MlFuk

— (@NuteIla) February 2, 2014
Just One More
Playing Flappy Bird: "Alright last game" *dies* "Alright last game" *dies* "Alright last game" *dies* "Alright last game" *dies*

— Kingsley Isilebo (@kingsleyisilebo) February 3, 2014
"I Haven't Eaten"
Brilliant Flappy Bird review pic.twitter.com/ZekGKxgzZa

— Bitch Problems ✌ (@lnsaneTweets) January 31, 2014
Someone Save Us All
2011: angry birds 2012: temple run 2013: candy crush 2014: flappy bird WHAT WILL HAPPEN IN 2015 !! SATAN I SEE U

— zarra ˘◡˘ (@1D_takeitall) February 3, 2014