Guy Asks Siri Where to Bury Roommate's Body
The Truth About Whether a Man Used Siri to Help Bury His Roommate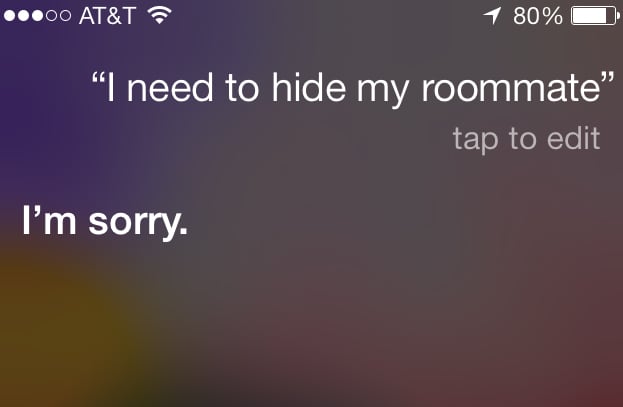 You might have heard this story today: a 20-year-old man named Pedro Bravo is accused of killing his roommate and then asking Siri where to dump the body.
"I need to hide my roommate," he allegedly spoke into his iPhone, to which Siri responded, "What kind of place are you looking for? Swamps. Reservoirs. Metal foundries. Dumps."
To give you the backstory, Bravo is on trial for killing an 18-year-old University of Florida student named Christian Aguilar, whose body was found in a shallow grave in 2012. Prosecutors say Bravo kidnapped and strangled Aguilar, who was dating Bravo's ex-girlfriend, after an argument.
There was even photo evidence that seemed to back this Siri story up.
But a look at the trial's transcript tells a different story. That photo was not saved on to Bravo's camera roll. Instead, detectives found it in his Facebook cache history. Plus, the screenshot shows an AT&T provider, whereas Bravo had Verizon. Then there's the fact that Bravo had an iPhone 4, and Siri is only available for iPhone 4S and 5/5S.
From the transcript:
Examiner: "Might that explain — or let me ask you this — do you know what this screen capture is of? What we would call this?"
Detective: "This would be from a Siri."
Examiner: "Okay, was Siri as a program, was she available on the iPhone 4?"
Detective: "No."
Examiner: "Okay, how could a Siri image appear on an iPhone 4?"
Detective: "In this case it was cached on Facebook; it was viewed on Facebook with the phone."
We tried asking Siri the same question, and as you can see from the picture above, there was not even a chance she would play along.
Is the fact that he had this on his phone still sketchy? Absolutely. But did he "actually try to use Siri to hide a body?" Doubtful.