How to Mute Someone on Twitter
5 Ways to Use Twitter's Mute Feature
Twitter is rolling out a new feature for frenemies: the mute button. In Timeline view, tap More to mute @username on the web, iOS, and Android. You can also go to the user's profile page and click the gear icon to select mute.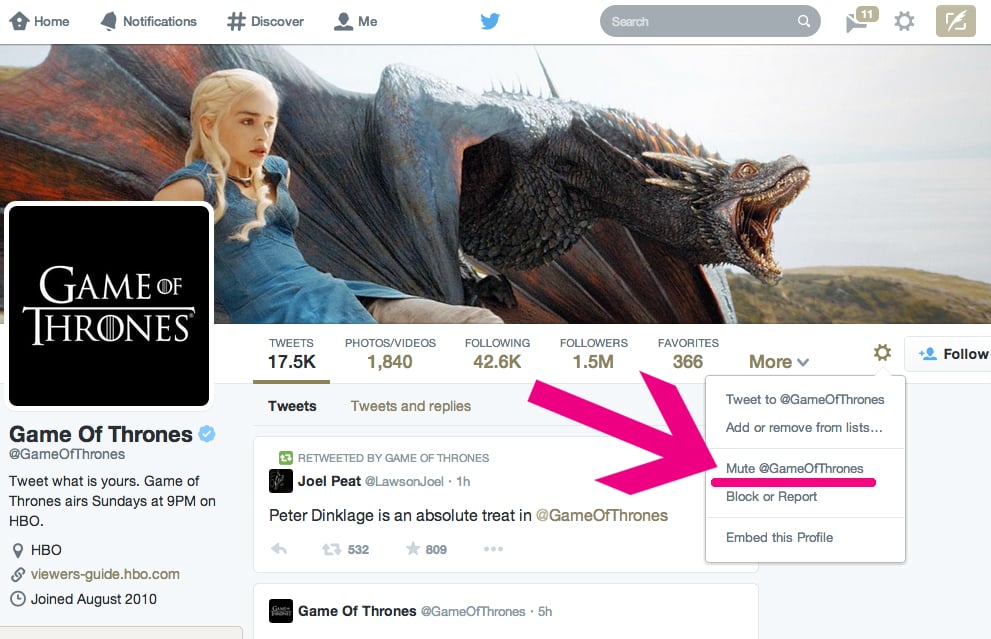 Muting a fellow tweeter means that you will no longer see that user's pithy messages in your timeline and that you won't receive push or SMS notifications from that user. The user will, however, still be able to favorite, reply to, and RT your tweets. When you visit the profile of someone you've digitally silenced, you'll see a red icon like this:

.
Everyone is getting mute capabilities in the coming weeks. Before the button arrives for your account, take a gander at a handful of delightful passive-aggressive ways you can use the new feature!
Take secret revenge on frenemies by following them then silencing their tweets without their knowledge. Muahaha.
Make all official TV show accounts invisible on your timeline until the seasons are over. No spoilers allowed in this Twitterverse, Game of Thrones.
If you're superfamous, follow back all of your fans to appear extremely friendly then mute 'em all because you only really care about your A-list homegirls.
Quiet users with extremely annoying dissenting opinions while still appearing open-minded to the outside world because you officially follow them on Twitter.
Banish an ex from your timeline while giving the impression of not caring about his or her recent engagement, about which he or she is VERY excited.