Kanye West Quotes About Instagram
Kim and Kanye Spent How Many Days Editing an Instagram Photo?!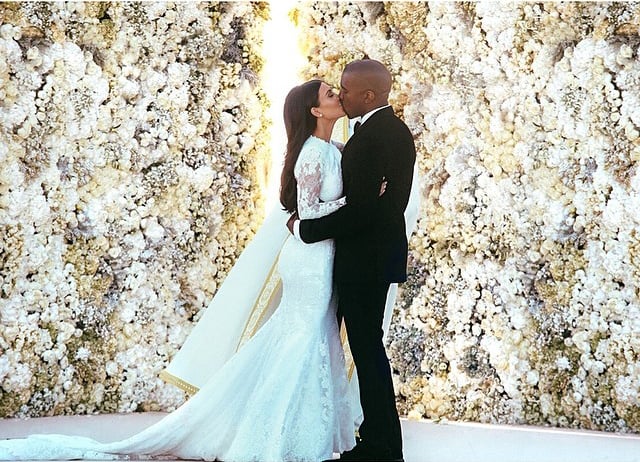 Look, we all know Kanye West is full of wisdom. But his latest quotes about Instagram fandom might just be his best yet. For one, he just revealed that he and Kim spent four days editing one wedding photo for Instagram.
Speaking at a panel at the Cannes Lions International Festival of Creativity, he told the tragic tale of how famed photographer Annie Leibovitz decided not to shoot their crazy elaborate wedding just one day before the event.
You'd think that would bring them down, wouldn't it? Ha!
"Because Annie pulled out, I was like, 'OK, I still want my wedding photos to look like Annie Leibovitz,' and we sat there and worked on that photo for, like, four days because the flowers were off-color."
Wait, did you get that? Kim and Kanye's secret to posting the most popular photo ever on Instagram with nearly 2.3 million likes:
Sit there for four days editing the photo.
He went on . . . "Can you imagine telling someone who wants to just Instagram a photo, who's the number one person on Instagram, 'We need to work on the color of the flower wall,' or the idea that it's a Givenchy dress, and it's not about the name Givenchy, it's about the talent that is Riccardo Tisci — and how important Kim is to the Internet.
"And the fact the number one most-liked photo [on Instagram] has a kind of aesthetic was a win for what the mission is, which is raising the palette."
Maybe they used the new Instagram features to get those flower colors juuust right.
Source: Instagram user kimkardashian