Meryl Streep Yelling Meme
The Internet Has Made This Photo of Meryl Streep Yelling a Hilarious Meme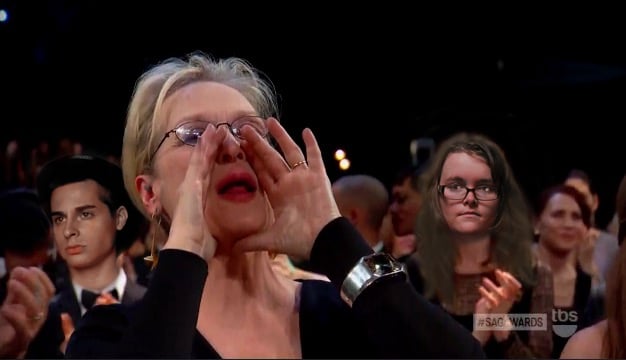 For whatever reason, the internet has decided to meme a photo of Meryl Streep yelling at the Screen Actor Guild Awards in 2015. The result are memes of Meryl shouting out different songs and other phrases.
Meryl will sing some pop classics. . .
Britney: my loneliness is killin me

Me: AND I!

Britney: I must confess, I still believe

Me: STILL BELIEVE! pic.twitter.com/VSvdcsepKK

— EMANUEL (@blingspice) March 18, 2017
Celine: NEAR, FAR

ME: WHEREVER YOU AREEEEEEE#MerylStreep pic.twitter.com/Jl8q7dz2sj

— Courtney Cohen (@CSquareddd) March 20, 2017
. . . As well as some indie favorites.
The Killers: It started out with a kiss, how did it end up like this?

Me: IT WAS ONLY A KISS IT WAS ONLY A KISS pic.twitter.com/pDsShTLWzc

— erika is okay. (@erikaofthestate) March 19, 2017
Fall Out Boy: I'm just a notch in your bed post

Me: BUT YOUR JUST A LIME IN THE SUN pic.twitter.com/aNi1N9yeLB

— Rachael Krishna (@RachaelKrishna) March 20, 2017
She sings some hip hop and rap as well.
Alicia Keys: IN NEW YOOOOOORK

Me: CONCRETE JUNGLE WET DREAM TOMAAAAATO pic.twitter.com/9VM4tXytHs

— 🇻🇨 Apologen 🇱🇷 (@MissZindzi) March 18, 2017
"We stay fly, no lie, you know this"

Me: "BALLINNNNNNNNN" pic.twitter.com/CpcaOERn7B

— YA BOY LITTLE BILL (@YABOYLILB) March 19, 2017
DJ at middle school dance: TO THE WINDOWWWW

154 7th graders: TO THE WALL pic.twitter.com/Vr7nukvUAD

— Caro (@socarolinesays) March 19, 2017
She also sings some Disney classics.
Aladdin: I can show you the world
Me: SHINING, SHIMMERING, SPLENNNNNDID #MerylStreep pic.twitter.com/ILptdHyV9M

— kian (@liamftkian) March 20, 2017
Shang: Lets get down to business

Me: TO DEFEAT THE HUNNNNNNS#MerylStreep #Mulan pic.twitter.com/CUWSU8auwV

— Tiffany✨ (@tiffuhhh1) March 20, 2017
And of course, sings songs from Mamma Mia.
Meryl Streep: mamma mia

me: HERE I GO AGAIN pic.twitter.com/V3HT0KmeSE

— Meryl Memes (@MerylMemes) March 19, 2017
Dear internet: please don't stop with these memes ever.
Image Source: TBS