New Chromecast Apps 2014
The First Wave of New Chromecast Apps Is Here
We proudly present this article from our partners at ReadWrite.
By Adriana Lee
It took five months for Google to approve 17 apps that could work with its Chromecast streaming gadget. But it only took a couple of weeks for those numbers to practically double, once Google opened up Chromecast to all comers.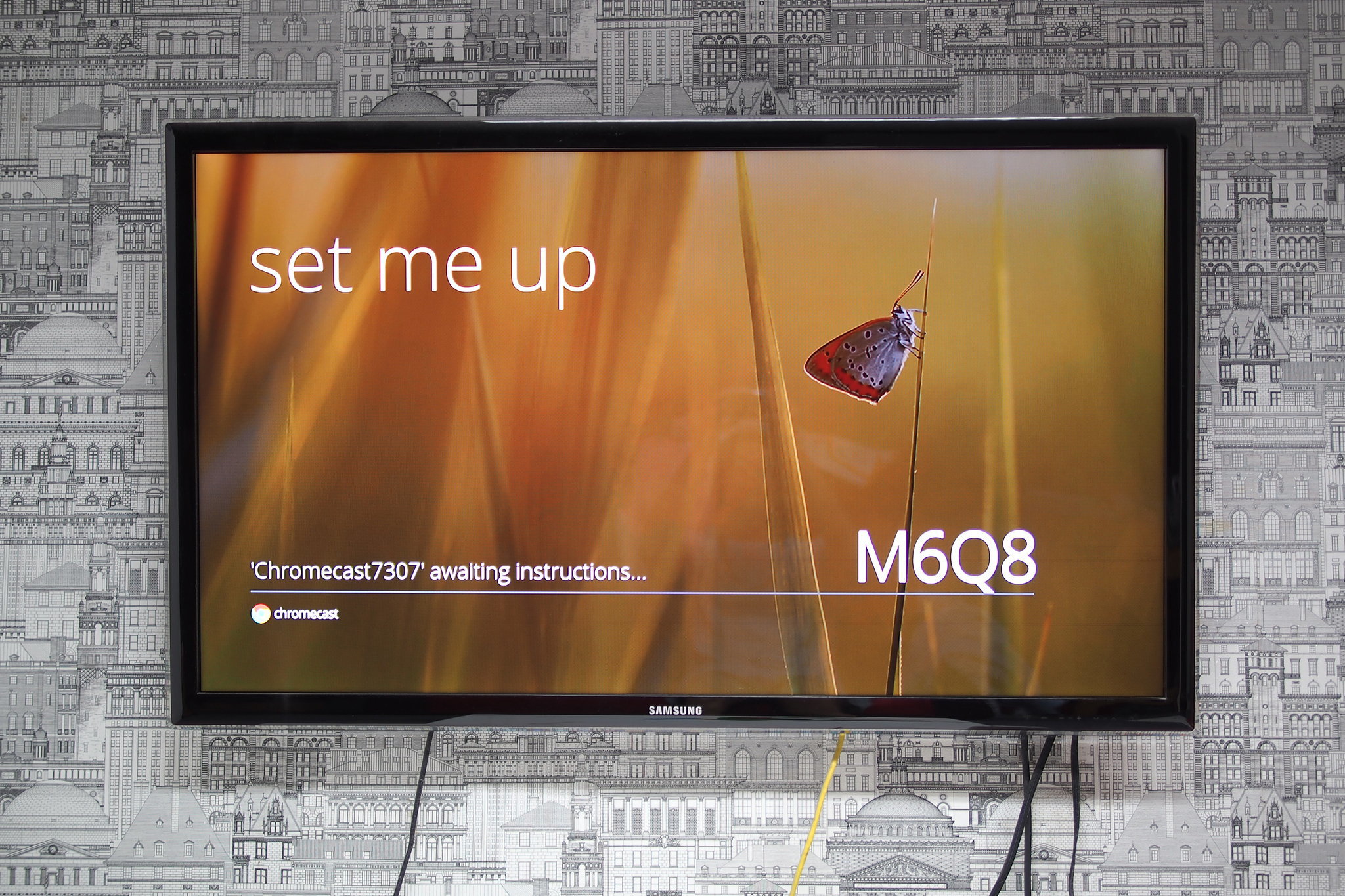 Previously, only an exclusive club of select Google partners could use its Cast software developer kit, to support streaming (or "casting") to the TV dongle. But earlier this month, roughly seven months after the device's retail launch, app makers of all kinds got the official green light to add casting capability to their mobile apps.
The New Players
Here's what app makers have come up with so far. (If your favorite Chromecast app isn't mentioned below, hit the comments and let me know.)
AllCast ($5), Android
Developer Koushik Dutta's AllCast was one of the first apps to show off Chromecast support, well before it was officially permitted—and Google quickly blocked it with firmware updates. Now AllCast is ready to roll with official support. Users can beam media stored on Android gadgets to Chromecast—or a Roku, Apple TV, Xbox 360, Xbox One, WDTV, select Samsung, Sony and Panasonic Smart TVs, and any other DLNA device. Future updates may let Android users mirror their screens to a connected TV.
BubbleUPnP (ad-supported, limited free version; otherwise $5), Android
BubbleUPnP now offers streaming from Android devices to Chromecast, as well as Xboxes, the PS3 and other set-top boxes that support UPnP or DLNA. If the media file is already in a Chromecast-supported format—like P3, AAC, Ogg Vorbis, MP4 and MKV H264, or images—the transmission is instantaneous. If not, users can download a desktop application to transcode files that will play on Chromecast.
Dayframe (free; $3 in-app purchase for Chromecast features), Android
This app can cast photo slideshows, pulling in images from your phone's photo gallery or social and cloud storage services. Swipe to navigate on a phone or tablet to control the images. In-app purchase of premium features offers shuffle mode, playlists, weather and more.
TicTacToe for Chromecast (free), iOS / Android
This is exactly what it sounds like—the "X" and "O" game on the television. Two players can use their iPhones or Android devices to play each other on the TV screen.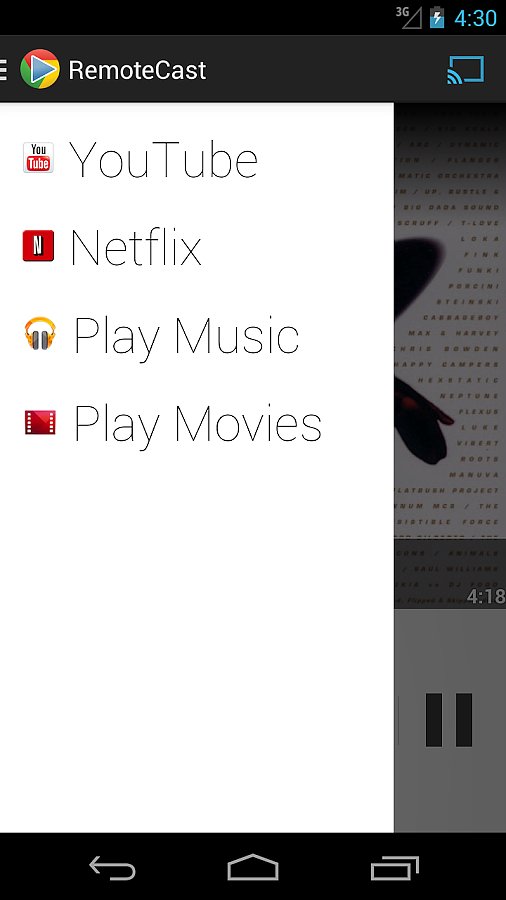 RemoteCast (free), Android
Billing itself as "the first unofficial remote" for Chromecast, this beta app displays controls for the media that's currently casting—including volume, play, pause and seek. It also features a quick launcher that opens up the active streaming app. For now, though, the current version has a few big omissions—Netflix, for instance, isn't supported yet.
Juice for Chromecast (limited free version; $3 in-app purchase to remove restrictions), Android
Users can fling photos, videos and songs to their TV, and can sort their libraries by date. The free version doesn't impose limits on the types of files you can stream, but that's small consolation, as it will only let you stream one file in each category. To remove the restriction, you'll have to spend a few dollars via in-app purchase.
LocalCast (free), Android
Like others, this app pushes media from your mobile to your TV. Unlike the others, it's free—though there's a catch. The app only supports a few formats, which means you could spend time trying to figure out whether your files will work, and how to convert them if not.
Photo Cast for Chromecast (free), iOS
Users can share photos right from their iPhones with Chromecast. The app keeps the image on the TV, even while you browse other pics. It doesn't support slideshows yet, but the developer says this feature is in the works.
Vbukit lets users share a variety of items—from media on social sites and cloud docs to other files saved on mobile devices—with each other or with Chromecast. The most interesting feature: Friends don't have to be on your home Wi-Fi network to cast. But the process is a little odd, as users have to scan a barcode that shows up on the TV.
PixoCast ($2), iOS
This app offers photo and video casting capable of transmitting high bitrate video, such as 1080p HD vids. However, users report playback bugs, such as videos that play upside down. Given that it's a paid app, interested users may want to hold off until the developer irons out some kinks.
IntoMovies (free), iOS
Find movies playing in your area and watch trailers on Chromecast-connected televisions.
ArtKick turns your television into a digital photo frame for some of the world's most significant works of art—or, if you prefer, for images pulled in from your Flickr, Facebook, Instagram or SmugMug accounts.
Air Show HD ($3), iOS
This Airplay-oriented app just released support for Chromecast. Air Show puts photos, slideshows and drawings on TV, complete with captions, stickers, or background music.
WatzOn creates custom "channels" based on The service culls some 5,000 online video and music streams, and arranges them into channels. Users can customize or choose channels based on interests, and play them on TVs via the Chromecast.
Tube Cast (free), Windows Phone
Tube Cast is a noteworthy app, and not just because it's the lone Windows Phone app on this list. It's because it manages to rise above the Google-Microsoft bickering that's so far kept an official YouTube app off of Microsoft smartphones. Now, at least users with Chromecast don't have to be denied.
However, there are some caveats: The app can trigger a stream from the video site to a TV, but it doesn't offer playback controls, like pausing. And users report bugs, like the occasional inability to find Chromecast devices on the network. But it's worth checking out, since it's free and pretty much the only game in town for Chromecasting YouTube via a Windows Phone.
Keep Your Eyes Peeled
Last Fall, news circulated that Vimeo and Redbox Instant would offer Chromecast compatibility as well, but so far, neither has done so. Bitcasa and PlayOn haven't either, despite significant interest in casting from both of these companies. It may be just a matter of time, though, so if you use one of these services, you'll want to keep your eyes open for updates.
One thing's for sure—this spate of Chromeast app activity is only the beginning.
In most cases, developers added casting to apps that were already available or in the works. And that makes sense, in light of Google's claims that the Cast SDK was easy to use, requiring fairly minimal changes to existing apps. But as time goes on, developers will build apps with Chromecast in mind from the beginning—which means we could see more creative and interesting new uses for the technology coming soon.
Related Links
Since Facebook Owns WhatsApp, Here Are 5 Alternative Messaging Services
Pinterest Cofounder Evan Sharp: How the Visual Web Helps You See the Future
It's time to give up on swiping credit cards
The Mt. Gox Implosion is Bitcoin's First Financial Crisis
5 Things You Need to Know About the Samsung Galaxy S5
Source: Flickr user iannnnn