Star Wars Cake
May the Fourth Be With You — and Cake Too
Monday is May 4, otherwise known as Star Wars Day. If you encounter anyone wearing fanboy paraphernalia (though, of course, you're wearing geek gear with pride too) , make sure to greet them properly by saying, "May the fourth be with you!"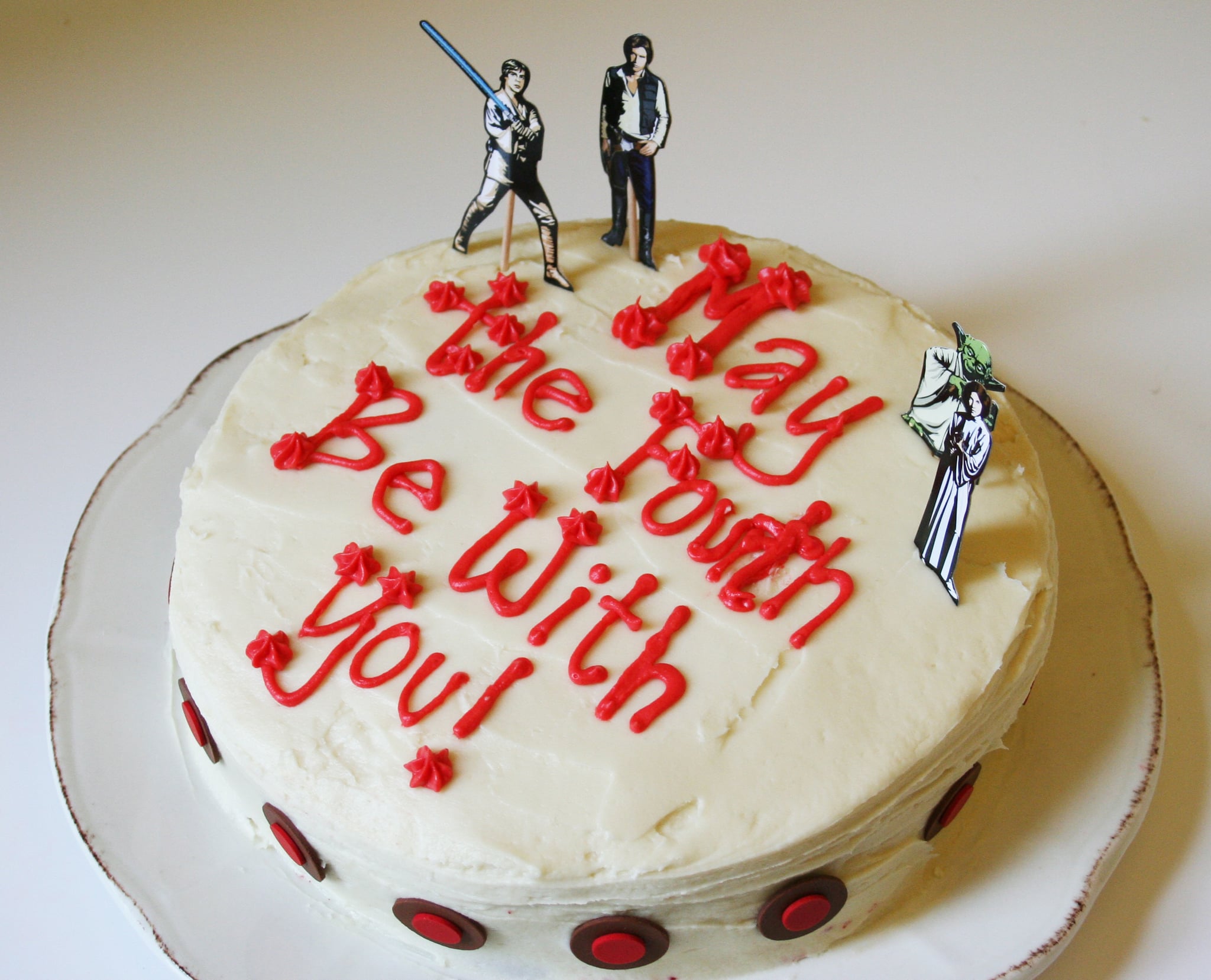 We made a Star Trek cake for Captain Picard's birthday, so of course we had to make a sweet treat for May 4 too.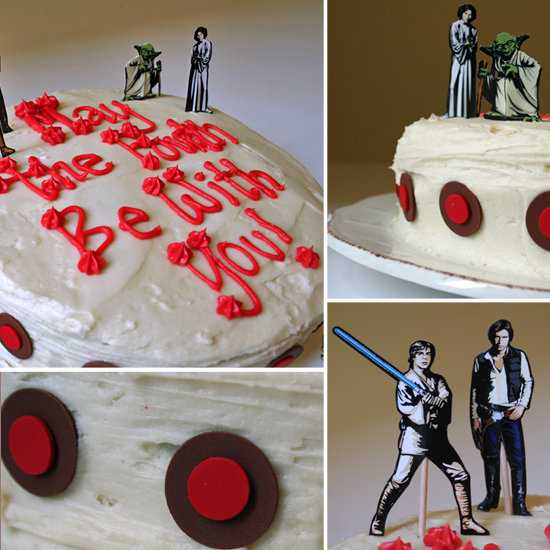 To replicate this fabulous and fairly easy Star Wars cake, take a look at my decorating tips.
Colors and cake: For your color palette, go with red for Darth Vader's lightsaber, blue for Luke Skywalker's lightsaber, or green for Yoda. To replicate this ruby-red cake, bake a homemade or box-mix red velvet cake.
Frosting choice: Whip up a white buttercream or cream cheese frosting to use as your base topping. Reserve half a cup of frosting for piping decoration, and dye it red or blue with food coloring.
Frosting technique: To avoid getting red crumbs all over the white frosting base, scrape the entire bowl of white frosting onto the top of the cake. Using a rubber spatula, slowly spread the frosting across the top of the cake. Avoid lifting the spatula or spreading the frosting so thin that the spatula hits the cake. Continue to spread the frosting until enough hangs over the edge, then evenly spread it around the sides.
Piping tip: Fill a piping bag or a plastic bag with the dyed frosting. Using a round decorating tip or cutting a small tip from the corner of the plastic bag, write "May the Fourth Be With You" across the cake. If you are hesitant, practice piping on wax paper first.
Additional decor: Adorn the cake with round colored candies on the sides of the cake. On the top of the cake, place a few of your favorite Star Wars figurines or stick in printed character cutouts glued to toothpicks.
Voilà! Now that the cake's complete, the Star Wars movie marathon can begin!
Image Source: POPSUGAR Photography / Anna Monette Roberts