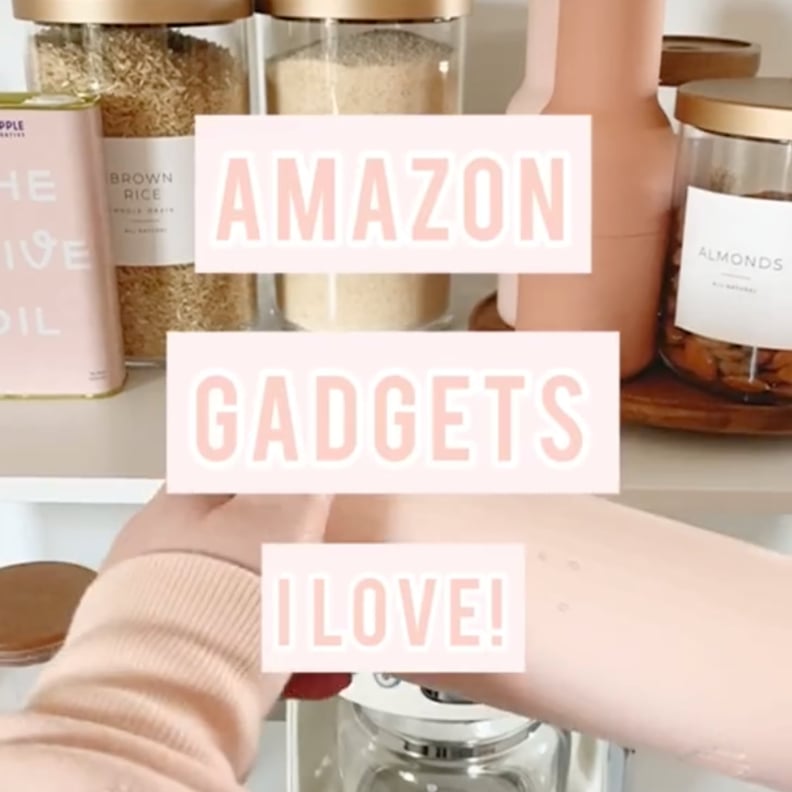 TikTok is the place to go to keep up with the coolest food trends, be entertained by the funniest videos, and find out what new gadgets are on the market. TikTokers are all about tech products, with millions of videos debuting their coolest finds. From cheap Amazon products no one knows they need to weird and wacky items people have found somewhere on the web, there's no shortage of hot tech gear to be found on TikTok. If you want to upgrade your kitchen, there are tools for that. If you're looking for an easier way to clean your makeup brushes, there's something for that, too. If you need to stay organized and keep your things clean, there are more than a couple products that will keep you clutter-free.
If you want to discover the coolest tech products that TikTokers have found, keep reading to see our personal favorites. From an electric trash can that bags its own trash to a cocktail maker that looks like Keurig, these gadgets will remind you of all the cool innovations that are out there. Keep reading to see the coolest gadgets from TikTok, ahead.
01
Electric Trash Can
This no-touch trash can is as sleek as can be. It has a motion sensor that can detect when you're close so you don't have to reach down and open it. When the can is full, it will seal the bag of trash for you, so all you have to do is take it out. It will also drop in a new trash bag when your old one is out.
02
Cocktail Maker
Shake up some tasty alcoholic beverages in no time when you put a pod into this fancy drink maker. You can whip up margaritas, Long Island iced teas, mojitos, and more. Cheers to that!
03
Apple Watch Charger
Charge your Apple Watch from your computer with this USB device. It's sleek and portable, so you can make sure your watch is always ready for use.
04
Herb Pod
Keep herbs fresh for up to three weeks with the help of this handy pod. Wash your produce, put it in the pod, add a bit of water, and watch as your garnishes are kept fresh for weeks.
05
No-Touch Hook
Keep your hands germ-free when you use this hook to open doors. It also has a stylus you can use to sign your name on things so you don't have to touch the one at the store. To clean it, you can use soap and water or put it in a Phonesoap.
06
Brümate Backtap
This portable backpack can be used to carry drinks, hold drinks, and as a drink dispenser. It can also be sat on like a stool! If it's too heavy to carry, you can put on the straps so it distributes the weight on your back.
07
Paper Towel Dispenser
This futuristic paper towel dispenser if easy to use and super sleek. Just wave a hand in front of it and it will provide you with a fresh paper towel.
08
Jewelry Cleaner
Keep your jewelry clean and shiny with the help of this genius device. Just add some soap and water, and watch as the tool makes your jewelry look brand new.
09
No-Push Luggage
Lugging your suitcase around is a pain, but this cool luggage set changes that. Just connect the bracelet to the suitcase, wait for it to turn green, and start walking. It will follow after you.
10
Pura Fragrance Diffuser
This fragrance diffuser is unlike any other! It connects to your phone so you can control the fragrance intensity, the light color, and how long you want it to diffuse for.
11
Charging Phone Case
If your phone is always losing battery, this phone case is for you. It attaches to your phone and charges it on the go. The cases come in a ton of cute colors and designs, so you can find the perfect match for your style.
12
Thawing Mat
If you forgot to take the meat out of the freezer again, this slick mat will thaw your meat before you start getting hangry. It's lightweight, portable, and will help you get your meal on the table faster.
13
Personal Alarm Keychain
Never worry about walking alone again when you have this loud alarm. It can attach to your purse or keyset, and it easy to use. If anyone tries to take your bag, just sound this alarm and call for help.
14
Smart Switch Button Pusher
Turn on and off lights with ease when you have this button pusher. It connects to your phone, meaning you never have to get up to turn off your lights again. It can also be used as an automatic timer for things like coffee. Enjoy!
15
Taco Toaster Holder
Make tacos in a toaster with the help of this handy device. Just secure a taco shell to the gadget, lower it into a toaster, and watch as you are left with a toasty taco shell that's ready to be noshed on.
16
Inspiralizer
Make delicious zoodles in seconds when you have this handy inspiralizer. It'll make long noodles that you can use to whip up a light dinner. Just add your favorite sauce!
17
Makeup Brush Sanitizer
Keep your makeup brushes clean and germ-free with the help of this sanitizing tool. Just toss your brushes inside, close it, and within five minutes, you'll have clean brushes.
18
Tile
Never worry about losing your keys or wallet again when you have these little bluetooth trackers. Just toss one in your bag, in your wallet, or even on your phone, and you'll be able to track your goods down if you ever lose them.
19
Bear Can Opener
Open your next brew with ease when you use this cool tool. Just secure it to the top of the can, twist it, and cheers to an open beer!
20
Wireless Label Printer
Keep your pantry, closet, desk, and more ultra organized with the help of this label printer. You can choose different fonts and styles for the labels, and then just print them out. Attach them to jars, drawers, and more.
21
Salad Chopper
Make a chopped salad with ease when you use this cool kitchen tool. You can slice and dice things right in a bowl, so throw your ingredients in one place and get to work!
22
Hand Warmer
This little hand warmer is portable, compact, and easy to use. Not to mention, it's also an iPhone charger! Just turn it on and feel the heat.
23
VeggiChop
Stop crying when you're cutting onions! The VeggiChop is here to save the day. It can easily cut up veggies in seconds, meaning no more struggling in the kitchen. Yes, please!
24
Shower Essentials
If you want to have a shower in the mirror to make sure you've washed all your makeup off or to see when soap is about to get in your eyes, get a fogless mirror from Amazon. In addition to the mirror, makeup-removing mitts are helpful to ensure that you've washed everything off your face. If you have chicken skin, getting an exfoliating mitt will keep to remove dead skin cells and make skin softer. @jacquelineaniece also loves her scalp massager, silicon body scrubber, rotating makeup storage container, and her rotating makeup brush bamboo organizer.
25
Biometric Lock
If you're always forgetting the code to your lock, this is the product you need! It uses your fingerprint to lock and unlock it, and it also has an app that helps you keep track of when it was last used. Easy as that!
26
Kitchen Finds
This little bag-sealer is super easy to use, and it keeps everything from chips to veggies fresh for days. The milk frother will turn your kitchen into an at-home Starbucks, letting you make lattes in no time. As for the battery pack, you can store batteries inside of it and see if they still work. All of these little devices will help you make the most of your kitchen and batteries.
27
Portable Blender
If you have a small kitchen or just like to enjoy smoothies on the go, this PopBabbies portable blender is just what you need. Throw all your ingredients inside of it, and watch as it blends everything to perfection. Yum!
28
Timed Container
Keep snacks and goodies out of reach with the help of this timer container. You can set the timer for however long you want, but just note that there's no way to open it until the timer is done.
29
Wireless Charging Pad
Charge your phone with ease with the help of this sleek wireless charging pad. Just place your phone on top of it and watch as it juices up your battery. If you need a keyboard for your iPad, this one is it. It easily connects to your devices, and will get you typing away in no time. Lastly, if you want to back up your photos and videos on your phone, use this USB drive. It'll create more storage on your phone when you need it.
30
Mini Handheld Vacuum
Lightweight, sleek, and portable, this mini vacuum is a game changer. It's super easy to use and can clean up a wide range of messes.