iMessage Not Working
Is iMessage Not Working? Or Is He Just Not That Into You?
Has it been four days since he's texted you? Has it been four days since anyone's texted you? Either a) he's just not that into you (so sorry) or b) there's something going on with Apple's iMessage servers, which is preventing your phone from sending or receiving new messages.
If it's the latter, we've got a quick fix you can try to get you back on your texting game.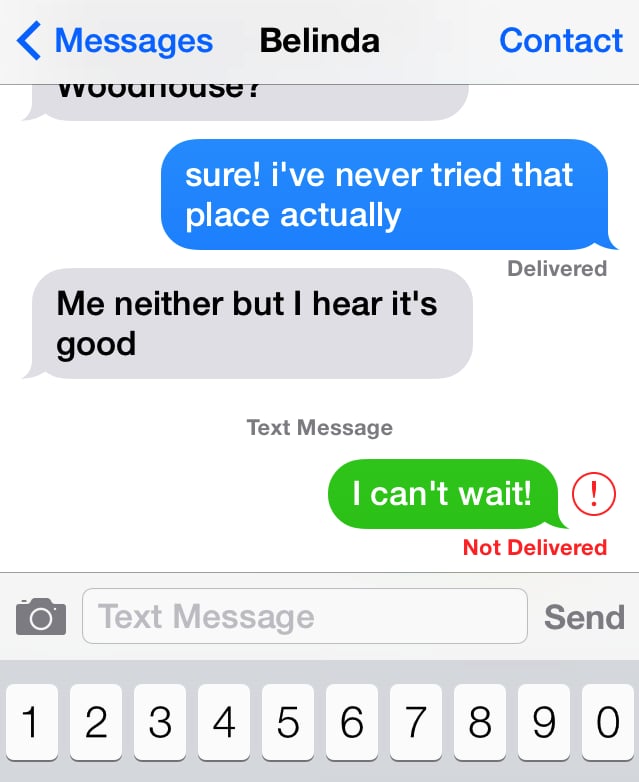 That dreaded red exclamation point means that the recipient did not receive your message. Tap on the red "!" icon and try again, just for kicks. If it's still not going through and you really need to send this message, press and hold the message bubble itself and select "Send as SMS" (text messaging charges will apply).
Here's how to restore iMessage to its former glory in iOS 7:
Head to Settings > Messages.
Slide to disable iMessage.
Then reset network settings. Go to Settings > General.
Scroll to the bottom, and tap Reset > Reset Network Settings. Enter your passcode.
Go back to Settings > Message, then slide to re-enable iMessage.
Wait for activation. You may be prompted to re-enter your iCloud account information.
Always check Apple System Status to see if there is an iMessage service outage.
If iMessage still isn't working, check your data connectivity by opening the Safari and Chrome apps to see if it'll load a webpage. If you're on a call, iMessage over cellular data may not work, so turn on WiFi.
iOS 7 introduced the ability to block certain contacts, so check to see if that number is blocked before you proceed to smash your phone for refusing to cooperate with iMessage. Head to Settings > Messages > Blocked.
If iMessage still isn't working, your phone might just be trying to spite you. Apple has a very thorough troubleshooting guide that address all sorts of issues, so check that out before heading to the Genius Bar.