iPad-Themed Baby Announcement
What Happens When Babies Are Announced Just like New iPads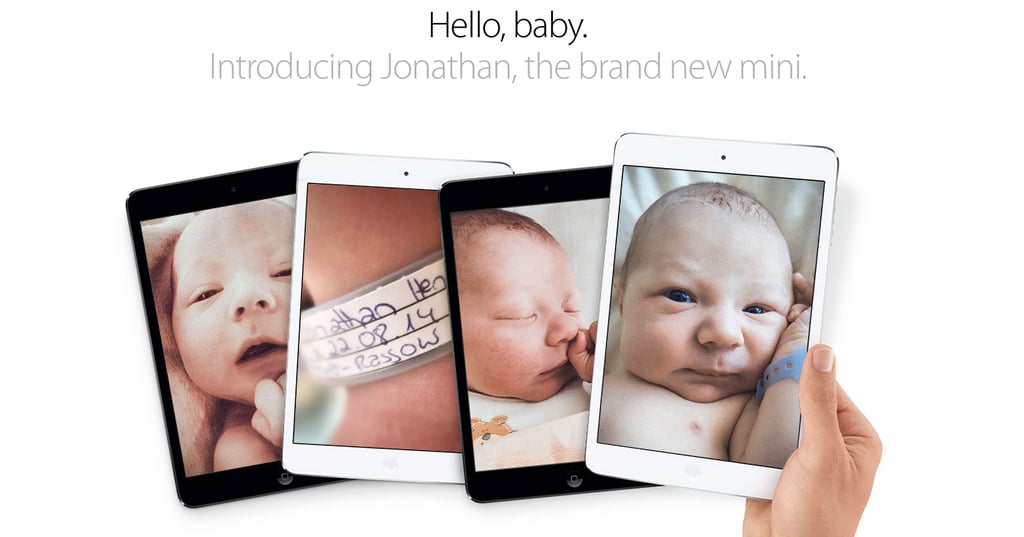 If there's one thing that Apple has perfected, it's the product launch. That's why former Apple employee Andreas Kleinke reformatted the iPad Mini launch page to announce the birth of his own "brand-new mini" (aka his son). Why change a winning recipe? We've seen our fair share of geeky baby announcements — but this one takes the cake.
Andreas's iPad-themed page went viral so quickly, it crashed the website — and he was forced to take it down. Through the magic of Wayback Machine, however, you can still visit the site.

Sure, the kid is cute. But this announcement is amazing because of all the clever details! It's clear that Andreas is very familiar with the often dramatic Apple voice used on the company's product pages. "The brand new Jonathan (Mid-2014) features a 20-inch seamless unibody enclosure made from a single, solid block of beauty," he writes.
There are of course size and weight specs included (20.47 inches by 7.87 inches) as well as preinstalled app information (iEat, iPoop, iSleep, That's It). The cutest part of the whole announcement is down at the bottom, where the boring stuff typically is. In case you're wondering, this model is available on two carriers (Mom and Dad, with parental sleep mode disabled by default), comes in one finish (baby pink), and boasts a "multitouch system supporting the full range of gestures, including thumbsuck-to-sleep and ten-finger swiping). We'll give this human gadget, and his techie dad, five stars for creativity.