You've already seen the most stunning nontraditional celebrity engagement rings [1], and now we're taking a look at all the gorgeous sparklers to grace famous hands. From Lady Gaga's heart-shaped diamond [2] to Nikki Reed's floral-inspired bling [3], there's something for everyone. Sure, some of the relationships have come and gone, but ring photos are here to stay.
Source: Getty [4] and Michael Simon
Anna Camp
Skylar Astin popped the question [5] to his Pitch Perfect costar during their Hawaiian vacation in January 2016.
Leighton Meester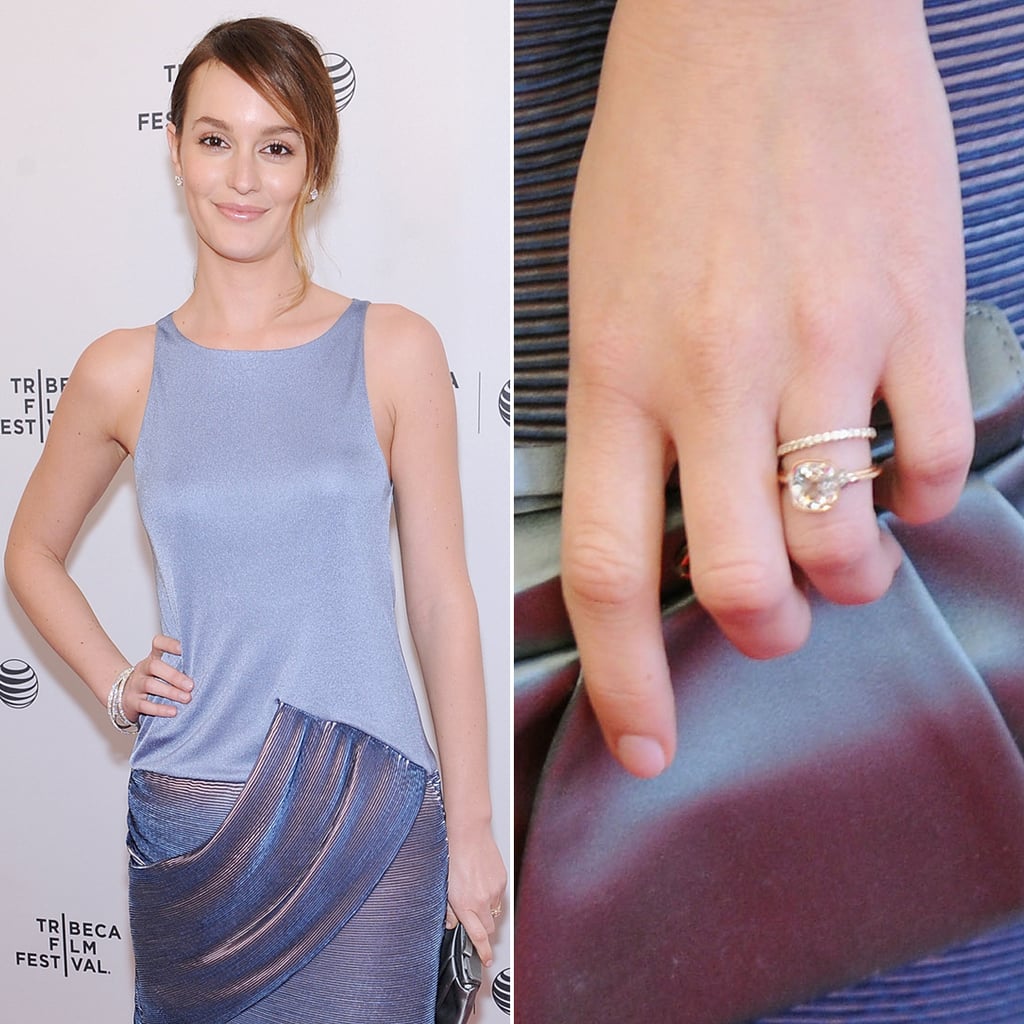 Leighton Meester [6] secretly married Adam Brody [7] in February 2014 but didn't debut her rings until the Tribeca Film Festival premiere of their movie Life Partners in April.
Iggy Azalea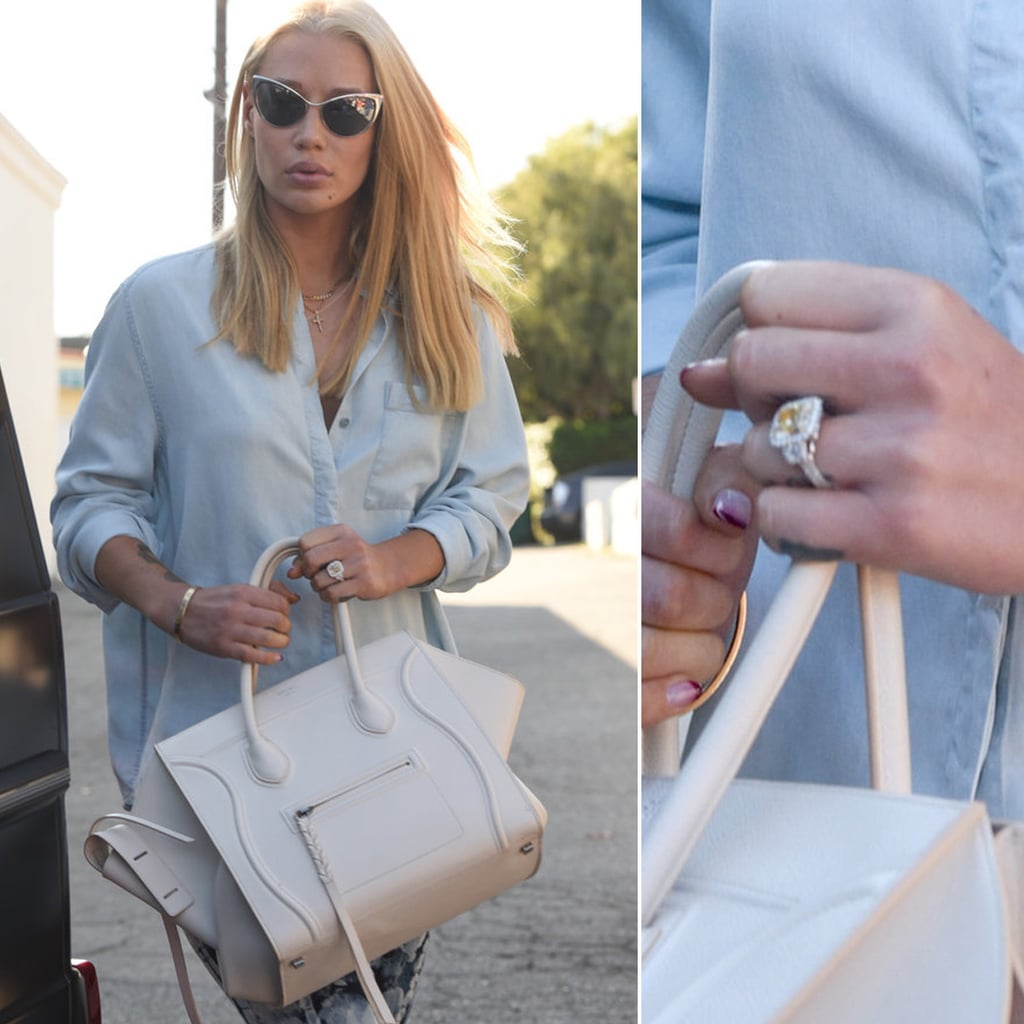 Iggy Azalea received a massive $500,000 sparkler, which features an 8.15-carat Fancy Intense yellow center stone with 2.28 carats of white diamonds set onto 18-karat white gold, from NBA player Nick Young in June 2015. The couple ended their engagement [8] a year later.
Lady Gaga
Taylor Kinney proposed to the singer [9] on Valentine's Day 2015 with a heart-shaped stunner.
Source: Getty/Dimitrios Kambouris [10] and Instagram user ladygaga [11]
Amal Alamuddin
George Clooney [12] gave British lawyer Amal Alamuddin a 7-carat ethically-sourced diamond ring [13] when they got engaged in April 2014.
Ciara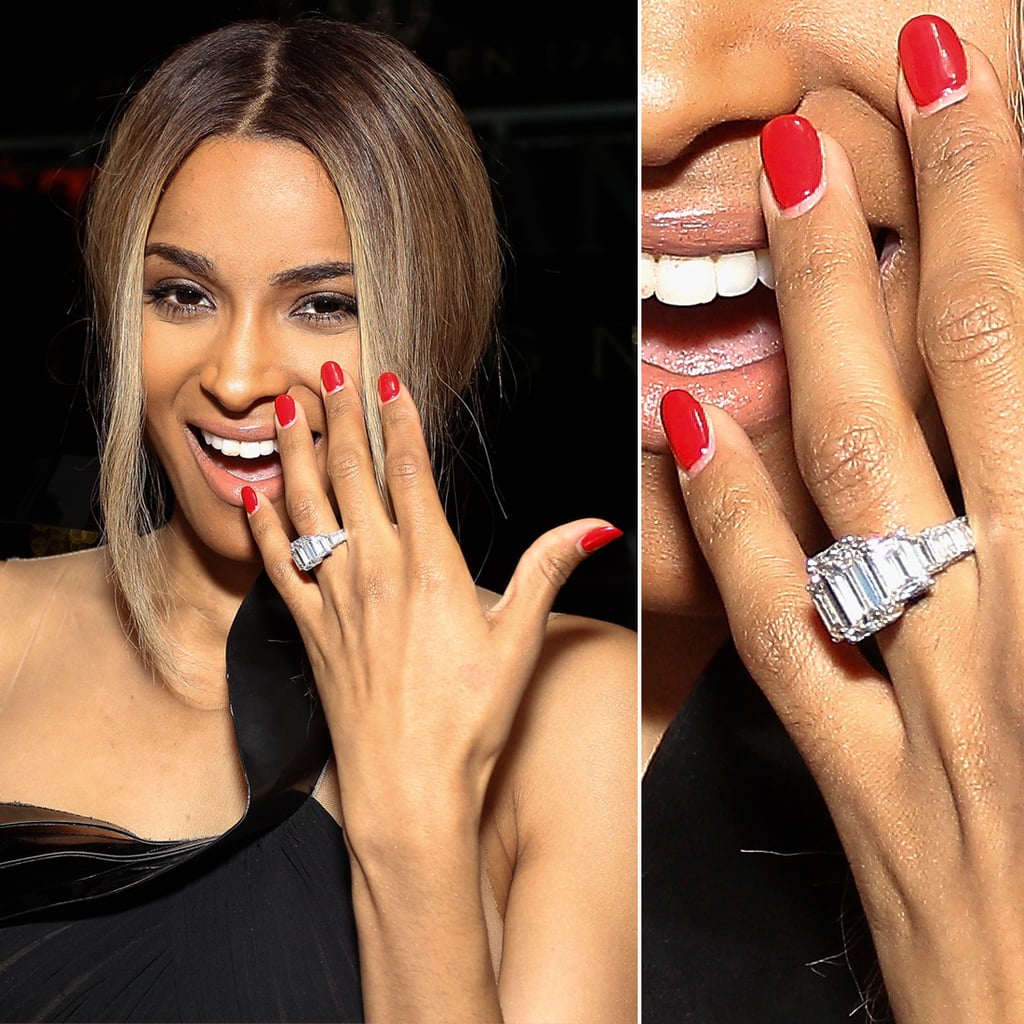 Ciara showed off her 15-carat diamond engagement ring after her boyfriend, rapper Future, proposed in October 2013. Although they broke up, Ciara went on to get an equally gorgeous ring [14] from current fiancé Russel Wilson in March 2016.
Mary-Kate Olsen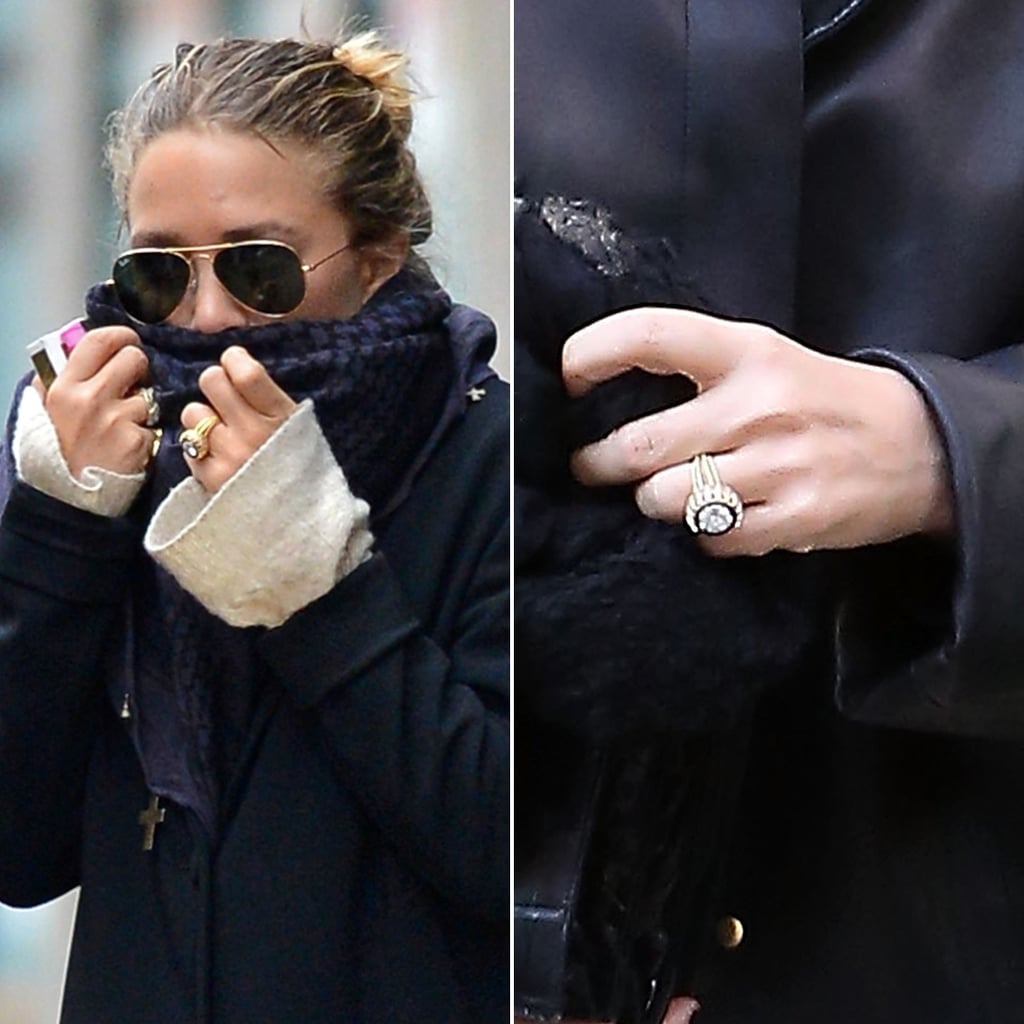 Mary-Kate Olsen [15] got engaged to her boyfriend, Olivier Sarkozy [16] after nearly two years of dating at the end of February, and she showed off her huge diamond sparkler [17] soon after — once in New York, and then again at Paris Fashion Week [18].
Source: AKM-GSI [19] and Getty [20]
Kim Kardashian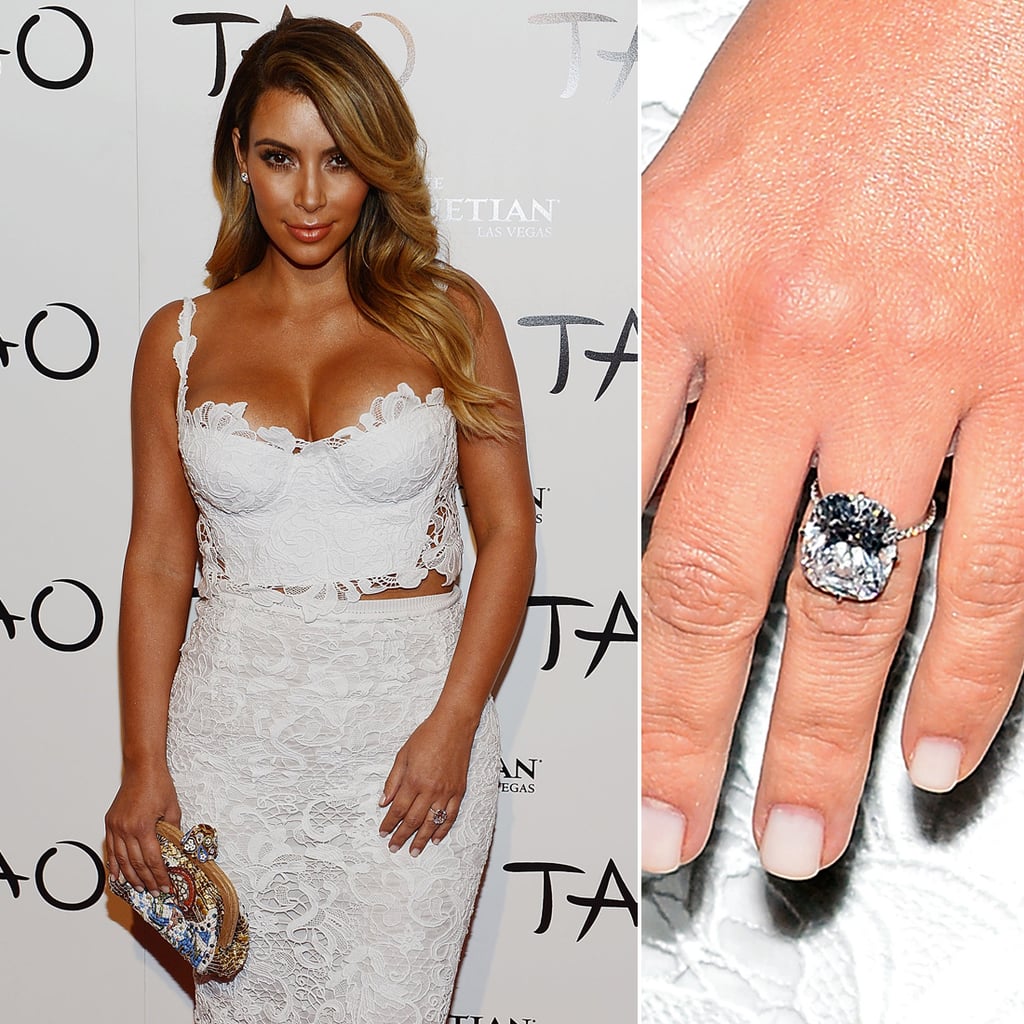 Kanye West [21] spared no expense for Kim Kardashian [22] when he proposed with a gorgeous 15-carat diamond ring that he designed with jeweler Lorraine Schwartz in October 2013.
Amber Heard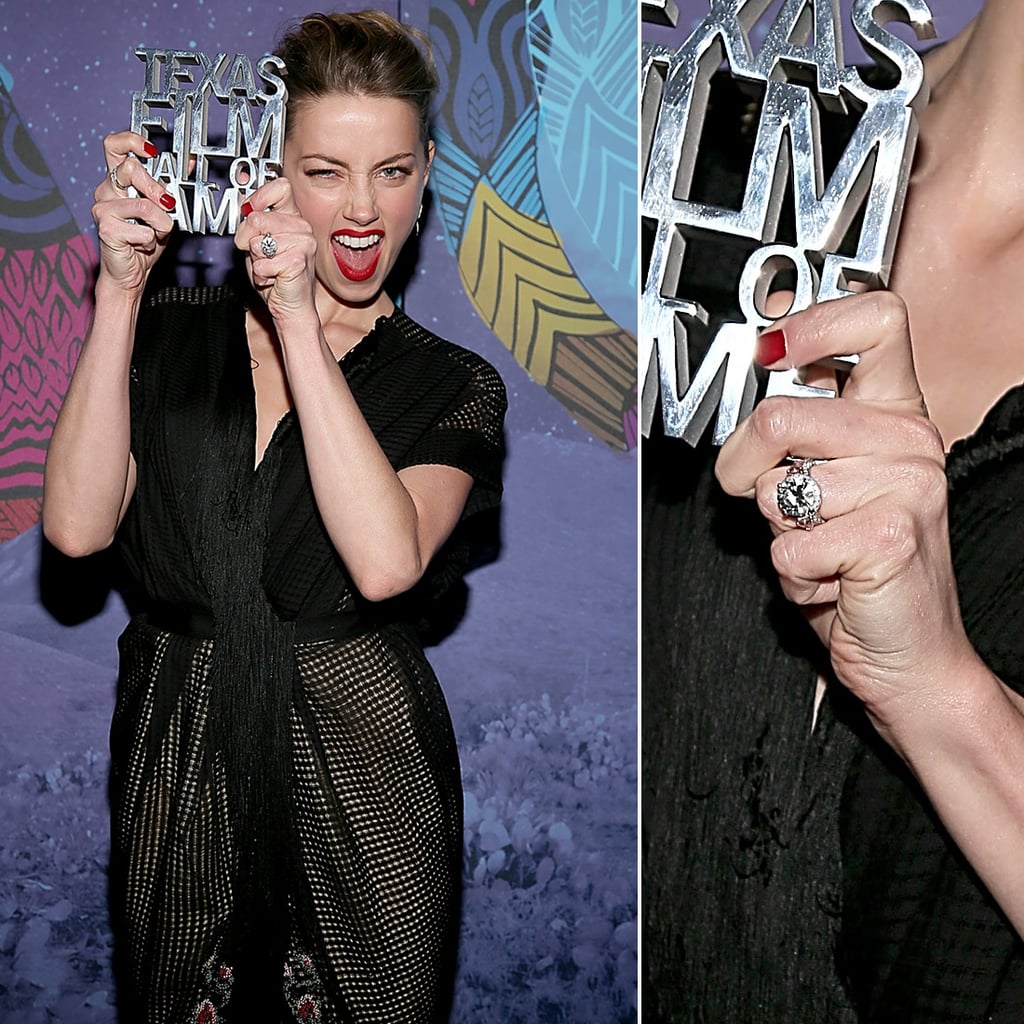 Although the couple has since split [23], Amber Heard got her stunning rock from Johnny Depp [24] in January 2014.
Mila Kunis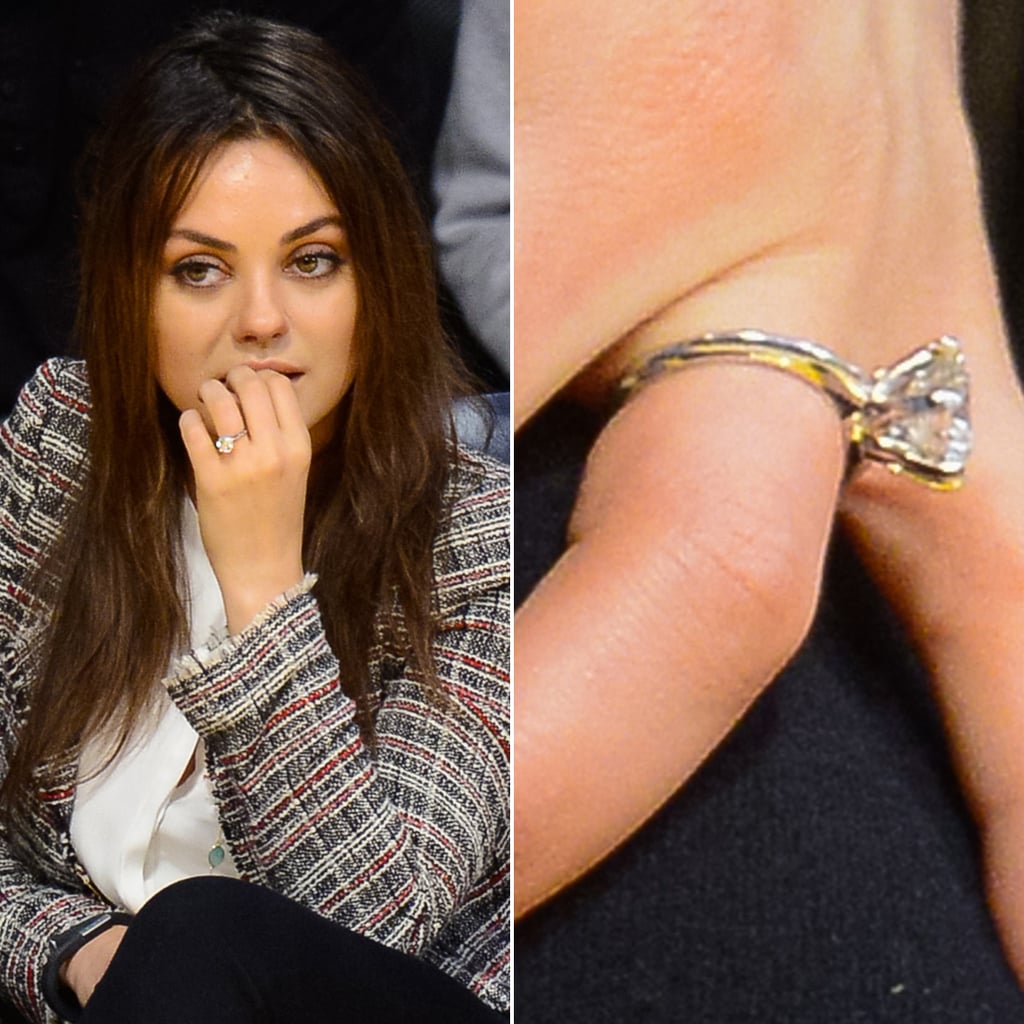 Mila Kunis [25] got engaged to longtime boyfriend [26] and former That '70s Show costar, Ashton Kutcher [27], in late February 2014, and we got a closer look at her diamond sparkler [28] when the couple went to a Lakers game in March.
Allison Williams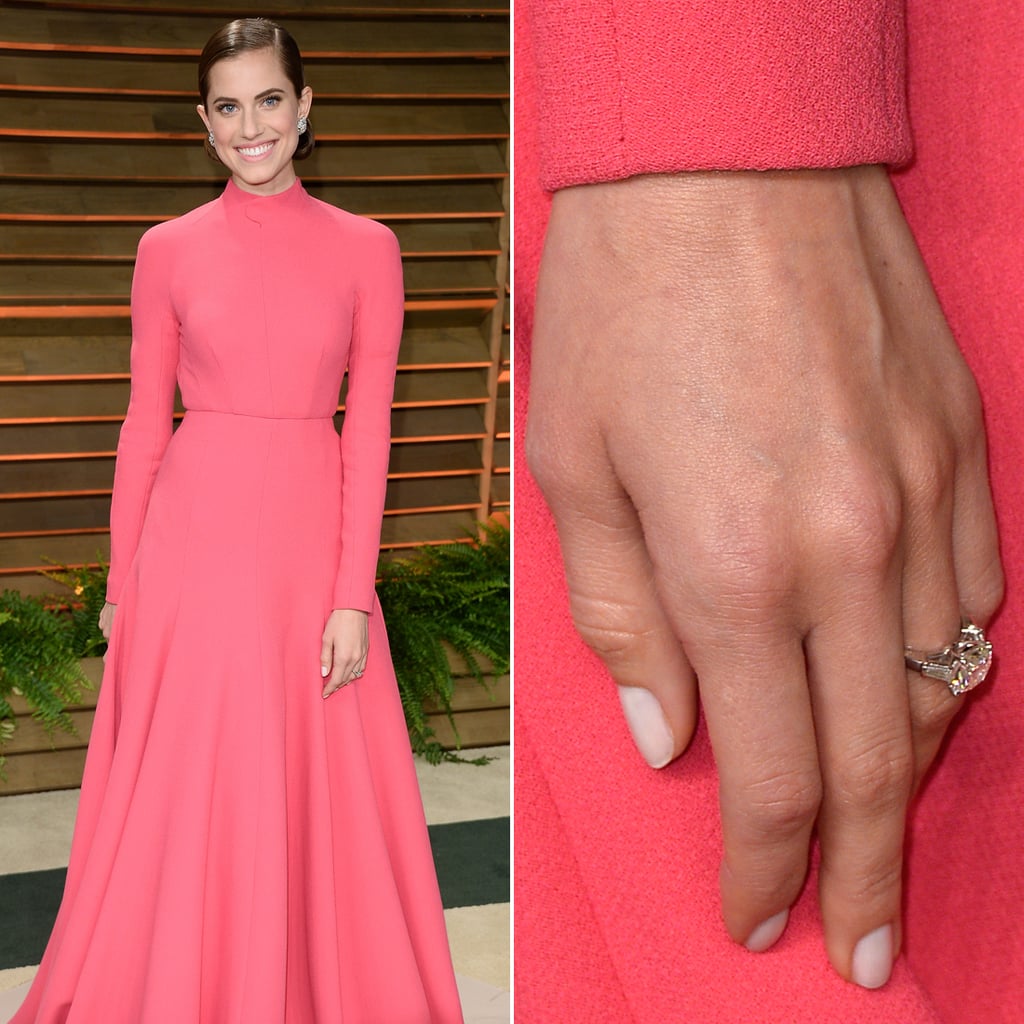 After Girls star Allison Williams got engaged to her boyfriend of three years [29], College Humor founder Ricky Van Veen, she debuted her ring at Vanity Fair's 2014 Oscars afterparty.
Lauren Conrad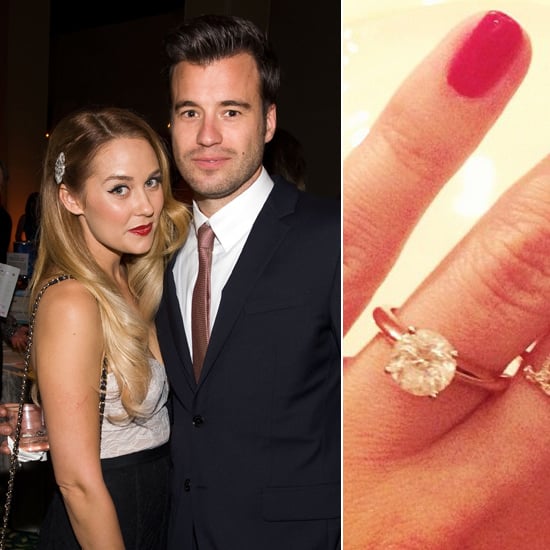 Lauren Conrad [30] announced her engagement to William Tell in October 2013 when she shared a photo of her ring on Instagram.
Source: Instagram user laurenconrad [31] and Getty [32]
Ginnifer Goodwin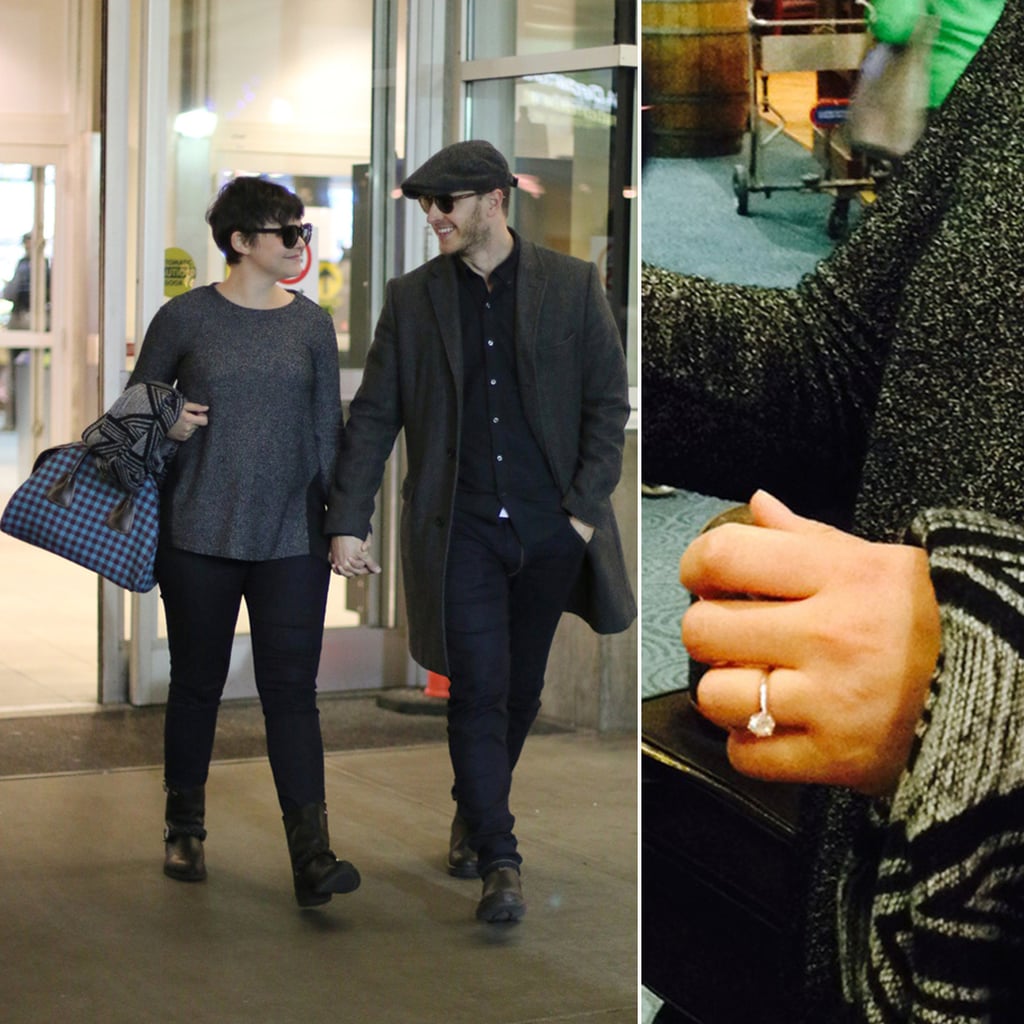 Ginnifer Goodwin [33] and her Once Upon a Time costar fiancé got engaged in October 2013, then announced they are expecting a baby the next month.
Naya Rivera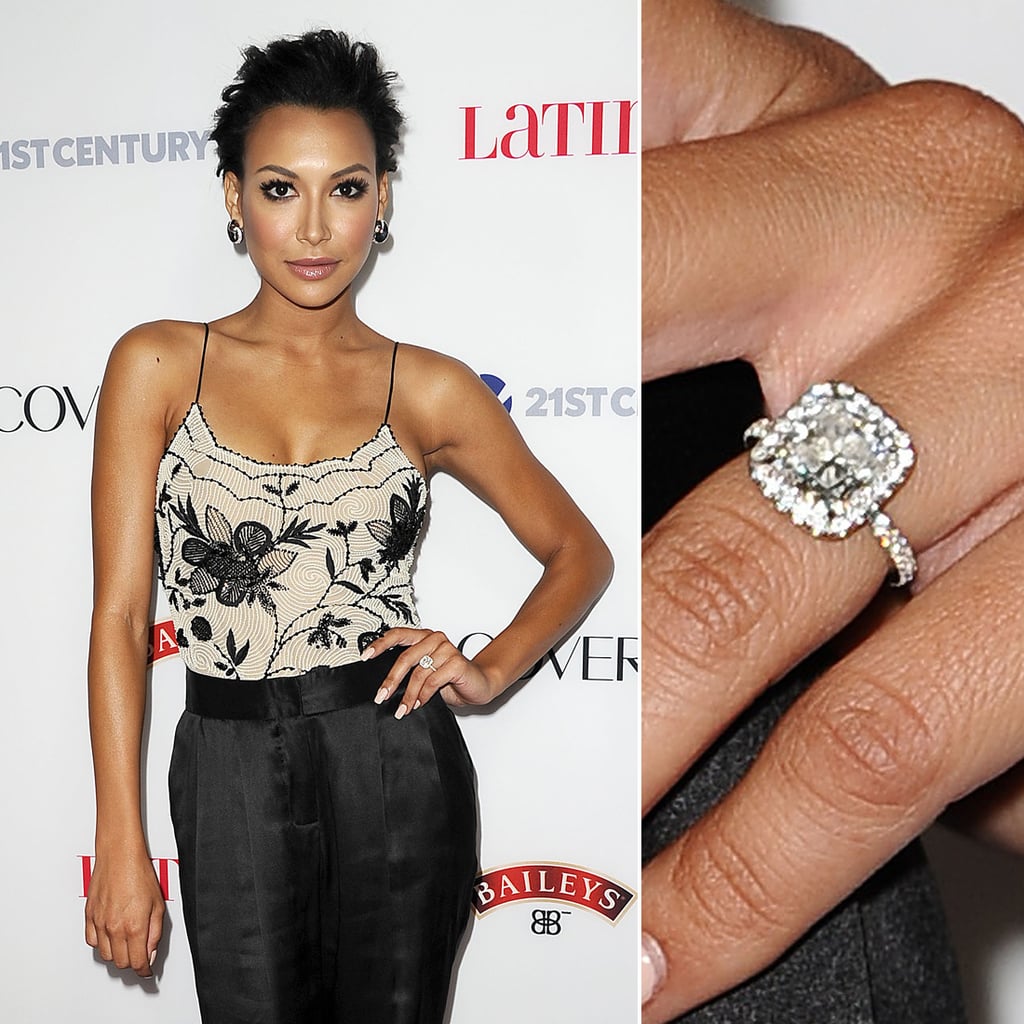 Naya Rivera received a big sparkler from Big Sean when the two got engaged in October 2013. They later ended the engagement [34] in April 2014.
Megan Fox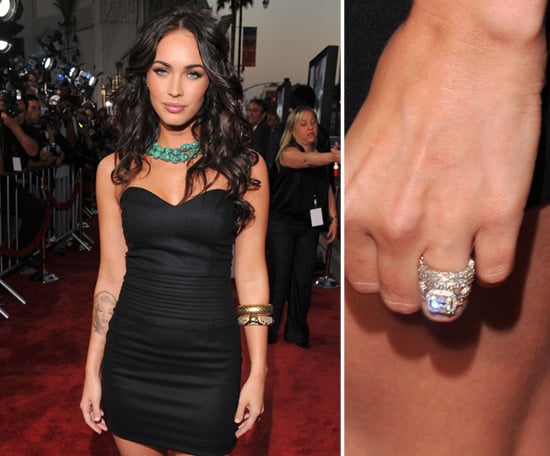 Brian Austin Green [35] popped the question to Megan Fox [36], for the second time, in June 2010 with a platinum three-carat diamond ring featuring a diamond halo.
Scarlett Johansson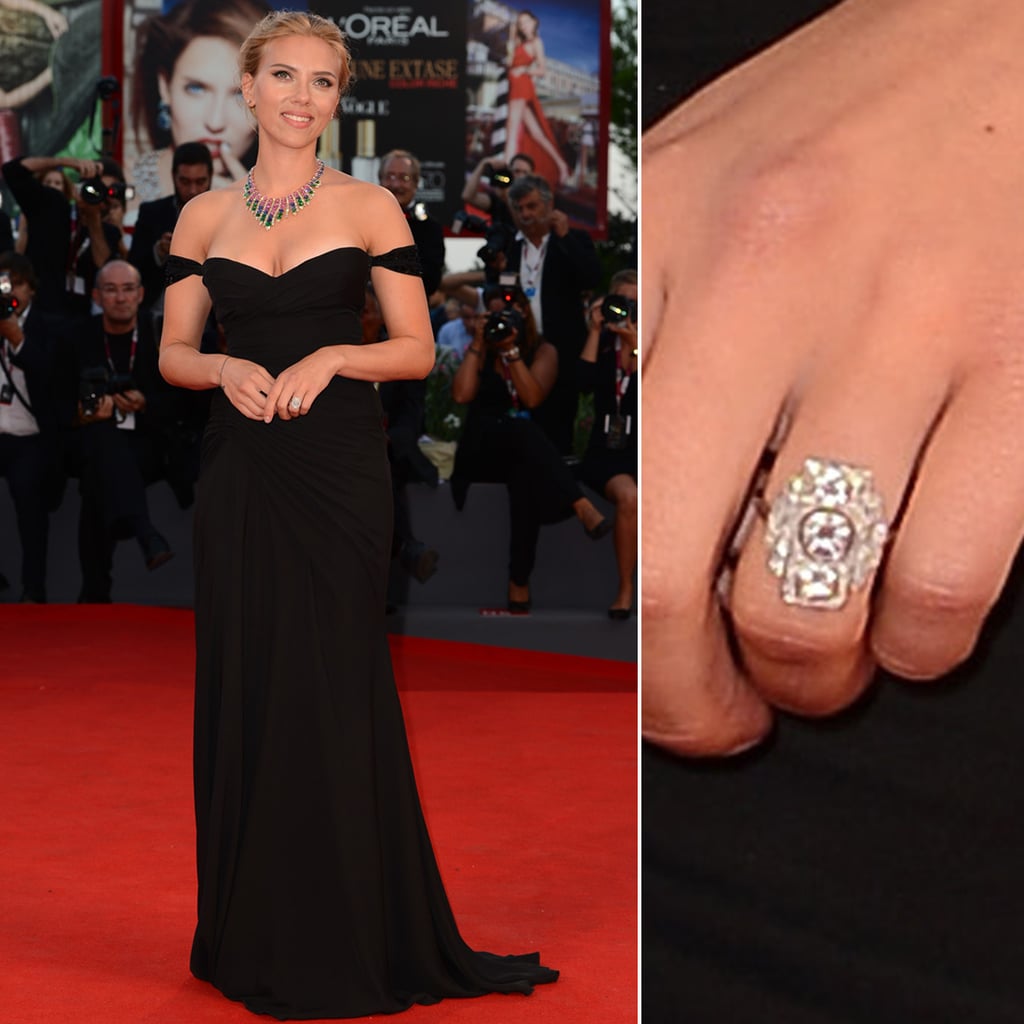 Scarlett Johansson [37] became engaged to her beau Romain Dauriac in August 2013 after he popped the question with a vintage Art Deco ring.
Nicole Richie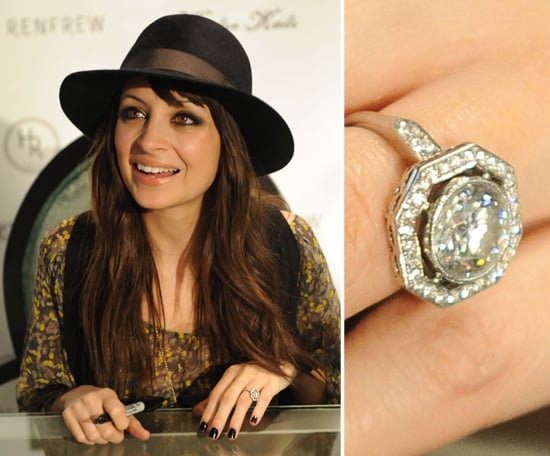 Nicole Richie [38] and Joel Madden [39] kept their engagement a secret before going public with the news in February 2010.
Olivia Palermo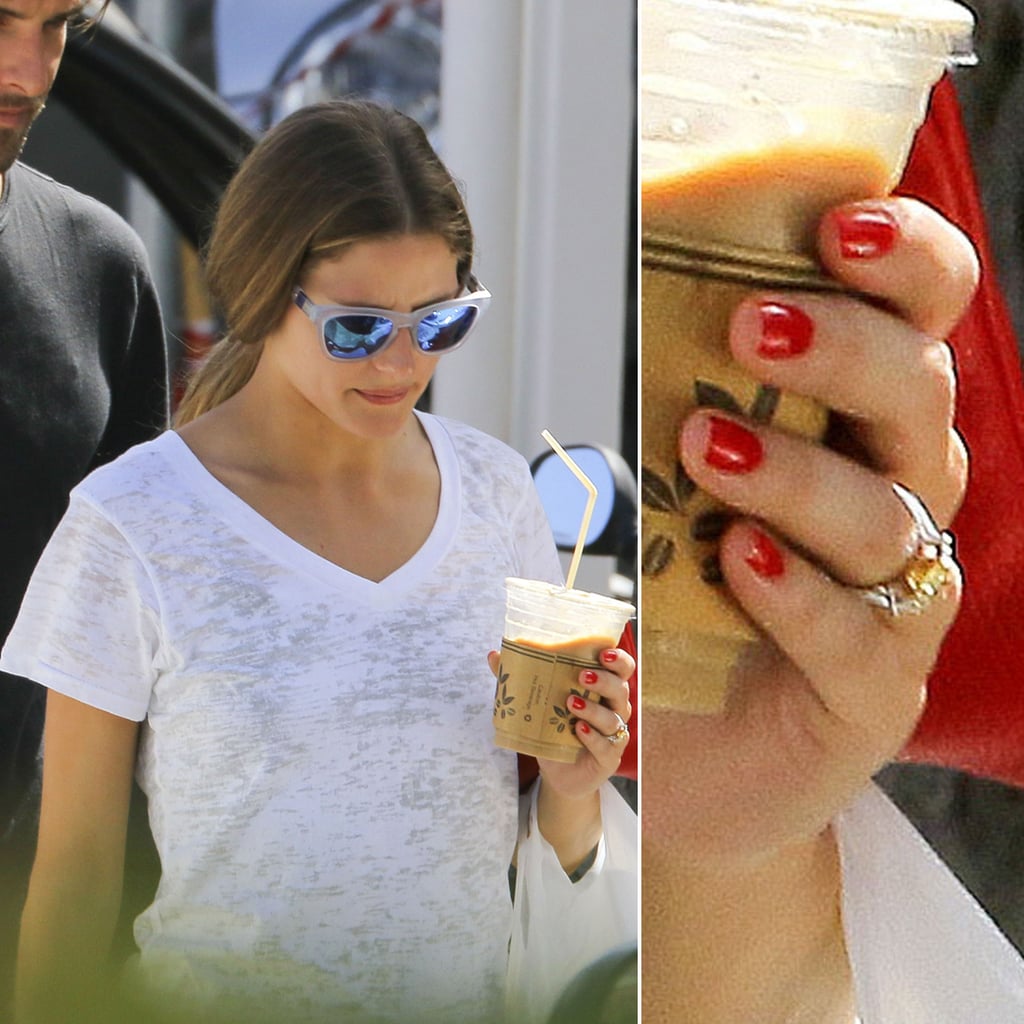 Olivia Palermo and her fiancé, Johannes Huebl, announced their engagement [40] on his Instagram page on New Year's Day 2014, though he popped the question on New Year's Eve.
Miley Cyrus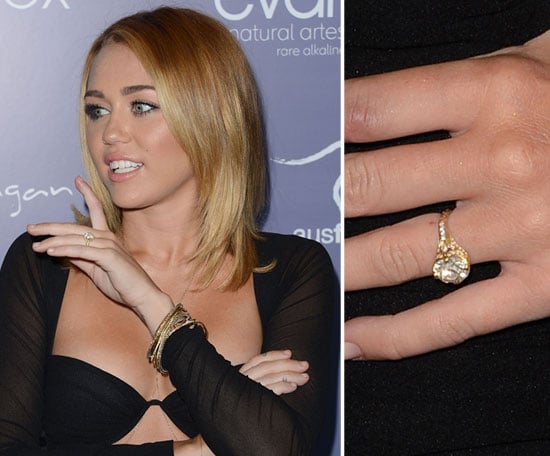 Miley Cyrus [41] got engaged to Liam Hemsworth in June 2012 with a 3.5-carat diamond ring from Neil Lane. They ended things and called off the engagement [42] in September 2013, but reunited in January 2016. Miley has been spotted rocking the ring ever since.
Avril Lavigne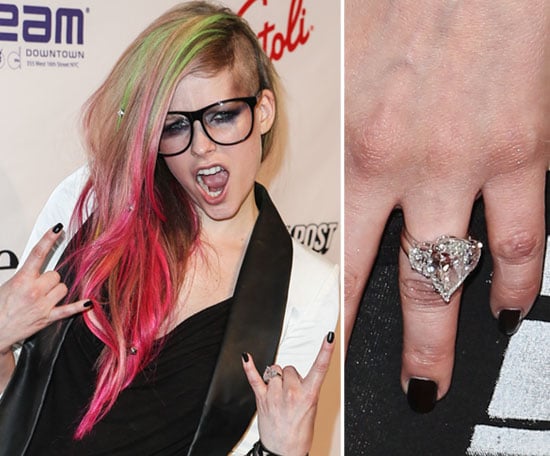 Avril Lavigne [43]'s fiancé, Chad Kroeger, proposed with a 14-carat engagement ring [44] in August 2012.
Amy Adams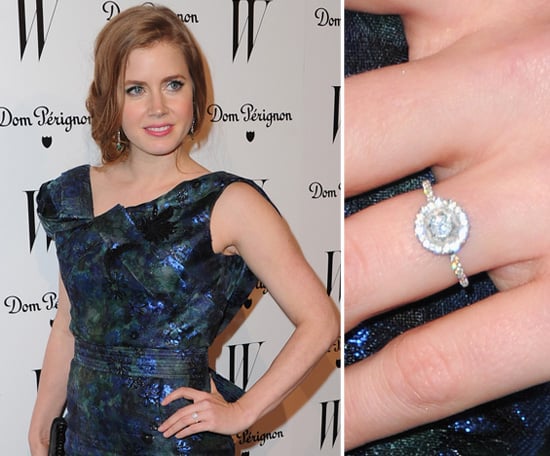 Amy Adams [45] was surprised when Darren Le Gallo proposed with a one-carat brilliant-cut diamond designed by Jean Dousset in July 2008.
Kate Hudson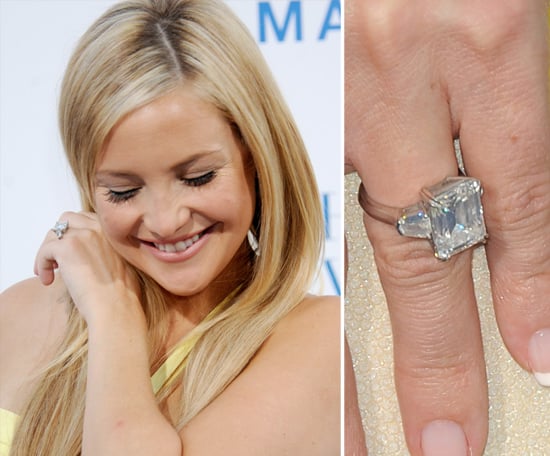 Kate Hudson [46] first shared the news of her engagement to boyfriend Matthew Bellamy during an April 2011 appearance on the Today show. She showed off the reported emerald-cut diamond with tapered baguettes on the side, worth a reported $200,000, saying, "I was waiting for someone to notice." They called off their engagement in December 2014 [47].
Carrie Underwood
Mike Fisher popped the question to Carrie Underwood [48] in December 2009 with a custom Johnathon Arndt design.
Gabrielle Union
Gabrielle Union [49] announced her engagement to Dwyane Wade on Instagram, posting a photo of the square-cut diamond ring on her hand. The proposal came just a few days before Christmas in December 2013.
Source: Instagram user gabunion [50] and Getty [51]
Robin Wright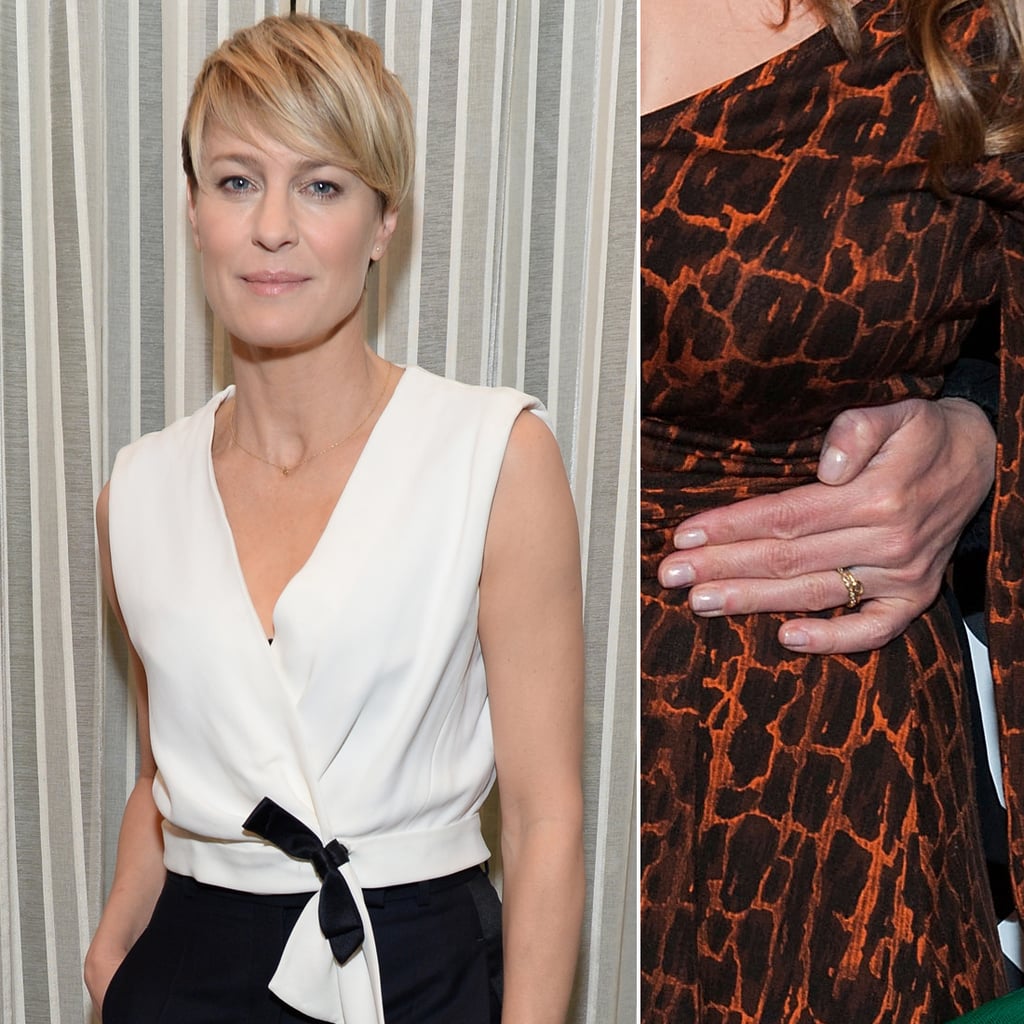 Robin Wright debuted her gold engagement ring at a Diane von Furstenberg event in LA over Golden Globes weekend in January 2014. Her rep confirmed her engagement to actor Ben Foster, who she reportedly started dating in early 2012.
Hayden Panettiere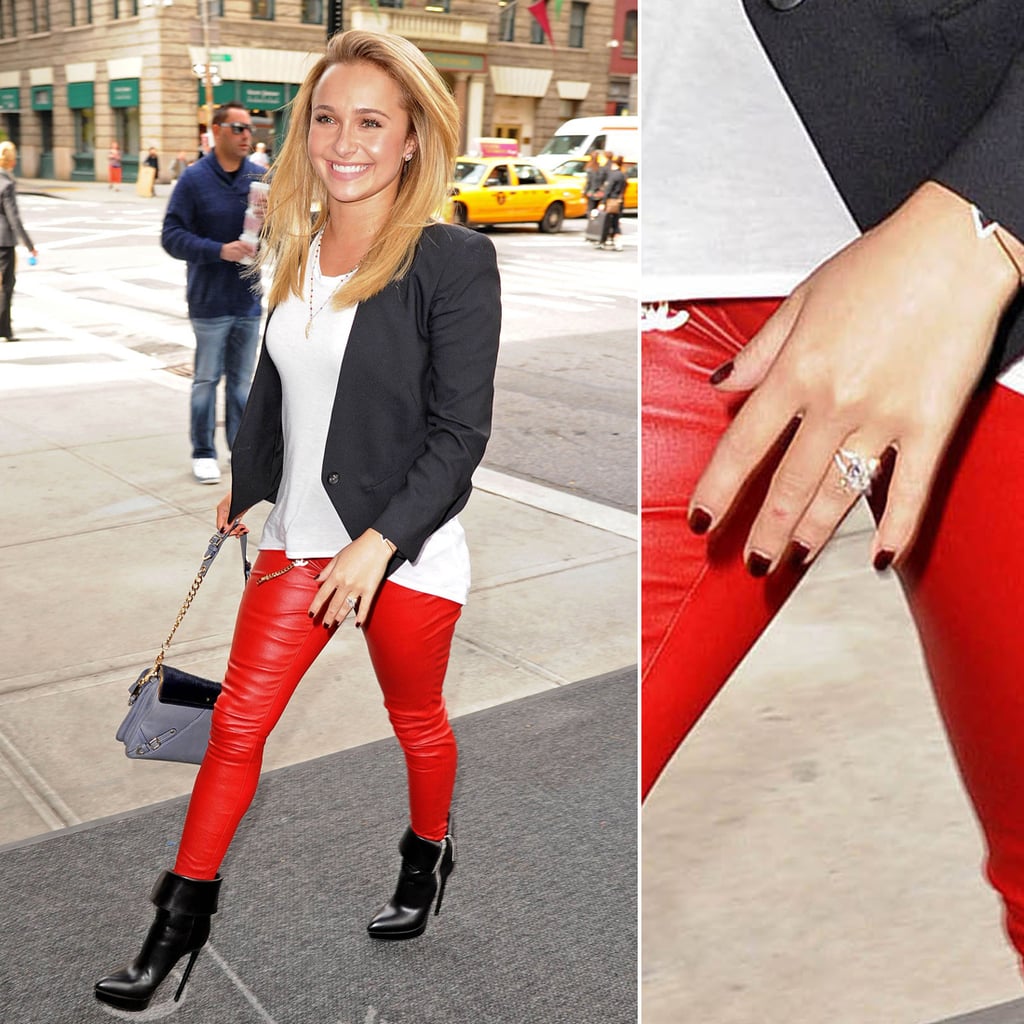 Hayden Panettiere [52] got engaged to boxer Wladimir Klitschko in 2013 but didn't confirm her engagement until later.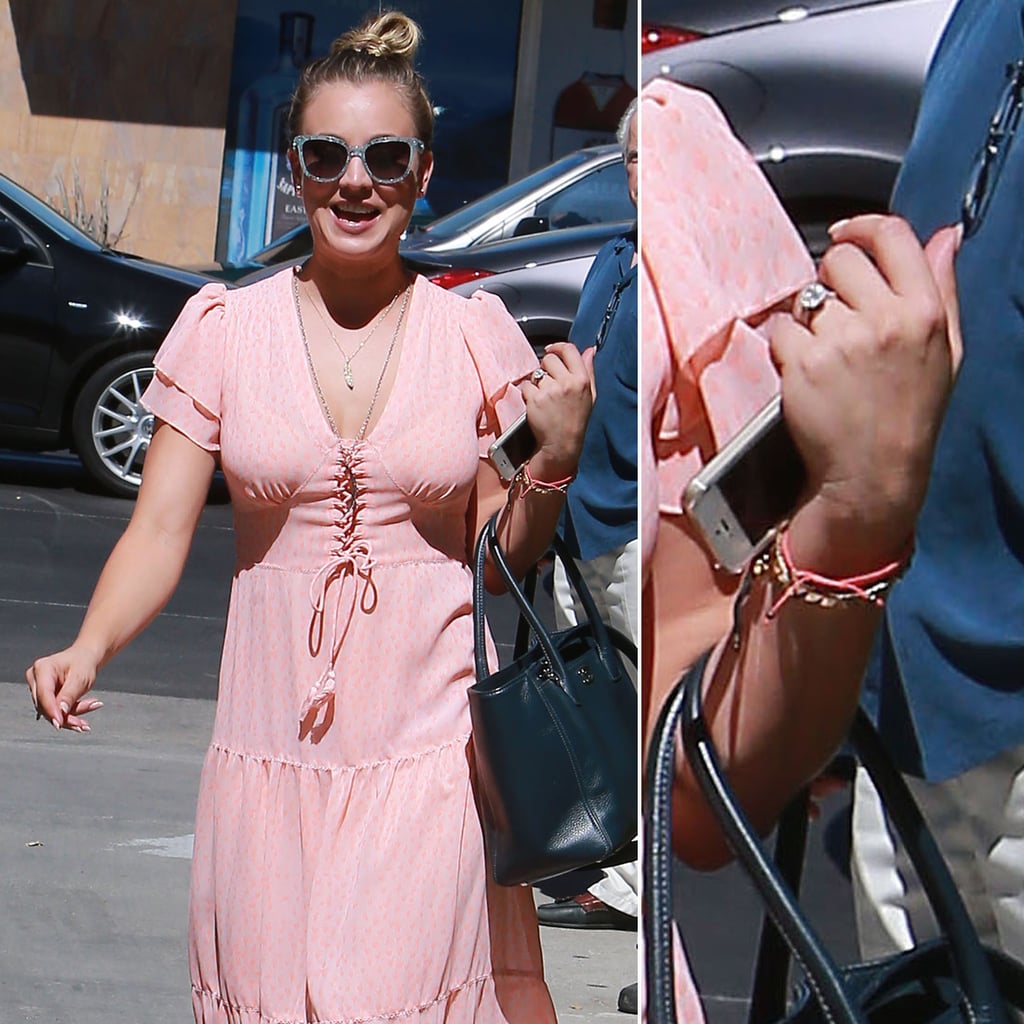 Kaley Cuoco got a big sparkler when she got engaged to Ryan Sweeting in September 2013.
Reese Witherspoon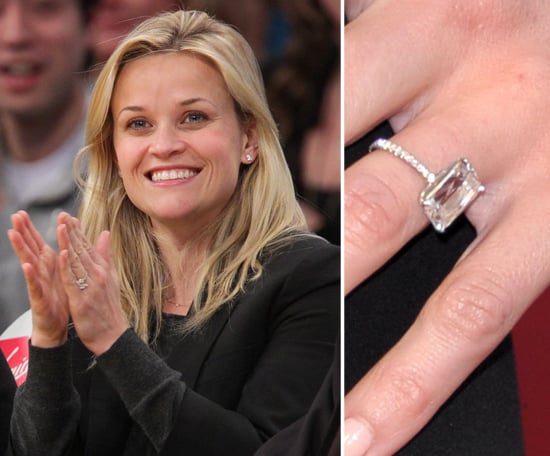 Reese Witherspoon [53] announced her engagement to Jim Toth in December 2010. He gave her a gorgeous, four-carat ring.
Alicia Silverstone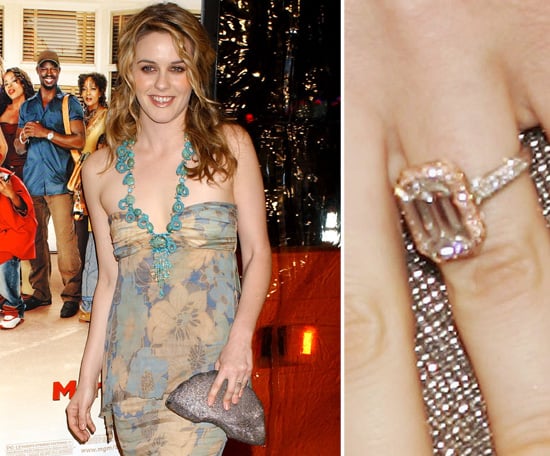 Alicia Silverstone's ring from Christopher Jarecki formerly belonged to his grandmother. They became engaged in 2004 after eight years of dating.
Michael Turchin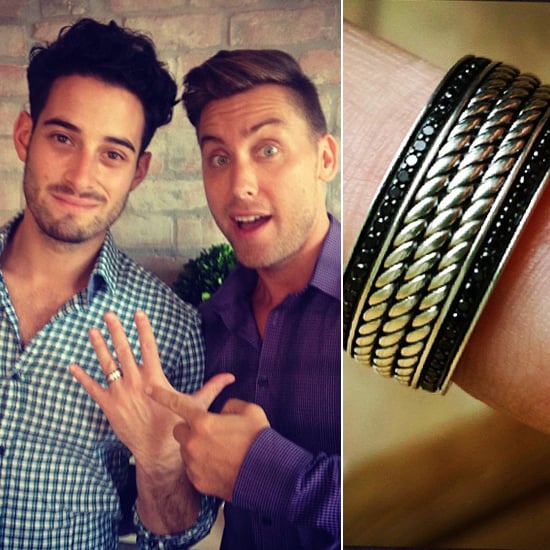 Lance Bass proposed to his boyfriend, Michael Turchin, during a New Orleans trip in September 2013. Lance commented that he went everywhere to find the perfect ring and finally found it at Saks Fifth Avenue. After Michael accepted the proposal, Lance posted a sweet picture with the caption, "He said YES!! Love this man," on his Instagram account.
Source: Instagram user lancebass [54]
Paris Hilton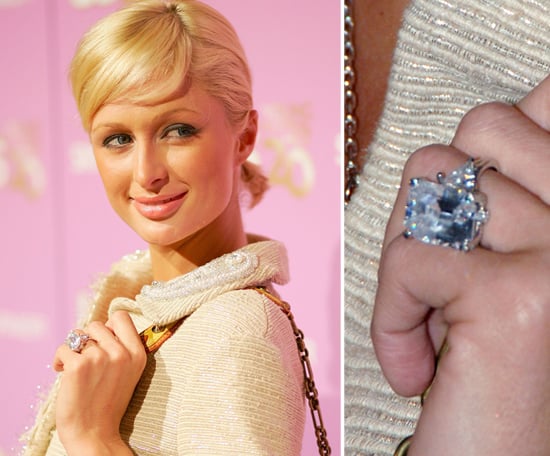 Paris Hilton [55] stepped out with a 24-carat diamond in May 2005 after Paris Latsis proposed with the ring, worth a reported $4.7 million.
Jennifer Garner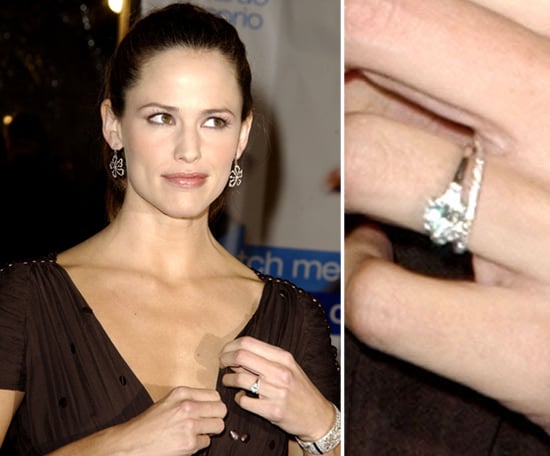 Jennifer Garner [56] met Scott Foley in 1998 on the set of Felicity, and by October 2000 the pair were wed.
Teresa Palmer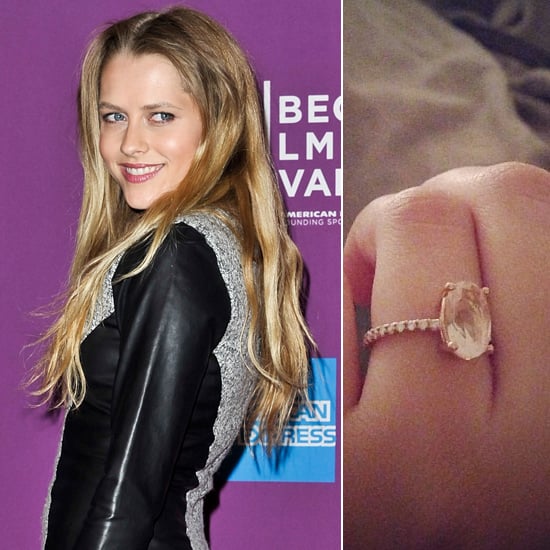 Teresa Palmer got engaged to actor Mark Webber in early August 2013, and the couple is also expecting a baby! Teresa debuted her gorgeous engagement ring on Instagram, saying, "Just got my beautiful ring. Ethical diamonds in rose gold band, with a rose quartz crystal. Stone of the heart. Exactly me."
Source: Instagram user tez_palmer [57]
Jennifer Aniston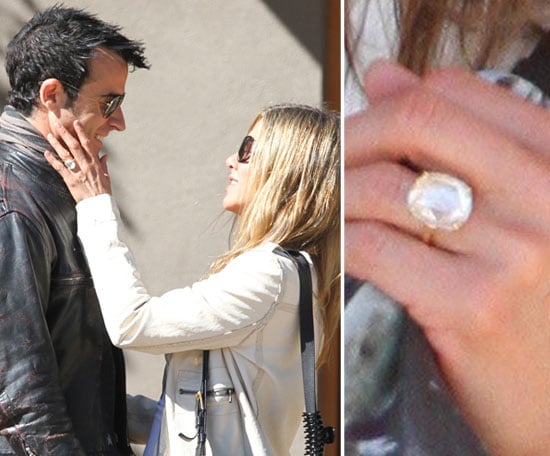 Jennifer Aniston debuted her engagement ring [58] from Justin Theroux during an October weekend in Santa Fe, after the couple confirmed their engagement in August.
Kristin Cavallari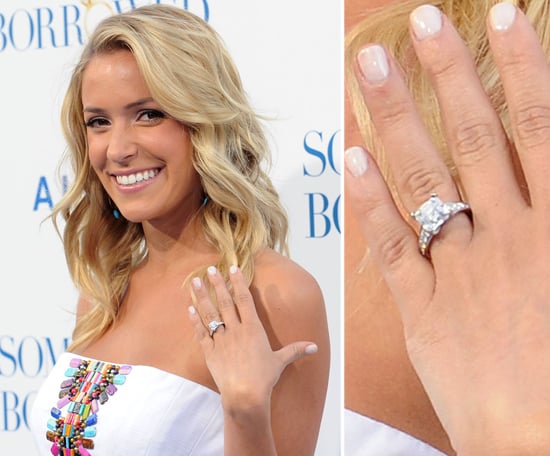 Kristin Cavallari [59] and Jay Cutler got engaged for the first time in April 2011. He proposed with a 5.2-carat diamond during a romantic Cabo getaway. Jay and Kristin later called off the nuptials, but got reengaged and are happily married with three children [60].
Eva Longoria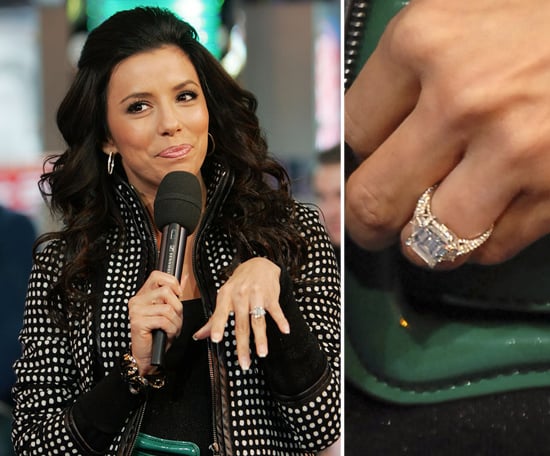 NBA star Tony Parker proposed to Eva Longoria [61] in December 2006 with a $150,000 four-carat emerald-cut ring with emerald side stones designed by Jean Dousset. Their marriage might have ended, but now Eva is happily married [62] to her longtime love, José Antonio Bastón.
Emily Blunt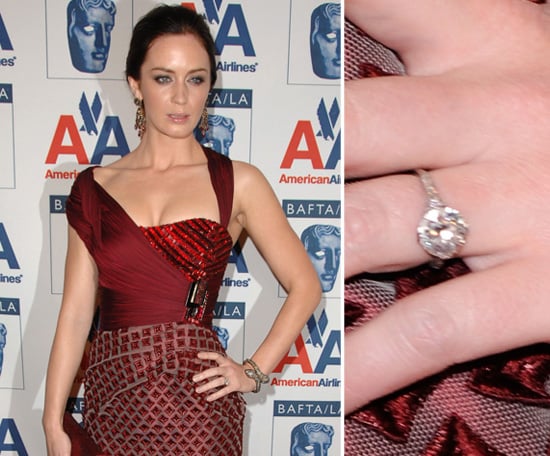 John Krasinski [63] picked out a three-carat Edwardian diamond from Neil Lane, set in platinum, when he proposed to Emily in August 2009.
Troian Bellisario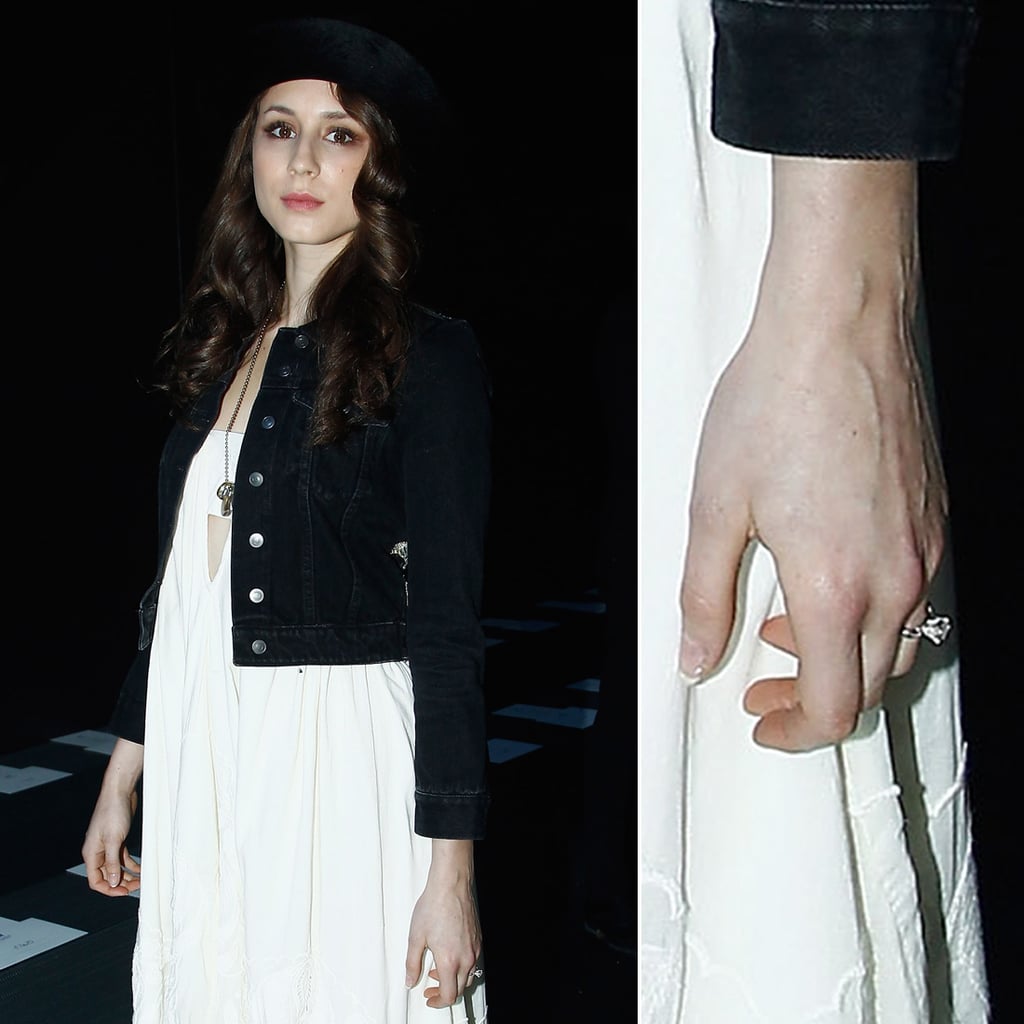 Troian Bellisario from Pretty Little Liars got engaged to her boyfriend of three years [64], Suits star Patrick J. Adams, in February 2014. She showed off her ring [65] for the first time at Paris Fashion Week, sitting front row at H&M.
Fergie
After three years of dating, Josh Duhamel [66] proposed to girlfriend Fergie [67] in December 2007 with a classic round-brilliant cut diamond in a four-prong setting.
Britney Spears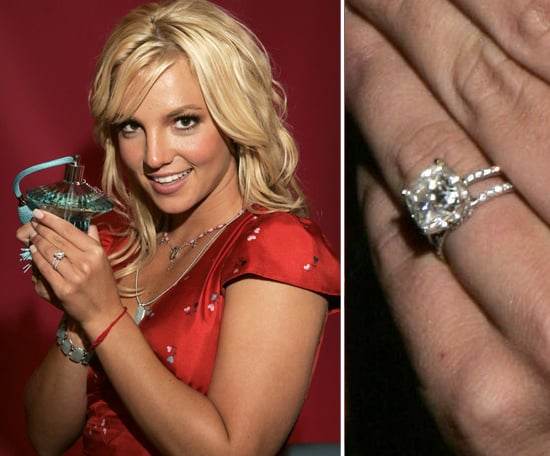 Britney Spears [68]'s first engagement ring came from Kevin Federline [69] in 2004. It was a five-carat ring with a doubled band.
Carmen Electra
Most brides choose a classic diamond, but Carmen Electra [70] was beyond thrilled when boyfriend Rob Patterson proposed with a black diamond in April 2008.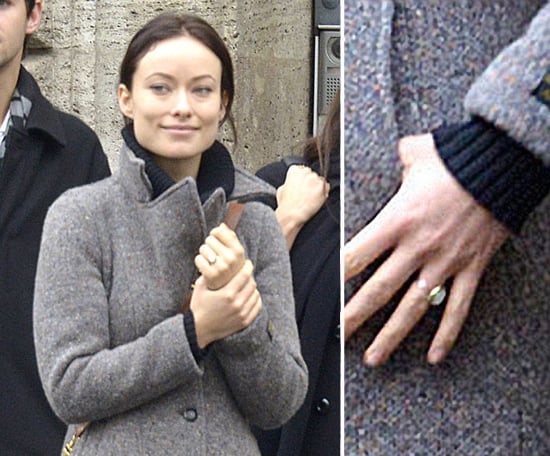 Olivia Wilde and Jason Sudeikis got engaged [71] over the holidays in late 2012. Olivia showed off her antique ring while filming in Rome in January.
Blake Lively
Blake Lively [72] showed off her oval diamond and matching rose gold wedding [73] band the day after her surprise wedding to Ryan Reynolds [74] in South Carolina on Sept. 9, 2012.
Source: Alex Gutierrez
Demi Moore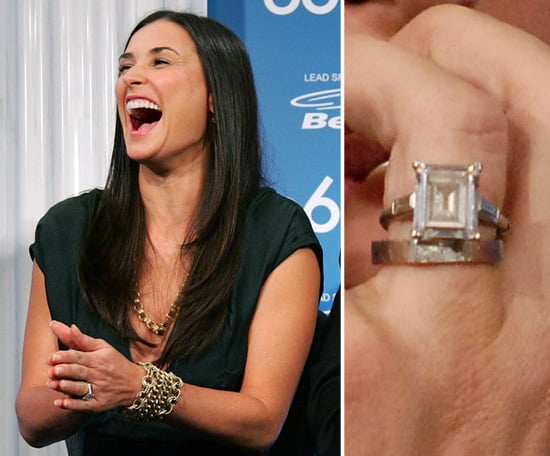 Former couple Demi Moore [75] and Ashton Kutcher [76] continually denied engagement rumors until they surprised friends and family with a secret wedding [77] ceremony in September 2005. The five-carat emerald-cut diamond is rumored to be worth an estimated $250,000.
Molly Sims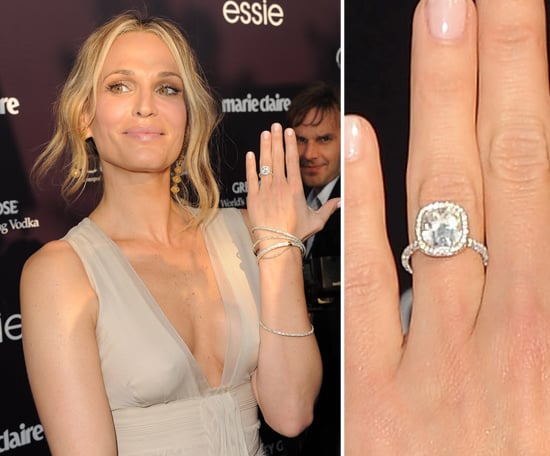 Molly Sims accepted a custom-designed Lorraine Schwartz cushion-cut diamond from Scott Stuber in May 2011.
Keira Knightley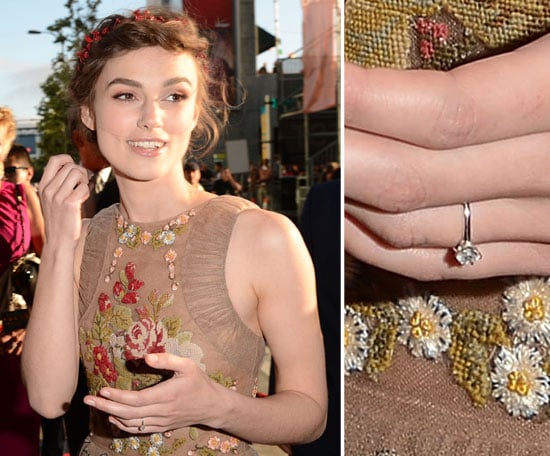 Keira Knightley [78] got a brilliant-cut solitaire on a platinum band from her boyfriend of one year, James Righton, when he popped the question in May 2012 [79].
Jamie Chung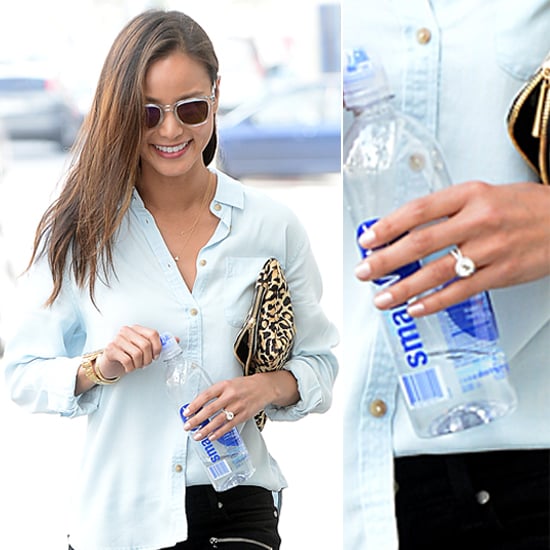 Jamie Chung got engaged to her boyfriend, Bryan Greenberg [80], over the holidays in 2014. He popped the question in her hometown of San Francisco, and she debuted the ring [81] in LA.
Jenny McCarthy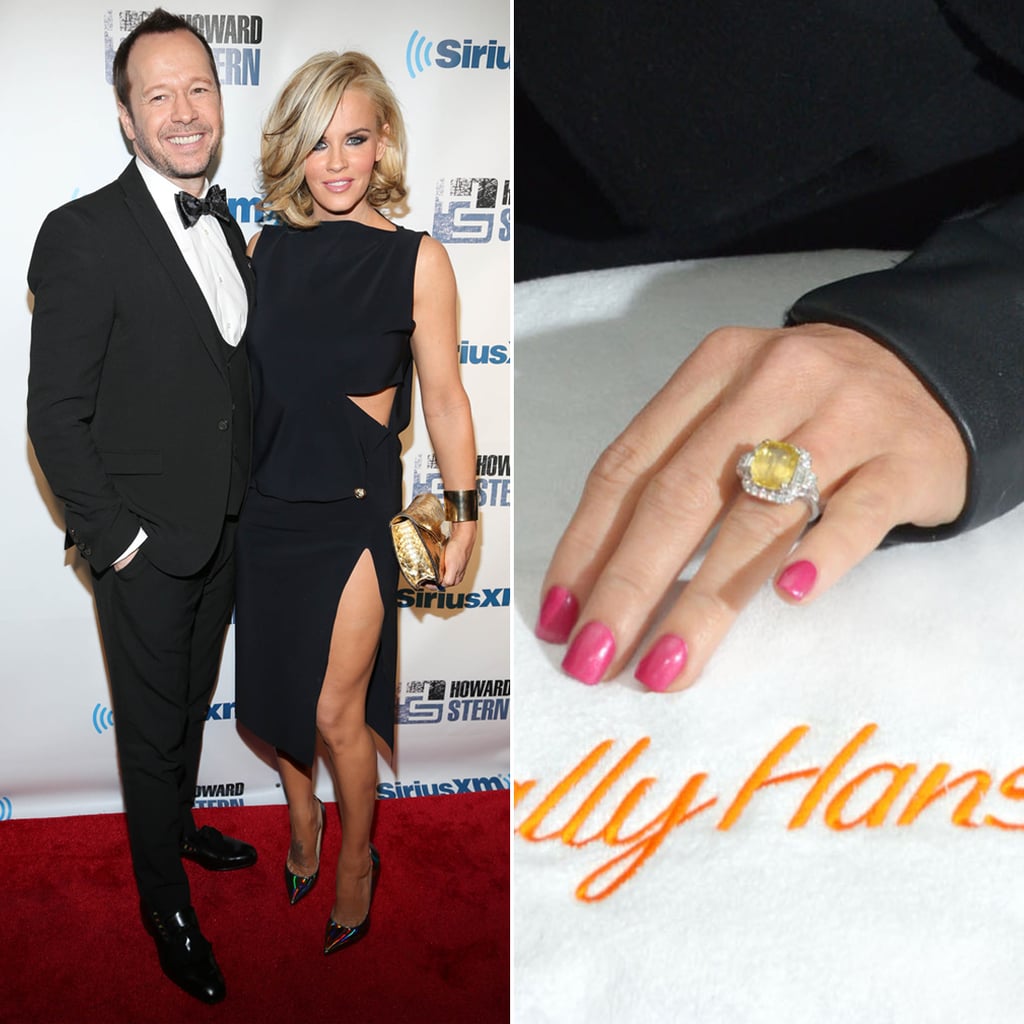 Jenny McCarthy [82] got engaged to Donnie Wahlberg in 2014, showing off her stunning engagement ring on The View.
Source: [83]Getty / Rob Kim; Michael Simon [84]
LeAnn Rimes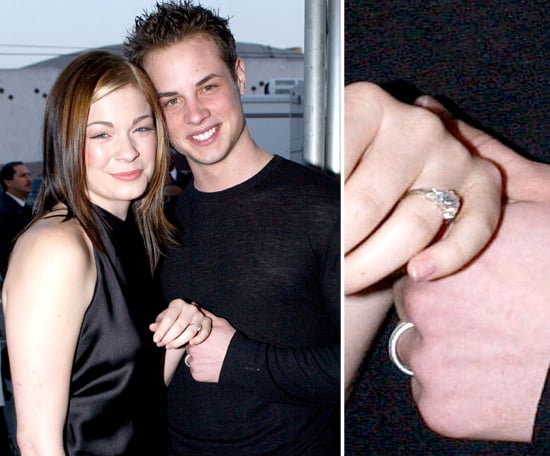 LeAnn Rimes flashed her ring at LA's American Music Awards in January 2002 with her then-fiancé, Dean Sheremet.
Zoe Saldana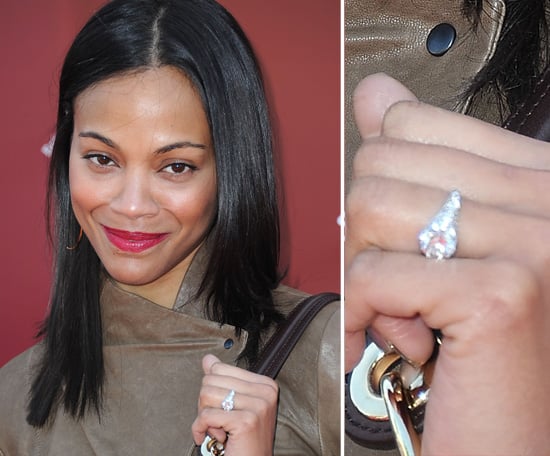 Zoe Saldana [85] accepted a 1.5-carat ring from then-boyfriend Keith Britton in June 2010. The couple never made it down the aisle and split up in 2011.
Katherine Heigl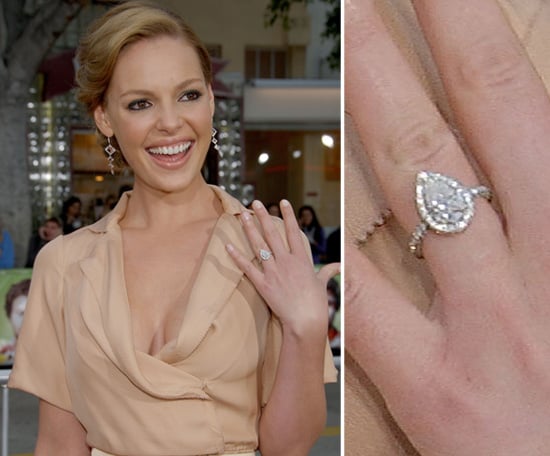 Katherine Heigl [86] wears a three-carat pear-shaped diamond that was designed by Ryan Ryan and given to her by Josh Kelley in June 2006. It incorporates a stone from her mother's engagement ring.
Elle Macpherson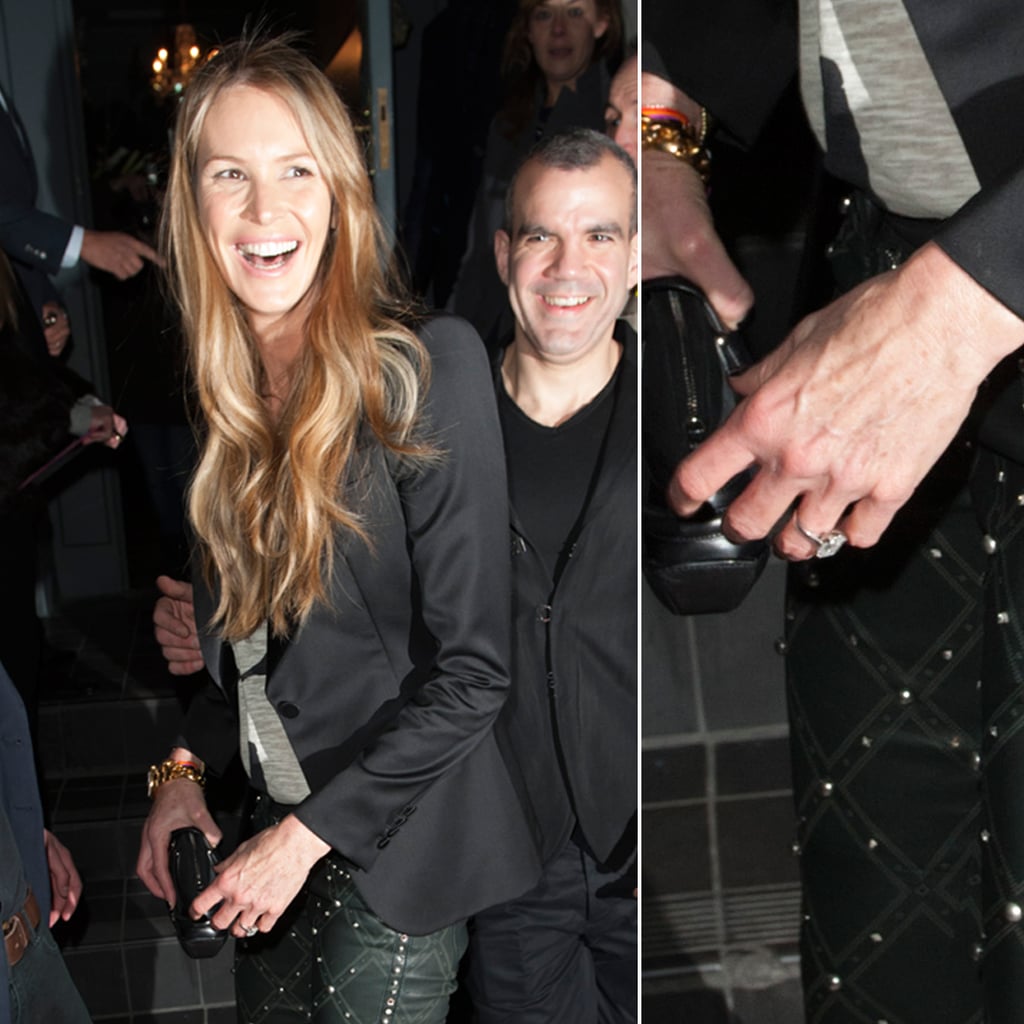 Elle Macpherson debuted an emerald-cut engagement ring from her boyfriend, Miami-based real estate developer Jeffrey Soffer, at a charity event in London just weeks after news of their engagement came out in March 2013.
Joanna Newsom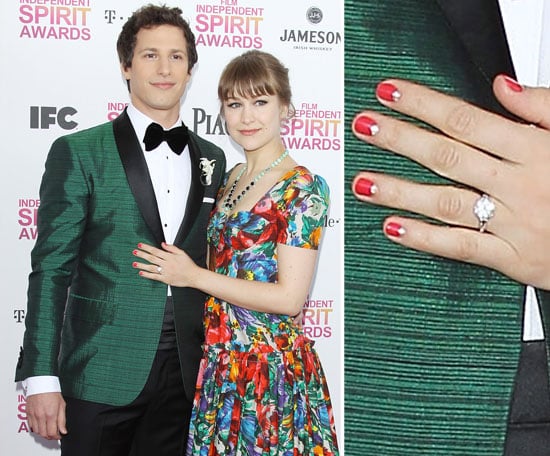 Joanna Newsom and Andy Samberg [87] confirmed their plans to wed in February 2013, and had tied the knot [88] by that September.
Kate Middleton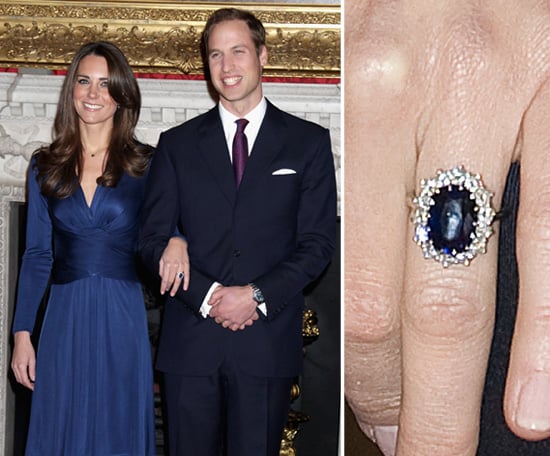 Prince William presented Kate Middleton with the same ring worn by his mother, Princess Diana. Kate Middleton wore the 18-carat blue sapphire set in white gold when the pair announced the news of their engagement in November 2010.
Elisha Cuthbert
Eisha Cuthbert and hockey player Dion Phaneuf announced their engagement in September 2012. The couple started dating in 2008.
Natalie Portman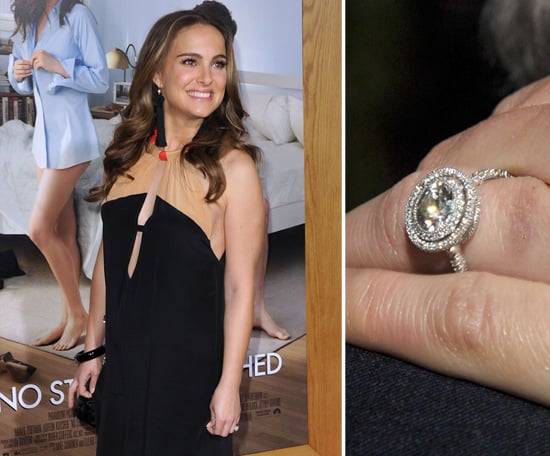 Natalie Portman [89] got engaged to her Black Swan costar Benjamin Millepied in December 2010 when he proposed with a round diamond solitaire surrounded by a circle of pavé diamonds.
Katy Perry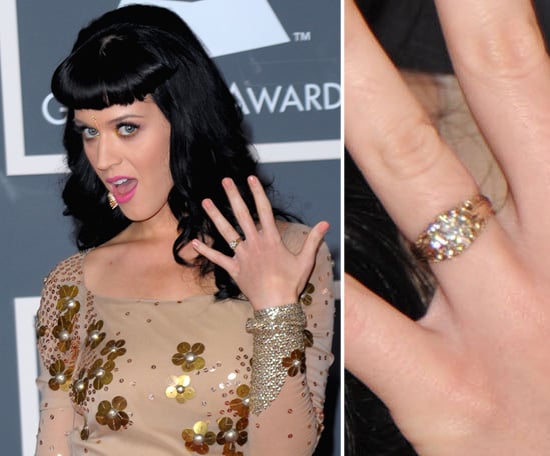 It's reported Russell Brand [90] initially proposed to Katy Perry [91] with a five-carat pink diamond ring by Cartier, but she swapped it out for another Cartier bauble. Katy chose a rare three-carat Golconda diamond from India before they got divorced in 2011 [92].
Faith Hill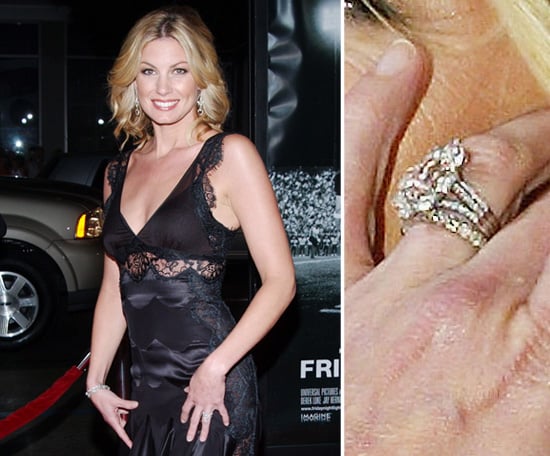 Faith Hill [93]'s husband, Tim McGraw [94], presented her with a gorgeous ring when he proposed in 1996, while they were touring together.
Gwyneth Paltrow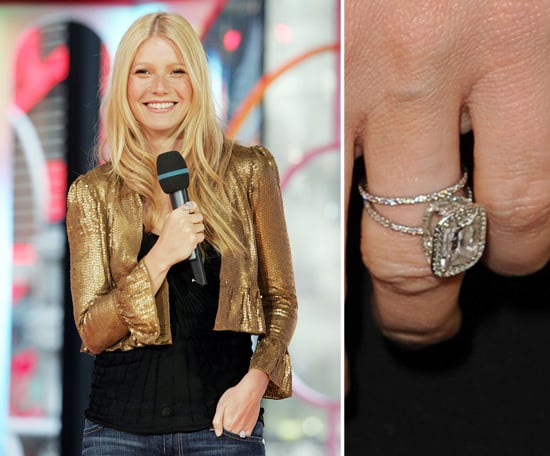 Chris Martin [95] proposed to Gwyneth Paltrow [96] in early 2003 with an Asscher-cut diamond with a double band. The pair later walked down the aisle on Dec. 5, 2003, but divorced in March 2014 [97].
Mena Suvari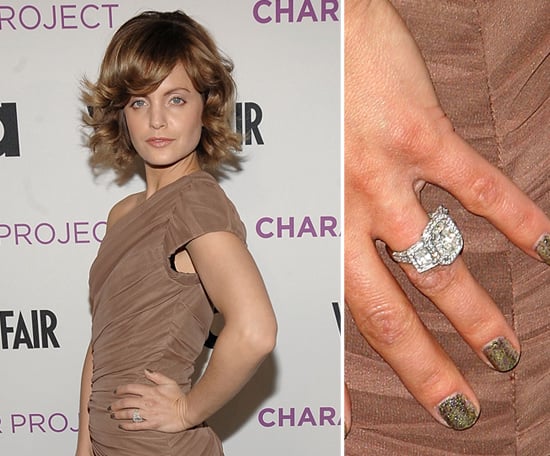 Mena Suvari received a major engagement ring from now-ex-husband Simone Sestito that reportedly weighed in at 8.6 carats.
Perrie Edwards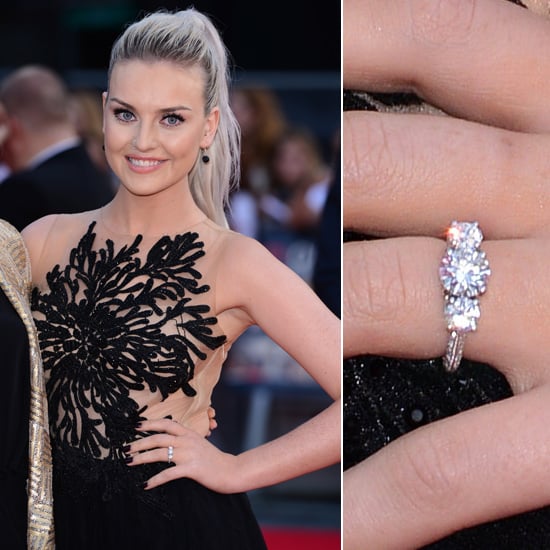 Perrie Edwards flashed her engagement ring from her then-boyfriend, One Direction's Zayn Malik, at the world premiere of One Direction: This Is Us in August 2013.
Catherine Zeta-Jones
Catherine Zeta-Jones [98] and Michael Douglas became engaged in December 1999.
Christina Aguilera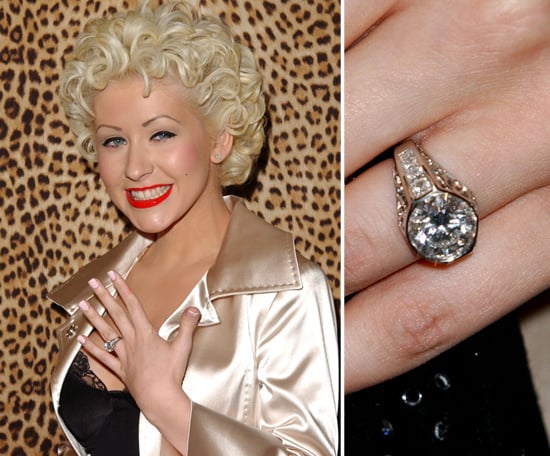 It was nothing but the best for Christina Aguilera [99], who accepted a Stephen Webster-designed five-carat diamond and platinum ring in February 2005 from her former husband, Jordan Bratman.
Janet Jackson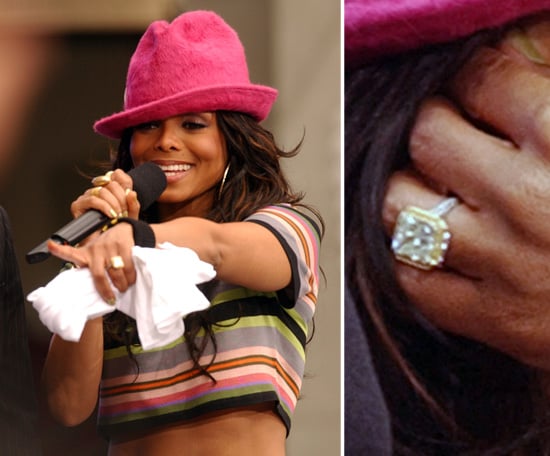 Janet Jackson [100] and Jermaine Dupri never officially confirmed their engagement news, but she was spotted wearing a 20-carat diamond on her left hand in the Spring of 2004. They later broke up, but she is now happily married and expecting her first child with Wissam Al Mana [101].
America Ferrera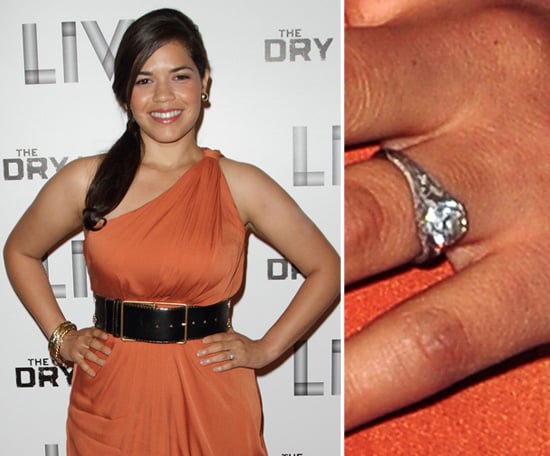 America Ferrera [102] accepted a four-carat round-cut diamond in a platinum setting worth an estimated $70,000 from Ryan Piers Williams in June 2010.
Britney Spears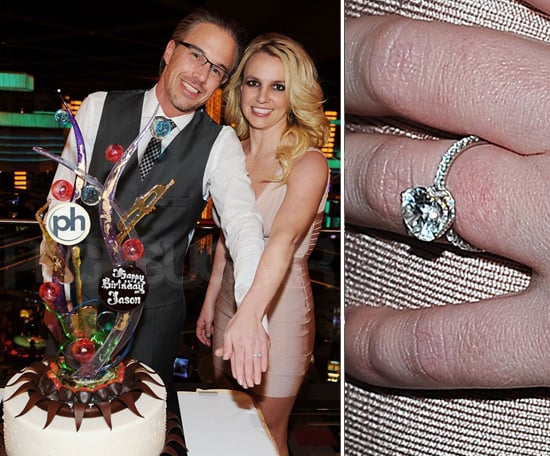 Britney Spears [103] got engaged to Jason Trawick shortly after her 30th birthday in December 2011. He gave her a round diamond in a platinum setting from Neil Lane. They split in January 2013 [104].
Alyson Hannigan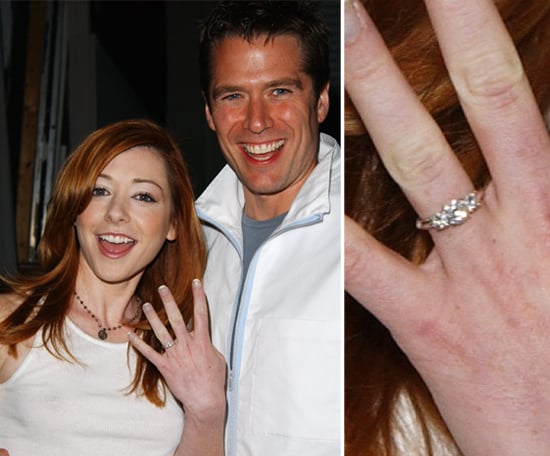 Buffy the Vampire Slayer costars Alyson Hannigan and Alexis Denisof met on set in 1999, and it wasn't long before they got engaged in December 2002.
Tori Spelling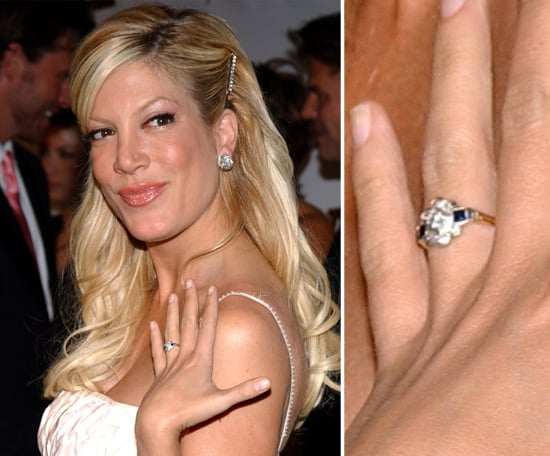 Dean McDermott gave Tori Spelling [105] a diamond and sapphire engagement ring following a proposal on Christmas Eve of 2005.
Jessica Biel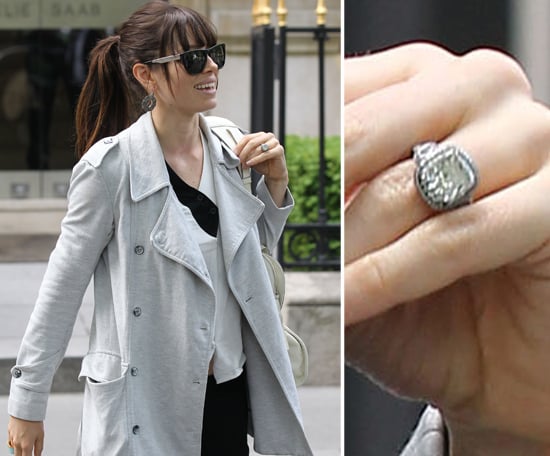 Jessica Biel [106] accepted Justin Timberlake [107]'s marriage proposal over the holidays in 2011. She also accepted a large, square-cut diamond reportedly worth $130,000.
Minnie Driver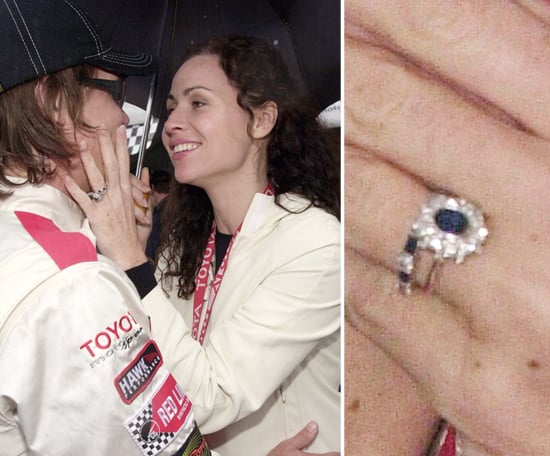 Minnie Driver [108] flashed a sapphire and diamond engagement ring when congratulating former fiancé Josh Brolin [109] at the Long Beach Toyota Pro/Celebrity Race in April 2001.
Alexis Bledel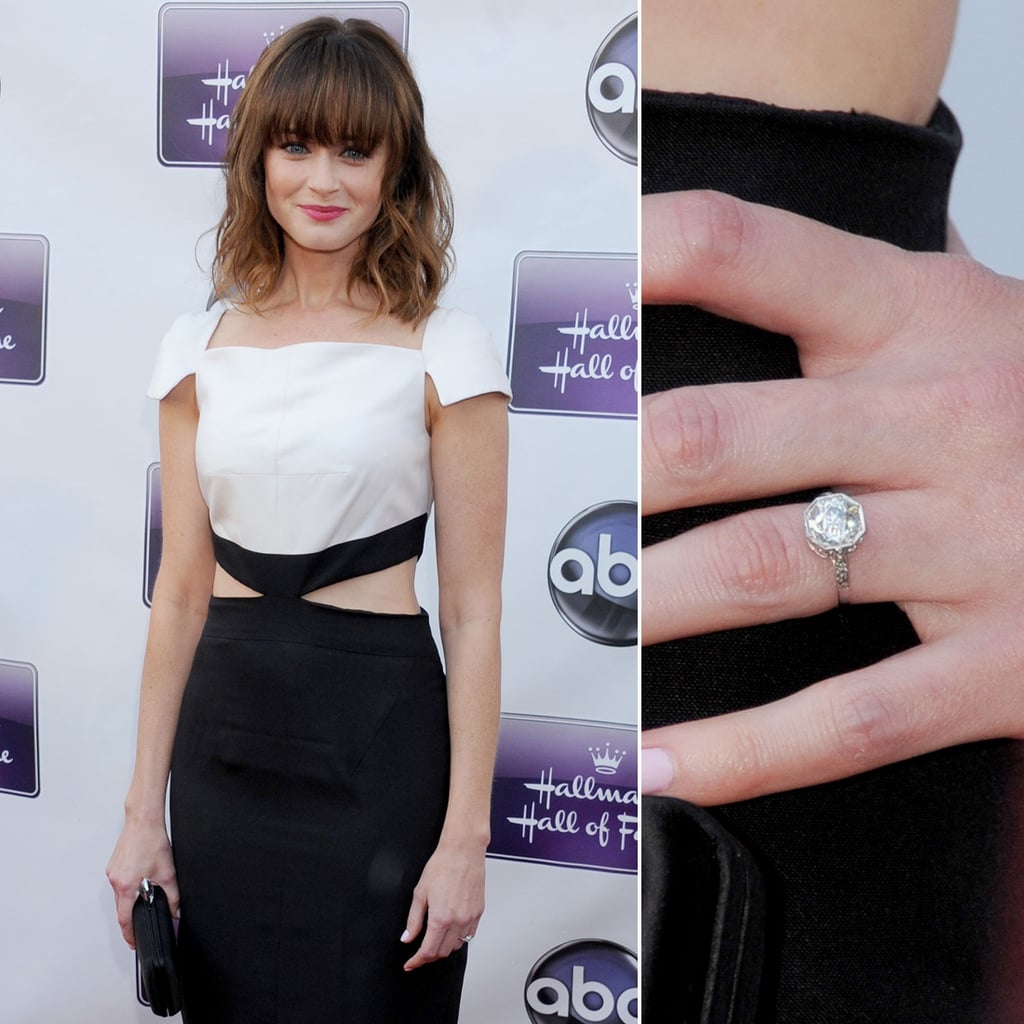 Mad Men's Vincent Kartheiser gave Alexis Bledel a round-cut diamond bauble when he proposed [110] in March 2013.
Elizabeth Hurley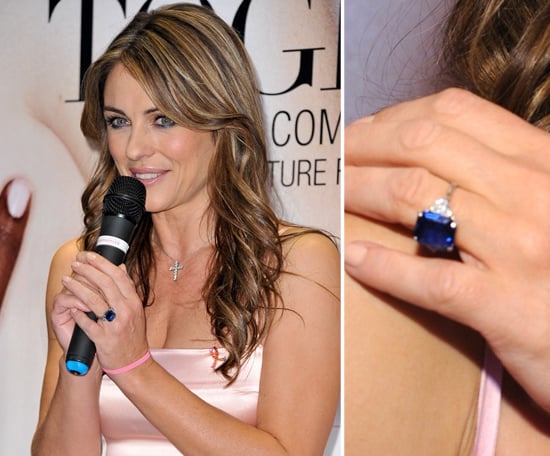 Elizabeth Hurley [111] said yes to Shane Warne's October 2011 proposal and the sapphire and diamond ring he gave her, worth an estimated $100,000.
Jennifer Love Hewitt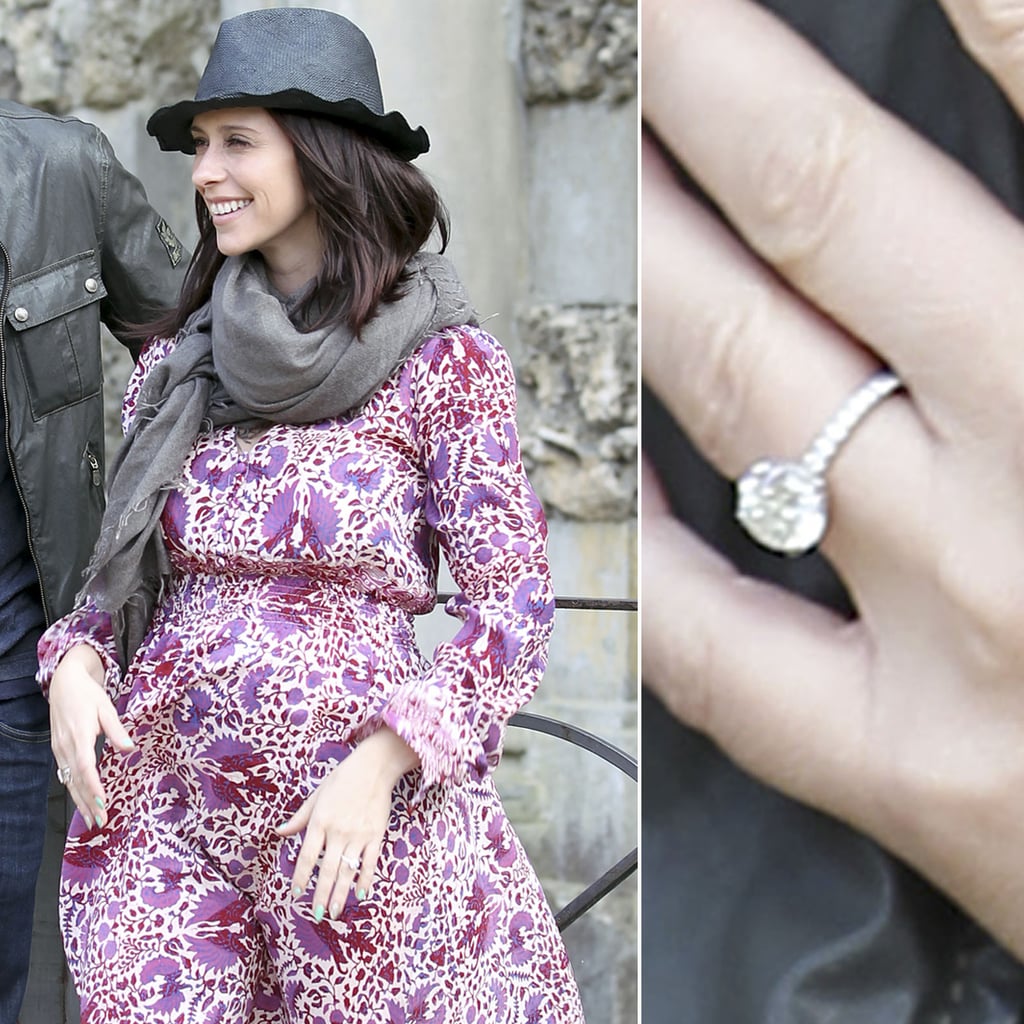 Jennifer Love Hewitt [112] revealed she was pregnant with her first child and then a day later announced she was engaged to her The Client List costar Brian Hallisay in June.
Angie Harmon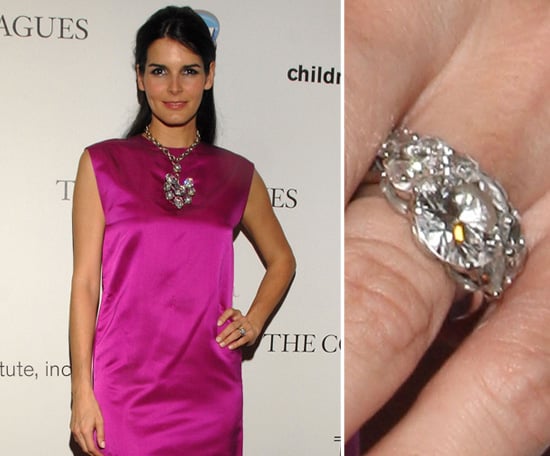 Football star Jason Sehorn surprised Angie Harmon by proposing during her interview with Jay Leno [113] on The Tonight Show in 1998, and the added shock came from the gorgeous round stone on her band. They split after 13 years of marriage [114] in 2014.
Ashley Tisdale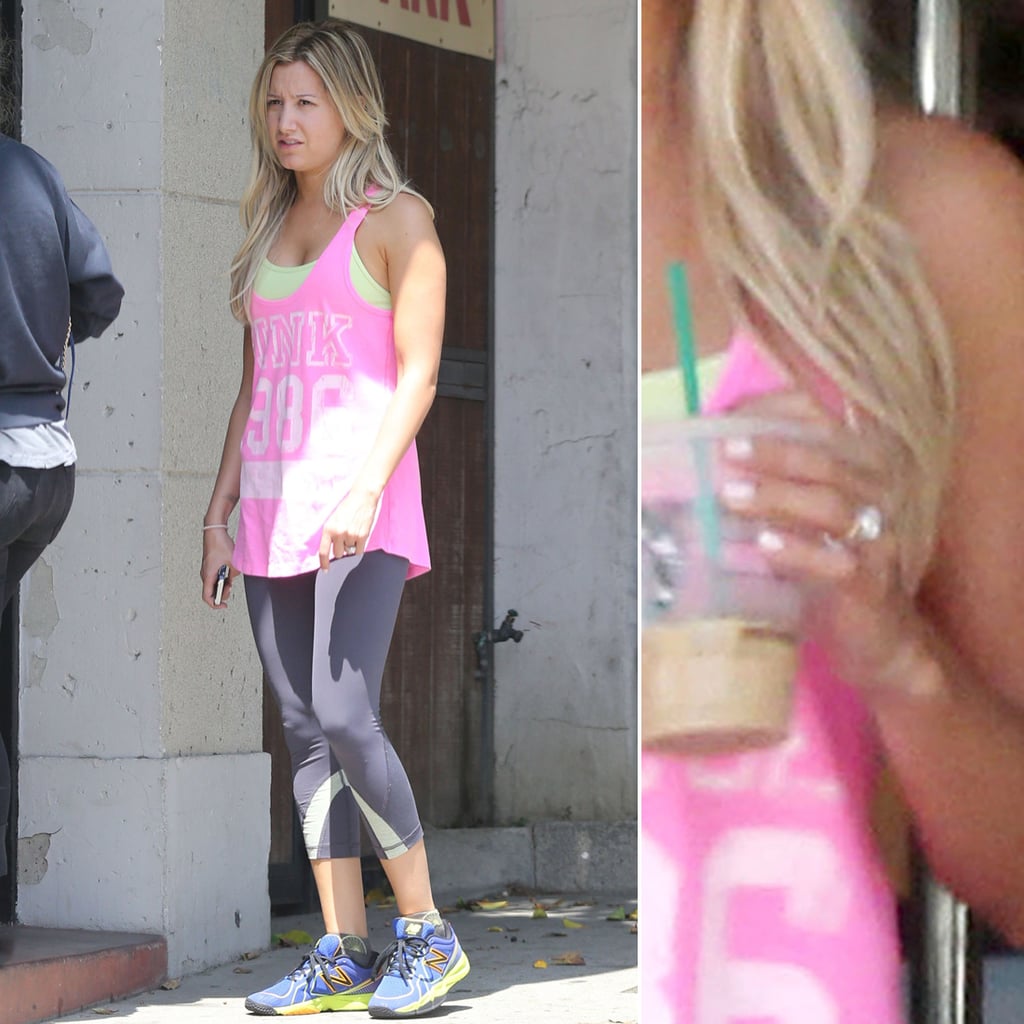 Ashley Tisdale [115] put her engagement ring on display when she grabbed lunch with Christopher French in West Hollywood.
Kellie Pickler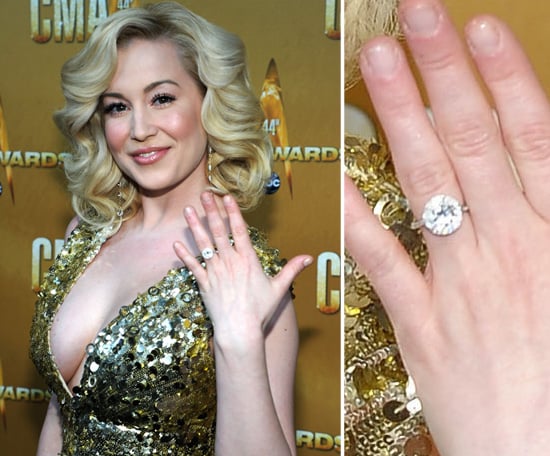 Singer Kellie Pickler hit the red carpet at the Country Music Awards in November 2010 with a sparkly new accessory. Songwriter Kyle Jacobs proposed to her during a romantic stroll on the beach and presented her with a massive solitaire.
Jessica Alba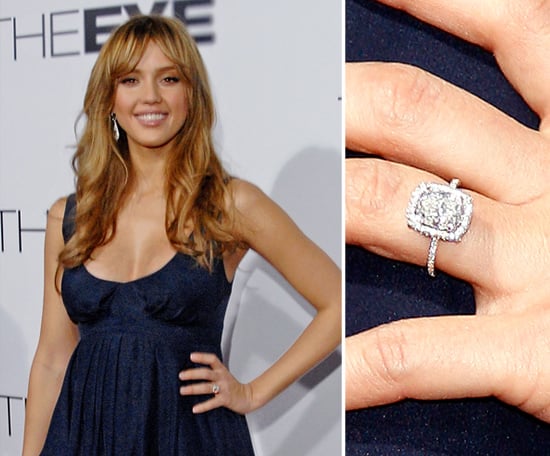 Cash Warren got down on bended knee in late 2007 and asked for Jessica Alba [116]'s hand with an Asscher-cut diamond.
Heidi Klum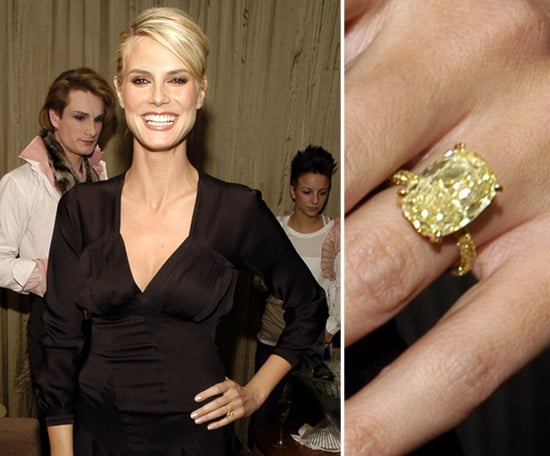 Though their marriage didn't last, Seal proposed to Heidi Klum [117] with an 8.5-carat diamond in December 2004 on a glacier in Whistler, BC.
Jennifer Aniston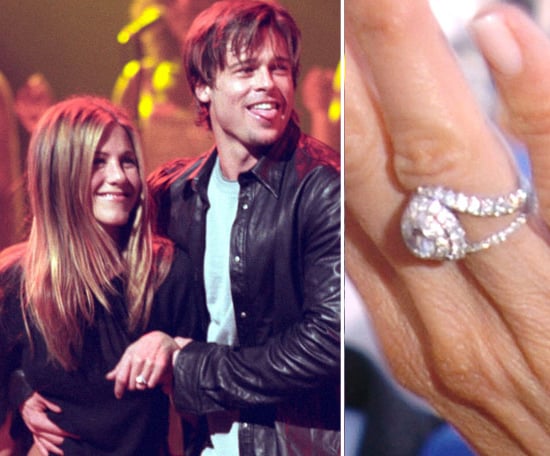 Brad Pitt [118] codesigned the engagement ring he gave Jennifer Aniston [119] in 1999. Brad reportedly shelled out $500,000 for the diamond design that symbolized eternity. Eternity didn't last long, however, given their decision to split in 2005.
Nicolette Sheridan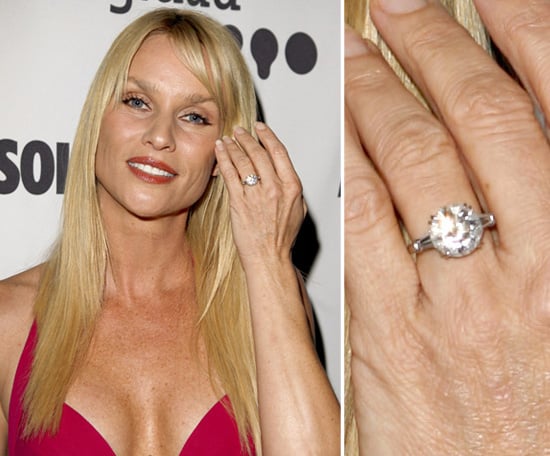 Nicolette Sheridan got a $150K rock from former fiancé Michael Bolton in March 2006.
Jaime King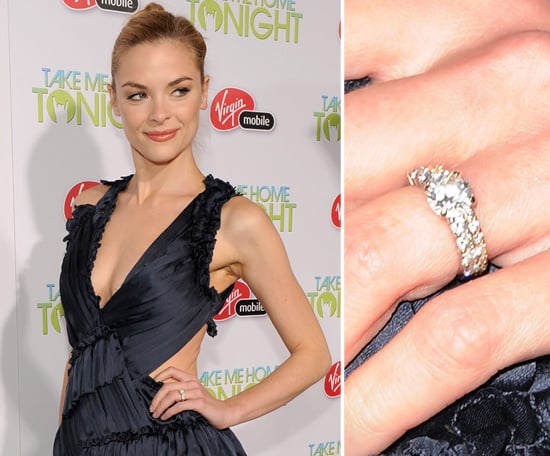 Jaime King accepted a pavé-set solitaire from Kyle Newman in April 2007. The band was created by a jeweler in her native Omaha.
Beth Ostrosky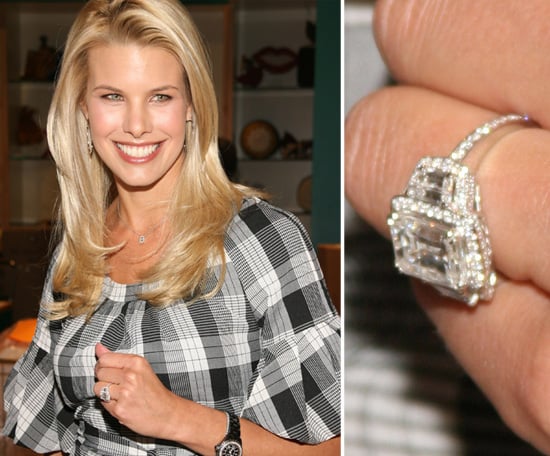 Howard Stern proposed to Beth Ostrosky on Valentine's Day in 2007.
Beyoncé Knowles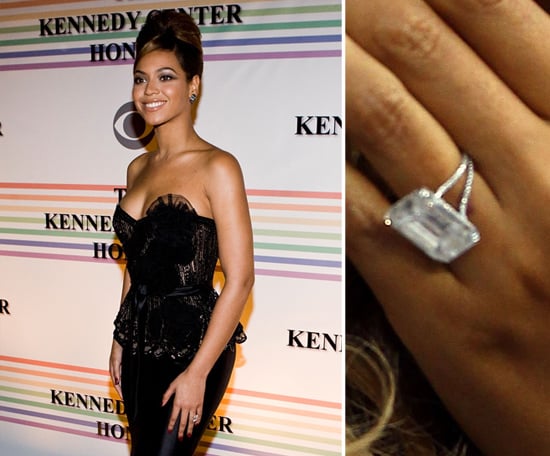 Jay-Z knows how to impress a lady. The rapper presented Beyoncé Knowles [120] with an 18-carat flawless diamond set in platinum and designed by Lorraine Schwartz, reportedly worth $5 million.
Zooey Deschanel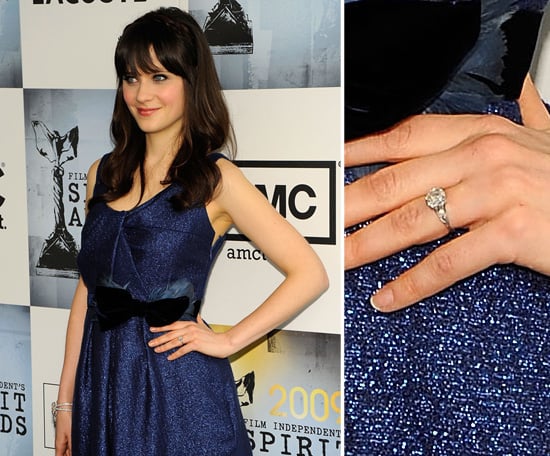 Zooey Deschanel [121] accepted a Neil Lane design from then-boyfriend Death Cab For Cutie frontman Ben Gibbard in December 2008.
Rachel Bilson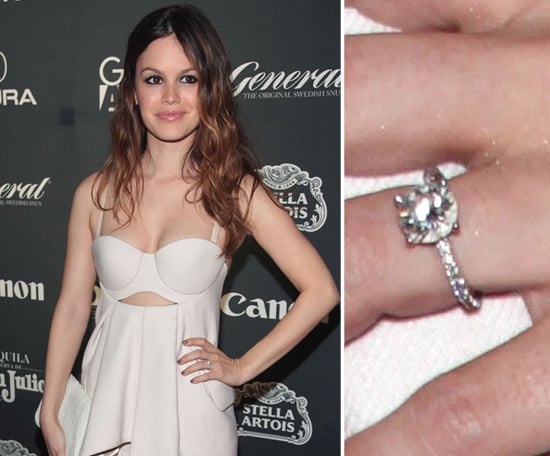 Rachel Bilson [122] and Hayden Christensen [123] quietly got engaged over the 2008 holidays. Hayden proposed with a two-carat solitaire worth an estimated $30,000.
Hilary Duff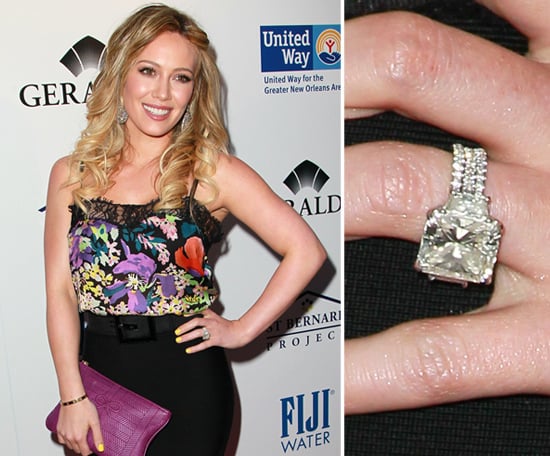 Mike Comrie shocked Hilary Duff [124] with a platinum 14-carat radiant-cut ring while on a Hawaiian vacation in February 2010. Their divorce was finalized [125] in February 2016.
Maria Sharapova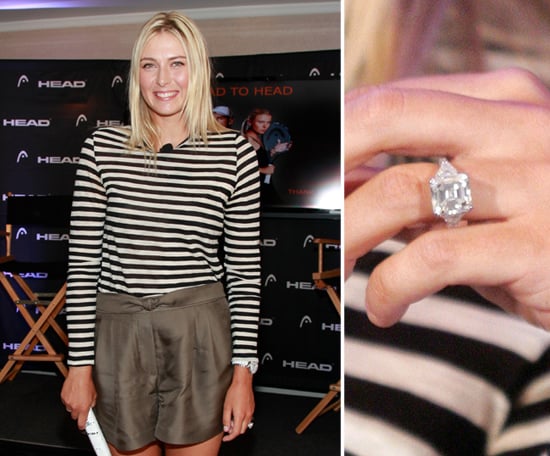 Maria Sharapova found her perfect match in basketball star Sasha Vujacic. He reportedly popped the question in Manhattan Beach, and she accepted his $250,000 token of affection.
Christina Applegate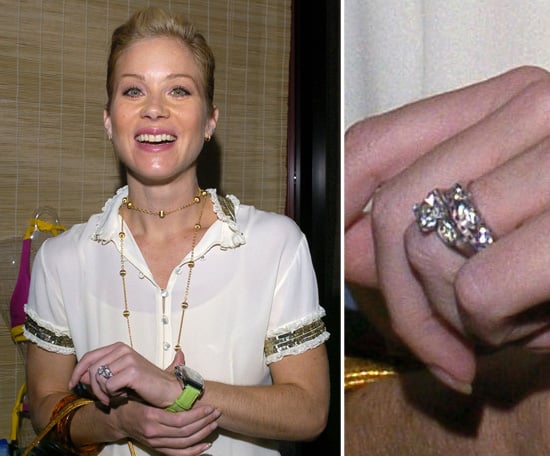 Christina Applegate [126] and her now ex-husband, Jonathan Schaech, became engaged before their October 2001 wedding [127].
Jessica Simpson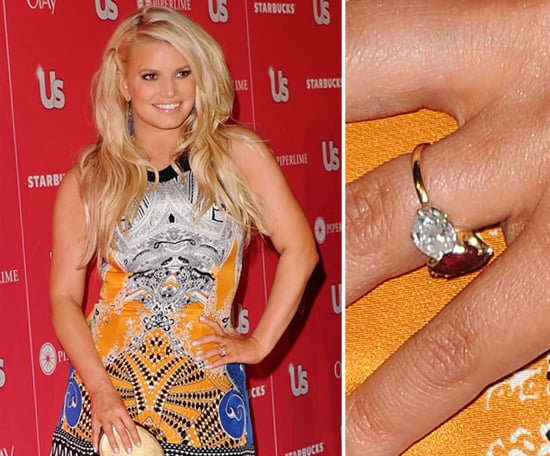 Jessica Simpson [128]'s engagement ring from Eric Johnson is a ruby-and-diamond Neil Lane ring, reportedly worth $100,000. The couple decided to wed in late 2010.
Brooklyn Decker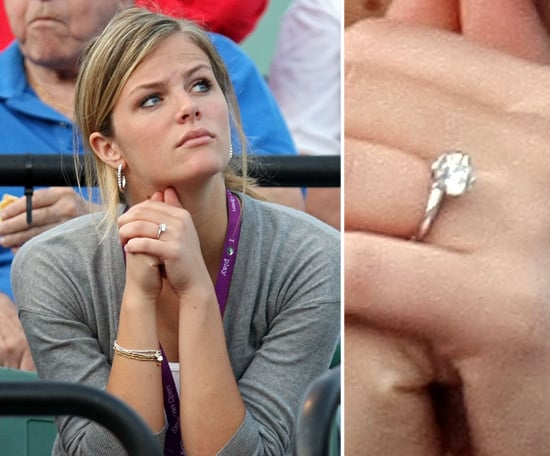 Andy Roddick shopped at Tiffany and Co. before proposing to Brooklyn Decker in March 2008.
Heidi Montag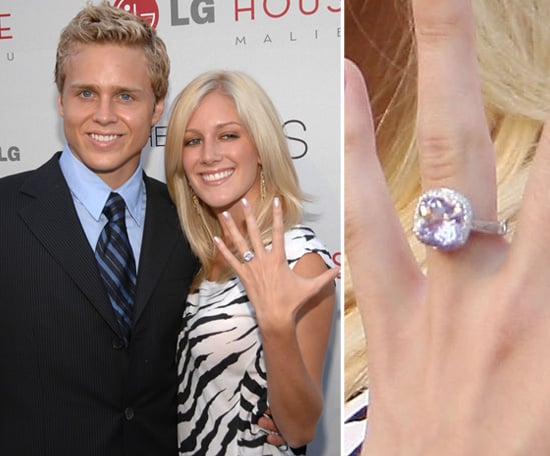 Who could forget the moment Spencer Pratt [129] proposed to Heidi Montag [130] during their televised beach date in 2007? He asked for her hand with a lavender amethyst that he picked out at a mall with the help of Brody Jenner and worth an estimated $3,000.
Shenae Gimes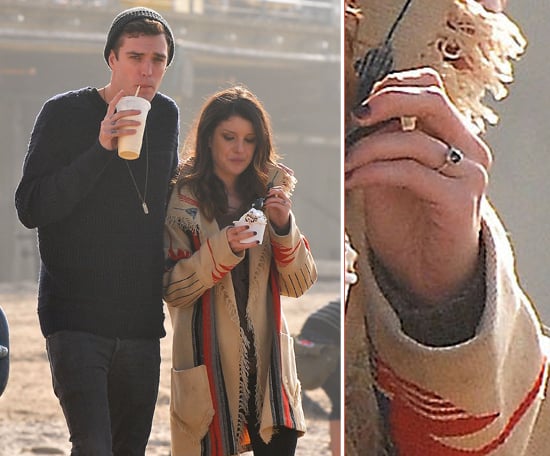 Shenae Grimes debuted her engagement ring from her male model fiancé Josh Beech in December 2012.
Jennifer Lopez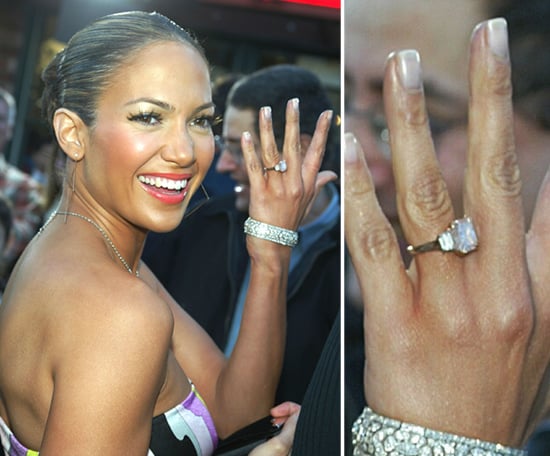 Jennifer Lopez [131] proudly showed off the pink stone given to her by Ben Affleck [132] at the February 2003 LA premiere of his film Daredevil.
Kate Beckinsale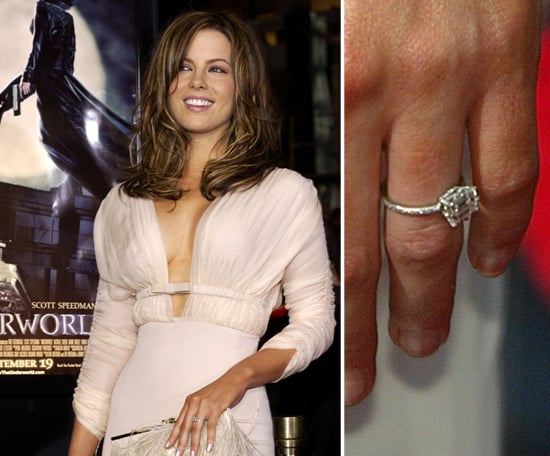 Len Wiseman [133] proposed to Kate Beckinsale [134] in June 2003 with a horizontally set emerald-cut diamond designed by Neil Lane.
Anne Hathaway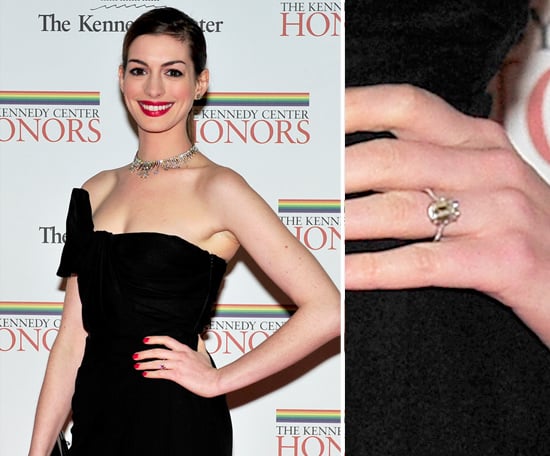 Anne Hathaway [135] stepped out with a beautiful six-carat ring worth an estimated $150,000 following the November 2011 news of her engagement to long-time boyfriend Adam Shulman.
Jenna Dewan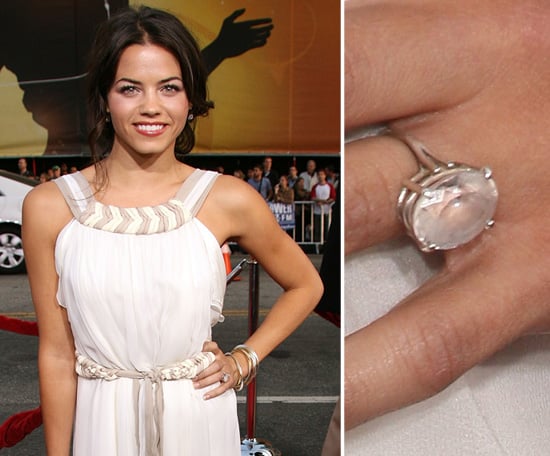 Jenna Dewan and Channing Tatum [136] met while filming Step Up in 2006. The pair had wild chemistry on screen, and in September 2008 he proposed to Jenna with a brilliant-cut Neil Lane design while on vacation in Hawaii with their friends.
Sarah Michelle Gellar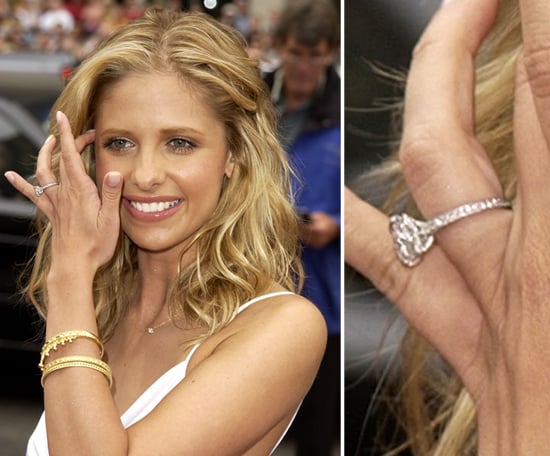 Sarah Michelle Gellar [137] happily displayed her shiny new engagement ring after Freddie Prinze Jr. proposed in April 2001.
Mary J. Blige
Mary J. Blige showed off her ring during a pre-Super Bowl bash in January 2002. Mary married fiancé Kendu Isaacs in December 2003.
Gisele Bundchen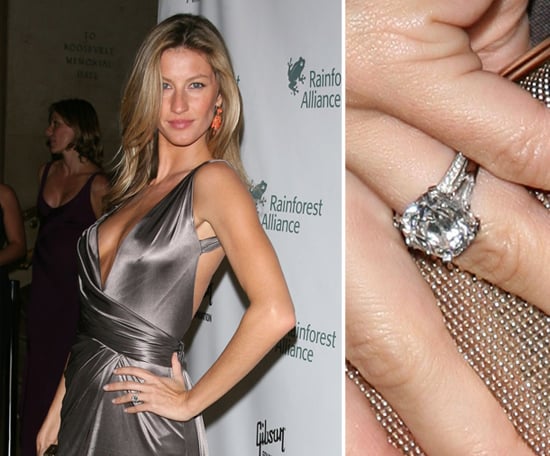 Tom Brady [138] proposed to Gisele Bundchen in January 2009 with a brilliant solitaire four-carat diamond.
Camila Alves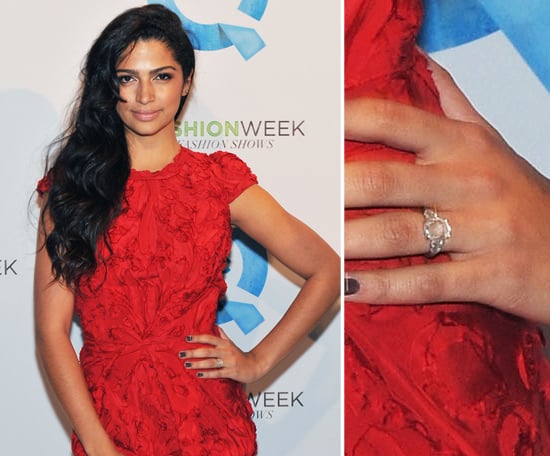 After six years of dating and two children together, Matthew McConaughey [139] finally popped the question to longtime girlfriend Camila Alves in December 2011.
Jamie-Lynn Sigler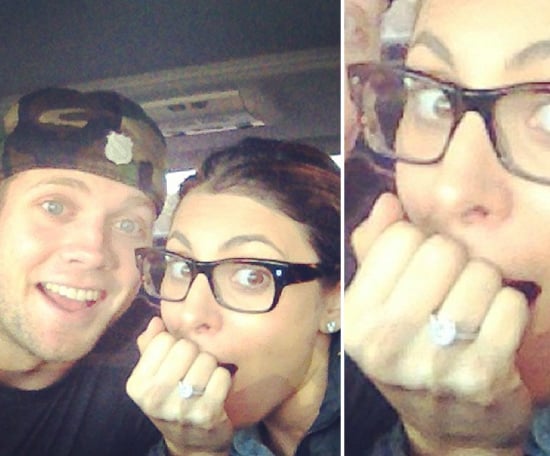 Jamie-Lynn Sigler shared her huge ring when she announced her engagement to Cutter Dykstra over Instagram.
Source: Instagram user jamie_sigs [140]
Jaime Pressly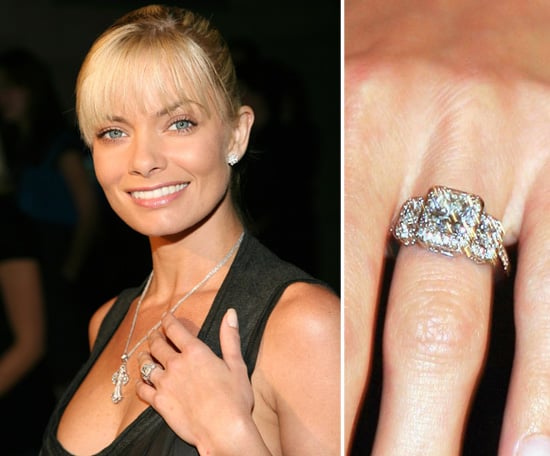 My Name is Earl star Jaime Pressly got engaged to her then-boyfriend, DJ Eric Cubiche, in October 2006.
Toni Braxton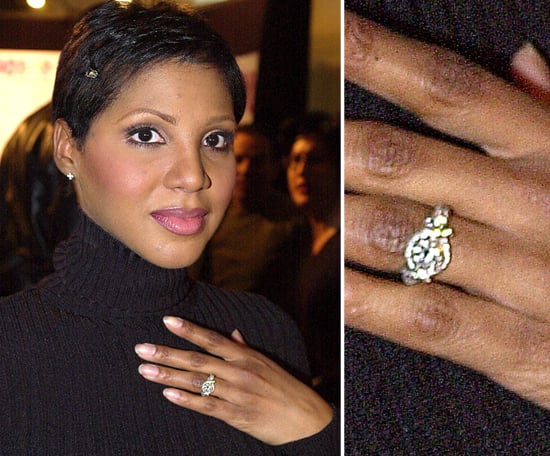 Toni Braxton showed off her engagement ring from fiancé Keri Lewis after being nominated for a Grammy Award in January 2001.
Halle Berry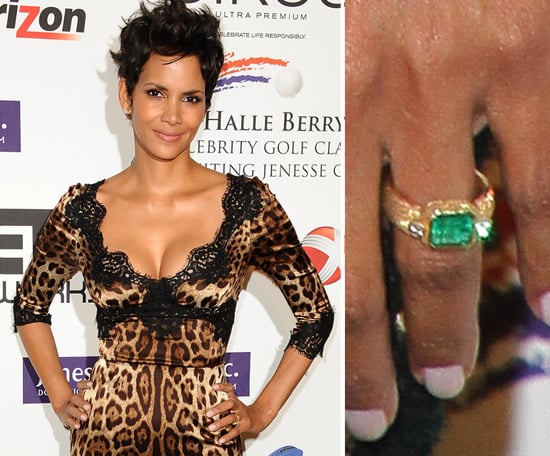 Halle Berry [141] accepted an emerald and gold engagement ring from Olivier Martinez designed in Paris by French designer Robert Mazlo. Their engagement was confirmed in March 2012, but divorce news broke [142] in October 2015.
Nikki Cox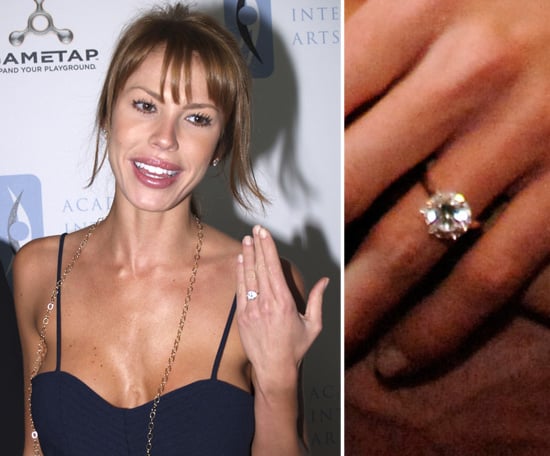 Nikki Cox and Jay Mohr announced their engagement news in February 2006, and she flashed a large solitaire on her left hand later that month.
Kate Winslet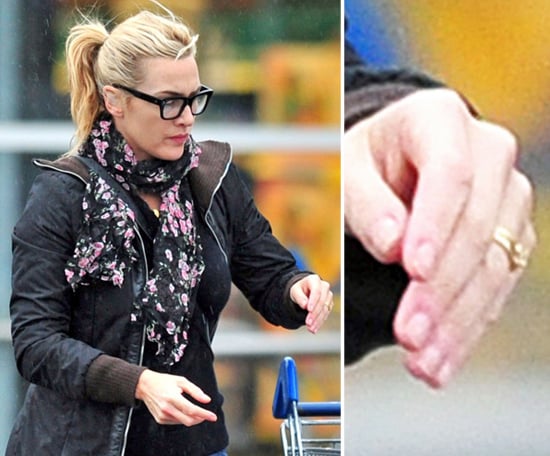 Kate Winslet [143] showed off her gold wedding ring [144] in London after tying the knot to Ned Rocknroll in December 2012.
Katie Holmes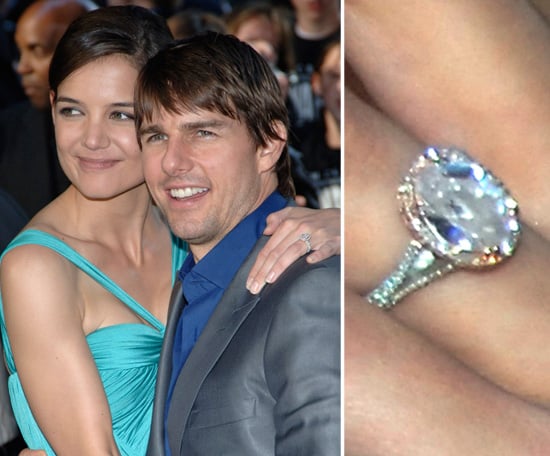 Tom Cruise [145] proposed to Katie Holmes [146] during a visit to Paris's Eiffel Tower in June 2005. He gave Katie a five-carat oval-cut solitaire set in rose gold worth a reported $250,000.
Ashlee Simpson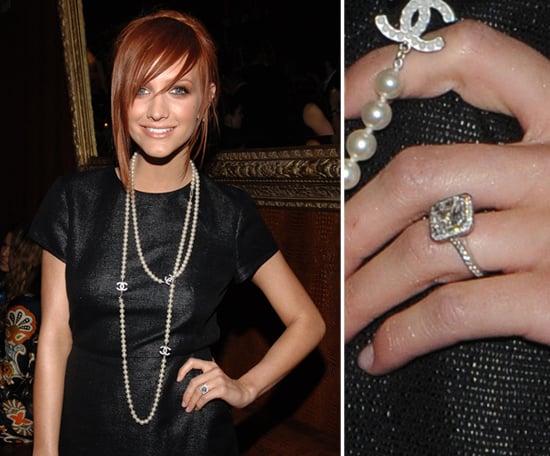 Ashlee Simpson [147] and Pete Wentz [148] announced their engagement via his blog, and a few days later she stepped out wearing a four-carat Asscher cut with pavé setting worth an estimated $100,000.
Kim Kardashian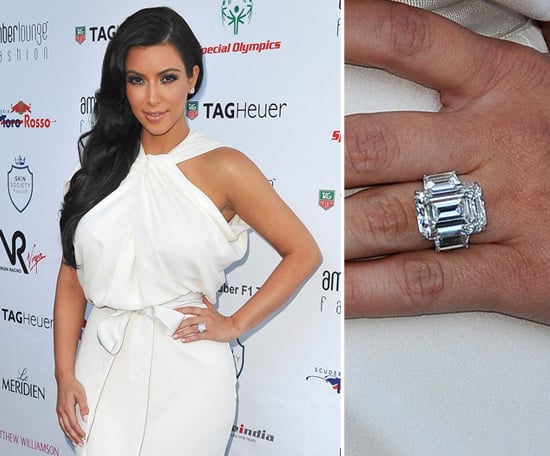 Kris Humphries codesigned the 20.5-carat Lorraine Schwartz ring he proposed with in May 2011. Kim Kardashian [149] accepted the bling and proudly modeled the emerald-cut center stone flanked by a pair of two-carat trapezoids throughout their engagement and 72-day marriage.
Jennifer Hudson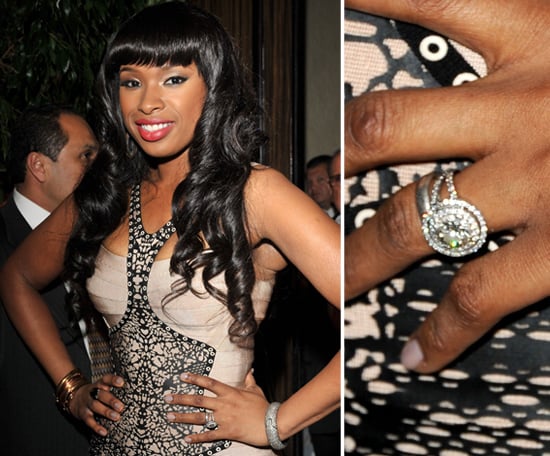 David Otunga proposed to Jennifer Hudson [150] in September 2008 with a Neil Lane engagement ring featuring a five-carat center stone.
Julia Roberts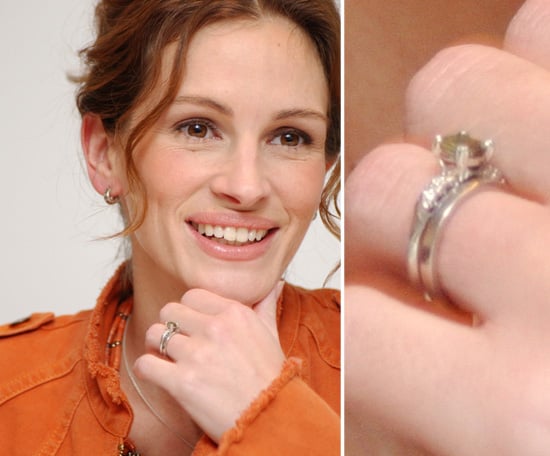 Julia Roberts [151] debuted her engagement ring in Spring 2002 before walking down the aisle with Danny Moder on July 4.
Khloe Kardashian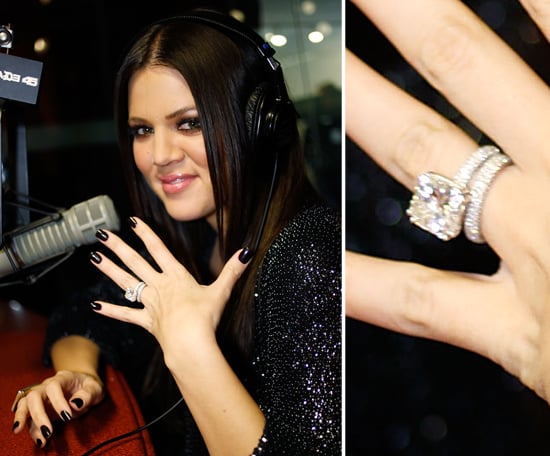 Khloé Kardashian married Lamar Odom in September 2009 after only one month of dating. They are reportedly in the process of getting divorced [152].
Jane Krakowski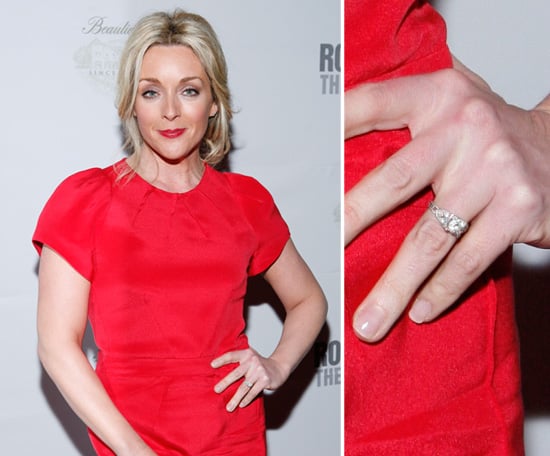 30 Rock actress Jane Krakowski got engaged in December 2010 to Robert Godley. She showed off her beautiful new diamond accessory in early 2011.
Drew Barrymore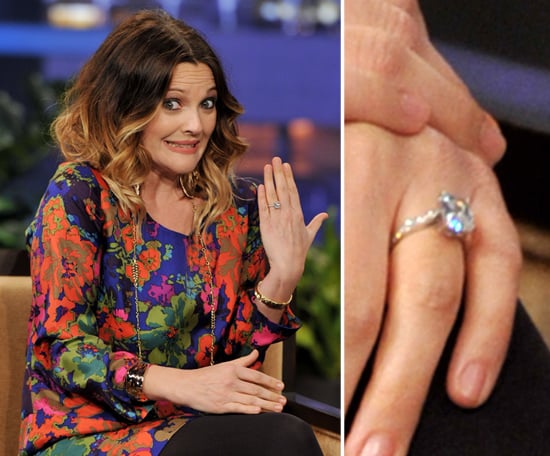 Drew Barrymore [153] and fiancé Will Kopelman announced their engagement news in early January 2012, and shortly thereafter she popped by the Tonight Show and shared her excitement with fans. Will gave Drew a four-carat diamond from jewelers Graff. The couple later announced their decision to divorce [154] in April 2016.
Christina Milian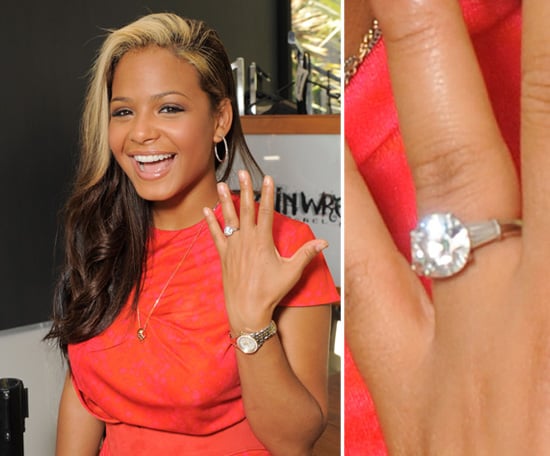 Christina Milian confirmed her engagement to her then-boyfriend and music producer The Dream in July 2009.
Scarlet Johansson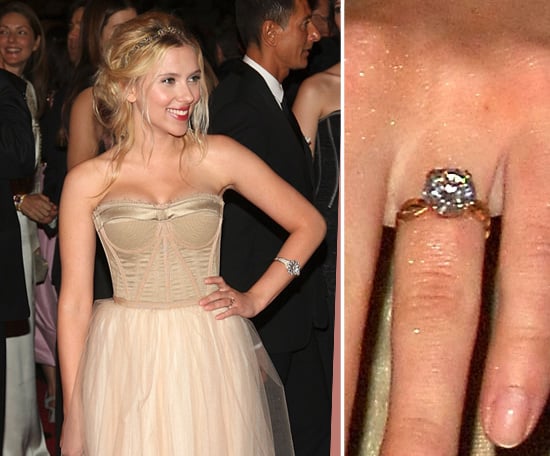 Scarlett Johansson [155] sported a large three-carat diamond, estimated to be worth $30K, following Ryan Reynolds [156]'s Spring 2008 proposal.
Evan Rachel Wood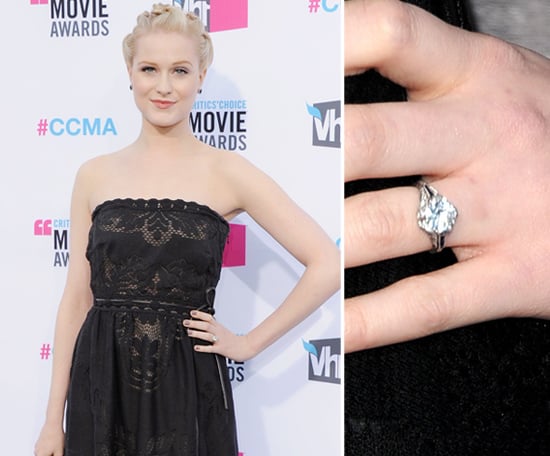 Evan Rachel Wood was seen wearing a sparkly ring in January 2012 from reported fiancé Jamie Bell, but the pair went their separate ways [157] in May 2014.
Avril Lavigne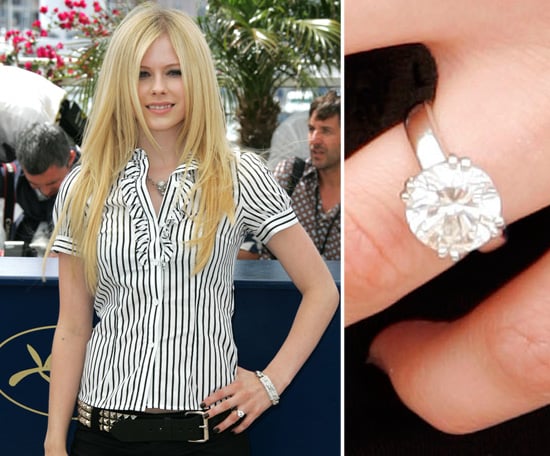 Avril Lavigne [158] was presented with a four-carat solitaire in 2005 from her now ex-husband, Deryck Whibley.
Mariah Carey
Mariah Carey [159] and Nick Cannon fooled everyone when they eloped in May 2008. It was reported the pair had gotten engaged, but Nick and Mariah had actually tied the knot during a secret beach ceremony. Although they divorced and Mariah has since moved on, the exes remain quite friendly [160].
Jessica Simpson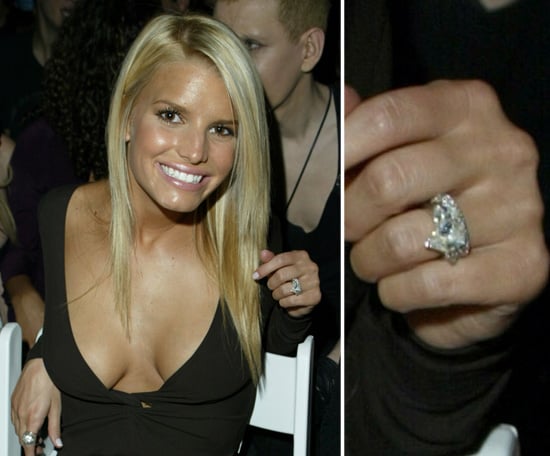 Jessica Simpson [161]'s engagement ring from Nick Lachey [162], which he gave her in 2001, was a four-carat pear-shaped diamond with two side stones.
Sienna Miller
Jude Law [163] gave Sienna Miller [164] a vintage engagement ring in 2005, and she put it back on when they got back together in 2010. They broke up soon after, and Sienna went on to date Tom Sturridge [165].
LeAnn Rimes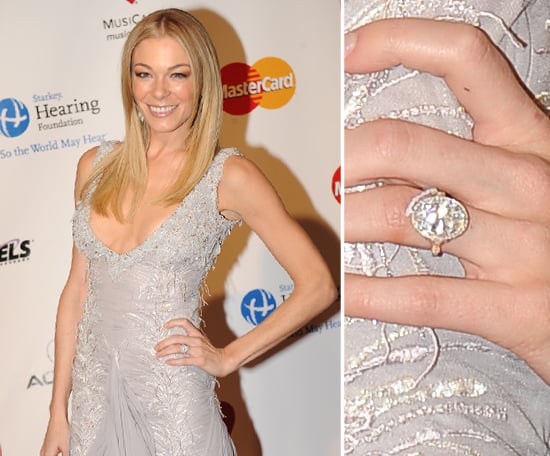 LeAnn Rimes and Eddie Cibrian became engaged in Fall 2010, and she showed off a sparkly new diamond that November.
Pink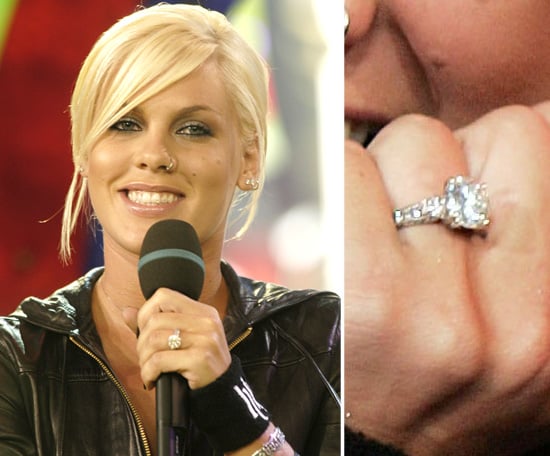 Pink received her engagement ring after husband Carey Hart popped the question in June 2005 in Mammoth Lakes, CA.
Miranda Kerr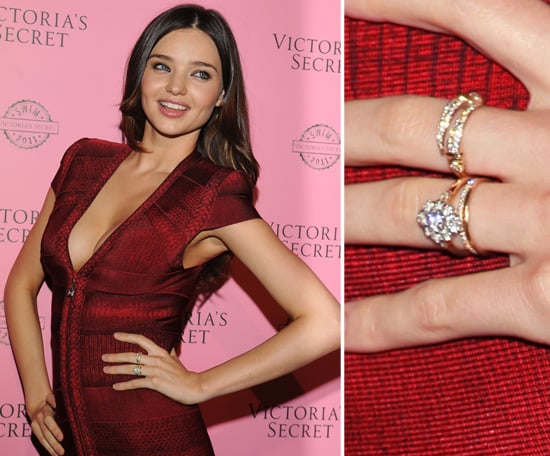 Miranda Kerr [166] and Orlando Bloom [167] quietly confirmed the news of their engagement in June 2010, and by July, the pair had secretly wed. Her ring is an oval diamond, worth a reported $65,000.
Kate Bosworth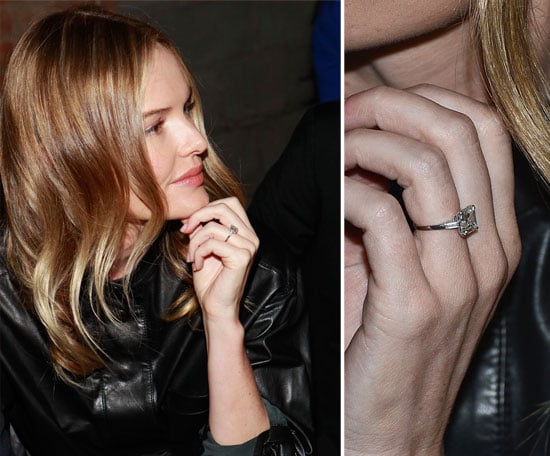 Kate Bosworth [168] shared her happy news by tweeting a picture of her engagement ring from boyfriend Michael Polish [169].
Kate Moss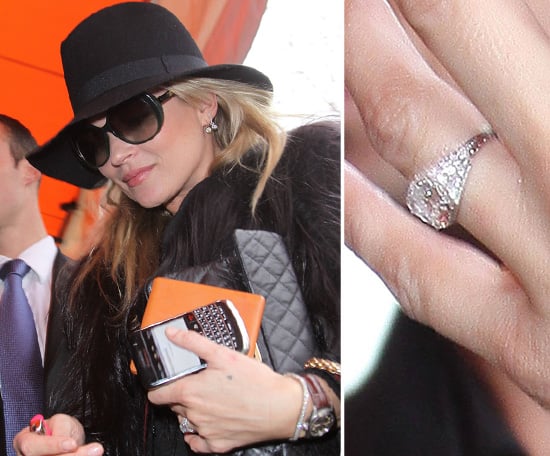 Kate Moss [170] accepted a vintage-style oval diamond set in a double-shank band in February 2011 from musician Jamie Hince. The ring design was inspired by that worn by F. Scott Fitzgerald's wife, Zelda. Sadly things soured between the pair, and Kate moved on with Count Nikolai von Bismarck [171].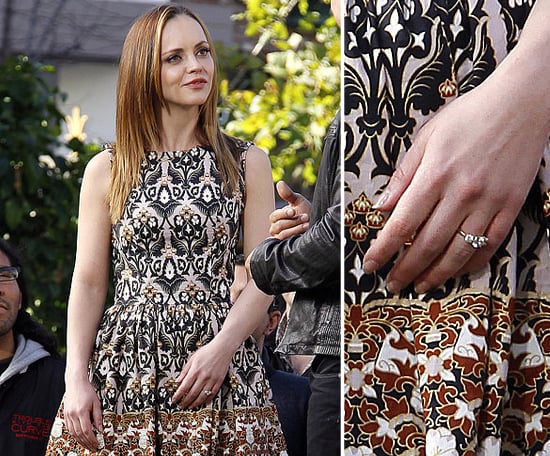 Christina Ricci [172] confirmed her engagement to James Heerdegen in January 2013.
Kimberly Stewart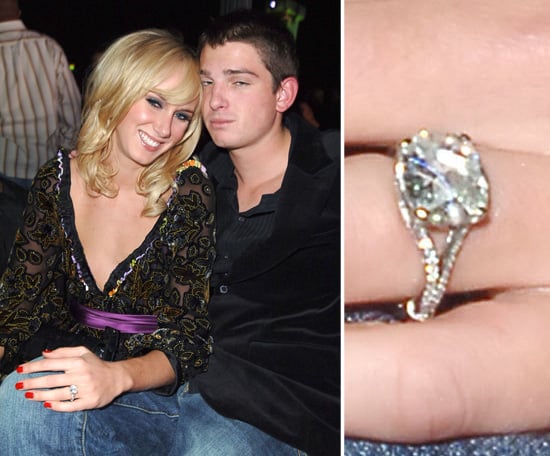 Kimberly Stewart's 2005 engagement to Laguna Beach's Talan Torriero was marked with a five-carat diamond Neil Lane ring.
Reese Witherspoon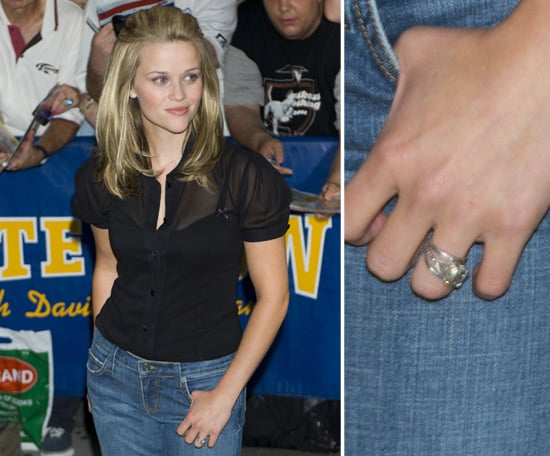 Ryan Phillippe [173] gave Reese a four-carat Asscher-cut-diamond platinum ring when he proposed in 1998.
Angelina Jolie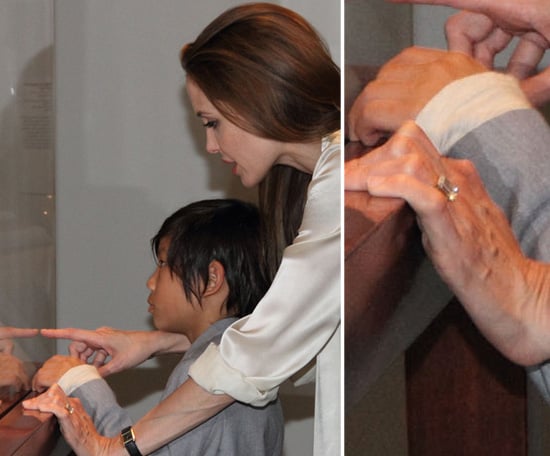 Angelina Jolie [174] and Brad Pitt [175] made their engagement public in April 2012. He, along with Robert Procop, designed an elegant ring for her that included diamonds of "the highest gem quality."
Ellie Kemper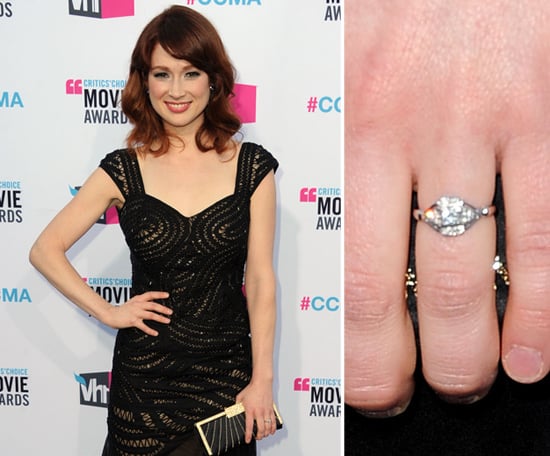 Bridesmaids star Ellie Kemper revealed the news of her real-life wedding [176] plans during a December 2011 appearance on Conan.
Jennifer Garner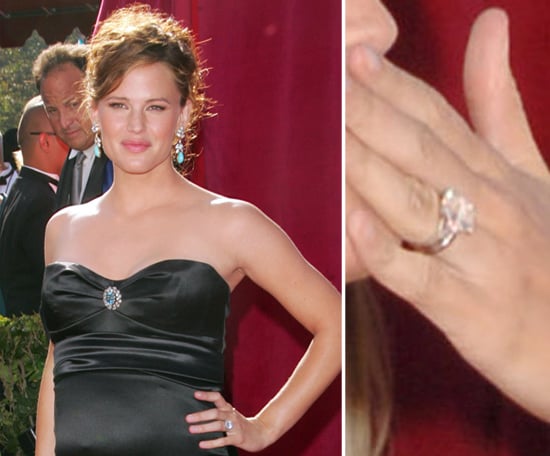 Jennifer Garner [177] and Ben Affleck [178] never officially confirmed news of their engagement, but he reportedly popped the question in April 2004, and a few months later they tied the knot during a private ceremony. Her engagement ring is a 4.5-carat rock from Harry Winston.
Jennifer Lopez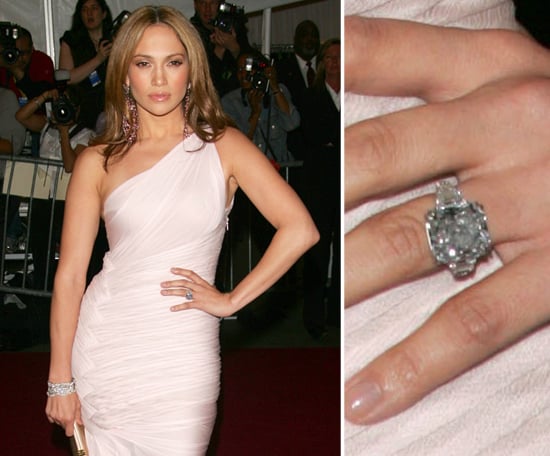 Marc Anthony [179] gave Jennifer Lopez [180] a $4 million, 8.5-carat rock when he proposed marriage in 2004.
Camilla Parker-Bowles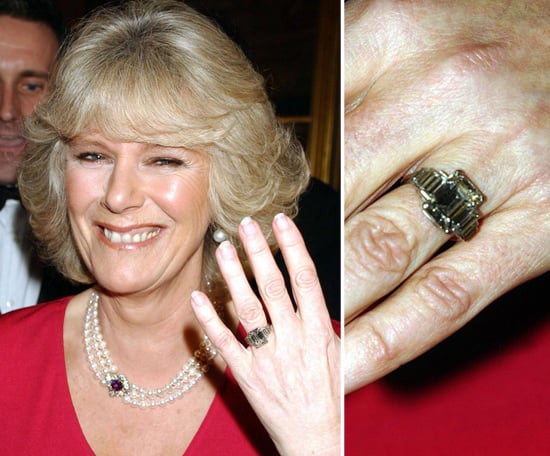 Prince Charles proposed to Camila Parker-Bowles in February 2005 with a large diamond and platinum heirloom belonging to the royal family.