Bacon Guacamole Recipe
Two Words: Bacon Guacamole
Recently I came across a really interesting Rick Bayless recipe for bacon guacamole. At first I thought, that can't be right. Rick Bayless doesn't really seem like an everything-tastes-better-with-bacon sort of guy. However, there it was in my inbox: bacon guacamole by Rick Bayless. I was skeptical as to whether or not it would work, but considering that I love both bacon and guacamole, I decided to give it a try. And guess what? It totally works!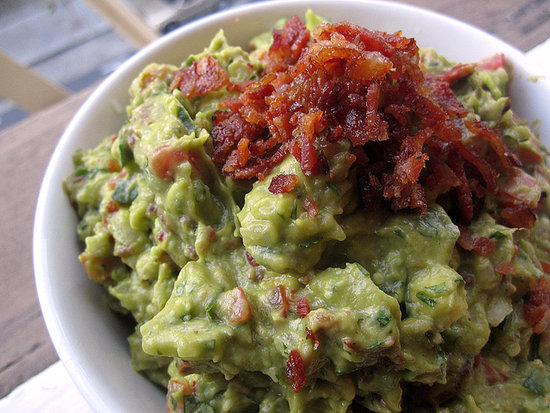 It's actually ingenious — an addictive and amazingly scrumptious dip. It's a good thing I made it for guests because had I been alone in my apartment, I would have shoveled the entire bowl down my throat in a matter of minutes. The smokiness of the bacon is enhanced by the addition of chipotle chiles in adobo. With juicy tomato, creamy guacamole, and crunchy bacon, each bite is a taste explosion! It's perfect for tailgating season, so get the recipe now.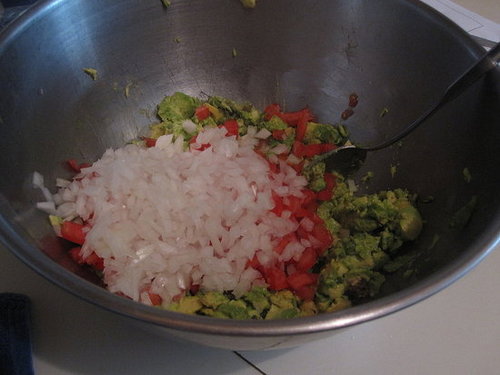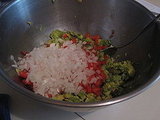 Ingredients
5 Strips medium-thick bacon
3 medium-large Ripe avocados (about 1.25 pounds), cut in half and pitted
Half a medium white onion, chopped into .25-inch pieces, rinsed with cold water and drained
2 or 3 Canned chipotle chiles, removed from canning sauce, stemmed, slit open, seeded and finely chopped
1 medium-large Round ripe tomato, cored and chopped into .25-inch pieces
1/4 cup (loosely packed) Fresh cilantro, coarsely chopped
Salt, to taste
1 to 2 tbsp. Fresh lime juice
Directions
In a large (10-inch) skillet, cook the bacon in a single layer over medium heat, turning occasionally, until crisp and browned, about 10 minutes. Drain on paper towels, crumble coarsely and set aside.
Scoop the avocado flesh into a large bowl. Using a potato masher or a large fork or spoon, mash into a coarse purée. Add about two-thirds of the bacon, along with the onion, chipotle chile, tomato and cilantro (save a little cilantro for garnish if you wish). Stir gently to combine.
Taste and season with salt, usually about half a teaspoon, and enough lime juice to add a little sparkle, 1 to 2 tablespoons. Cover with plastic wrap directly on the surface of the guacamole and refrigerate. To serve, scoop the guacamole into a serving dish and sprinkle with the remaining bacon (and cilantro if desired).
Serves 6.
Information
Category

Appetizers, Dips

Cuisine

Mexican