Best Vegetarian Chili Recipe
Fast and Easy Dinner: Vegetarian Chili
I've got a whole arsenal of go-to weeknight meals, but the one heaviest in my rotation is vegetarian chili. Why, you might ask? Because meatless chili has true versatility. Not only is it quick, effortless, and healthy, but it's easy to transport as lunch the next day.

As a leftover, it tastes better the longer it sits. I don't get sick of it, not even in the Summer. I don't mind it chilled, or heaped atop concession-stand favorites like cheese fries and onion rings.

Recently, I served it on two separate occasions. To keep things interesting, I paired it once with Fritos and melted cheese to make that Lone Star favorite, Frito pie — then on the second occasion, atop a bed of pasta, quasi-Cincinnati-style. Make this the most adaptable dish in your recipe reserve when you keep reading.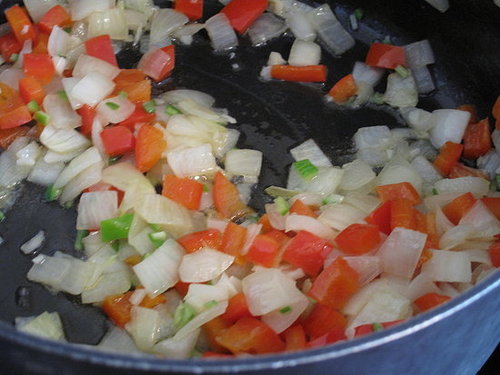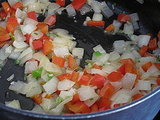 Ingredients
2 tablespoons canola oil
1 1/2 cups chopped yellow onions
1 cup chopped red bell peppers
2 tablespoons minced garlic
2 to 3 serrano peppers, stemmed, seeded, and minced, depending upon taste
1 medium zucchini, stem ends trimmed and cut into small dice
2 cups fresh corn kernels (about 3 ears)
1 1/2 pounds portobello mushrooms (about 5 large), stemmed, wiped clean and cubed
2 tablespoons chili powder
1 tablespoon ground cumin
1 1/4 teaspoons salt
1/4 teaspoon cayenne
4 large tomatoes, peeled, seeded and chopped
3 cups cooked black beans, or canned beans, rinsed and drained
1 (15-ounce) can tomato sauce
1 cup vegetable stock, or water
1/4 cup chopped fresh cilantro leaves
Shredded monterey jack cheese (optional), for garnish
Chopped cilantro (optional), for garnish
Sour cream (optional), for garnish
Lime wedges (optional), for garnish
Directions
In a large, heavy pot, heat the oil over medium-high heat. Add the onions, bell peppers, garlic, and serrano peppers, and cook, stirring, until soft, about 3 minutes. Add the zucchini, corn, and mushrooms, and cook, stirring, until soft and the vegetables give off their liquid and start to brown around the edges, about 6 minutes. Add the chili powder, cumin, salt and cayenne, and cook, stirring, until fragrant, about 30 seconds. Add the tomatoes and stir well. Add the beans, tomato sauce, and vegetable stock, stir well, and bring to a boil. Reduce the heat to medium-low and simmer, stirring occasionally, for about 20 minutes.
Remove from the heat and stir in the cilantro. Adjust the seasoning, to taste.
To serve, ladle the chili into the bowls. Top each serving with shredded cheese, cilantro, sour cream, and a lime wedge, if desired.
Makes 6 to 8 servings.
Information
Category

Main Dishes, Chili

Cuisine

North American