Pumpkin Cake = Perfect Alternative to Pumpkin Pie
Last week I was asked to make a sweet contribution to BabySugar's baby shower. Since the shower was a surprise, I decided what kind of cake to make. Filled with Fall flavors, this pumpkin cake with pecan brittle and whipped cream-cheese frosting is to die for. The cake is moist, rich, and delicious. The crisp pecan brittle provides a snappy texture while the creamy frosting is not overly sugary. This cake was a huge success at the party and it was devoured in mere minutes. On a Thanksgiving table it would be a festive alternative to the classic pumpkin pie. To look at the recipe, read more.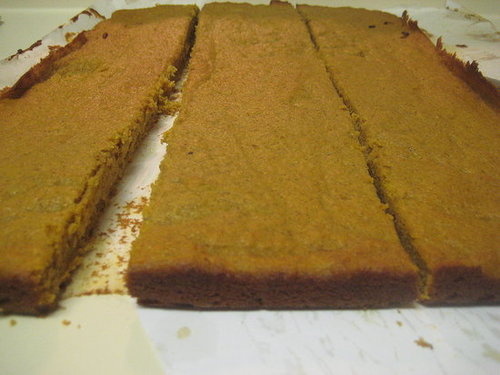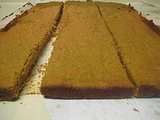 Ingredients
3 cups granulated sugar
2 cups pecans (about 8 ounces)
2 1/2 cups flour
1 tablespoon pumpkin pie spice
1 teaspoon salt
1 teaspoon baking powder
1 teaspoon baking soda
2 sticks (8 ounces) unsalted butter, at room temperature
2 cups packed brown sugar
4 large eggs, at room temperature
3/4 cup milk
Grated zest of 1 orange
One 15-ounce can pure pumpkin puree
1 8-ounce package of cream cheese, at room temperature
3 cups heavy cream, chilled
2 teaspoons pure vanilla extract
Directions
Line a baking sheet with parchment paper. Butter two 8-x-2-inch round cake pans. Line the bottoms of the pans with parchment paper and butter the parchment. Flour the pans.*
In a large skillet, melt 2 cups granulated sugar over medium-high heat until light amber, about 7 minutes.
Reduce the heat to low, add the pecans and quickly stir to coat. Transfer the pecans to the prepared baking sheet and, using a metal spatula, spread in a single layer to cool completely.
Place the praline in a sturdy resealable plastic bag and crush into pieces; set aside.
Preheat the oven to 350°F. In a bowl, sift together the flour, pumpkin pie spice, salt, baking powder and baking soda.
Using an electric mixer, beat together the butter, 1/2 cup brown sugar and the remaining 1 cup granulated sugar until light and fluffy, about 3 minutes.
Add the eggs, 1 at a time, beating until combined.
Beat in the flour mixture in 3 parts alternately with the milk and orange zest on low speed until just combined.
Add the pumpkin puree and beat until just combined.
Divide the batter evenly between the 2 prepared pans and bake until a toothpick inserted in the center comes out clean, about 45 minutes. Transfer the cake layers to a rack to cool, about 10 minutes. Remove the cakes from the pans, invert and peel off the parchment paper. Let the cakes cool completely on the rack, about 45 minutes.
Meanwhile, make the frosting. Using a standing mixer with a whisk attachment, whip the cream cheese and cream on medium speed until soft peaks form, 2 to 3 minutes.
On low speed, gradually beat in the remaining 1 1/2 cups brown sugar and the vanilla until stiff peaks form. Cover and refrigerate until ready to use.
Assemble the cake: halve each cake layer horizontally with a serrated knife. Place 1 cake layer on a platter. Spread the whipped cream frosting on top about 1/4 inch thick; sprinkle with about 1/2 cup crushed pecan praline. Repeat with three more layers, saving enough frosting for the cake sides and reserving the last layer of praline. Spread the remaining frosting evenly on the sides of the cake and sprinkle the reserved pecan praline on top. Refrigerate the cake for at least 1 hour before serving.
Makes 1 cake.
*Inspired by Tyler Florence, I decided to make a three-layer, long, rectangular cake.
Information
Category

Cake, Desserts