Pumpkin Cake Pops Recipe
Festive Fall Treat: Pumpkin Cake Pops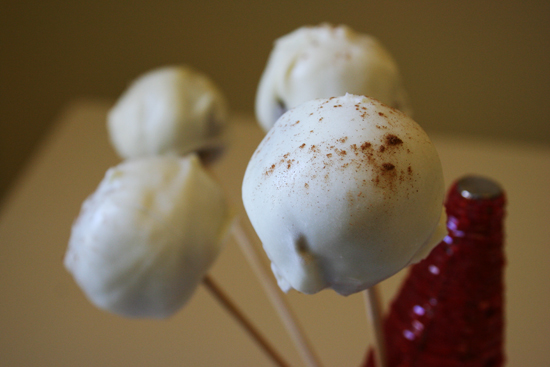 Cupcakes, move over! Cake balls covered in candy shell or chocolate are an updated way to enjoy a petite serving of dessert. Dense and bite sized, these treats are meant to be savored slowly, like chocolate bonbons. Since pumpkin puree is finally available at my neighborhood grocery, I felt inspired to combine this growing dessert trend with my favorite Fall flavors. You can enjoy these pumpkin cake pops for Halloween, or please a crowd at a Fall-themed party. Keep reading to learn how to make pumpkin cake pops.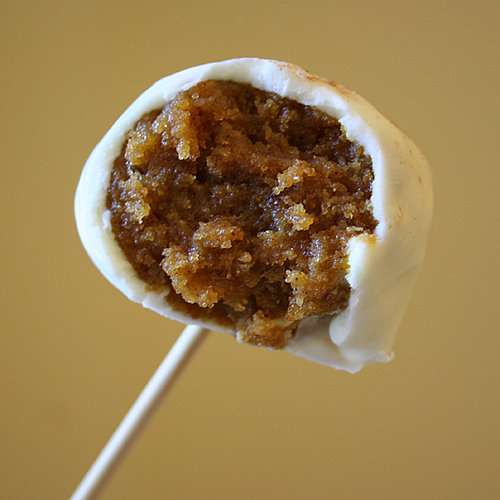 From Anna Monette Roberts
Pumpkin Cake Pops
Ingredients
For cake:
1/2 cup canola oil
1 cup sugar
2 eggs
1 cup all-purpose flour
1 teaspoon baking soda
1/4 teaspoon baking powder
1/4 teaspoon salt
1/2 teaspoon ground cinnamon
1/8 teaspoon ginger
1/8 teaspoon nutmeg
1 cup pumpkin purée, fresh or canned
For cream cheese frosting:
4 tablespoons unsalted butter, softened
4 tablespoons cream cheese, softened
1 cup powdered sugar, sifted
1/2 teaspoon vanilla extract
For cake pops:
2 (8-ounce) containers of candy shell, such as Dolci Frutta creamy white shell
24 wooden or bamboo skewers (barbecue skewers) or wooden popsicle sticks
Directions
If you are pressed for time, use a pumpkin cake mix and ready-made cream cheese frosting, and skip ahead to "how to make cake balls." For step-by-step photos, see our basic cake pop how-to.
To make cake: Preheat the oven to 350ºF. Grease a 10-inch square pan or 9-inch round pan with butter and dust with flour. Cut out a piece of parchment paper to cover the bottom of the pan.
Using a whisk or mixer, whisk together oil, sugar, and eggs in a large metal bowl until well combined and sugar is dissolved.
In a separate bowl, sift flour, baking soda, baking powder, salt, and spices. Incorporate the flour mixture to wet ingredients, and mix until well combined. Stir in pumpkin purée gently, being careful not to over-stir.
Pour batter into greased, floured cake pan, and bake for 30 to 40 minutes, or until an inserted toothpick comes out clean. Turn cake onto cooling rack to cool.
To make icing: Using a mixer, beat butter and cream cheese together until smooth. On a slow speed, incorporate sifted powdered sugar until smooth. Beat in vanilla extract.
To make cake balls: Crumble cooled cake into a large metal bowl. Add 1/4 cup of cream cheese frosting, and using the back of a spoon or rubber spatula, mix until fully incorporated. Try to roll a 1-1/2-inch ball. Mixture should be moist and can be molded easily. If mixture is too dry or crumbly, continue to add more icing, a tablespoon at a time, until proper consistency is reached.
Roll cake into 1-1/2-inch balls and place on a parchment-lined cookie sheet. Freeze for 15 minutes, or until the cake is firm.
Melt creamy white shell according to manufacturer's instructions. (If shell is too viscous, thin it out with a teaspoon of canola oil.) Remove cake balls from freezer. Dip wooden skewer into melted white shell, and stick halfway into cake ball. Carefully roll the cake ball in the candy shell until fully covered. Tap to remove any extra candy shell. Use a styrofoam block to stick the cake pops in, so they are standing upright. Allow candy shell to harden, dust with cinnamon, and enjoy!
Makes 24 cake pops.
Information
Category

Cake, Desserts