Who Is Kat Von D?
The Beauty Beginner's Guide to Superstar Kat Von D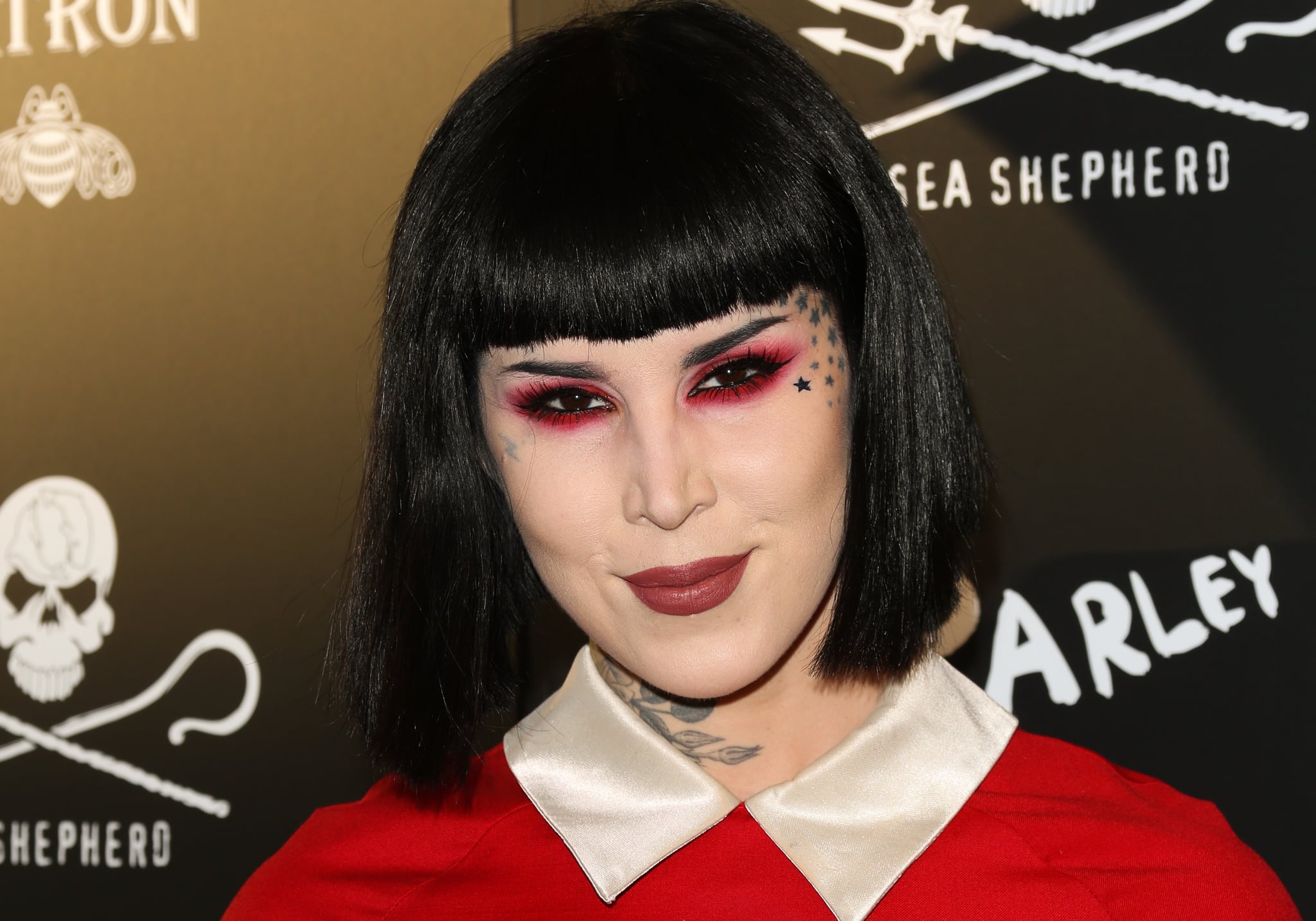 Image Source: Getty / Paul Archuleta / FilmMagic
Kat Von D is that rare celebrity and beauty mogul who is known by every member of your family, despite generational differences — though maybe not for the same reason. The creator (and face) of Kat Von D Beauty is your vegan sister's hero (all of her cosmetics are cruelty-free, and she's way outspoken about animal testing), your father's favorite tattoo artist, and your mom's preferred reality TV show glass-ceiling breaker on Miami Ink and L.A. Ink, and, for you, she might be all of these things as well as the genius who gifted you with Everlasting Liquid Lipstick (best matte lippy ever).
But just who is this multitasking dynamo, and how did she get to be so badass?
Kat was born Katherine von Drachenberg in Mexico to parents of Argentinian descent and lived there until age 4, when her family made the move to Los Angeles. She became classically trained in piano at age 6 and credits her older sister with helping to influence her musical taste, which broadened in her teens to include rock and punk bands like Metallica and Misfits.
Her love of hard rock music is something Kat says has inspired her artistic expression throughout her life — and that expression started way early. She got her first tattoo at age 14 and quit school at 16 to pursue a career as a tattoo artist. This might sound like the beginning of a story with a really unhappy ending, but Kat was determined and talented — (and lucky!) — and these qualities caught the eye of Ami James, owner of Love Hate Tattoos in Miami, who hired Kat, which led to her being cast as a member of the reality TV show Miami Ink.
Kat's unique tattoo style (she's a master at portraits) and strong, feisty personality made her a standout on the show, but that same feistiness also led to her having a falling out with James. TV producers obviously sensed they had struck gold with Kat, so instead of cutting her free, they cut her a deal: her own reality spinoff show called L.A. Ink that followed Kat as she moved back to the West Coast to open up her own tattoo shop called High Voltage.
Kat has tattooed everyone from Miley Cyrus and Demi Lovato to Harry Styles and freaking Beyoncé. She created an all-ages tattoo, music, and art festival called Musink Tattoo Convention and Music Festival. She is one of few celebs who have experienced a crazy amount of fame in little time and are still regarded as the complete opposite of a sellout — one who continues to own her original, so-not-conventional-Hollywood style and has zero problem declaring herself "anti-Kardashian" and saying she'd never credit them for starting the makeup contour trend.
An outspoken anti-beauty-establishment figure rarely gets to add Creator of Makeup Line That Continually Sells Out at Sephora to her résumé, but Kat is anything but a rule follower.
Kat Von D Beauty was born in 2008, and she has released new collections (including skin care and fragrances) every year since the launch. You could say Kat's line is uberpopular simply because her products are made from quality ingredients and do what they say they're going to do — Everlasting Liquid Lipstick really does stay on lips for hours, the waterproof Tattoo Liner finally makes it possible to emerge from the ocean with the perfect cat eye, and her highly anticipated Saint + Sinner eye shadow palette shades appear to be so highly pigmented they're going to make your eyes pop from a mile away. But if you look closer — at the ultrawearable iridescent gothic shades in her Alchemist Holographic Palette or the sweet but also tough-as-nails packaging of the Kat Von D Rock Candy Studded Lipstick Set — the way Kat's punk beauty brand has been brought to the masses is pure genius.
In interviews, Kat has said that she never lets people see her without makeup — not because she feels insecure, but because makeup is so freaking fun. She loves red lipstick but hated every red she tried on — so, to hell with it, she made her own incredible versions of red lipstick.
Whether she's involved in a very public feud with former BFF Jeffree Star and standing up for people she believes in, diving into a brand-new career as the designer behind a new vegan shoe line, or donating the proceeds of her makeup sales to animal advocacy groups like Farm Sanctuary, Kat lives her truth. Lucky for us makeup-lovers, her truth also happens to be extraordinarily beautiful.