When I watched Happiest Season on Hulu over Thanksgiving, I walked away with a singular goal in mind: my next haircut would look like Riley's. Her perfect face-framing layers are just part of what make the doctor (played by Aubrey Plaza) magnetic and, in my opinion, the obvious endgame for Kristen Stewart's Abby. Alas, I may never see a love story between Riley and Abby play out — although there are talks of a sequel in the future — but I can secure my dream style thanks to the movie's key hairstylist, April Schuller.
No detail escaped Schuller when she designed the looks for Happiest Season. She knew she wanted Riley's hair to capture the "effortlessly cool" energy apparent in the character's whole personality. "Everything about her exudes confidence," Schuller explained. "She knows who she is, and she's comfortable with who that is." Riley's style needed to be relaxed, low-maintenance, and sexy at the same time to match "the way that she carries herself and presents herself."
"Everything about her exudes confidence. She knows who she is, and she's comfortable with who that is."
If you are like me and plan on bringing screenshots of Riley's hair to your next salon visit, Schuller recommends asking for long and face-framing layers. The real magic, however, comes from the "basic blowout" Plaza underwent every day to achieve the sleek shine you see on screen. Although Plaza had the talents of pro stylist Tina Fabulic in her trailer, Schuller assured me it's still possible to replicate her look on your own at home. Read on for a step-by-step breakdown.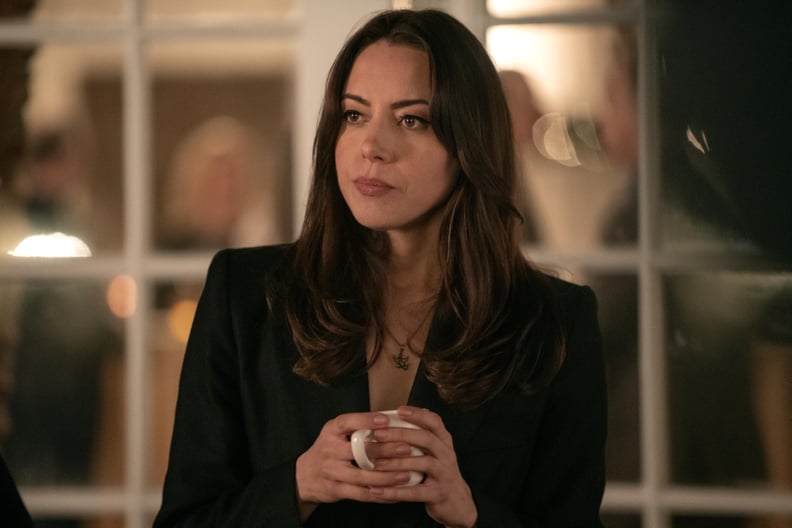 Step 1: Plaza would show up to hair and makeup with damp hair, and Schuller recommends you start the same way. Schuller swears by Kusco Murphy Setting Lotion ($42) as the base product. "It makes the hair do exactly what you want it to do; it's amazing," she said. Follow that up with Aquage Uplifting Foam ($20) at the roots only.
Step 2: Time to blow-dry. "Take section by section with a big, round brush," Schuller advised. Start at the bottom of the hair, and dry as you move up, rolling the piece with your fingers until you can secure pin curls at the top "to keep that hold and lift in."
Step 3: Wait. Schuller said they'd always send Plaza to makeup at this stage, but 10 minutes should be enough time for your curls to sit at home. "What you really want to do is you want the hair to cool," she explained. "That's how you keep the little bit of volume. The coolness gives it that memory."
Step 4: Take down the curls, shake out your hair, and gently brush through. Although pretty pricey, Schuller recommended the Mason Pearson Brush ($120) for this step, calling it the "best brush in the world."
Step 5: Finish off the look with a little Bumble and Bumble Thickening Dryspun Texture Spray ($31), and you're done.