Every editorial product is independently selected by our editors. If you buy something through our links, we may earn commission.
"Babylon," which hits theaters on Dec. 23, is not your average period piece. Directed by Damien Chazelle, the film follows the chaotic rise and fall of Hollywood film stars in the 1920s during the transition from silent films to "talkies." But despite the iconic decade in which it takes place, it's nothing like the archetypes that we're used to.
You may have noticed from the trailer that the star-studded cast — featuring Margot Robbie as Nellie, Brad Pitt as Jack, and Tobey Maguire as James (plus many, many more) — don't look like they're from the '20s in the traditional sense. That's because Chazelle didn't want to follow any of the beauty trends from that time. "He wanted it to be really raw, real people," Heba Thorisdottir, the film's makeup department head, tells POPSUGAR. "These are wannabes; these are people who have no money, and he wants them to just be that."
Though there are plenty of decadent party scenes in "Babylon," you won't see very many "The Great Gatsby"-type hair and makeup looks. Instead, they got their inspiration from a very unlikely place. Keep reading to learn more about unconventional hair and makeup choices in "Babylon."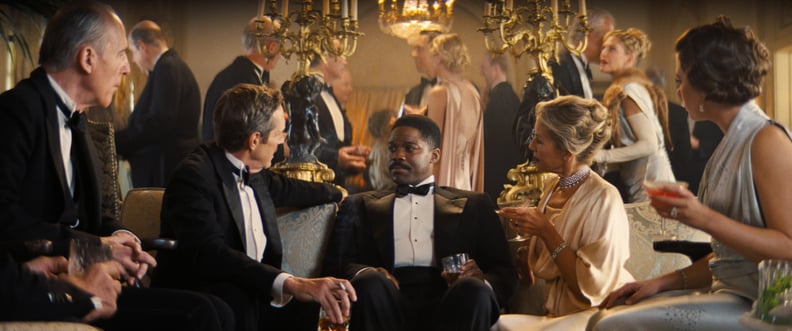 The Unlikely Inspiration Behind "Babylon"'s Beauty Looks
"Babylon" is not your typical 1920s Old Hollywood film, and, as such, Chazelle didn't want the stars to look traditional in any way. "We actually looked at mug shots from that period," Thorisdottir says. This was a unique experience for everyone involved.
"You don't get to do this very often," Jaime Leigh McIntosh, the movie's hair department head, says. "Most of the time, you must follow the same formula that's been done for years when re-creating a period. People will just scratch the surface of research and do what they always see." For "Babylon," they had clear instructions to not do that. "[Chazelle] was just like, 'Please stay away from the cliché bobs.' He didn't want to see an ocean of women with the same hairdo." Translation? Finger waves, pin curls, and anything else that scream 1920s was out.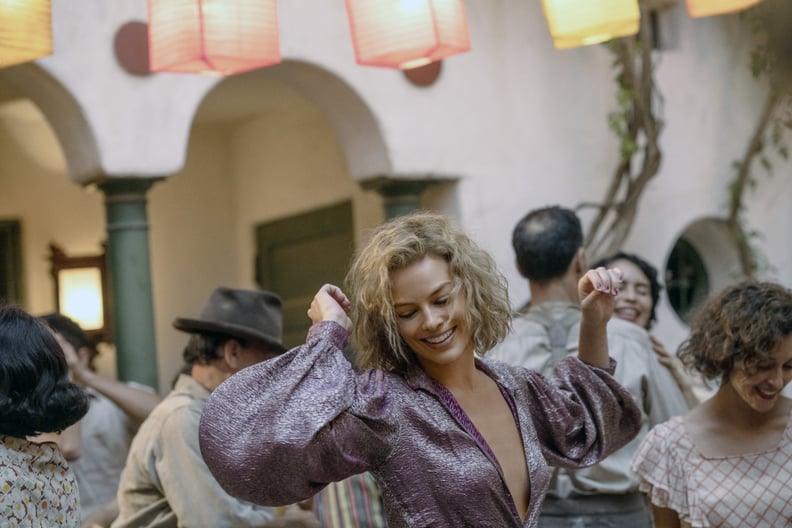 Nellie's Hair and Makeup Go Against the Trends
Robbie's character, Nellie, moves to Hollywood with a dream of becoming a big film star. She doesn't come from money or prestige, and she's not up to date on the latest trends. "She's young, she's free, she's wild, and she likes to party," McIntosh says. "We wanted that to show in her hair styling." To give her those messy, tousled waves, they used the Ouai Wave Spray ($28) on Robbie's wigs, followed by the Tresemmé Extra Firm Control Unscented Tres Two Hair Spray ($8) to set the look in place and the René Furterer Style Shine Mist ($33) for shine.
They wanted it to be believable that Nellie was doing her own makeup and grooming, so it was intentionally imperfect. One of the ways Thorisdottir communicated that was by not plucking Robbie's eyebrows while filming. "[Nellie] wouldn't have a tweezer," she says. She instructed Robbie to not "clean anything up" and to "just have them grow wild."
The Sunnies Face Matte Lipstick in Fluffmate ($16) was Thorisdottir's go-to for Nellie's everyday look. To give Nellie's skin a dewy finish, she mixed the Iconolab Renewal Face Oil ($98) with Robbie's foundation and used the Kosas Color & Light Palette Powder in "Longitude Zero" ($34) on her cheeks. For her eyes, Thorisdottir kept it simple with the Chanel Le Volume de Chanel Mascara ($35) and Dark Swan of Denmark Silk Lashes ($30).
"Lots of Embryolisse Body Oil ($30)," according to Thorisdottir, was also a must.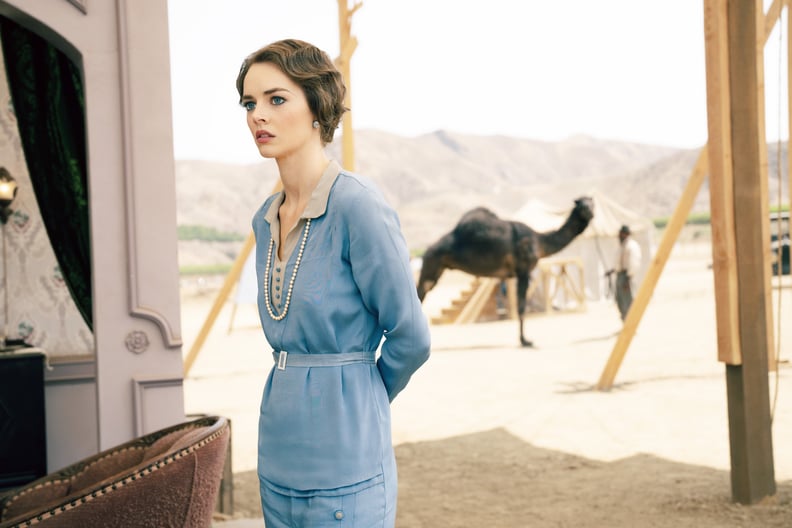 Colleen's Polished Look Provides Contrast
The only time we see Nellie with a more polished look is later on in the film when the studio takes control of her appearance. "She does end up getting her hair cut into more of a bob shape, and we see it in a full finger-wave style, but it's just for one moment, and then she's back to her messy, crazy texture," McIntosh says. The contrast between Nellie's look before and after the studio takes over is drastic but brief — then she's right back to her slightly disheveled self.
There is one scene that's riddled with classic '20s glam: the party hosted by Colleen (Samara Weaving) and Marion (Chloe Fineman). "I was surprised that I was able to get a full-on '20s hairstyle on [Colleen]," McIntosh says. An exception was made to depict Colleen as the uptight character opposite of Nellie.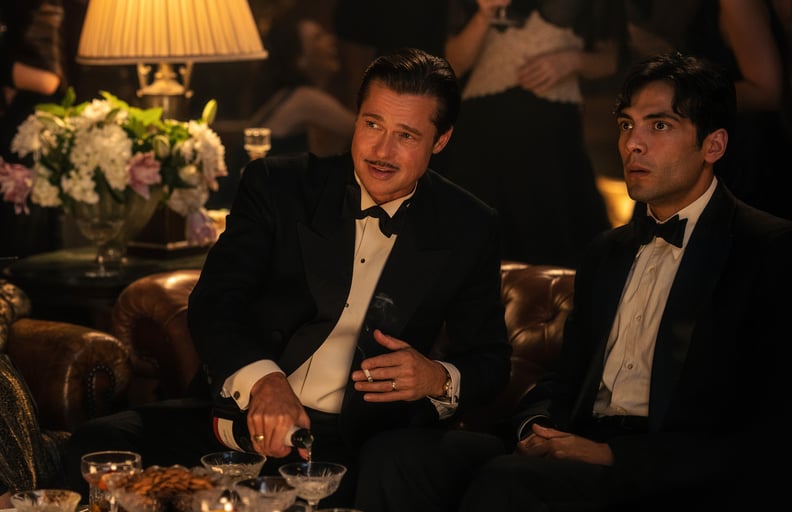 Jack Goes Old Hollywood
Makeup artist Jean Ann Black has long worked with Pitt and created his look for the character of Jack in "Babylon." He doesn't wear any obvious makeup, but he does change his hair slightly for the film by dyeing it a darker brunette shade. "He wanted to have a little bit more of the classic Hollywood movie-star look," says McIntosh. They wanted his hair to look effortless, so they avoided using any heavy styling products in it. Instead, they used The Jojoba Company Australian Jojoba Oil ($20). "We would wet it down, put jojoba, comb it into place, and let it dry," she says. "It looks amazing, and it still moves when it needs to move."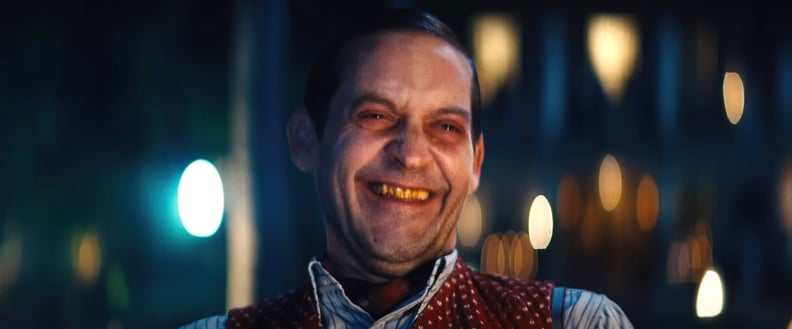 James Was Inspired by "Death in Venice"
In "Babylon," Maguire plays James, a creepy guy "living in the underworld," as Thorisdottir describes him. Using the 1971 movie "Death in Venice" as his inspiration, Maguire wanted his character to have white face paint. "We took that idea and ran with it," she says. They didn't want it to be clear that he was wearing makeup, so Thorisdottir says the camera crew had clear instructions to "not zoom in on him until it was his creepiest moment when he just starts laughing, and you then see it in its full glory."