Black-Owned Beauty Brands Benefit From Acquisitions
Is "Selling Out" Really That Bad For Black-Owned Beauty Brands?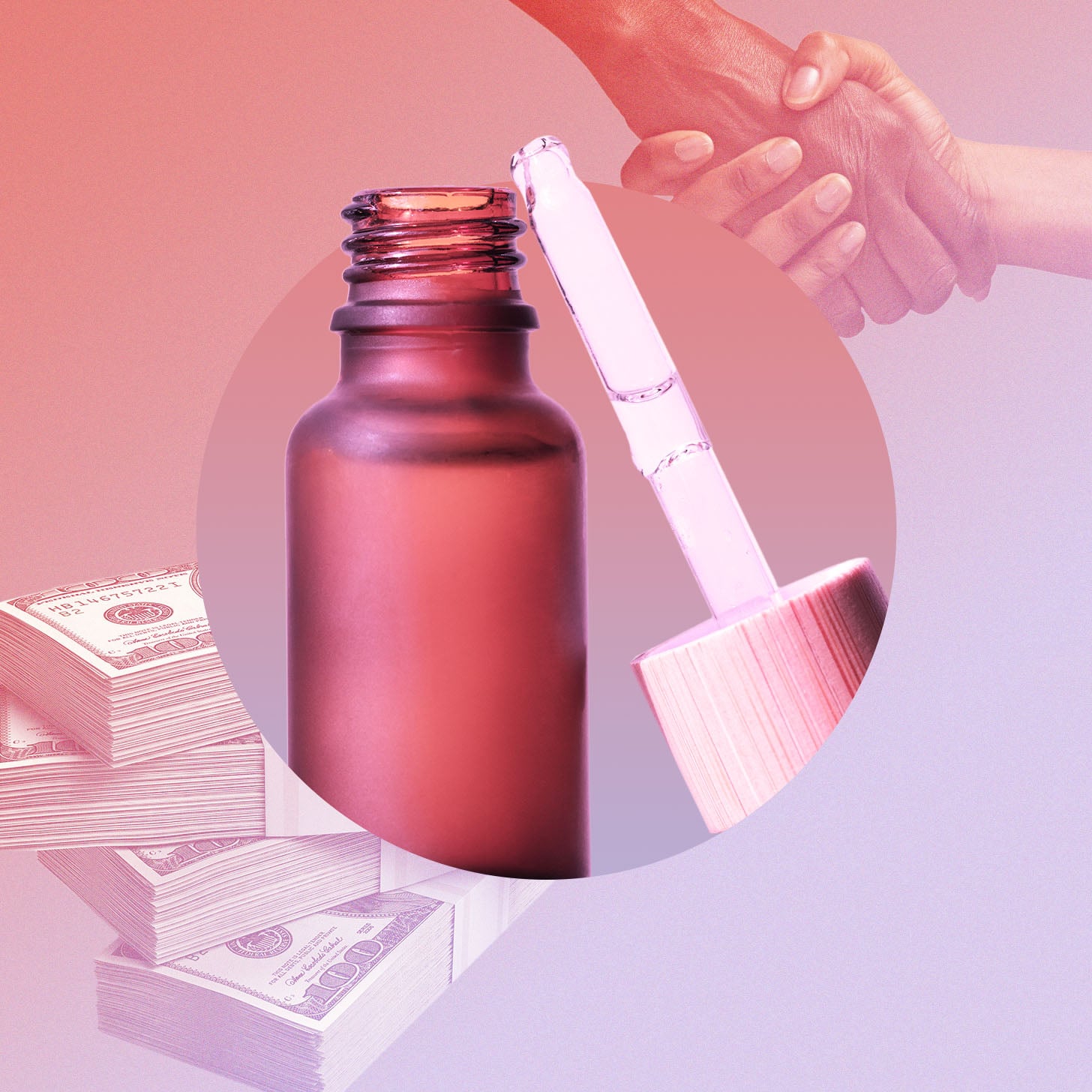 Barely a month into 2023, it was clear that Mielle Organics was about to have a hell of a year. At the end of December 2022, TikTok mega influencer Alix Earle mentioned the brand's beloved Rosemary Mint Scalp & Hair Strengthening Oil as one of her top Amazon purchases of the year. Naturally, Earle's millions of followers rushed to scoop up the product themselves.
Controversy soon followed. Mielle is Black-owned, and Earle is a white influencer with a majority non-Black audience. Though the brand says the oil was created for all hair types, many of its Black customers worried this meant the beginning of the end of the hair-care products they loved. They worried the injection of a new customer would cause Mielle to consider reformulating a product that its original base — Black people — had enjoyed for years.
Weeks later, on Jan. 11, it was announced that the brand had been acquired by Procter & Gamble, parent company to Pantene and Herbal Essences, and would operate as a subsidiary with founders Monique and Melvin Rodriguez at the helm as CEO and COO, respectively. Concerns intensified. Not only had a large swath of non-Black customers scooped up the hair oil, but now the brand was also teaming up with a large corporation. People immediately took to social media to express their disappointment at the possibility of Mielle's beloved formulas disappearing to accommodate looser, straighter, finer hair textures.
Folks pointed to the acquisition of SheaMoisture by Unilever in 2017 and Carol's Daughter by L'Oréal in 2020, noting that in their opinion, the formulations don't appear to be as effective on their coily, kinky hair textures.
Before the announcement, Mielle assured its customers that it would not be changing the formula of its products. Fast forward to May, and it appears the Rosemary Oil is still the same as it was before. Mielle's marketing still appears to target Black women. One quick look at its Instagram grid, and it's all Black faces.
So is all the hubbub much ado about nothing? It depends on who you ask. According to a McKinsey report on Black representation in the beauty industry, Black shoppers prefer buying from Black-owned brands and are 2.2 percent more likely to trust that their products will work for them. Plus, Black beauty dollars go far: as a community, we make up 11.1 percent of all beauty spending. Still, Black-owned brands make up only 2.5 percent of total revenue. Socially conscious shoppers will want to put those dollars in the pockets of Black entrepreneurs. So when the news of an acquisition hits, the blows can appear to come from multiple sides.
When you're mourning the loss (preemptively or otherwise) of your favorite hair-care products, it's hard to see the benefit — besides personal financial gain — of "selling out" to a corporation. Yet for Black beauty business owners, like Briogeo's Nancy Twine, whose brand was bought by Wella in 2022, it's a little more complicated than that.
"When you are scaling a business, there are some businesses that have a profitability model where they can take the leftover profits and reinvest," she tells POPSUGAR. "But a lot of businesses, even if they are profitable, that profit is not enough to continue to support the growth of the company, especially if you're an inventory-heavy business. Most of your cash is tied up in inventory — you can't necessarily use that cash for things like marketing and hiring because it is literally sitting in a warehouse."
This issue, Twine says, puts Black founders in a tough spot. To generate cash, they can either raise investor money to pay for things that will grow their business, or, if the option is there, they can get acquired by a larger company with far more resources plus the cash they're looking for. "If you continue to raise money and raise money, over time, you dilute yourself," Twine says. "You will go from being a business that is Black owned because you own 51 percent or more to owning only a tiny sliver of it. A lot of people don't realize that, even if you don't sell to a big company, continuing to raise money as a Black founder will actually make you no longer majority owner."
It can also be a challenge for Black-owned brands to get the money they need. According to the McKinsey report, they tend to raise around $13 million in venture capital on average. To compare, non-Black brands raise around $20 million. And it's not because Black brands don't make money. In fact, it reports, "the median revenue of those Black brands is 89 times higher than what non-Black beauty brands return over the same period."
It's part of why people wind up selling. It allows them to monetize the value of their company and also use the resources of these larger corporations so they can scale. And it's more than just scaling. Companies like P&G, Wella, Unilever, and the like have research and development teams that are financially supported enough to be able to innovate and create better formulas that cater specifically to Black consumers.
"A lot of people don't realize that, even if you don't sell to a big company, continuing to raise money as a Black founder will actually make you no longer majority owner."
As McKinsey's report notes, there's an overall dearth of research and data about Black beauty products and their consumers. Black chemists are also underrepresented in the landscape, and there are few Black people who participate in the sort of clinical trials that might spark that innovation. "The testing done for the performance of an active ingredient is done on someone who is Caucasian or Asian 99 percent of the time," a chemist for a non-Black brand told McKinsey. "There's rarely data validating the efficacy on melanated skin. But we'll put that in a product targeting melanated skin anyway."
Twine says the Wella acquisition has given her brand access to a more robust R&D department. "[Briogeo] didn't have any in-house chemists; all of ours were sort of through our contract manufacturing partners," she says. "Having access now to a team of 300 brilliant minds that have studied hair for years, that's gonna allow us to innovate in ways we probably couldn't have otherwise." In her view, that's a win for the consumer. "Plus, we can develop products quicker."
Acquisition also allows Black-owned brands to focus on other goals they may have for the overall Black community. Just because you sell to a larger non-Black-owned company doesn't mean you're not still working for Black people.
SheaMoisture CEO Cara Sabin has been vocal about the brand's commitment to reinvesting in the Black community as one of its core business initiatives. And regardless of how you feel about the post-2017 formulas, Sabin maintains that SheaMoisture has stayed true to that commitment. "Through the acquisition, the New Voices Fund, which is a venture capital fund that invests in entrepreneurs of color, was co-created in partnership with Unilever," Sabin tells POPSUGAR over email. "Under the initial New Voices Fund investment, 18 Black and Brown millionaires have been created to date." Sabin also notes that since acquisition, SheaMoisture has invested more than $10 million in Black-founded businesses "fueling their ability to scale up should they choose acquisition as an exit strategy."
Having a brand is expensive, and constant rounds of fundraising, only to own very little of the company you worked to build, makes acquisition look all the more enticing. "Having this larger infrastructure, the stability of having a larger parent company, knowing that we don't have to rely on fundraising to really sort of support our infrastructure and growth," Twine says. And if it allows a business to focus on larger initiatives — like creating more opportunities for generational wealth within the Black community — it can seem even more attractive.
The issue of "selling out" is one that is nuanced, to say the least. Consumers are justified in being wary of their favorite Black-owned beauty brands being acquired. It would be silly to deny the experiences of folks who say their curl creams just aren't hitting the same. However, the intricacies of being a brand owner complicate things. And "selling out" might be more like "selling up," depending on a business's values and needs at a given time.
So maybe putting money in Black entrepreneurs' pockets means having to find another hair oil or edge control to use. Perhaps the price we pay for new kinky-hair-care innovations is one fewer fully Black-owned beauty brand on the market. Whether or not it's "worth it"? That depends on your perspective.