How Black-Owned Hair Salons Stay in Business During Pandemic
A Year Into the Pandemic: How Black-Owned Hair Salons Are Keeping Their Doors Open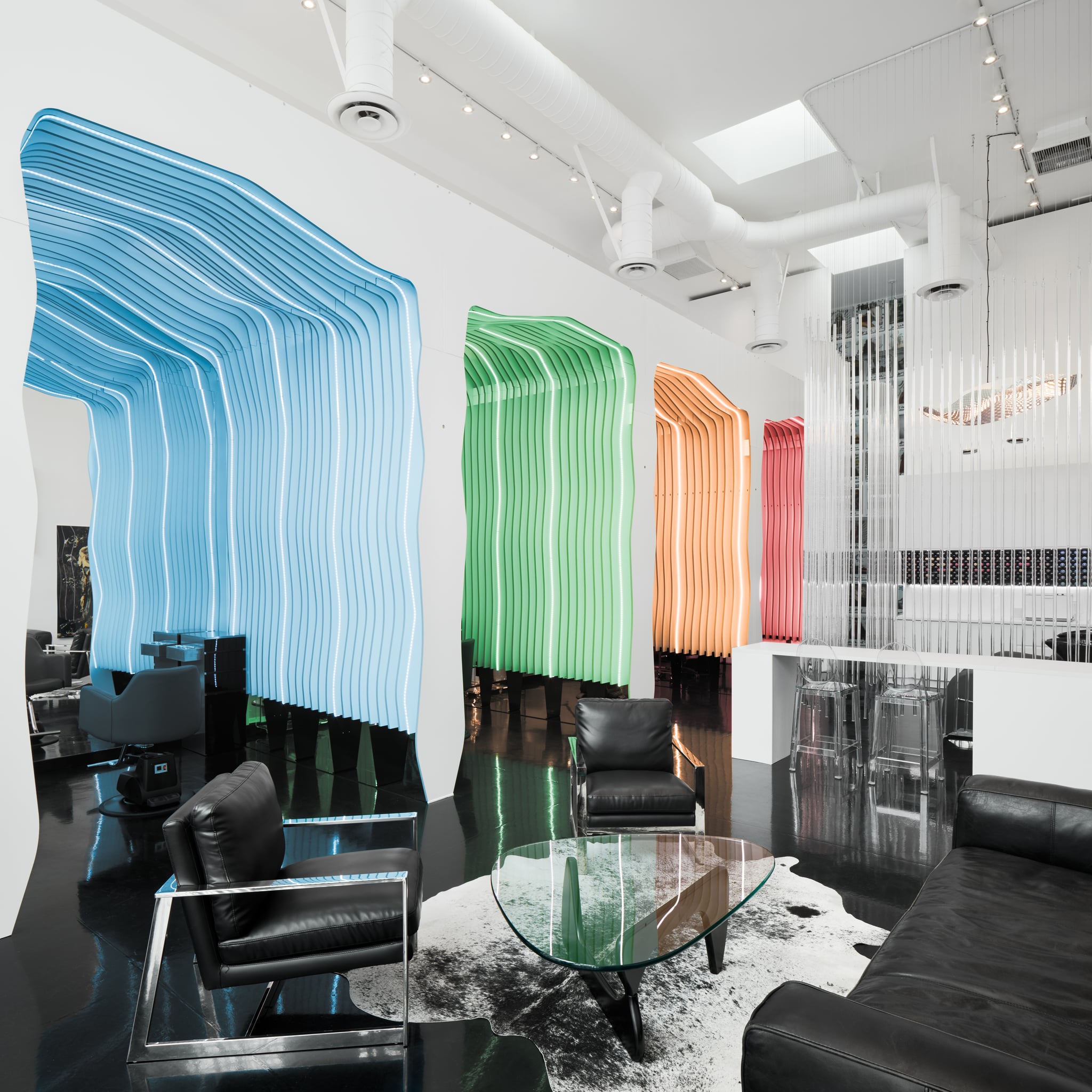 For many Black communities, hair salons and barbershops are vital community hubs and cherished spaces for gathering. Unfortunately, the pandemic and shutdowns have disproportionately affected Black-owned small businesses as they navigated a struggling economy, public health guidelines, and shutdowns to keep their businesses afloat as states slowly reopened. That means some salons permanently closed up shop, while others have had to pivot and face steep challenges to keep their doors open.
Celebrity hairstylist Yene Damtew, who has worked with Michelle Obama and Tracee Ellis Ross and owns Aesthetics Salon in Arlington, VA, told POPSUGAR that last year, she closed her salon two weeks before the government mandated a shutdown. "In retrospect, I don't regret it, because the safety of my salon team and our clients is important to me," Damtew said.
For many people, visiting a hair salon during a pandemic is certainly different from what we're used to, but business owners are making it work. Starring by Ted Gibson, a salon based in LA and co-owned by celebrity hairstylist Ted Gibson and Jason Backe, was only open for 11 months when the state-mandated shutdown in March 2020 closed its doors. Partnered with Amazon, it was built to be the first smart salon that's entirely voice-activated by Alexa. The salon only has five chairs in "clouds," which are semiprivate pods inspired by the first-class cabin experience on an airplane, 8-and-a-half feet from each other, to provide a luxury experience to clients. They don't sell products in the salon, minimizing contact. Customers can scan a QR code and get their products shipped to their homes.
While they couldn't have predicted the challenges of the last year, the setup meant they were equipped to face the challenges social distancing poses. "The great thing is that we weren't in a situation where we had to invest in a lot of money into making the salon a COVID-safe environment because we built that from the beginning," Gibson told POPSUGAR. "By the grace of God, it happened that way."
Still, as a new small business, they struggled financially during the first four months of the shutdown. They had to cut down on the amount of people in the salon because they don't have a front desk or assistants. "We still have to pay rent even when we didn't have any clients coming through the door. There was no way around that," Gibson said.
Tallulah "Lulu" Marcelin, owner of I Love Lulu in LA, also struggled to pay the rent during the shutdown. At the time she was forced to close her doors, I Love Lulu had been open for 10 years and counting. If anything, she needed to hire more people to help with the increasing demand for appointments at her salon, which specializes in Black women's natural hair care, maintenance, and styling. When the pandemic struck, though, Marcelin had to lay off all her employees.
To combat the financial challenges she faced, including hiring an entirely new staff after the first California shutdown was lifted only to be shut down again, Marcelin spent weeks applying for grants for minority-owned small businesses. She didn't receive any. As a limited resource, everyone was scrambling for the grants. "The grant money would've been great because before we opened, we had minimal debt that was very much under control, but now I feel like I have to borrow money to make money," Marcelin told POPSUGAR. "I have to borrow money to survive this."
She's also been figuring out how to sell the products she manufactures herself online. "I have to figure out how to market myself differently, how to shift and create more online opportunities. We don't have the luxury of working from home," she said.
Damtew said it's been a hurdle getting her clients to understand the increase in pricing to compensate for the price of keeping the doors open. "The livelihood of our stylist is solely based on their appointments," she said. "Many hairstylists also had to change pricing structures to recoup the lost wages during the shutdown."
Despite the challenges the pandemic posed to their businesses, these salon owners have found new ways to adapt to the times. Gibson, Backe, and Marcelin had already been trained in sanitation, so not many safety changes had to be implemented besides temperature checks at the door, mask wearing, operating at 50 percent capacity, and lots of hand sanitizer.
As a minority-owned business, it feels a little lonely. It would be great to have some mentorship from a larger, more experienced company.
Backe pointed out that people have started to feel more comfortable doing their hair themselves at home, so they've begun to focus on services that can be done exclusively in the salon. "It's going to be even more important for us as salon owners to focus on those services that are complicated and time-consuming to do at home, like extensions or weaves or chemical straightening, chemical texturizing services, and complicated hair-color services." Gibson said the goal is to create a luxury experience that makes customers want to leave their homes to get their hair done.
Marcelin hopes that in the future, she can have more access to more support from experienced business owners. Though she's been styling hair for 25 years, she hasn't been a business owner for that long. "As a minority-owned business, it feels a little lonely. It would be great to have some mentorship from a larger, more experienced company," she said.
Marcelin is hopeful that the services she offers at her salon are needed enough for the naturalistas and people transitioning to natural hair to make it through the hardships. "When we focus on healthy scalps and we focus on the longevity and the integrity of the hair, it keeps us in business," she said.
On the other side of the country in Virginia, business is good for Damtew and Aesthetics Salon. Since reopening, they are now operating out of two salon locations on the same block. They've also reduced their service options and eliminated longer services to ensure they can see as many clients as possible. Since her stylists are no longer seeing as many clients a day, it allows for better work-life balance, which has always been a struggle. "I know as a Black woman, I am resilient, and I also carry the weight of others on my shoulder," Damtew said. "Coming to the salon allows for clients to interact with other individuals and allows us to feel good about ourselves once our services are complete."
Hair salons may not be "essential" businesses, but the services they provide for Black women matter. The Black-owned hair salons that have fought to keep their doors open and survive this unprecedented and hectic year during the pandemic, and the hairstylists who work in them, matter, too. Now, more than ever, it's crucial to support small businesses such as these. Consider booking an appointment with your local Black-owned salon instead of DIYing it at home. When you show up, comply with their new health guidelines to keep your hairstylists safe, and be prepared to respect any increased prices that are keeping the salon's doors open. That way, as salons slowly and safely begin to reopen, Black women can get one of their sacred spaces back.
Image Source: Courtesy of Ted Gibson