In everything, from her music videos to showing off her body art, Cardi B is anything but shy. The rapper has over 13 different tattoos (that we know of, anyway), and while some are small and subtle, others are bonafide works of art. You can see her old and new ink all over her Instagram page, but weirdly enough, Cardi B plays it coy when it comes to the meaning behind most of her tats.
While Cardi doesn't share much about her tattoos, some of the meanings are quite clear. She has a tattoo as a nod to her identity before stardom, Belkis, which is an abbreviation of her real name Belcalis, and multiple designs representing her loved ones, including her husband Offset, her sister Hennessy, and her two kids, Kulture and Wave. For a better look at her full collection, from the tiny tattoo behind her right ear to the mystery name on the back of her neck, check out the gallery to see Cardi B's many tattoos ahead.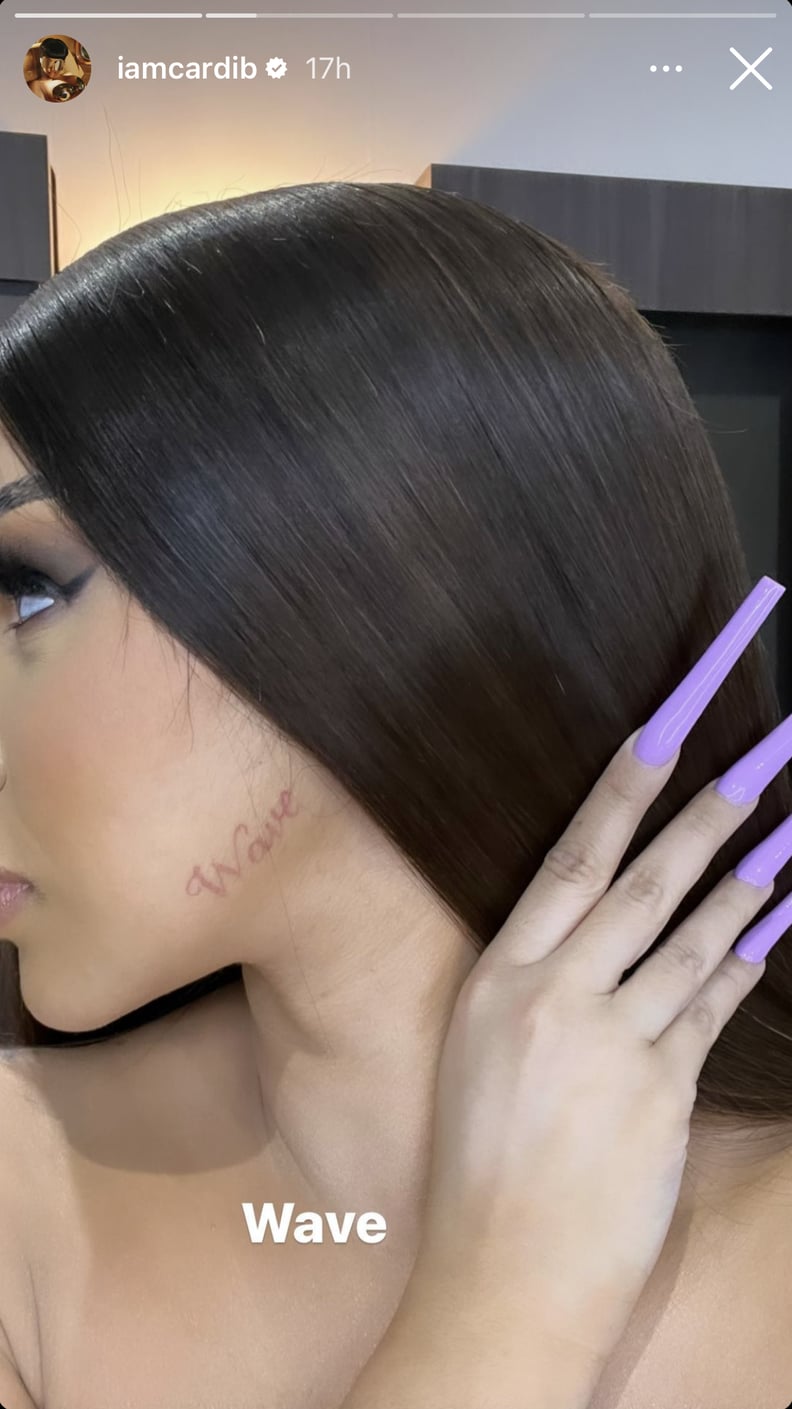 Cardi B's "Wave" Face Tattoo
Cardi B's face tattoo, which she got in the summer of 2022, is the newest addition to her collection. The design is in a red cursive font along her jaw and reads "Wave" — her son's name. The rapper first showed fans the design on Sept. 10 during an Instagram Live, but it's otherwise hard to see because it's often covered by her hair.
The design was apparently a long time in the making. In January 2022, Cardi tweeted, "Random but ....I'm 1% close too tatting my sons name on my face....I really really wanna do it!" She paid a visit to tattoo artist Robinson De Los Santos for the ink.
Cardi B's "Kulture" Arm Tattoo
During that same visit to tattooist De Los Santos, Cardi B also got her daughter's name, Kulture, inked on her inner elbow. That design is in a thicker black font.
Cardi B's Butterfly Neck Tattoo
In June 2020, Cardi B tweeted a picture of her butterfly tattoo covering up the name of her ex, writing, "I never showed ya my cover tatt . . . What ya think?"
Cardi B's Flower Back Tattoo
Cardi B's Peacock Leg Tattoo
Cardi B's most prominent tattoo is probably her giant peacock tattoo, which extends from her right hip all the way down to her knee. Since she originally got the tattoo in 2010, the ink had faded over time, and she decided to get it touched up in June 2020, courtesy of tattoo artist Jamie Schene. "So after ten years I gave my peacock tattoo a makeover. This whole week I been takin hours of pain getting tatted," Cardi B captions a before-and-after pic on Instagram. She also shared a video showing the tat in all its glory, which now includes a new pink butterfly and several new feathers and flowers.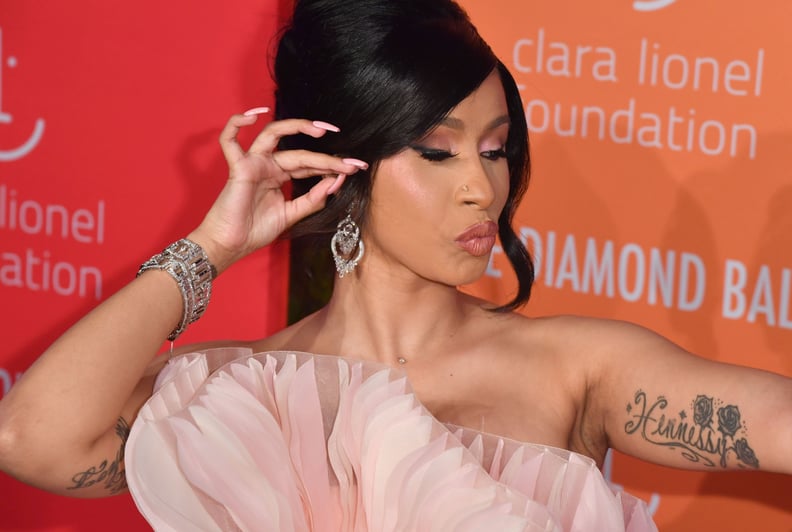 Cardi B's Hennessy Arm Tattoo
On the inside of her left bicep, Cardi B has a black-ink tattoo reading "Hennessey" along with three roses, which is likely an ode to her younger sister, whose name is Hennessy Carolina.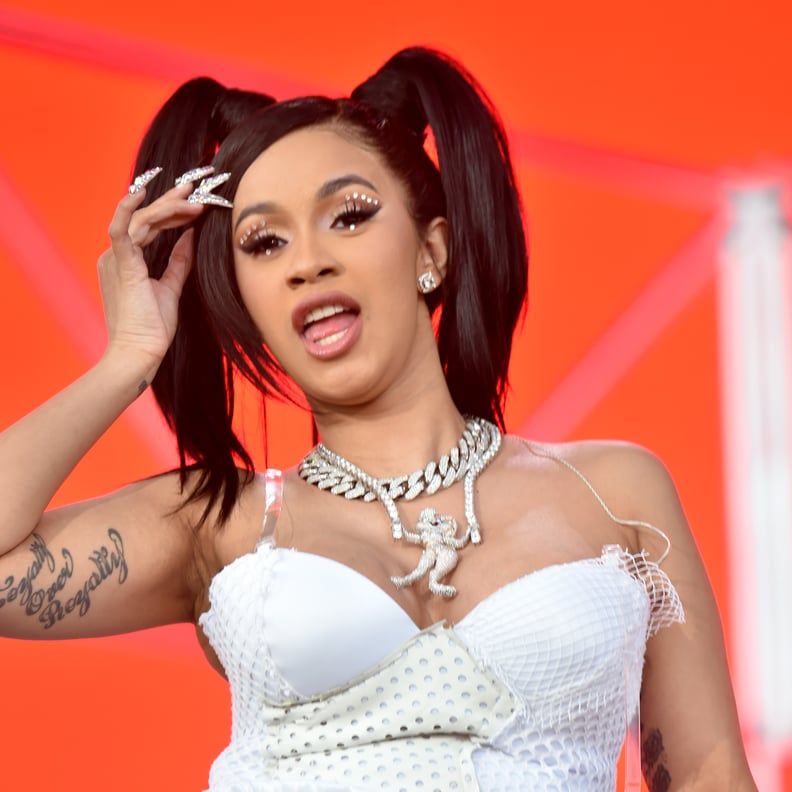 Cardi B's Loyalty Over Royalty Arm Tattoo
Inside her right bicep, Cardi B inked the phrase "Loyalty Over Royalty" in black cursive letters. Like many of her other tats, Cardi B has never offered an explanation for this one.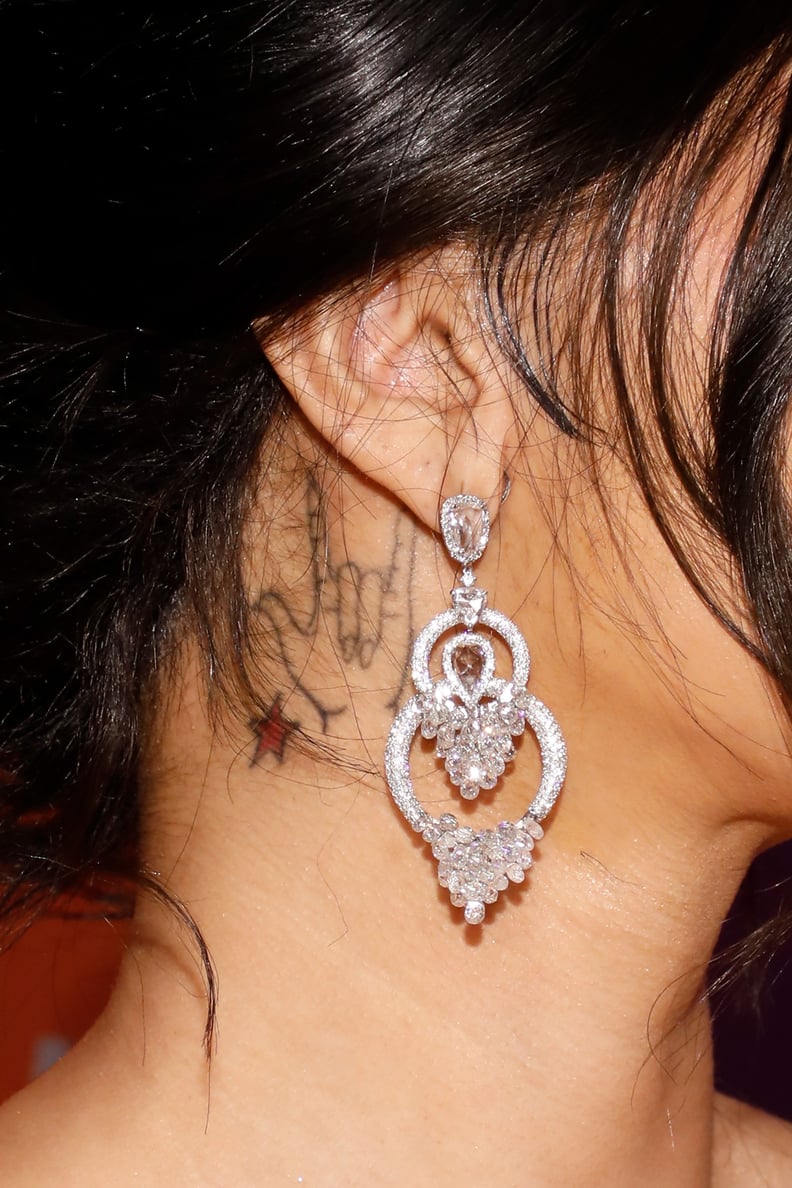 Cardi B's I Love You Ear Tattoo
Behind her right ear, Cardi B has a black-ink drawing of "I love you" in sign language as well as a tiny red star. The rapper has never publicly spoken about the tat, so its meaning is unclear.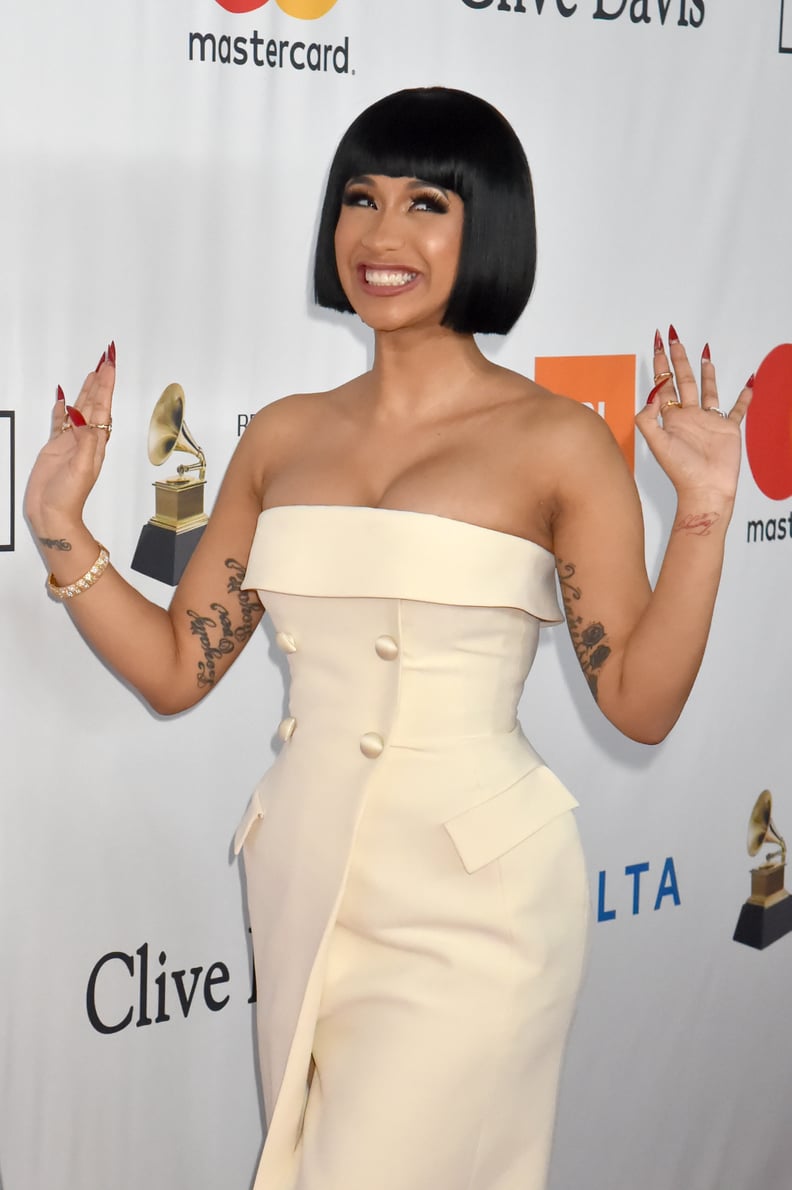 Cardi B's "Belkis" Wrist Tattoo
On Cardi B's right wrist, you'll find "Belkis" in black ink, which is likely a shortened version of her legal name, Belcalis.
Cardi B's Cheetah Hip Tattoo
Cardi B has the outline of a cheetah sitting upright and facing forward on her left hip. Though she's never publicly shared the meaning of the tat, it's pretty clear she has a thing for cheetahs, seeing as she's featured them in both her "WAP" and "Bodak Yellow" music videos.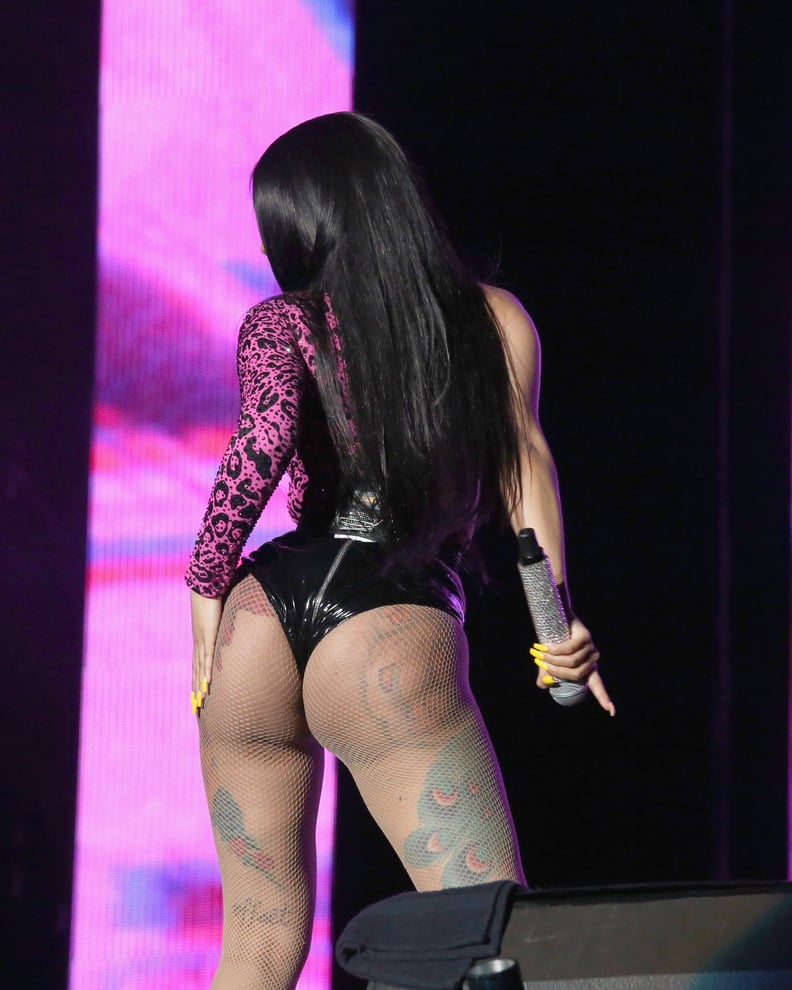 Cardi B's "Offset" Thigh Tattoo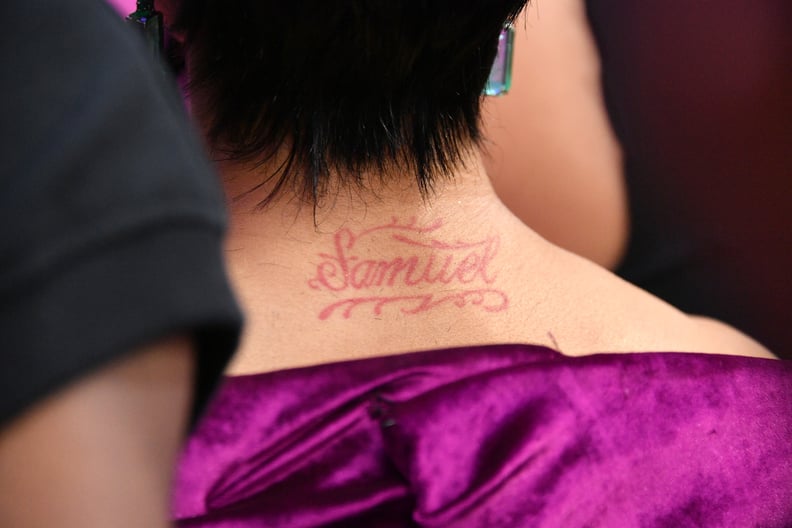 Cardi B's "Samuel" Neck Tattoo
Cardi B previously had the name "Samuel" tattooed on the back of her neck in red ink, though she's never revealed the meaning. Fans speculate Samuel may be the name of an ex, as the rapper told Ellen DeGeneres during an appearance on her show in October 2019 that she had more than one ex's name tattooed on her body. "I have like three different men tatted on me, you know what I'm saying? They gotta go!" she says.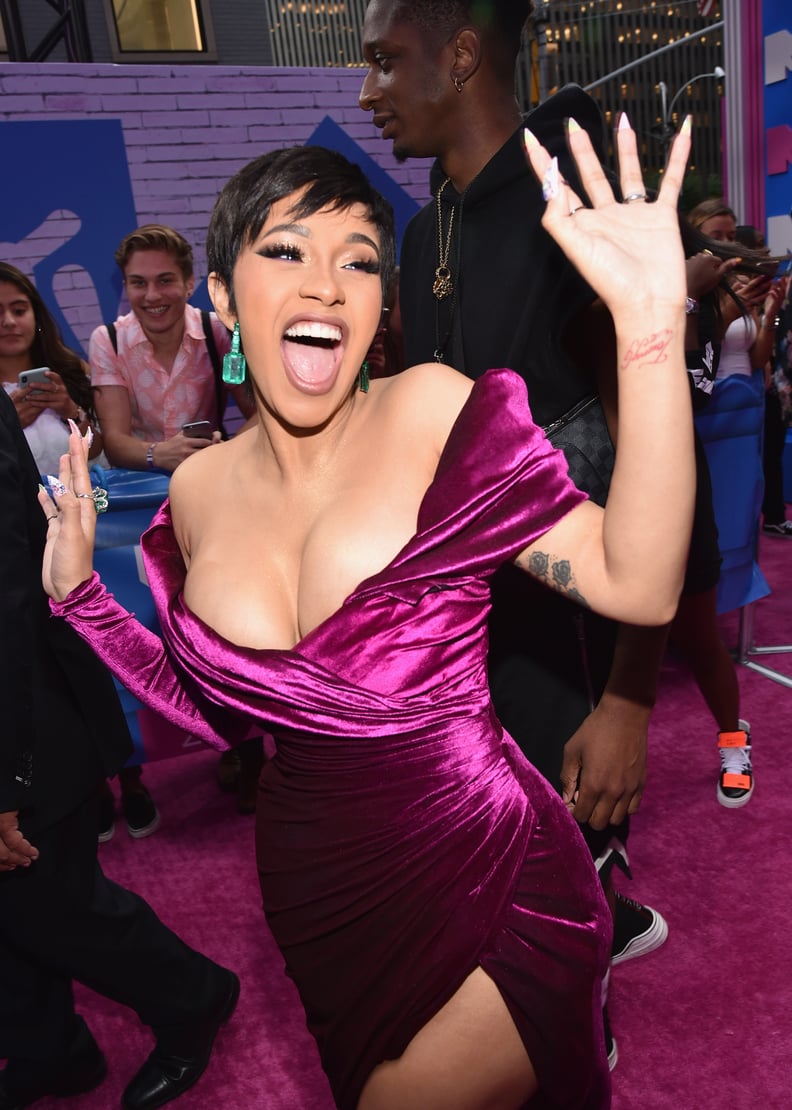 Cardi B's "Tommy G" Wrist Tattoo
On Cardi B's left wrist, she has the name "Tommy G" tattooed in red ink for her ex Tommy Geez, whom she was dating during the time she was a cast member on Love & Hip Hop: New York. The two went their separate ways in 2016, but you can still see the faded ink on the underside of her wrist.